Shamila Batohi has been on the news headlines recently for a good reason. The advocate is the newly NPA boss that came in December 2018. She is mostly noted for being the first woman to serve as the National Director of Public Prosecutions (NDPP).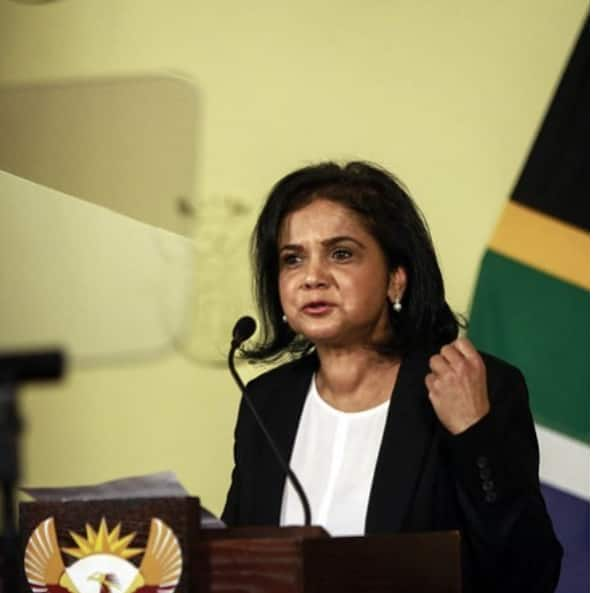 A powerful woman in a powerful position; that is how many would describe Shamila. The no-nonsense leader has been in the path of success for a long time. Check out the following details about her biography to understand her path and appreciate her growth.
Shamila Batohi biography
The following is a breakdown of some of the most crucial aspects of advocate Shamila Batohi that will be interesting to note.
Shamila Batohi profile
Name: Shamila Batohi
Place of birth: Durban, KwaZulu-Natal
Career: Advocate and new NPA boss
Nationality: South African
Education level: Graduate with a bachelors degree from the University of Durban-Westville and a post-graduate from the University of Natal
Shamila's Career
The new NDPP South Africa has, Batohi started her public service humbly when she served as a junior prosecutor in the Chatsworth Magistrates' Court in 1986. She rose the ranks and at one time served as the first regional head of the directorate of special operations based in KwaZulu-Natal.
Further on, in 1995, former president Nelson Mandela appointed her to join the multi-disciplinary team whose mandate was to investigate hit squad activities within the police service at apartheid. She was identified by her high profile prosecution of the former Proteas cricket captain Hansie Cronje in 2000 at the King Commission.
Advocate Shamila Batohi previously served as a legal advisor senior at the International Criminal Court before taking up her role in February 2019. What you need to know is that the tough lady is not a newbie when it comes to the leadership of the National Prosecuting Authority (NPA). At one time, she was the director of public prosecutions in KwaZulu-Natal - a position in which she served from 2002 to 2009. She has always been a notable adv in South Africa.
While Shamila Batohi age is not common knowledge, every indication shows that she is a seasoned and mature advocate with a passion for her job. As the new National Director of Public Prosecutions (NDPP), all eyes are on her. She is the one woman whose choice was accepted across the board with everyone smiling at her appointment.
For those that are curious about Shamila Batohi husband, the main focus on her recently has been on her career, which is what we should be scrutinizing. Serving in an office that is highly politicized and being at the helm of a country's justice system needs a tough skin. By all indication, Shamila has everything it takes. Her statement during the interview, coupled with the president's confidence in appointing her proves this. All that is left is a wait-and- see situation.
The recognition of Shamila in the list of prosecutors in South Africa is such an honour. In fact, it is a milestone for women since she is the first woman in South Africa to hold such a position. It is hoped that NPA South Africa will thrive and become better because of her contributions.
READ ALSO: Pearl Thusi biography: age, boyfriend, daughter, sister, parents and net worth
Qualifications
Having served as an advocate in various capacities, coupled with her academic qualifications already mentioned above, Shamila is one of the most qualified NPA bosses ever appointed. As the NPA Act demands, she has everything it takes to hold the position. Her experience, conscientiousness, and integrity make it easy for her to be entrusted with the responsibilities of the office.
In spite of all the challenges that the NPA faced before, with women and men of great commitment, ability, and experience who have dedicated themselves to doing a great job. With proper leadership, these people can help streamline the challenging section and help bring justice to all. With the right conditions availed to them, there are high chances that they will surpass the expectation of South Africans. As things are, people seem to agree with these sentiments if you are to go by twitter comments and remarks. Some of these remarks are shown below: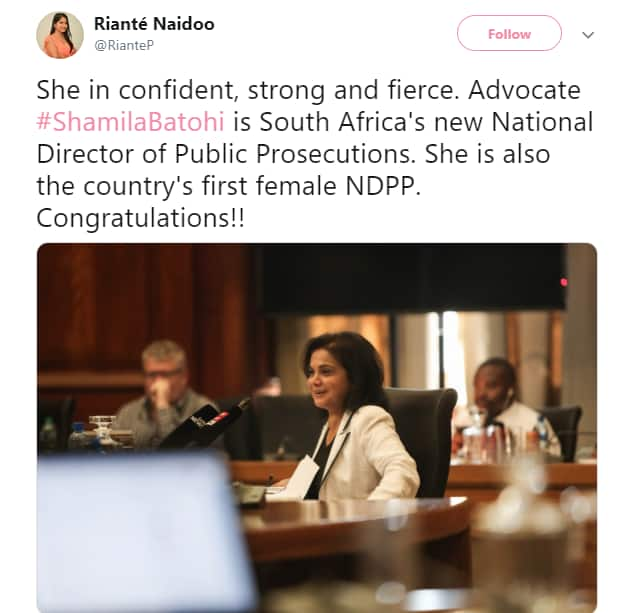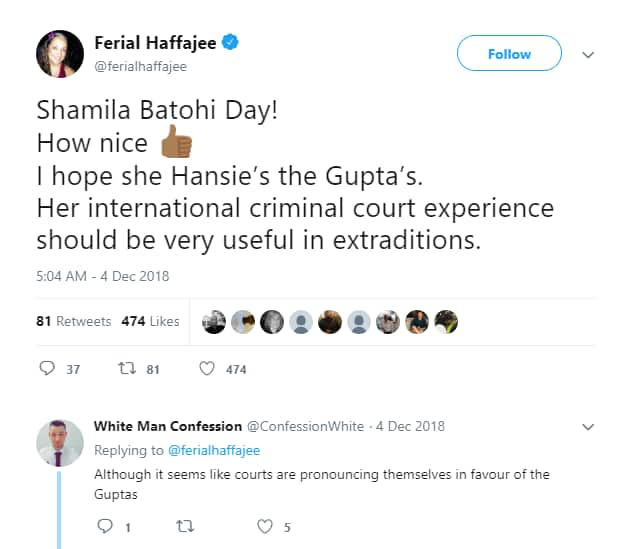 And more: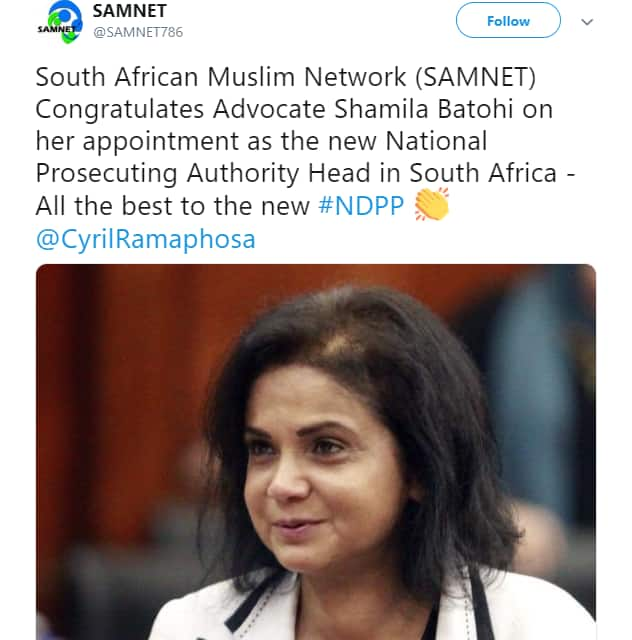 Going by the tweets above, everyone seems to be in agreement with the fact that she is an excellent choice.
Salary
Deputy directors of public prosecutions may have found a solution to their salary woes after a decade long of fighting for increment. The new boss and National Director of Public Prosecutions (NDPP) seems to have come in, committed to ending the raw once and for all.
The new boss wrote a letter to the state attorney informing him that her office was going to drop the fight and will not be opposing the application by the Public Servants' Association whose aim was to force the NPA. This is against the decision made by Justice Minister Michael Masutha as she chose not to fight further against the salary and benefits increase.
Latest news
Batohi got to work immediately. In the first week at the office, the new National Director of Public Prosecutions (NDPP) has proven that she is not one to be pushed around. Her decision to go against Justice Minister Michael Masutha's decision and choosing not to fight against a salary and benefits increase for deputy directors of public prosecutions (DDPPs) proves this. The DDPPs have been engaged in this fight for over 10 years now.
Even with the remuneration being approved in 2014, after a long battle by the State's senior legal professionals, the former head of the National Prosecutions Authority (NPA) Shaun Abrahams was reluctant to implement it.
A former DDPP in Pretoria, advocate Retha Meintjes, in turn, moved to Gauteng High Court in Pretoria, and with the Public Servants Association's help (PSA), they were able to hold the NPA and the government accountable to their increment promise. On the same issue, Deputy Judge President Aubrey Ledwaba, in 2018, made a special allocation on the trial date.
Contact details
For NPA contact details, use the following:
Postal: Private Bag X752, Pretoria, 0001
Physical: VGM Building, 123 Westlake Avenue (Cnr Hartley Street), Weavind Park, Silverton, Pretoria, 0184
Telephone number: 012 845 6000
Fax: 012 804 7335
Web: www.npa.gov.za
Shamila Batohi is no ordinary woman for you She is an achiever and a great advocate in South Africa. Her appointment as the NPA boss is a significant one especially in the progress of women.
READ ALSO:
Tshepi Vundla Biography: Age, Boyfriend, Baby, Sister, Parents and Pictures