Sjava Umama is one of the latest songs by the hit artist released in February 2019. The tune was shot in his hometown, Bergville and continues to show the authenticity of South African music. The Ambitiouz Entertainment's award-winning artist, Sjava released the visuals for his number one track, Umama.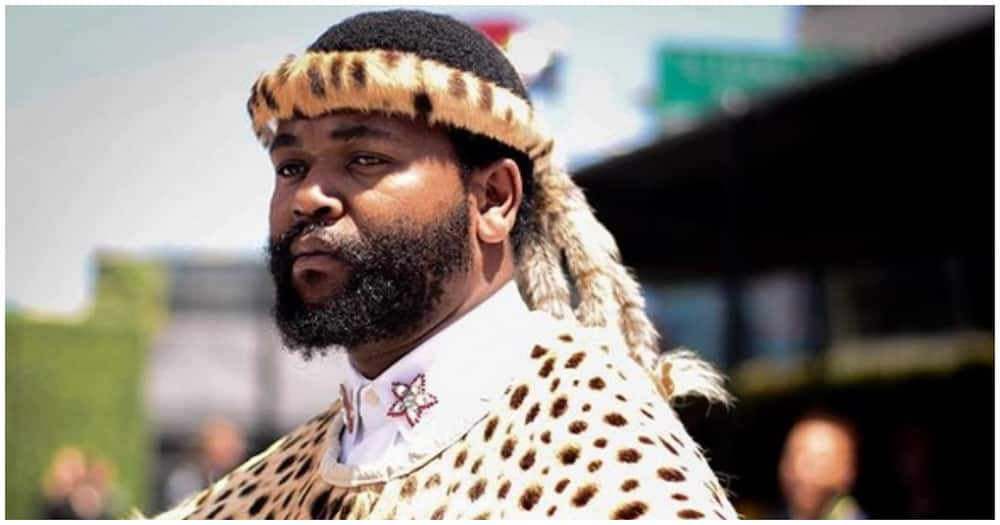 The narration is Sjava music is always real and easy to identify with. This recent banger is no different. Fans have received it positively, ad it is not surprising that the number has over 2 million views on YouTube already. The tune comes with an emotional touch that will make you think about your deceased parent. It is the realness of the jam that makes it a household name and a song that people of all ages can identify with.
Umama's lyrics
For anyone that identifies with the hit, singing along will be inevitable. As such, knowing the words to the song will come in handy. To sing the correct thing, consider the lyrics below and internalize the message as you reflect on what family is about.
Khumbul' uMa
Ak'savum
Ang'sakhoni ng'khumbul'uma
Ngith' ak'savumi ng'khumbul' uma
Sebeth' indoda endala kangaka
Ikhalel' umawayo
Tha bafwethu ngeke ni-understand
Ndoda endala kangaka ikhalel' umawayo
Tha bafwethu ngeke ni-understande
Uyojabula mang'fika athi ushembe uyaphila
Kulengozi zom'gwaqo mtanami
Ng'yajabul' ufik' usaphila
Beka iy'khwama ke emsamo
Landi impepho kagogo erounden
Ng'phahle ngikhulume nabadala
Ng'batshele usemagcekeni
Invul'iyana emakhaya
Ses'phelile amakhaza
Mawubuy' eGoli, cel' ung'phathel' iheater ngoba ngempela uzong'gcwaba
Yaz uma avunamahlaya,
ngeke ushone ng'sakuthanda
Kuyoba yis'busiso kimi ukuthi ubekhona mawami mang'shada
Ngob' uyokwazi thi ukung'bonisa
Masezing'buyela ngith' emshadweni
Ngoba uyokwazi uth' ukung'duduza
Masezi ng'buyela ngth' emshadweni
Ang'sakhoni, ang'sakhoni, ang'sakhoni
Ngikhumbul' uma
Thi ang'sakhoni, ang'sakhoni, ang'sakhoni
Ngikhumbul' uma
Sebeth' indoda endala kangaka
Ikhalel' umawayo
Tha bafwethu ngeke ni-understand
Ndoda endala kangaka ikhalela umawayo
Tha bafwethu ngeke ni-understand
Into eng'ythanda ngekhaya,
Ukuthi ekhaya ak'ngenwa ngemali
Noma ng'ngasebenzi
Umama ung'thanda ngenkani
Noma umhlaba ungang'shaya
Uzong'thulisa athi mtanami ungakhali
Ubukek' ukhathele awuthi ngiland' ukudla baba hlalaphansi
Ang'sakhoni, ang'sakhoni, ang'sakhoni
Ngikhumbul' uma
Sebeth' indoda endala kangaka
Ikhalel' umawayo
Tha bafwethu ngeke ni-understand
Ndoda endala kangaka ikhalela umawayo
Tha bafwethi ngeke ni-understand
The end!
This song will make you appreciate the love and struggles that your parent goes through, especially a mother. Those that have lost a parent will feel it even more as they repeat the message in the lyrics. The reality and truth in the powerful song can be seen by how people online have reacted to the tune. The following are comments from YouTube and a few screenshots of what people have had to say about it. For sure, there is a lot of emotions that this tune provokes. It is a perfect example of what most Sjava songs are about, always real and raw.
READ ALSO: Black Coffee biography: age, real name, wife, battle with cancer, songs, awards and net worth
Reactions from people
As one of Sjava new songs, Umama has taken the internet by storm considering that it was just released in February this year. In a span of a few months, the tune has attracted a lot of views and comments as people can feel it. You can confidently get the Sjava Umqhele album and enjoy Umama among other songs. If you are not yet convinced, check out what other people have had to say about it in the comment section from YouTube below:
Slice Sengwayo(2 months ago): Lost my mom recently and I mic her .I wish I can touch her 
thompho mabodi(2 months ago): Hit a like if sonke sikhumbule abo ma wethu who are in heaven.... CONTINUE TO REST IN PEACE MOM... I WILL ALWAYS LOVE AND MISS YOU❤️
Neeso Suntan(2 months ago (edited): If you have a single mother press like‍♂️‍♂️
Thobeka Masimula(1 month ago): "Indoda endala kangaka ikhalelu' mah wayo. Bafethu ngeke ni-understand" mina I do mom's are very treasure lv this song
Free DubLi Cash Back(1 month ago): The greatest love from South Carolina, USA. Admittedly, my MIND does not understand what he is saying, but my African HEART understands everything. As a Descendant of Enslaved Africans in America, our knowledge of the Motherland was forcibly taken from us over the 400 years we have been in this place. With the 400th anniversary of the first 20 Africans being forcibly brought to what would become the USA fast approaching (August 20, 2019), I have committed myself to know more about my African roots. That said, I would love to know the lyrics to this song.
MDUDUZI NICOLAS MADONSELA(1 month ago): Who can relate. If you can relate press like. Angisakhoni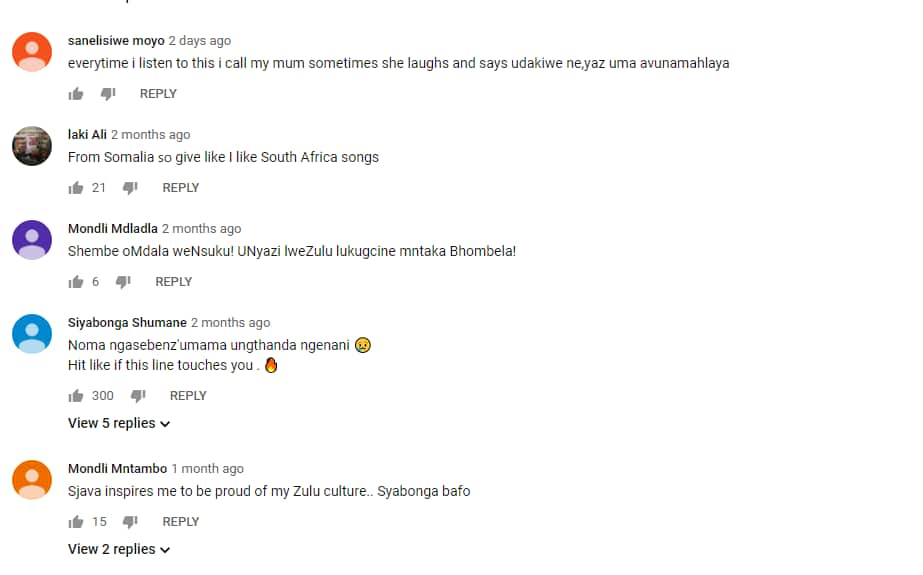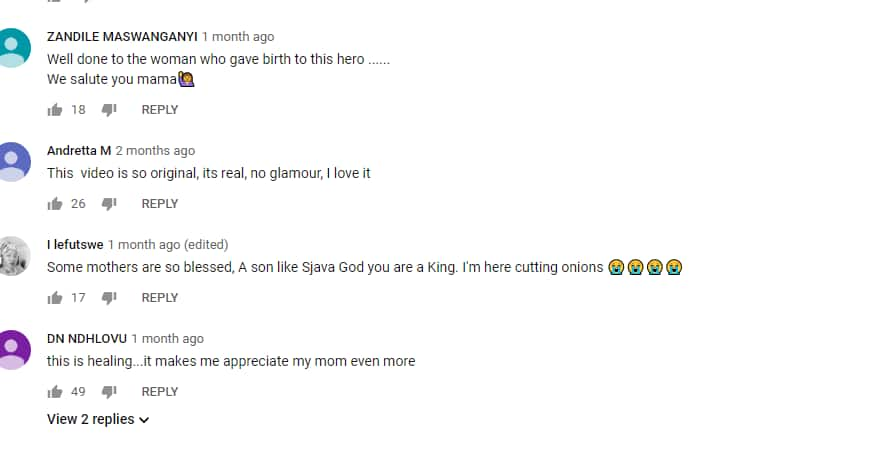 Check out Sjava Umqhele songs if you want to listen to Umama from his latest album. Sjava Umama is a beautiful song that you can identify with, especially if she is late. You will be moved to tears but also remember her fondly. Those whose mothers area round will also keep hitting replay as the song speaks to their souls. One things that comes out clearly in this number is that the best musicians are those that speak to the heart, and by all indications, Sjava is that and more.
READ ALSO: