- A mother took to social media to share photos of her son with a flight attendant
- According to the mother, Sonja Redding, her son has special needs and he had anxiety on the plane, however, a flight attendant came to the rescue and managed to calm him down
- Photos of the touching scene were shared online and gave social media users the feels
PAY ATTENTION: Click "See First" under the "Following" tab to see Briefly.co.za News on your News Feed!
Sonja Redding, a mom of two kids with Methylmalonic Acidemia, took to social media to share how a flight attendant came to the rescue after her son became anxious on a flight.
Redding said her son, Xayvior, who has autism, responds suddenly to change and he has a lot of anxiety.
"On the flight he had a sudden meltdown and we couldn't keep him calm no matter what we tried. This was unexpected since the previous flights he got through fine. It felt like everyone on the entire plane was looking at us and annoyed by my son's outburst"."
Briefly.co.za gathered Redding added that is was "frustrating and isolating" when others do not understand that he is not an ill-discipline kid rather than a child with special needs.
"Anyhow, this flight attendant came up and asked if she could hold him and take him for a walk. I warned her that he might get aggressive with her," she said.
Redding added: "She quickly responded that she did not mind and swooped him up, taking him on a tour of the plane. This hero gave us a bit of sanity back in a chaotic moment. When they came back, Xayvior was much more calm and he just loved on his new friend so happily! I want to thank this Delta employee and let Delta know what a wonderful woman they have employed with them. She didn't stare or judge, she just showed love and empathy without hesitation. We need more people like this in the world. Thank you Delta employee, thank you!"
PAY ATTENTION: Do you want to know what's trending on Briefly.co.za? Join our WhatsApp group today.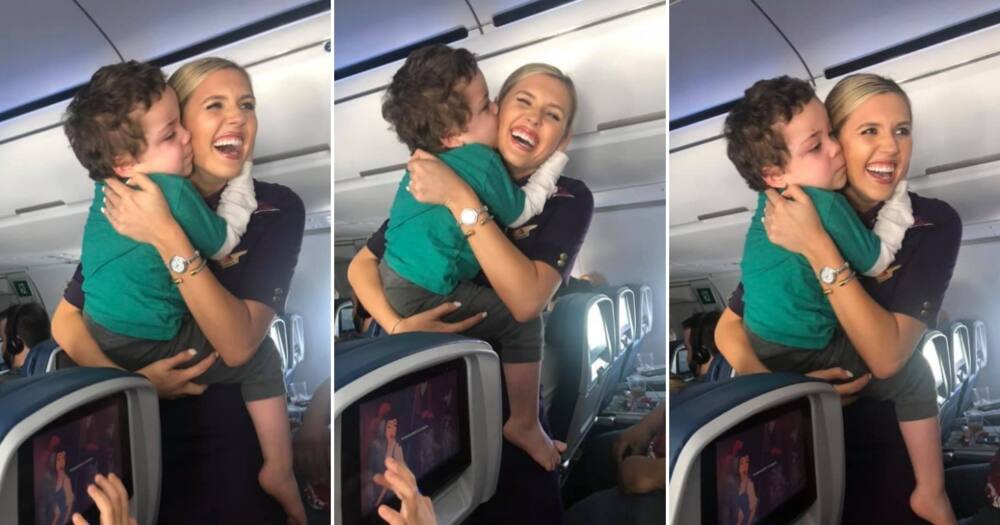 READ ALSO: Mzansi reacts to Trump awarding Tiger Woods the Medal of Freedom
The post inspired social media users, who praised the flight attendant for her kindness.
Jodi Becker Placiente commented: "This is sweet! She looks so happy to be his hero!"
David Alge said: "What a wonderful story! I have a son that has Asperger's and although he's grown, doesn't do well around crowds. That flight attendant is an angel! Blessings to you!!"
Sarah M. Osborn wrote: "God sent and Angel in the form of that awesome flight attendant."
Zenaida Balatbat added: "Kindness goes a long way! Amanda, we need more people like you in this world!!!"
April Oliver said: "This is absolutely beautiful. Love the pure joy on this woman's face as she cuddles with her new friend. Kudos to her!!"
George Guzzi commented: "God bless this lovely boy and this endearing Angel stewardess who showed him peace, calm and love."
Tommy Magnusson wrote: "Awww, wow absolutely so amazing and a awesome great story so heartwarming. God Bless her for this act and compassion."
Enjoyed reading our story? Download BRIEFLY's news app on Google Play now and stay up-to-date with major South African news!