- A woman took to Facebook to share how a kind man went out of his way to help her
- Her car broke down and she was left stranded on the side of the road
- The Good Samaritan was the only person to stop and help her
PAY ATTENTION: Click "See First" under the "Following" tab to see Briefly.co.za News on your News Feed!
A single mother, Lameez Patel, took to social media to share how a man selflessly helped her when her car broke down on the highway.
Patel had been struggling with car trouble when her battery cut out on Monday. She said she had to drive over two lanes, in front of a truck. However, she said "God's protective hand" pushed her car out of harm's way.
She was left stranded on the side of the road and tried to wave down help, however, no one stopped to help her, not even the police.
"I tried stopping a SAPS and a JMPD van because I felt real safe to do so, to no avail, they just sped passed me," she wrote on Facebook.
Her hero came in the form of 1Life Insurance employee, Thabo Tsoari, who helped her get her car running again.
However, she got the car started again but then stalled once more. Luckily, Tsoari called her to find out if she had made it home safely or not.
After several failed attempts to contact friends and family, Tsoari once again came to Patel's rescue.
"He drove all the way from Mondeor to boost my car (again) in Eldo's, followed behind me whilst I picked up my kids, boosted car (again) because it cut out, followed me all the way to Ennerdale where car cut out (again) in Lenasia, right to where I live," she wrote.
Patel said she believed God sent Tsoari to help her and she even dubbed him a guardian angel.
"You basically risked your life in this crime-ridden country of ours by stopping to help a total stranger... without hesitation. You displayed true qualities of a Guardian Angel," she said to her 'saviour'.
PAY ATTENTION: Do you want to know what's trending on Briefly.co.za? Join our WhatsApp group today.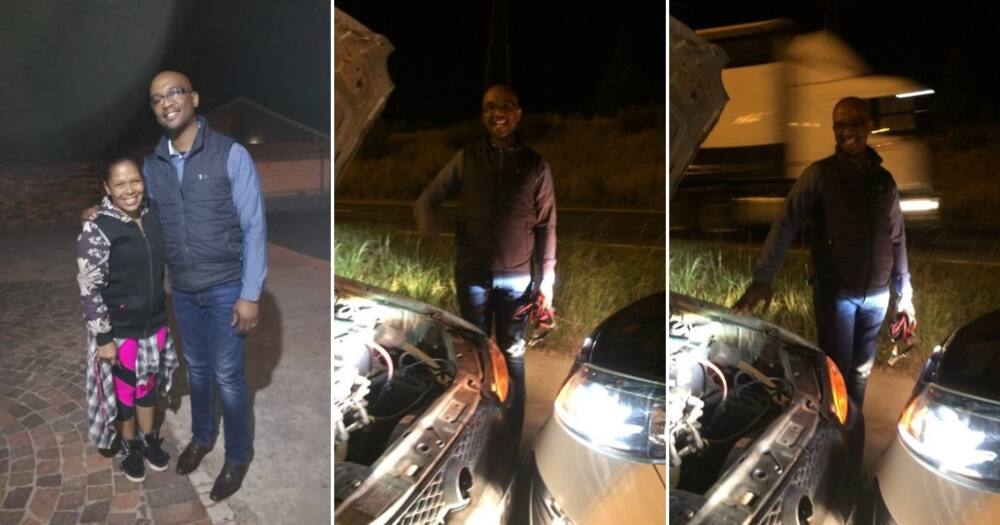 READ ALSO: On this day in history: F.W. de Klerk apologises for apartheid
South Africans were inspired by the story and they praised Tsoari for his act of kindess.
Rochelle Easthorpe commented: "Angels do exist. I pray after all of this everything to fall into place just like God wants it to my friend. Thabo Tsoari my God bless u en your family always."
Nebresca Yolanda Jemaine added: "I am so sorry for what u had gone through my friend. God is faithful and pray for God to not only bless Thabo but also to bless you."
Diana Oliphant wrote: "God was with you through Thabo. An angel sent by God."
Enjoyed reading our story? Download BRIEFLY's news app on Google Play now and stay up-to-date with major South African news!