An unnamed African lady who has had lots of partners has cried to relationship blogger, Joro Olumofin, to seek advice.
PAY ATTENTION: Click "See First" under the "Following" tab to see Briefly.co.za News on your News Feed!
According to her, her past is hunting her and she does not know what else to do. She is finding it difficult to get married due to her ugly past.
Briefly.co.za learnt that she has slept with 130 men in the past and this keeps ruining her chances of settling down. She is presently seeking advice on Instagram.
"My past is hunting me. I had a rough childhood. I hated staying at home. So I always used to go out. I lost my virginity early. Going out and having sex made me happy. I did a list in January and I have slept with up to 130 men. I am ashamed of it. I swear I'm not a bad person. Every time I'm dating a guy, he cuts me off midway and moves on. I almost got engaged once and he said he was done and I can't be trusted. Different people keep spoiling me and saying I am not a wife material. If I was a man and I slept with 200 people, people won't do this. They will give thumps up. Can I find a man who will accept my past?" a part of the email reads.
Read the full post below: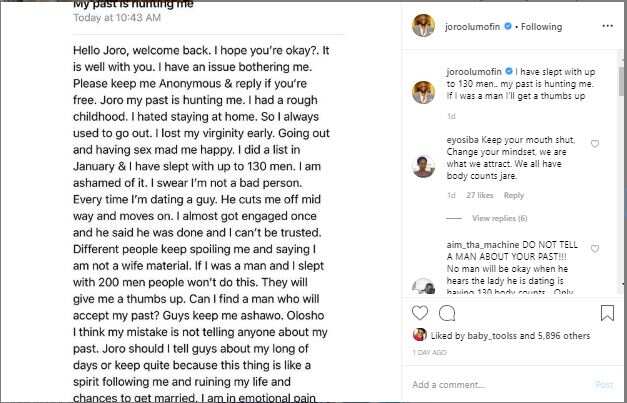 Do you want to know what's trending on Briefly.co.za? Join our WhatsApp group today.
A quick glance at the comment section of the post has these reactions below:
eyosiba: Keep your mouth shut, Change your mindset, we are what we attract. We all have body counts jare.
aim_tha_machine: DO NOT TELL A MAN ABOUT YOUR PAST!!! No man will be okay when he hears the lady he is dating is having 130 body counts... Only tell him if you got a child. If there is no child.. Just keep shut.
brown_shuga95: Sis no matter how many people u bn with if anybody ask u ur body count the number is 3!!! Simple
READ ALSO: Pearl Thusi shares silly clip of herself singing about load-shedding
uncleteryy: There's light at the end of every dark tunnel, someone out there will come and value you and treat u better just be positive....nobody holy pass
edikananja: Guys don't like the truth my dear .. being too sincere doesn't keep a man .. next time keep stuffs to ur self let ur past be ur past .. u will find someone that will love u
official_peaches01: I think u should keep your past to yourself and stop all the relationship thingy for now..u should change environment if u can. Stop giving number of guys you've slept with too u dont owe anyone that info abeg.. if u have to talk about your past if at all u can simply say "rough past" finish.. u think a normal man can come settle after hearing 130 men?? I hope u find a good partner
immaahlee: Forgive yourself, you haven't forgiven yourself for the way you treated your body in the past. You don't owe anyone any truth about your past. You can only hope for a better future for yourself, go on a 6 months celibacy journey and during your journey learn about other things that can fill your soul up.
Enjoyed reading our story? Download BRIEFLY's news app on Google Play now and stay up-to-date with major South African news!