2019 is here and still most men in South Africa and across the globe are stuck with outdated men haircuts styles menus suggested by their barbers. So, what is the best haircut for guys? Behold, the best hairstyles for men that guarantee a complete change of men's appearance, adds some beauty, decency, and that classy touch. You also get great hair grooming ideas and examples that best suit your profession, dress code, or future hairstyle plans.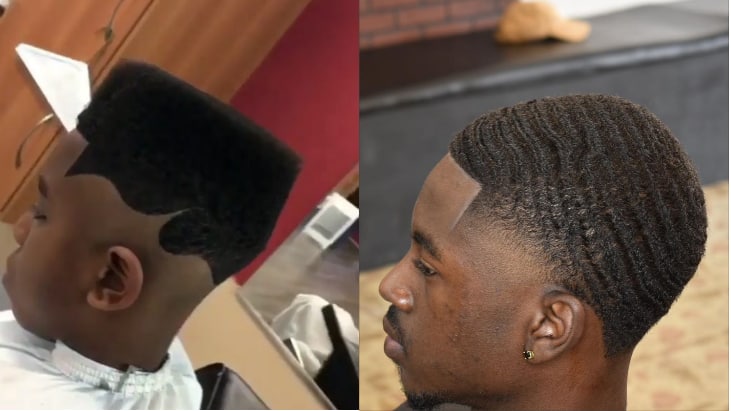 Tall, short, curly, thick, or any hairstyle, a fact remains that human hair is one of the most significant features that make men attractive or repulsive to society. Due to that, we, as men, have no option but to learn, try, and embrace the various haircut for men that best goes hand in hand with our chosen lifestyle. This article is an invitation for all men to learn, embrace, and try some of the best hairstyles for men that any South African man can ever adopt.
Hi-top fade hairstyles
Explore the epic mix of two centuries, the 1980s and 1990s, by trying out the Hi-top fade haircuts for men. The style involves having long hair on the top while the side hair is cut or trimmed short. The history behind the hairstyle is the great golden age of hip-hop as the trend was widely prevalent among the youthful black African American people in the period of 1986-1993. In most local and international barber shops, Hi-top fade is commonly referred to as "Punk." You might be wondering, what is the best haircut for men Hi-top fade hairstyle?
1. Box Fade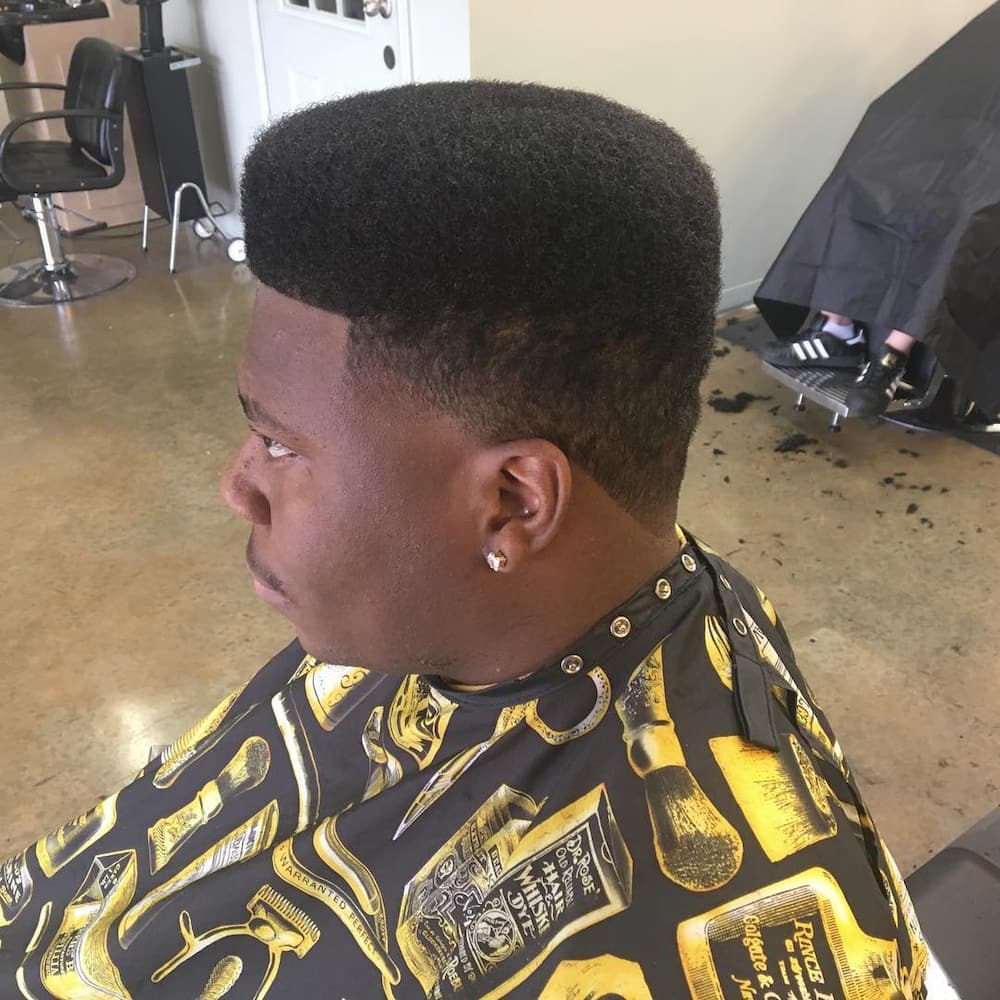 Box fade had made a great comeback as one of the leading mens hairstyles 2019. It is one of the most evident men hairstyles among the National Basketball Association (NBA) iconic players. Just as its name suggests, you will notice that the box fade style involves both hair sides tapered down to achieve a short hair length while the top side has long hair that is cut into a rectangular-like shape.
To achieve the hairstyle, the top hare should range from 3-5 centimeters tall in length. This is dependable as you can have a customized look based on your style or dress code. You can also ask your barber to make a gradually tapering on the side hair followed with a shorter and thick top hair.
2. Afro Tapered Fade
Are you the type of man that loves long hairstyles but don't know what to do with it? Behold, one of the outstanding afro hairstyles known as "Afro Fade." Just as its name suggests, the style is a mixture of tapered side and the top hair left to grow naturally and well put. This hairstyle is commonly known as Afro fade and is applicable for all men despite the age. You can explore the different styles that come along with the afro tapered haircut.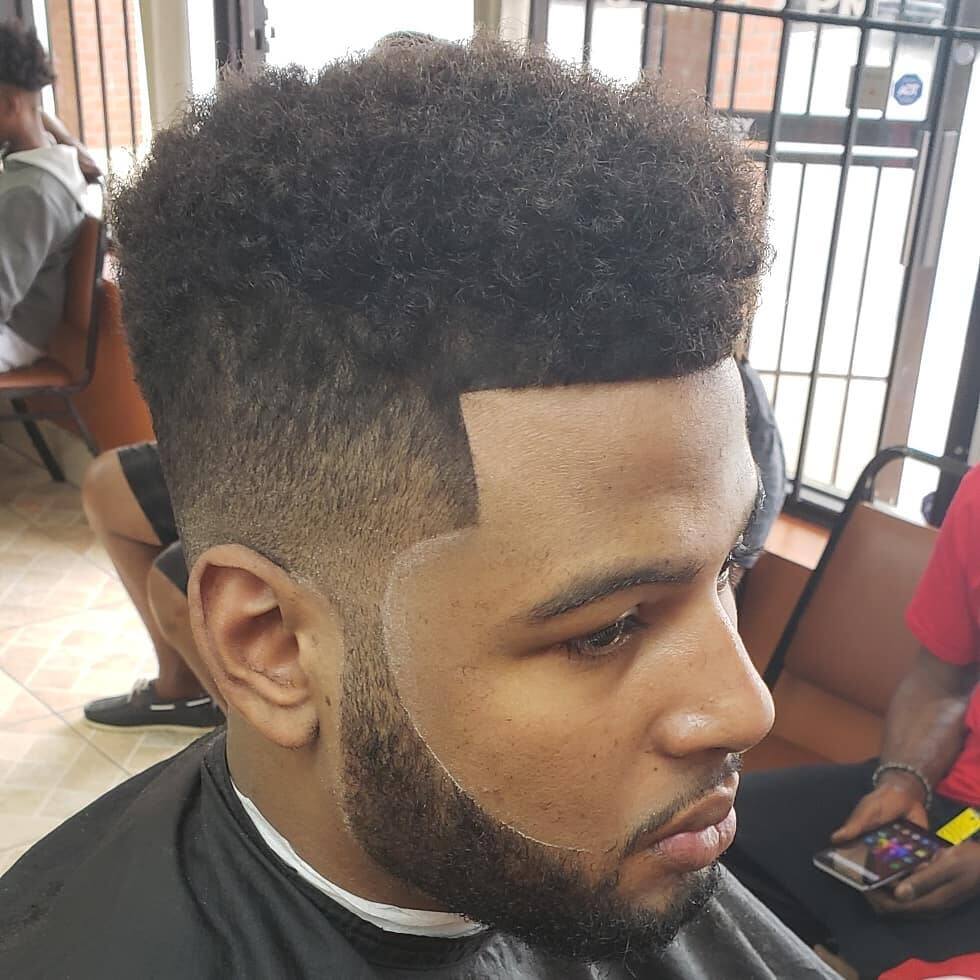 A good example, for men with curly hair, you can achieve an afro tapered curly hair by trimming the sides. You can also play with the style by trying out both long and short hair lengths on the top hair for a personal touch. The low top hair afro fade is recommended for men who want to achieve that stylish official look while the funky man can go for the long afro fade.
3. Short Part with Fade
This is the perfect mens hair styles for South African men with thick and short taste. The style stands out, especially when the barber creatively utilizes the part line to mark the edge and the contrast between the top hair and the faded side hair. This is by the barber making visible part line cuts. You could choose either one part line, two, three, or have longer part line that reaches the edge of the head or short that makes a turn inside the part. Short part with fade rhymes perfectly for men with thick and curly hair. The part line in the hairstyle enables you to achieve that symmetrical look that is a trendy hairstyle for men in 2019.
READ ALSO: 30 natural short hairstyles black hair with images 2019
4. Pompadour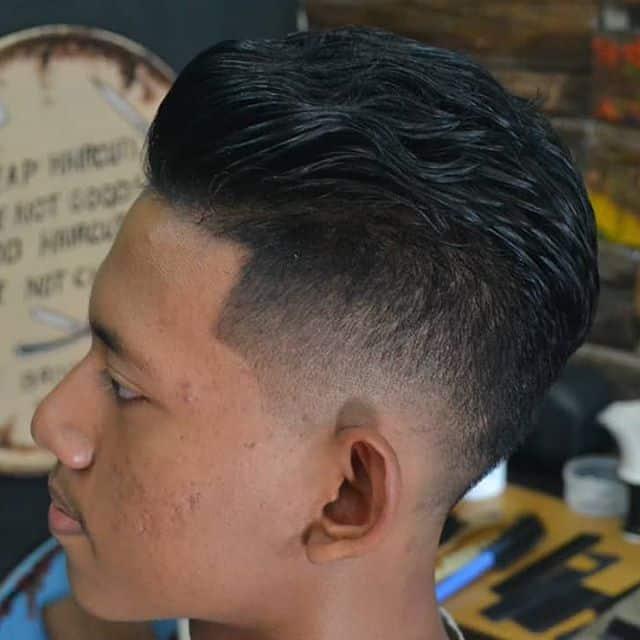 The good thing about men's hair, it can be tamed and styled to come up with some of the great looks that fall under the modern hairstyles for males. The pompadour haircut has been rocked for decades, especially with men who possess fine and straight hair. Currently, the hair fashion industry has made it possible for also men with tight curls to enjoy this amazing style. To achieve the style, instruct your barber to create a quiff at the bottom front side of your hair that is designed to look like the popular box haircut.
5. Line Up
Naturally, men hair tends to grow into its naturally confined hairline. The Line-Up men haircut involves you establishing a perfect outline of your hairline hence achieving that spectacular look. On the edges of your head, instruct your barber to make sharp angle cuts to perfectly outline the sideburns. The advantage of choosing the Line-Up haircut is that the evident hairline cut creates a stylish contrast that brings the best out of your eyebrows, brow line and the face profile.
6. Wave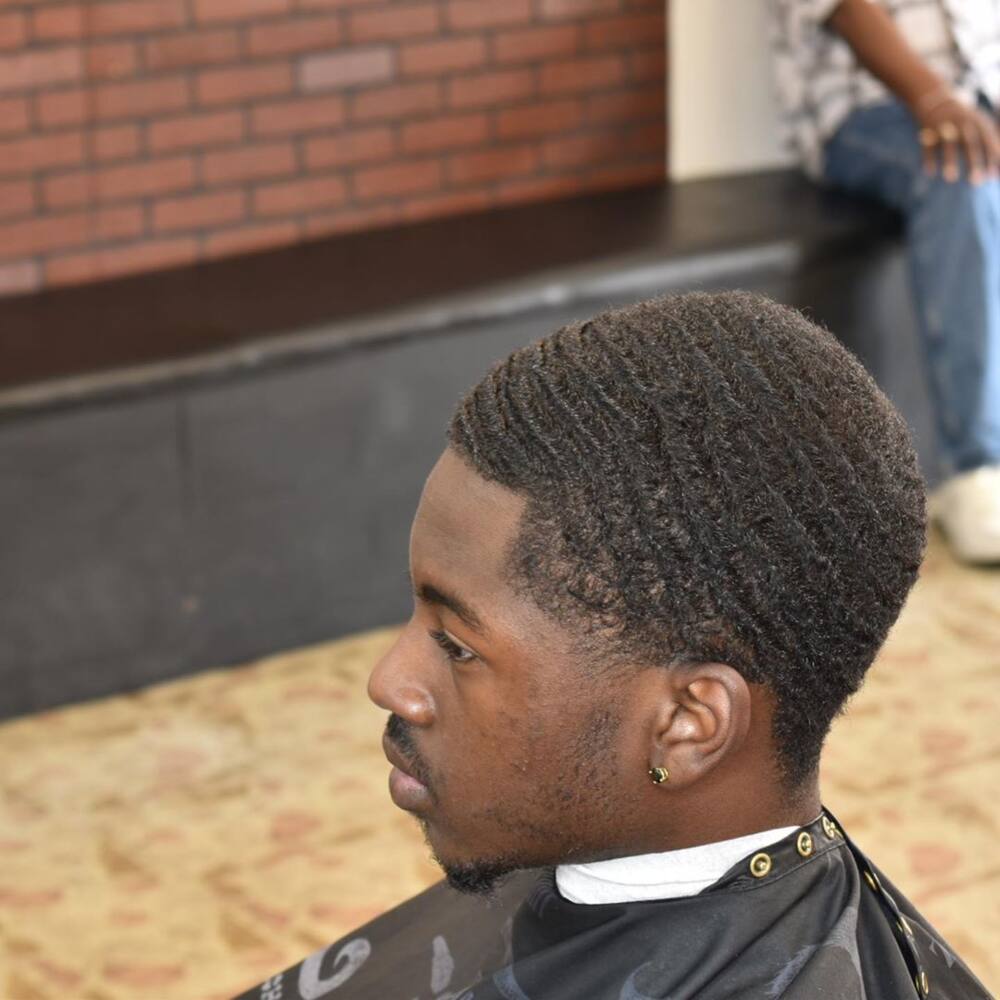 Just imagine the thought of having waves on your hair! Sounds like one of the funky hairstyles for men right! The wave hairstyle, however, is best suited for South African men with thick hair to achieve a perfect look. To attain the hairstyle, you have to get some help from your barber. He will wash your hair with shampoo and hair relaxer products for that moist effect. The barber will then proceed to use a wave brush that will have you looking like a classic gentleman.
7. Curls with Fade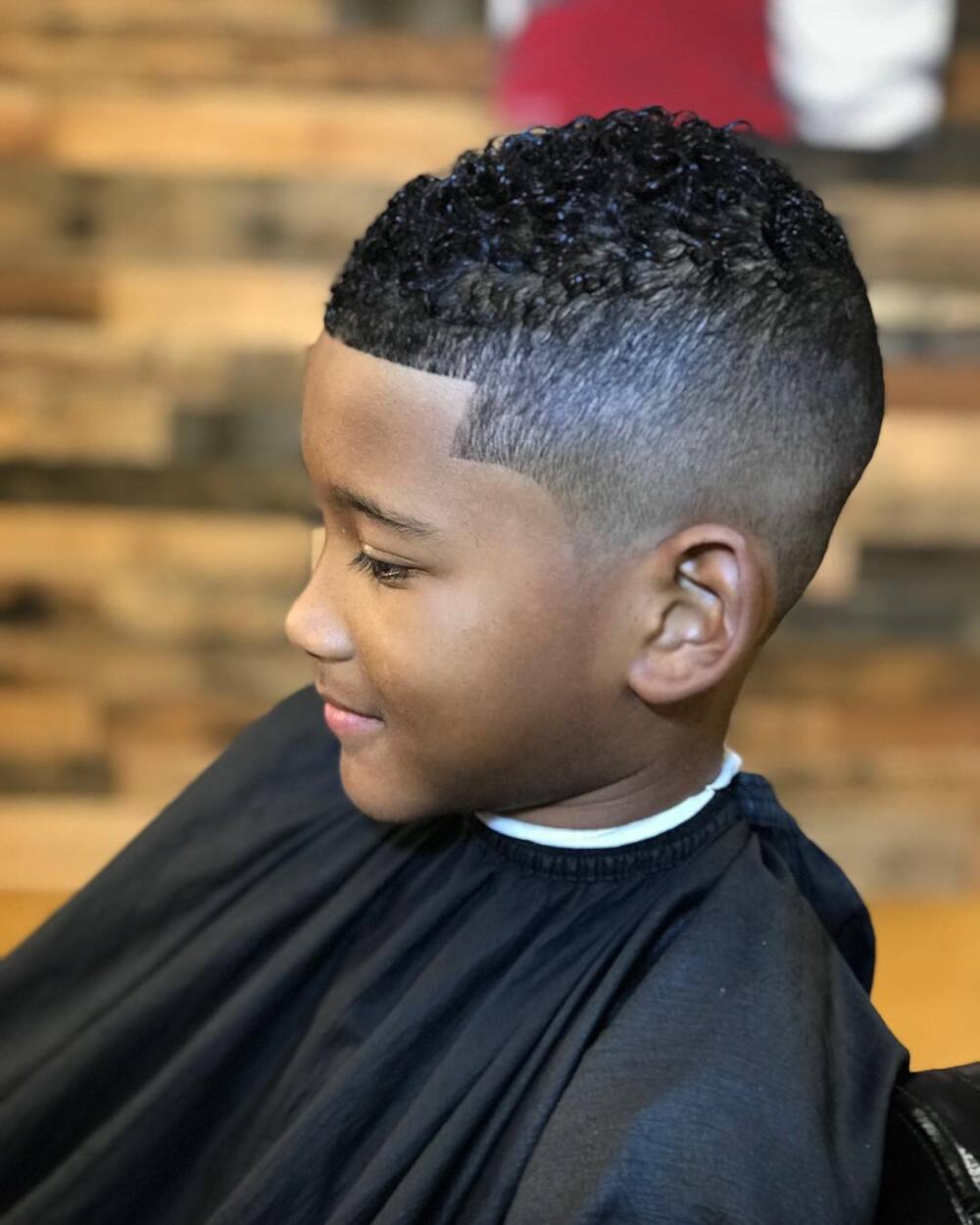 For that urban and fancy male hairstyles look, try out the Curls with Fade hairstyle especially if you possess curly hair. It requires one to have long curly hair on the top that can be left to achieve that natural look. Make fades on the side to create that authentic contrast and distinction between the top and side hare. You can explore the different side trims ranging from slanted to the side edges to very low close to skin cuts.
8. Buzz Cut
The Buzz Cut is a great option of men hairstyle, especially for men who have no much time to spend on grooming their hair. This means that it's a low maintenance hairstyle that favors all men either young or old. Did you know that the Buzz Cut is an inspired hairstyle from the military camps? If you notice, most armed forces require soldiers to cut their hair short for that easy maintenance. Just like most short haircuts, Buzz Cut is effective in drawing people's attention to one's eyebrows.
9. A Beard Buzz Cut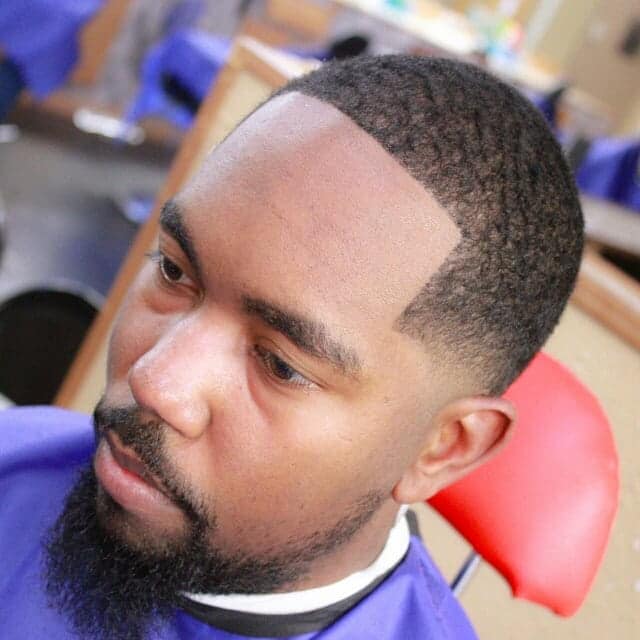 Since we are talking about fresh men hairstyles, we have to consider the beard guys hairstyles that make a significant population of South African men. Buzz Cut with Beard makes a great contrast between your hair and beard. You have to buzz your beard to a precise length that compliments your hair thickness and outline. You will also have to manicure your beard, especially the sideburn, to achieve that harmonious transition at the part that it links with the side hair (cheek line).
10. Twist with Fade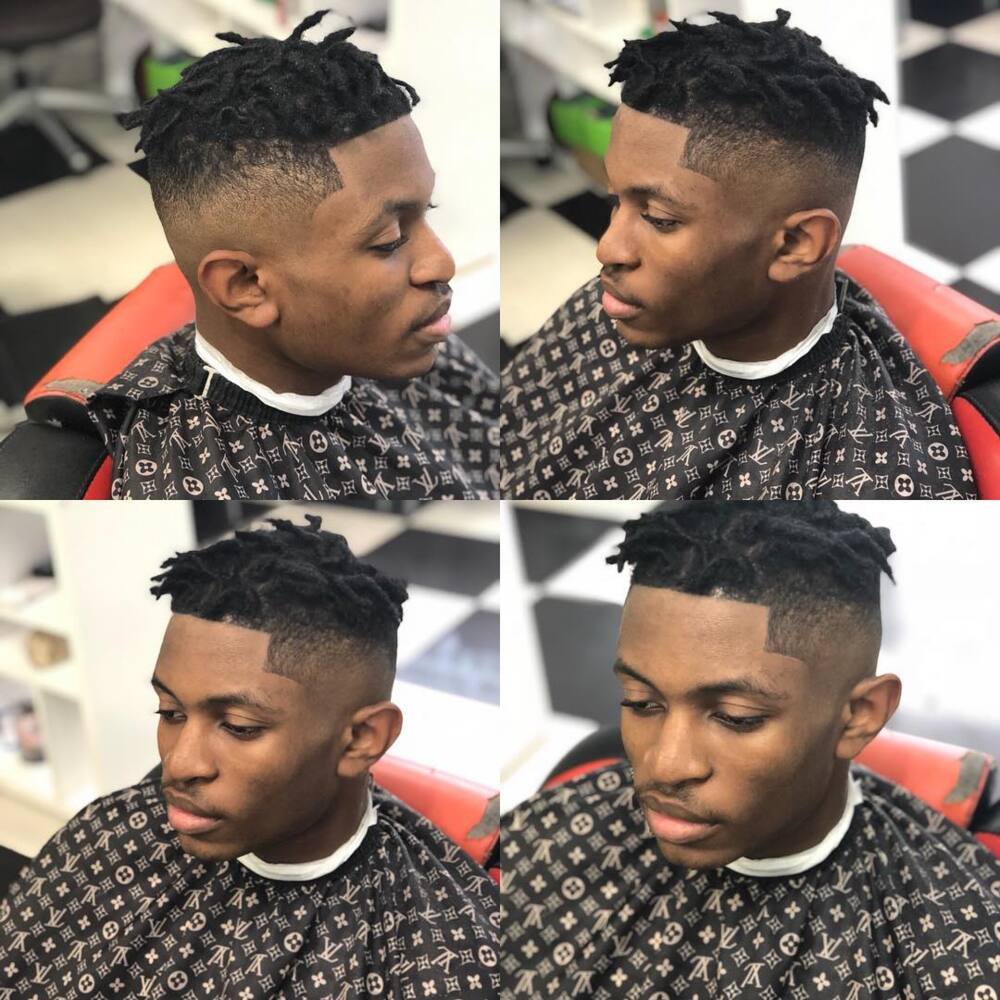 This is easy to achieve men's hairstyles that are rocked by most celebrities and famous musical artists of our century. You need to have a medium length hair on the high top. Instruct your barber to make twists on the top hair while tapering the side hair down. It is easy to obtain by men with rather long and tough/unruly hair.
Hairstyles for men is one of the timeless topics and realities that apply to all men. The diverse haircuts and styles are flexible to try out based on one's status, age, dress code, and for people who want to try something unique fresh out of the barber's box. As a man, take your time to decide the best men hairstyles that fit your current lifestyle and compliments your general image as depicted above.
READ ALSO: 45 Best straight up hairstyles with braids pictures 2019