Atlanta based group Migos has become a staple in the hip hop world. Migos new songs have shown growth and production. The group has been dropping hit after hit year in year out since their first major single, Versace. From catchy choruses to funky ad libs, the group has produced some of the best-selling tracks of their generation. The group is composed of rappers Quavo, Offset, and Takeoff.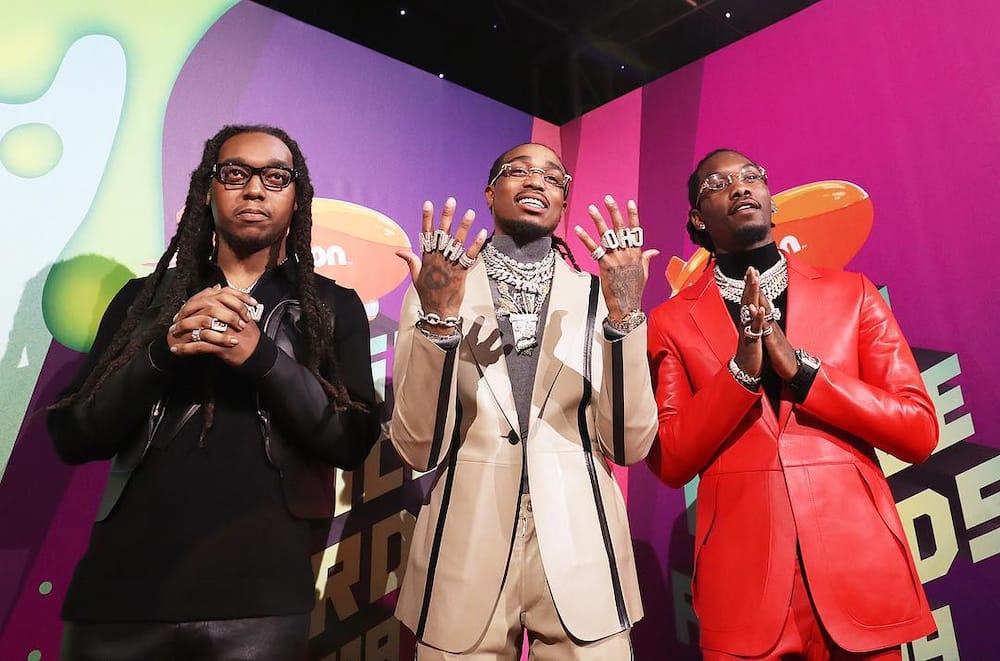 Migos is signed to Atlantic Records, which has signed some of the biggest artists over the years including Cardi B. Recently, the group members each released solo projects that were well received. The group has been nominated for several awards including the Grammys. In 2017, Migos brought the Culture Tour to South Africa with performances at the ICC Durban and Ticketspro Dome, Johannesburg.
READ ALSO: Best Migos songs ranked
Migos latest songs
The group has not really dropped much new music since Culture II. However, Quavo, Takeoff, and Offset have all released solo projects. Here are the some recent Migos songs that the three members have featured.
1. Mustard, Migos - Pure Water
Migos is featured on the DJ Mustard track Pure Water. The official video premiered on 7th March 2019 and has over 60 million views so far.
2. Migos - Position To Win
Position To Win is one of Migos new songs 2019 that was released on the 7th of February 2019. ts audio has over 1 million views on YouTube.
3. DJ Durel, Migos - Hot Summer
This is one of Migos new songs 2018. The official video of the song was published on 4th September 2018 and so far, it has over 8 million views on YouTube.
4. Migos - Narcos
This track's official video was released on 27th June 2018 and has amassed over 124 million views to date.
5. Migos – Walk It Talk It ft. Drake
This song was part of the Culture II album has over 288 million videos on YouTube since its release on 18th March 2018.
Migos albums
Migos is currently working on their next album, Culture III which is expected to drop sometime in 2020. However, so far the group has released three studio albums.
1. Culture II
What is Migos latest album? The trio's latest album is Culture II which was released on the 26th of January 2018. Culture II Migos latest album was the group's third studio album and has since been certified 2x Platinum. Culture II has twenty four tracks, making it a double album with guest appearances from major artists like Drake, Cardi B, 2 Chainz, Nicki Minaj, Big Sean, Post Malone, 21 Savage, Travis Scott, and Gucci Mane.
2. Culture
The album was released on January 27, 2017, and features guest appearances from Travis Scott, DJ Khaled, Gucci Mane, Lil Uzi Vert, and 2 Chainz. Culture was certified platinum in July 2017 by RIAA.
3. Yung Rich Nation
This was the groups' debut studio album and was released on July 31, 2015. Yung Rich Nation features appearances from Young Thug and Chris Brown.
Quavo, Offset, and Takeoff solo albums
The three talented artists who form this music group have done some works independently.
1. Offset - Father of 4
Father of 4 is Offset's debut album that was released on February 22, 2019. The album features appearances from Cardi B, J. Cole, Gunna, Quavo, Gucci Mane, Travis Scott, 21 Savage, and Big Rube.
2. Takeoff – The Last Rocket
The Last Rocket is Takeoff's debut studio album that was released on November 2, 2018. The album is comprised of 12 tracks including the hit song Casper.
3. Quavo - Quavo Huncho
Many people consider Quavo the 'Beyoncé' of Migos. The talented musician released his debut album, Quavo Huncho, on October 11, 2018. The album features appearances from Offset, Takeoff, 21 Savage, Cardi B, Drake, Normani, Saweetie, Kid Cudi, Lil Baby, Davido and Madonna. Some of Quavo songs from the album are:
Quavo – BUBBLE GUM
The official video has over 28 million views on YouTube since being published on October 10, 2018.
Quavo - WORKIN ME
The official video premiered on August 22, 2018, on YouTube and has over 62 million views on YouTube.
Quavo - LAMB TALK
The official video has over 32 million views since its release on August 15, 2018.
READ ALSO: Top trending Migos songs 2018-2019
As you wait on Migos new album to drop, you can still bump to their old hit songs and build up anticipation. Judging from the solo albums and the above Migos new songs, Culture III is going to be a great album. The trio is destined for greatness and may go down as one of the best rap groups to ever exist.
READ ALSO