Adam Catzavelos went popular on various social media platforms for all the wrong reasons that anyone in the 21st Century could ever consider. Adam raised a public outcry, criticism, and backlash for his racist comments against black people. This was through a video that he shared on one of his holiday trips on a Greek beach. Here is all you need to know about what happened.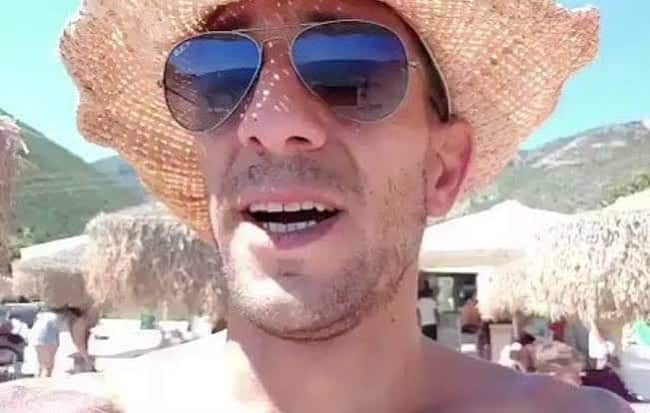 In the 22 seconds short video, Adam records himself on a Greek beach where he blatantly uses the racist k-word to celebrate the fact that he was on a beach full of whites and no single black person on sight. In the video, he showcases some of the white folks that were also within the beach. Adam Catzavelos wife and kids were all together for the vacation.
Catzavelos went ahead to share the race rant film to one of his contact WhatsApp groups without considering the repercussions of his racial rants. It is through the group that the message was leaked and shared across numerous social media platforms. Just like a wildfire, the video went viral and produced a counter effect on South African citizens. Most people harshly attacked and shamed the usage of racist descriptions by mentioning the k-word. The video was uploaded on Twitter on Tuesday, 21st of August, 2018.
Adam's physical locations and whereabouts were still unknown to many people. Various Twitter users came up with an online campaign where they would share and comment on the video until the culprit was arrested and charged for violation of legal human rights. Finally, the campaign beard fruits as Adam Catzavelos whereabouts were eventually exposed, and the video had reached the attention of legal enforcers and media houses.
So, who is Adam Catzavelos?
The racism incidence has made the name Adam Catzavelos famous among various South Africa media stations, local talks, social media hashtags, among other social discussions related to racism. Even though most topics only refer to his racist action rather than Adam as an individual. Due to this, we have compiled five facts about him for effective follow-up of Adam Catzavelos news.
1. Entrepreneur
As a breadwinner for his family, Adam is considered to be an entrepreneur as most of his previous associated institutions and organizations denied any connections and working relations due to his racism. Nedbank is such an institution that reported that he no longer works under their management.
2. Family Business associations
St Georges Fine Foods happens to be a food industry business that belongs to Adam Catzavelos family. His father started the company way back in 1968. In 2003, Adam and his brother Nicholas, later on, took over the management operations of the sauce business. By visiting St Georges Fine Foods website, you will learn that his father, George, is legendarily known for his longtime business. He is mentioned to be the first South African resident to have ventured in basting and marinating steaks. Before this, George worked as the sole entrepreneur of steak – house.
READ ALSO: EFF protested at Smokehouse and Grill over link with Adam Catzavelos
Due to the social media outrage concerning his usage of the k-word, Adam had to be fired from his family business. Furthermore, the family business also suffered significant losses as different people on social media decided to boycott getting services from St Georges Fine Foods. The loss was substantial as some of the main clients and partners ceased making business transactions with the family business. The other family business that is known as "The Smokehouse and Grill" also faced customer boycotts and migrations to nearby food stores.
According to his big brother Nicholas interview with Sunday Times, the racial rants by his brother have broken the family apart forcing their parents to leave South Africa.
3. Adam was interviewed on Radio 702
Back in 2004, the racist man managed to earn a radio interview courtesy of Radio 702. This was in an attempt to market his own business through the application of a business acceleration strategy. On the other hand, ever since the viral racist rants, the radio station publicly reported that they do not support the comments by Adam. The station clarified that they are against every form of racial practices among its business partners and acquaintances.
4. Facing legal charges on May 2019
Adam Catzavelos latest news is that he is expected to be arraigned in court on the 28th of May, 2019. The case will be held in Randburg district court. This is based on the social media campaigns by anti-racist individuals and groups such as 'the red berets" who went ahead and placed a legal complaint against the South African man in Bramley Police Station.
5. Apology
In his apology, he said, "I have watched my video and feel total shame. It is hard to put into words what I want to say and genuinely apologies'" he said in a statement. "I don't expect people to forgive me' but will spend the rest of my life repenting and trying to make up for my total lack of respect and judgment." The family also offered apologies on his behalf.
Adam Catzavelos is popularly known for his leaked viral video where he uses a racial k-word to refer to the black people. The video led to rapid public outcry and backlash as various anti-racial individuals and activists shamed the racial rants. Catzavelos utterances have affected his reputation and family business and forced his parents to leave South Africa. He is expected to be arraigned in court this May 2019 as racism becomes Adam Catzavelos challenge.
READ ALSO: Nando's at it again, new ad features a black Adam Catzavelos