Sondela camping rates, images, accommodation and fun activities
What will you do for a night at Sondela camping? There are lots of destinations around the world for a thrilling and exhilarating encounter. Don't you want a place with lots of entertainment options and affordable prices? Sit tight if your answer is yes because this article discusses one of the best camping sites in South Africa; the Sondela Nature Reserve, that can brighten your holiday experience. You will also get to enjoy beautiful Sondela nature reserve pictures, as well as get the answers to the question, how much do you pay for Sondela camping experience?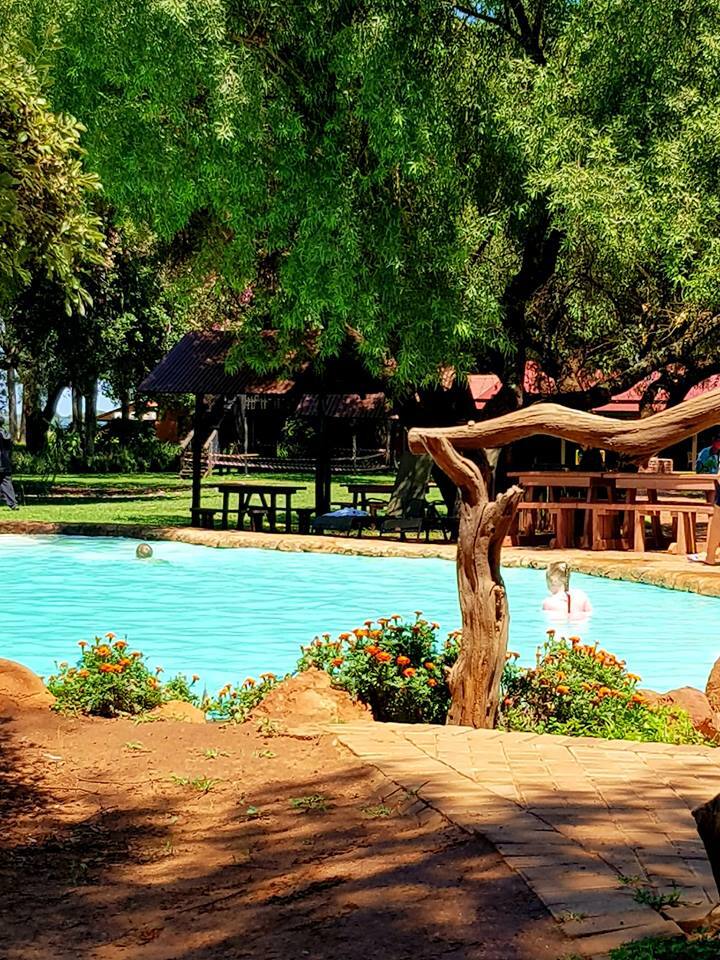 Sondela Nature Reserve has been ranked by leading magazines as one of the top 100 resorts in the country. The word 'Sondela' means "come closer", a paradise of fun activities featuring green lawns with plenty of trees that provide shade, current ablution facilities, beautiful topography and exceptional hospitality services contribute to its increasing reputation. There are lots of resort facilities to keep you engaged and entertained all through your tour in Sondela campsite.
READ ALSO: Memorable adventures in Cape Town - 10 affordable activities for outdoor lovers
Sondela camping rates and accommodation plus fun activities
This is all you need to know about Sondela.
1. Sondela Country House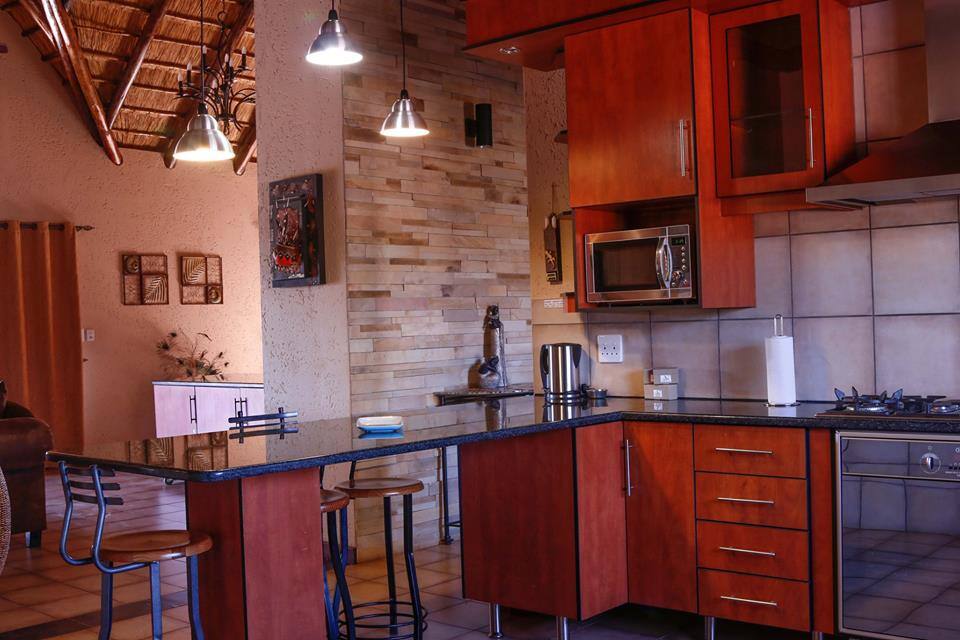 It is situated alongside the grassy Bushveld savannahs and lined by rolling green lawns and shady trees. The Country House has seven spacious bedrooms decorated with unique accessories containing luxuries such as furnishings and fine linen with special facilities like an outdoor private shower, secluded garden lawn and spa bath for honeymoon suites.
This 5-star boutique hotel offers a number of top-class vacation, lodging, and conference facilities for guests. Each of the rooms opens onto a small private garden or beautiful trimmed lawns with views of the fields. Also, a sparkling heated pool is exclusively reserved for use by visitors within the park. Unfortunately, children below 16 years are not permitted at the Country house. Visitors camping in this accommodation facility experience world class service of 4-star rating
Full board rates(per night)
Comprise-three meals per day, accommodation, a game drive plus visit to the Wildlife Center.
Low season charges - R3315 for sharing and R2115 for single.
High season charges - R3985 for sharing and single at R2970.
Bed and Breakfast rates (per night)
Comprise accommodation and breakfast
Low season charges-R1980 for sharing and R1325 for single.
High season charges-R2755 for sharing and R2055 for single.
2. Makhato Bush Lodges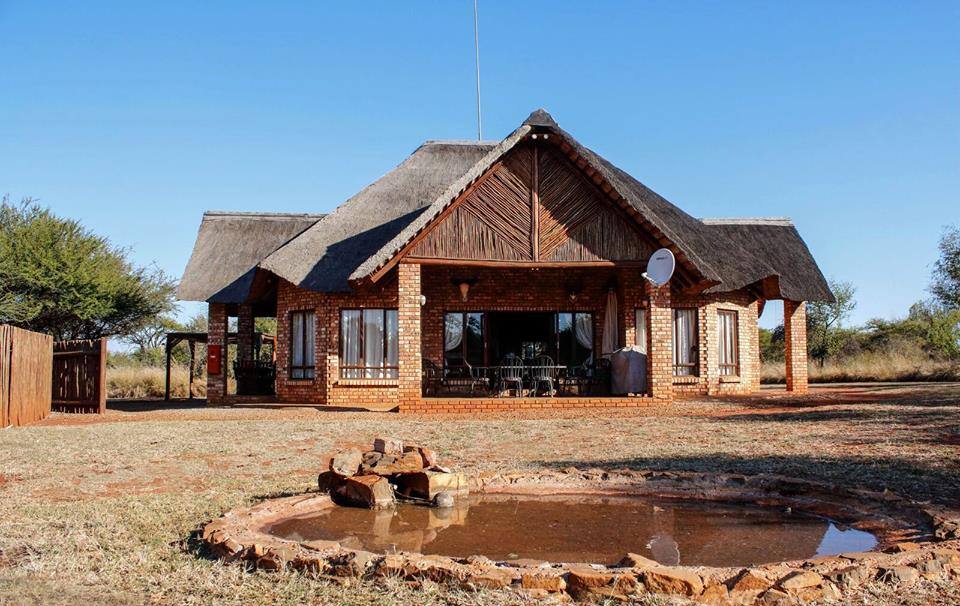 It features beautifully private-owned lodges for a holiday. The fully furnished chambers offer everything for an exciting and relaxing experience within the Sondela accommodations. The rates for these lodges include;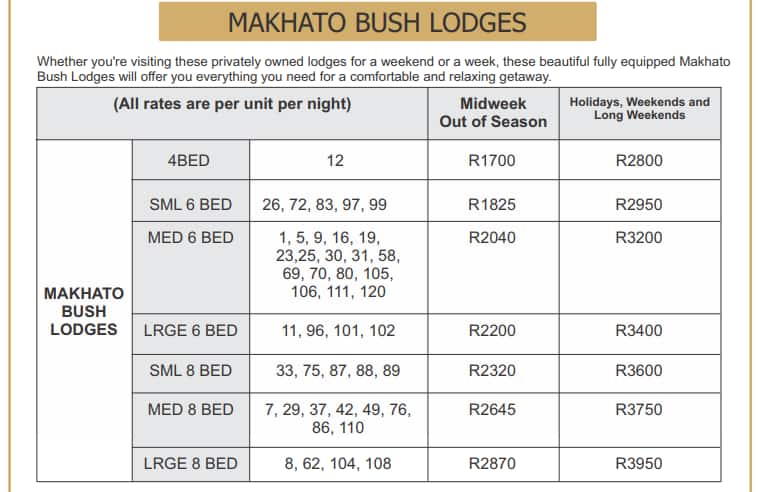 Self catering chalets
Accommodation in the self-catering chalets rated 4-star is good. The chalets available, either on a rental, co-ownership, or timeshare exchange basis. (rate per unit per night)
Chalets
Here are the prices for Chalets:

4. Moselesele Tented Camp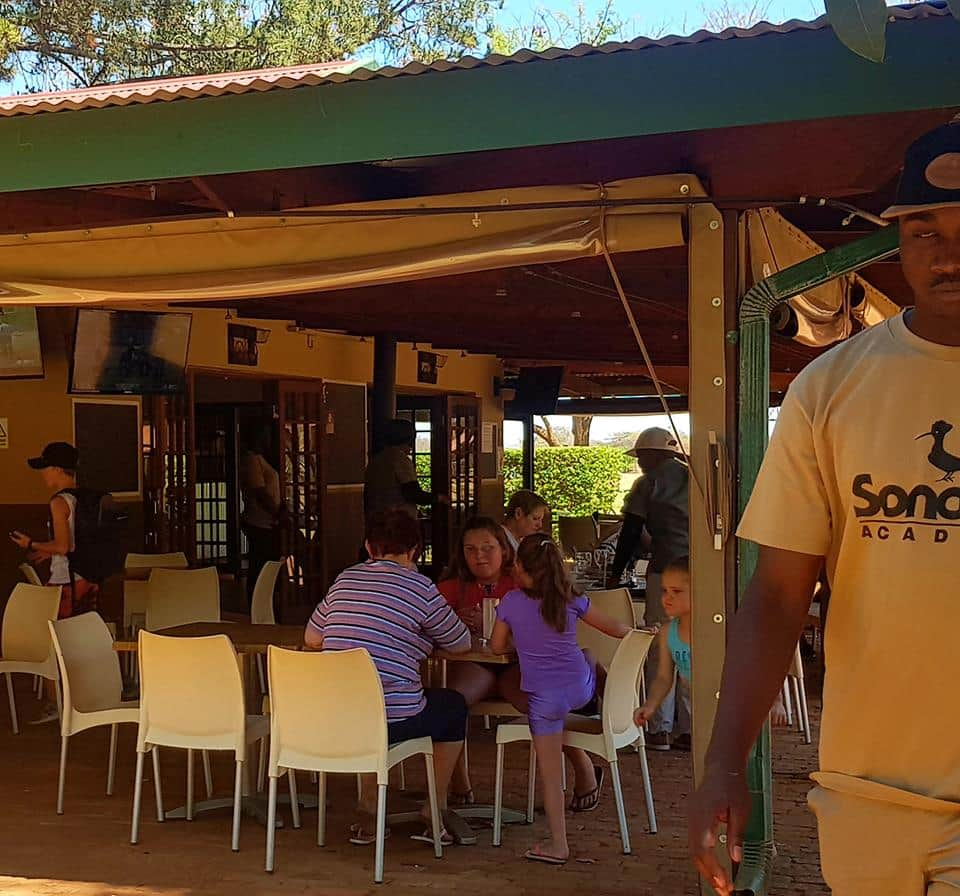 Moselesele offers top class tour experience at cheap rates. Guests to this tents are treated well from their arrival time to departure time by the camp hosts. The hosts serve the guests with professionally prepared meals.
The camp is suitably located close to the Caravan park, between the indigenous Sekelbos and Bushveld trees. Visitors are entertained with services like pool, table tennis, DSTV, darts, pool, safari tents, communal boma, private bathrooms, air comfortable lapa incorporating a lounge, pub, a dining area, among others.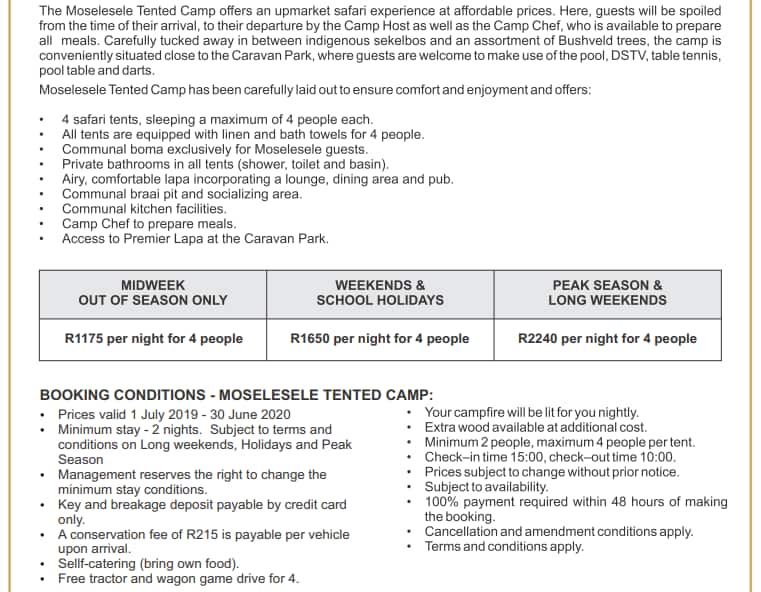 Out of season price-R1175, weekends/school holidays-R1650, and peak season R2240, each charging per night for 4 people. The Moselesele tented camps provide visitors with a great life experience.
READ ALSO: 15 fun and thoughtful romantic things to do in Johannesburg
5. Tambuki 4x4 campsite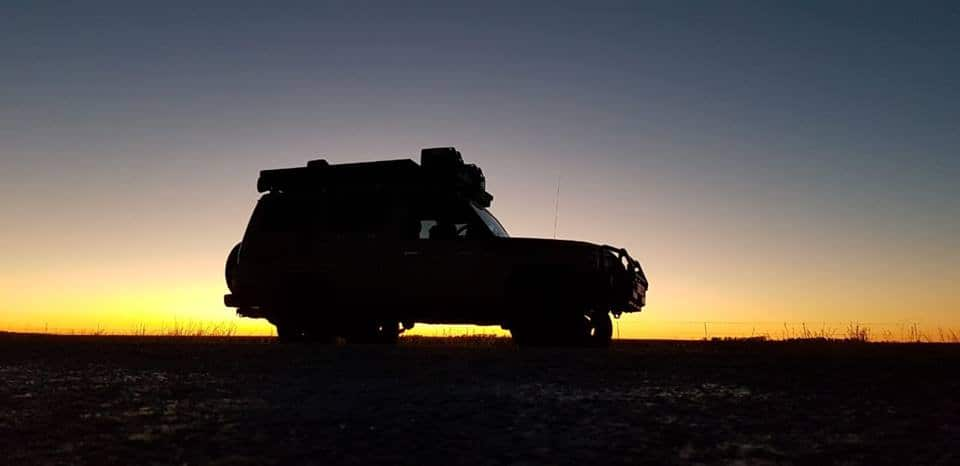 One of the Sondela campsites with a rustic appeal is located 8 km from the guest reception. It is strictly a 4x4 camper site for rugged escapades savuoring the nature. It represents a perfect option for nature insights-being remote camp set around the base of a rock, prides of marvellous open-air, hot water showers, flush toilets, and a boma with a magnified thatched lapa. Unfortunately, there is no electricity at the campsite.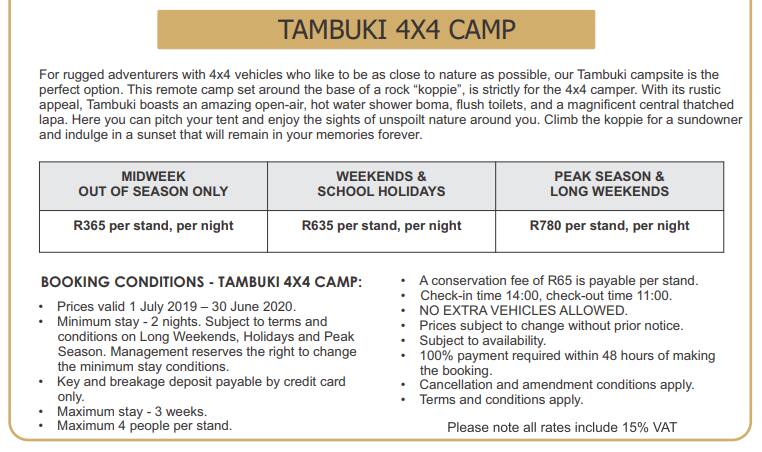 6. Caravan park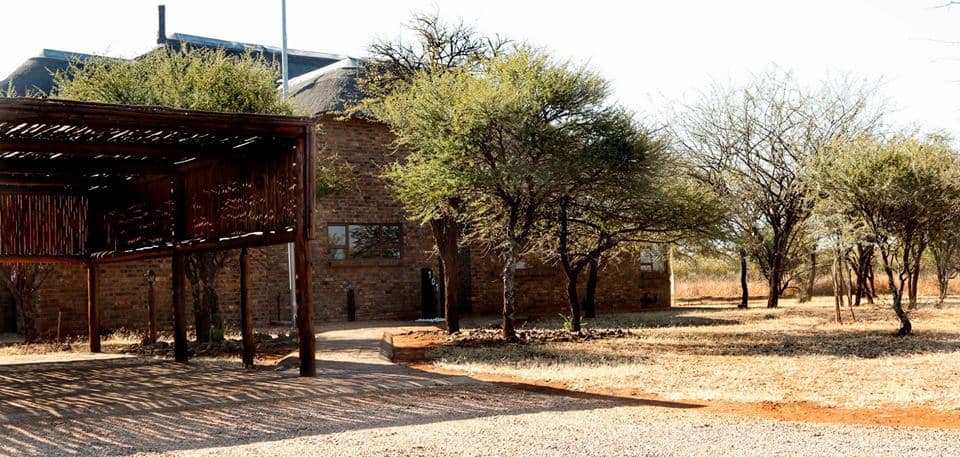 Caravan park is an easy one-hour drive from Pretoria. It is an idyllic Bushveld destination having 89 demarcated stands, power, and water points plus 52 private braais facilities. This double month camping site is set around a remarkable thatched ablution block expertly designed to satisfy every visitor's needs. Just like Mabalingwe caravan park, this park has built-in baby-baths, family bathrooms, and a discrete bathroom to cater for wheelchair users.
The stunning Premier Lapa incorporates the bar and entertainment section featuring DSTv, pool table, table tennis, and darts. Facilities found in this caravan park include a swimming pool with built-in spa treatments, a traditional boma with braai area, kiddies pool, restaurants providing all types of meals, massage and beauty therapy, self-catering, and laundry services.
Campers at the scene are encouraged to participate in the resort's recreational programs encompassing activities such as cycling, bird viewing, tennis, horse riding, game drives, guided walks, pool games, volleyball, and tour to the Wildlife Center. The Piccinini's Bistro that relishes poolside food, drinks, and entertainment is a short walk away. Orders on home-cooked delicacies can be made and delivered to this glamping site.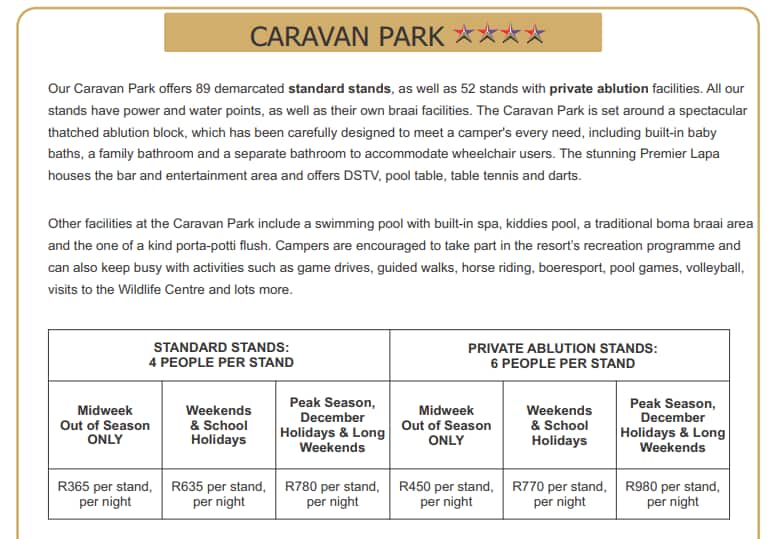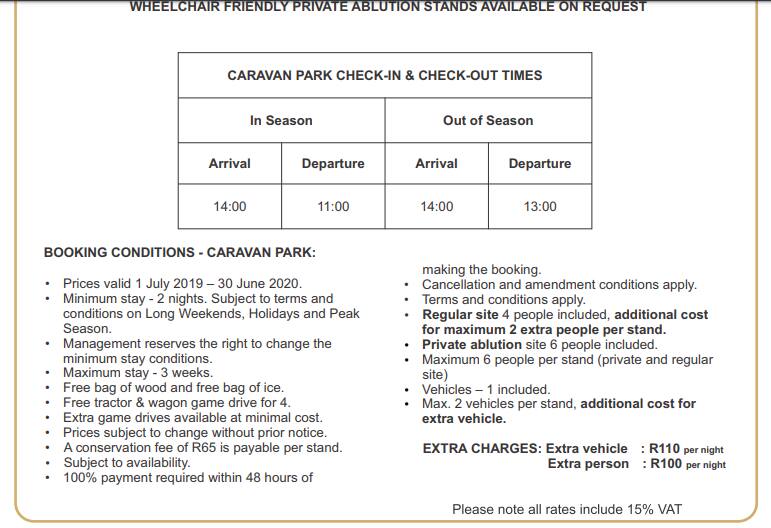 7. Iketla wellness & Spa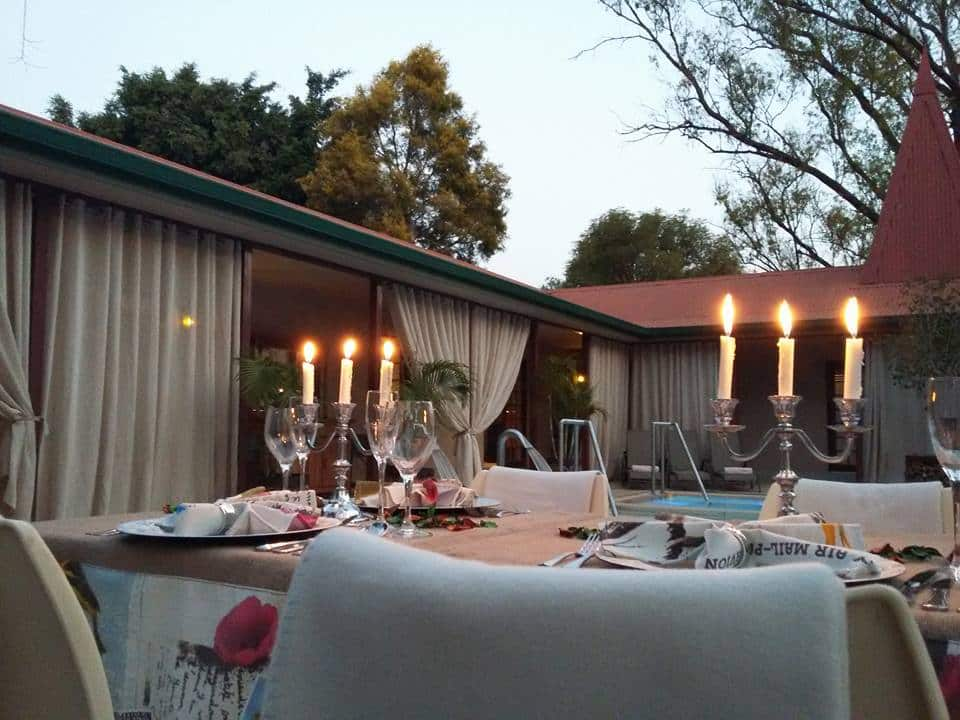 Ikelta is one of Sondela accommodation service. It offers special treatments, such as hydro-therapy, manicure/pedicure, body treatments, massages, waxing, facials, and more. This location also has facilities like Kneipp pool, separate ladies and gents lockers, and lavatories.
Contact details for Iketla Wellness
Tel: +27 (0) 14 736 8809
Email: iketla@sondela.com
Conferencing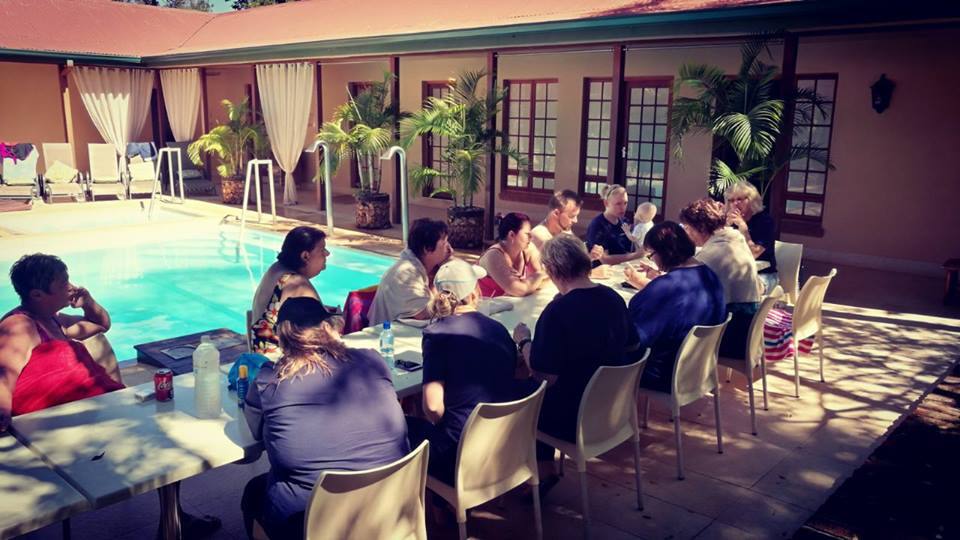 Sondela caravan park also features a combination of luxury housing, exquisite cookery, a welcoming team, and the newly upgraded air-conditioned venue for meetings. Exciting events to spruce up your holiday include bike trails, treasure hunts, survival challenges. Other venues for training, and development, parties, receptions, etc. are also available.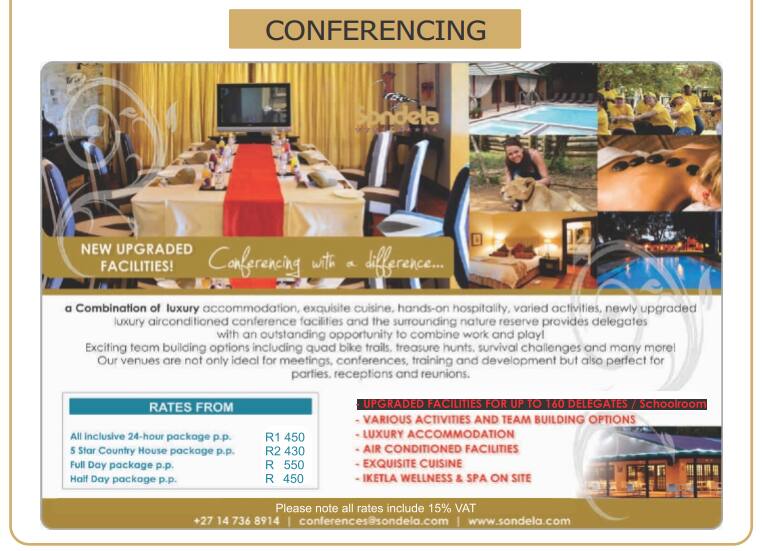 Contacts for conference facilities
Tel: +27 14 736 8914
Email: conferences@sondela.com
Website: www.sondela.com
Sondela Nature Reserve in South Africa is a fast-growing park with lots of entertaining options for thrilling encounters. Visitors planning to have a long weekend should consider visiting the park for top-class facilities. For more information, contact the park using the following contact details for Sondela Nature Reserve:
Tel: +27 (14) 736 8900/+27 (14) 736 8800
Postal address: P.O Box 22, Bela-Bela 0480.
Email: info@sondela.com
Website: www.sondela.com
Whether it is glamping South Africa, or double mouth camping, Zondela will get you a fix that you will live to remember. In addition, Sondela camping rates are some of the best that you can find on the market. All that is left for you to do is to call them and book a date with them. There are more than enough activities to enjoy at this particular site.
READ ALSO:
Gog Lifestyle park in Protea Glen entrance fee, images, and fun activities
Scottburgh Caravan Park rates, images and fun activities
Lalanathi Caravan Park entrance fee, images, and fun activities
Source: Briefly News