Tyga New Album is the new sensation currently causing ripples in the world of music especially because Tyga has given it the legendary status. The California rapper has been hard at work, releasing lots of great hip-hop hits that have features resembling those of great rap influences. This has happened years after his highly publicized romance escapes with Blac Chyna.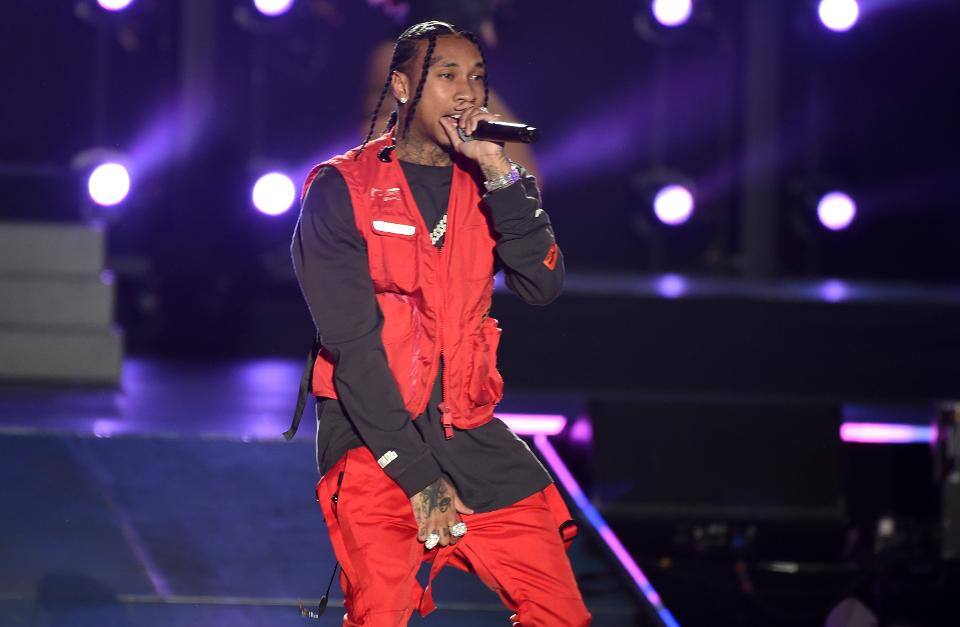 The album Legendary is his 7th studio album and the third he has released within the past 2 years. The album's lead single is titled Taste features Offset and has been doing really well for the year it has been out. The number is Tyga's second single to feature among the Billboard Hot 100 Chart when it scooped position 8 last August. His first tune to do this well was Rock City in 2012. The second single in the album is named Haute. It is a summer Hiphop track that features the famous Colombian crossover star J Balvin as well his regular collaborator Chris Brown.
About the Legendary album
The album has featured a good number of renowned stars from different genres including R&B, and Hiphop. These include the likes of respected rap legend Lil Wayne who comes through on the "On Me" track to newer yet talented faces such as those of Blueface on the track "Stash" as well as Atlanta's prodigy Gunna whom he features on the album's title track. In addition to that, Swae Lee links up with Tyga to sing on "Vibrate," while Bazzi and Chris Brown round out the album's R&B-leaning offerings with "Made Me" and "February Love."
Unique style
Tyga has a signature style that makes him stand out. His way of riding on the beat in a classic California fashion still lives. On this new Legendary album, this is the element that may be the thing that solidifies the newly set and proclaimed status he has taken. In fact, this album may very well be one of his most perfectly-executed and cohesive projects as of now. It also marks the triumphant return to greatness.
Why it is significant
The album is sure going to place him on top of remarkable hip-hop voices after he has had a string of weak yet full-length releases. The drop of Legendary in itself is what experts would term as timely considering that the summer song season hit just right and in full swing. In addition to that, the album's track-list is full of songs that are meant to be played in the car. with all the windows down, all lovers listening to the album, Legendary may just be the strong rap album that has taken the lead and an excellent way to kick off summer.
Review and reactions
The much-anticipated album by Tyga marks the comeback of the star and comes pretty stacked with impressive features. Not too long ago, Tyga announced that we would be dropping the album thus killing the suspense and anxiety that his fans may have had as they waited for it. Even though he hasn't been technically gone, a good number of his fans and critics have dubbed his recent success as a "comeback" and Tyga New Album 2019. Recently it seems as though he has been on overdrive as he released one banger after another. The whole thing keeps taking us back and bringing back the 2012 days memories.
Even as Legendary drops, one of the interesting things to watch out for are the features. The star went on to get some, if not all, of the hottest names currently. These are what the industry ranks among the very best right now. The 14-song tracklist has Lil Wayne, J Balvin, Blueface, Chris Brown, Gunna, Swae Lee, Offset, A Boogie, and Bazzi. This indeed is a stacked tracklist. If you are to compare the tracks, then songs like "Taste", "Goddamn", "Girls Have Fun", and"Dip" then your expectations should be to get some of the best summer bangers your way! The following is the tracklist of all the songs int he album:
Too Many
2. Lightskin Lil Wayne
3. On Me f. Lil Wayne
4. Stash f. Blueface
5. Haute f. J Balvin & Chris Brown
6. Werkkkk
7. Maykherkhum
8. Vibrate f. Swae Lee
9. Shit I Like
10. Legendary f. Gunna
11. February Love f. Chris Brown
12. Goddamn f. A Boogie Wit Da Hoodie
13. Taste f. Offset
14. Made Me f. Bazzi
READ ALSO: 20 best worship songs to uplift your spirit
Reactions from fans online
With the review above, it is interesting to know what people have been saying about the album since its release. To get a feel of what fans have been saying it may be necessary to check out the vies of different songs that stand out, especially those that have already received airplay for some time now. The following are comments from YouTube on three of his songs from the album:
Haute:
This was premiered on 5th June 2019 and already has over 10 million views on YouTube. These are some of the sampled views on what fans have had to say.
Zeus' Olympus: idk what j balvin said but I know whatever he said was fiiiiiiirrrrrreeeeee lol
Antonio Meza: Nuestro icono j Balvin, Que viva Colombia rompiendola una vez más
Kodjo Swole: Tyga never fails to deliver the summer bangers.
Hayver L'n: Que cabroon no llegue a imaginar este junte . Bien durooo . Saludos
Beef Curtains:This guys lyrical game never disappoints me
Last King: Soulja boy : Tyga?! I had the biggest comeback ever!Tyga : Hold my buggati!
Goddamn:
This was released on 23rd April 2019 and currently has over 25 million views on YouTube. Here are a few comments from fans.
Sean Preston-Sing: If Tyga got this good after breaking up with Kylie, imagine how good Travis will get if he leaves her!
Gang Pump: Tyga bounce back from the Kardashian's curse like goddamn
Carl Anderson: Gotta give respect for his come back
Kimenju Mf: Who else is playing this while going through comments?
JRE DISTORTION: Tyga is always killin it. Not surprised to see he is still on top, goddamn...
Copper Hands: Why is every body comparing this to old town road they are completely different this is just western style because of the beat
Taste:
Released on May 15th, 2018, this track has already garnered over 719 million views. Apart from the lyrics and visual effect of the video, here is a sample of views on what fans think about the track.
D4G13: The beat carries this entire song.
Jxse a: James Charles- Womp Womp Womp (remix) ft. Tyga & Offset has joined the chat
but susan, it's fR e Sh A vOcA dO: no one: literally nobody: james charles: wOmP wOmP wOmP yEaHaYeAhAyEah
Andres Andres pelaez: can't believe this was literally a year ago, time flies
Karamo Pompey: It's another summer and this is still heatt
Hamster Boi: Producer:how many girls u want in the video. Tyga:yes. Producer:say no more
General reactions about the album
The following are vies on other social media. They capture what people generally feel about the album as a whole.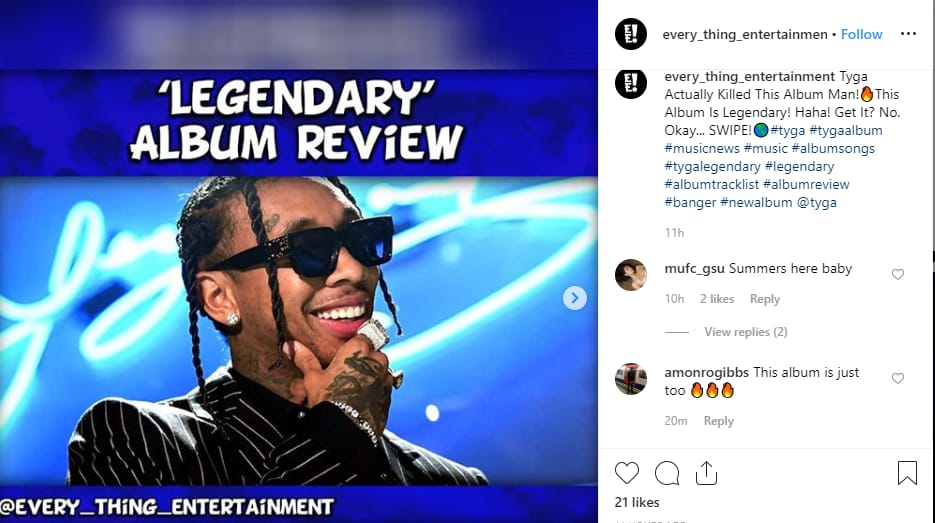 The album has been well received. It's been a long way coming anyway!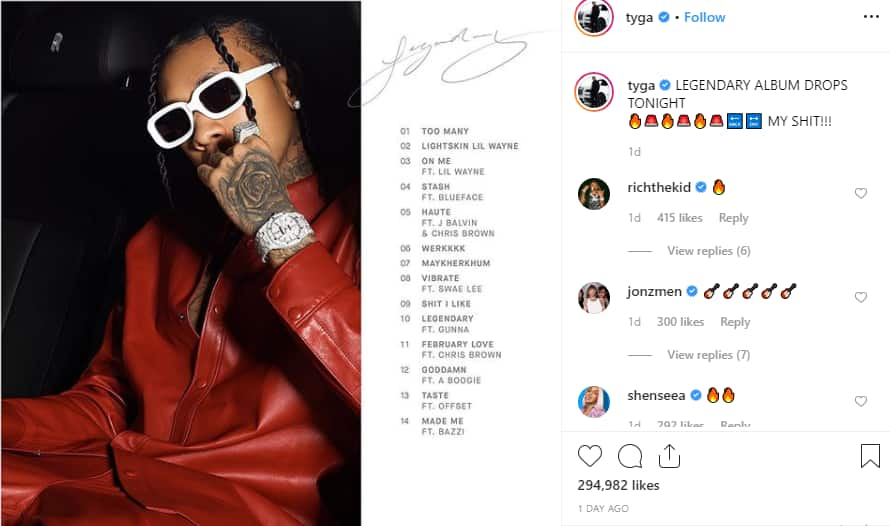 And here is all you need to know about the tracks in the album. One thing is for sure, if you love Tyga then this is your cup of coffee.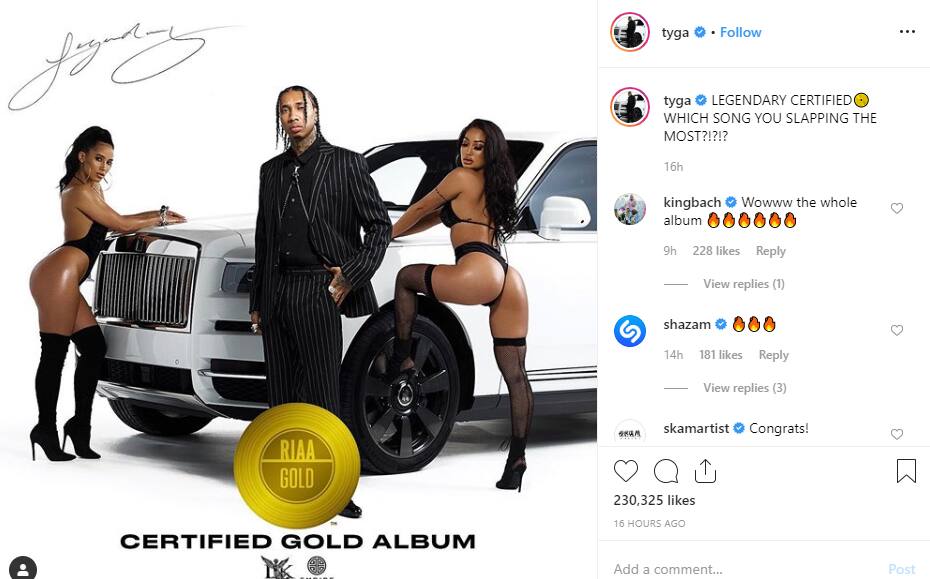 You will agree with fans that indeed the album is fire. Here is something to keep you entertained all summer.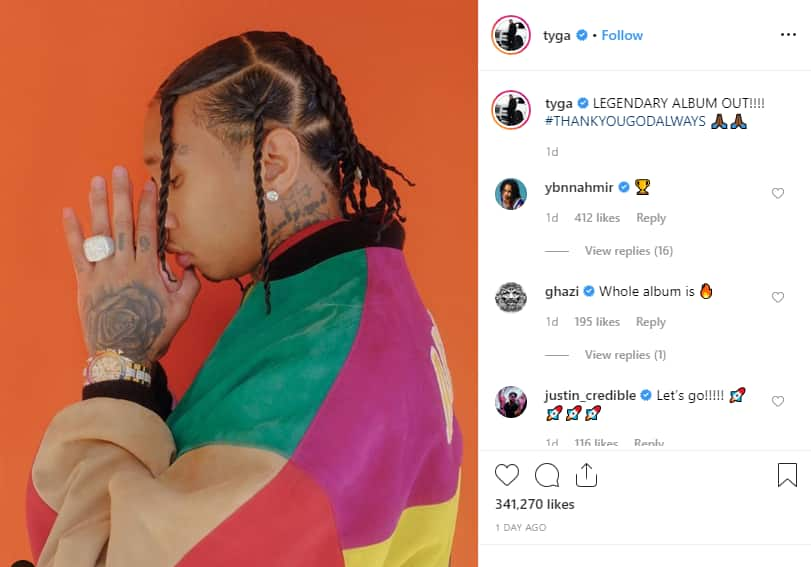 With the official announcement, fans agree that the album is indeed worth its title. It is a hot one!
With an excellent review and remarks from fans, you will be encouraged to get Tyga New Album for yourself. A few of the sampled tracks above, especially the Tyga new album taste, should serve as a teaser for anyone that wants to sample the songs before downloading. Whether you go for the video or Mp3 audios, you can be sure that your summer will be lit with this as part of your playlist.
READ ALSO:
Sjava Umama lyrics and official music video
Master KG Skeleton Move Feat. Zanda Zakuza lyrics and official music video
Manqonqo Eyadini lyrics and official music video