Latest Ankara styles for men and women in 2020
Do you ever go to events and marvel at the African-inspired outfits? It gets harder when you love a design, but you cannot gather enough courage to talk with the models or even ask for a photo. To top it all, you cannot authoritatively tell whether a design will look good on you by just starring. So, rather than shop with your eyes, how about you learn about the latest Ankara styles that work best for both genders with different body shapes and sizes?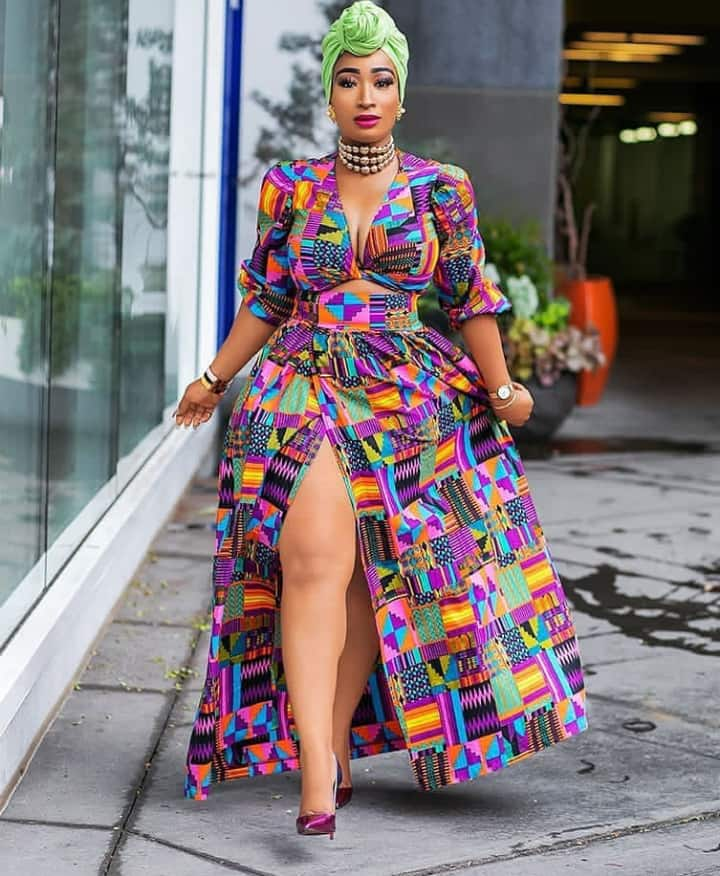 In an era where anything and everything counts as fashion-forward, you need to find an outfit that identifies with your personality. With the Ankara print, you can create just about anything you want. In fact, the versatility of this fabric is what makes it so popular all over the world. So, how do you create your own Ankara fashion? The vogue is to wear something that flatters you and makes you feel good. For reference, check out some of the best Ankara dresses and outfits for both genders.
Ankara styles for women
African print dresses styles come in a variety of styles, colours, and length, among other factors. If you grew up watching your mum and aunties wear the Ankara dress, you could attest that the designs keep on evolving. Nonetheless, some styles like the mermaid/fish dress have been trendy for several generations now. Other than the mermaid, here are some Ankara styles pictures designs that you can add to your Ankara fashion collection of 2019.
1. Uptown chic look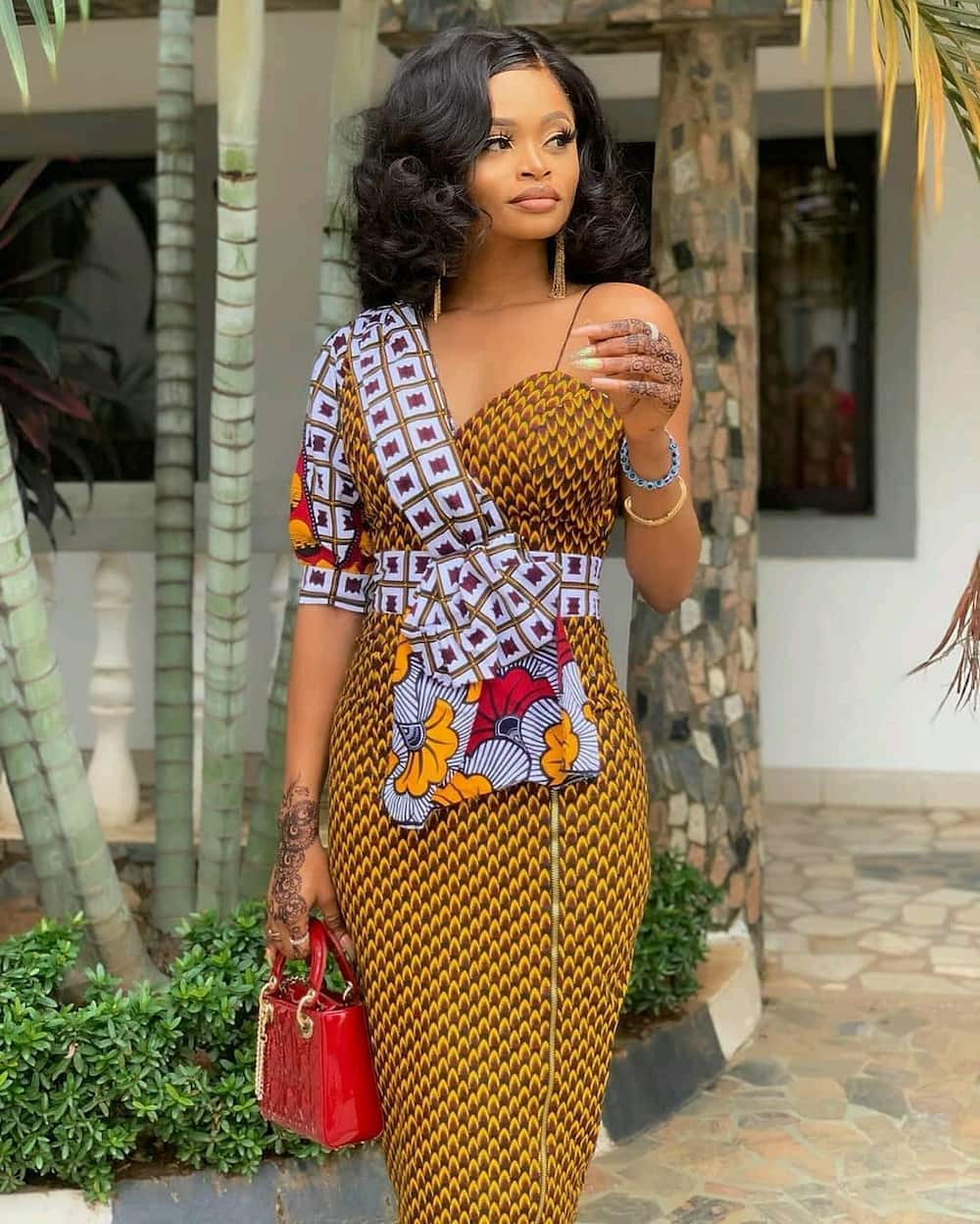 This design is one of the latest Ankara styles 2019 that features two different patterns that perfectly complement each other. The contrasting sleeves make the outfit appealing. This dress is perfect when you want to flatter your bust and waist. As such, it is ideal for ladies with pear and hourglass figures. But remember, you can always adjust the length of the waist to fit in with your body type. The look is perfect for weddings, dinner dates, award ceremonies, prom, and church.
2. Cold-shoulder patch shift dress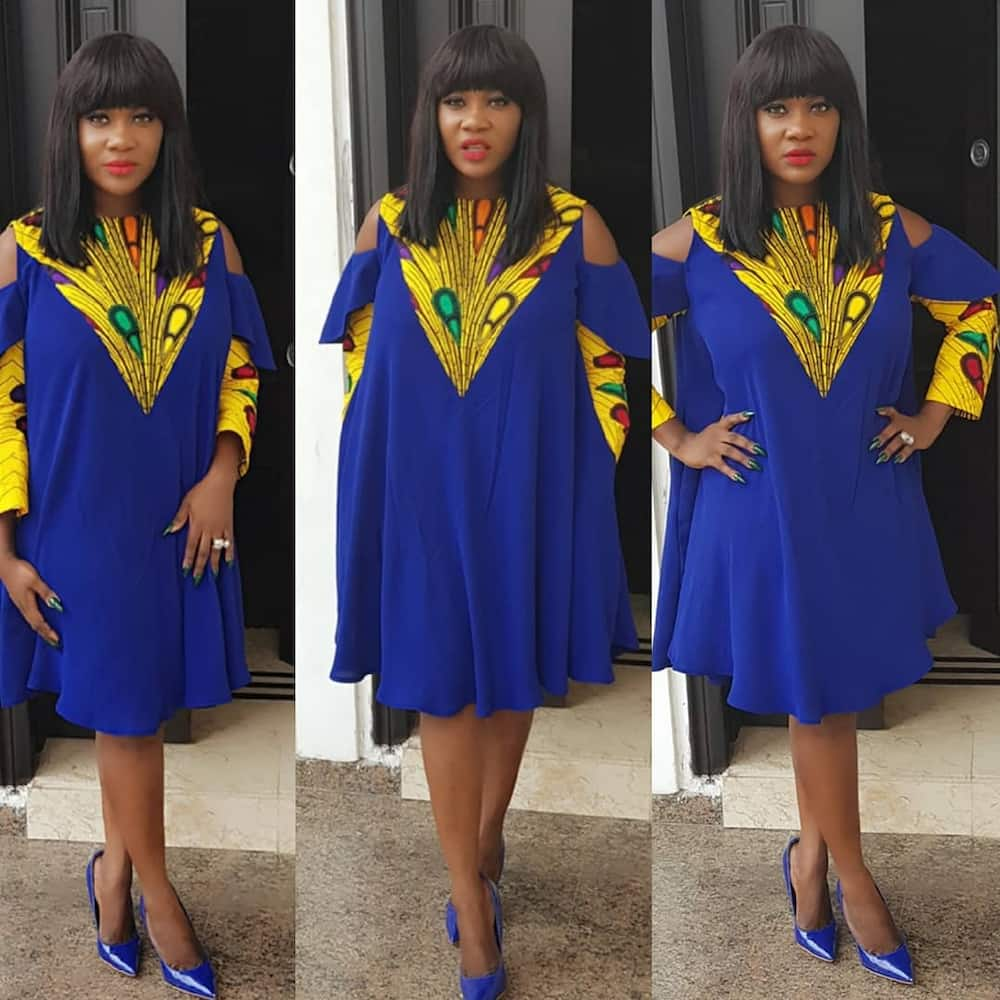 If you adore fashionable loose-fitting dresses, this design is suitable for you. The cold shoulder highlights your toned arms and gives the dress structure. The Ankara patch on the arms and the chest make the style exciting. This shift dress flatters ladies of all length, shapes, and sizes. Moreover, this fashionable dress is perfect for pregnant ladies.
3. The Kimono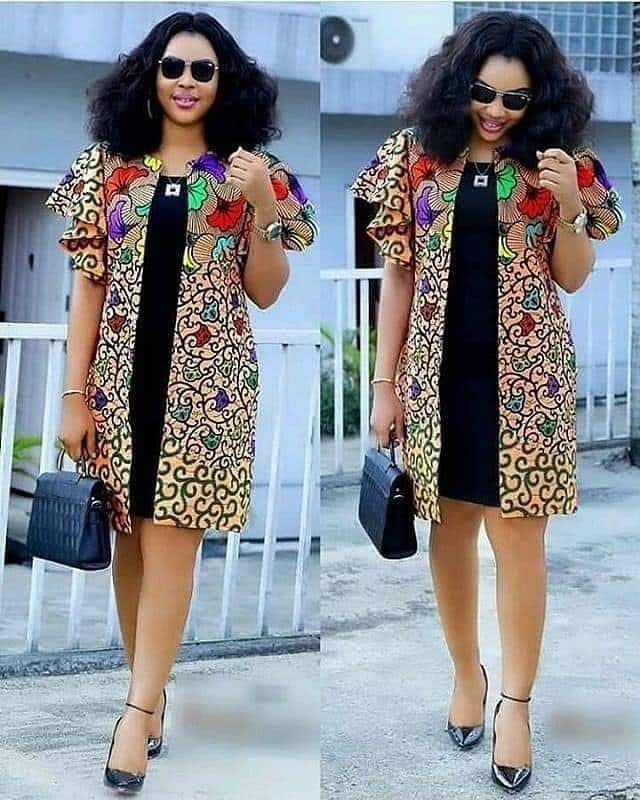 Add some dose of glamour and style to your outfit with this Black Bag With Mini Bag Set. This multifunctional bag can be worn every day. It is the perfect bag for toting everything and anything around town. This bag set also includes a gorgeous floral scarf. The whole set goes only for R675!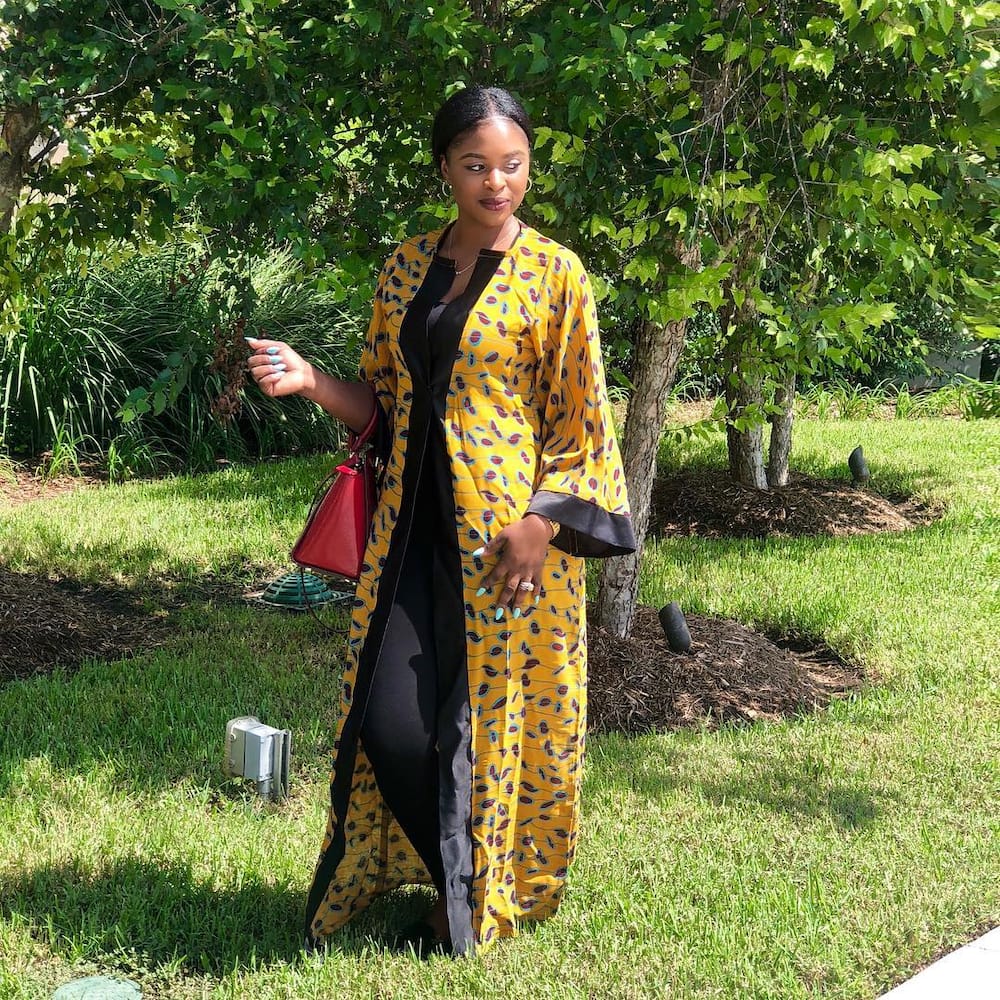 The kimono is like that spice you add to make your food more flavorful. You can experiment with the sleeves and length of the kimono.
4. Pretty cowl dress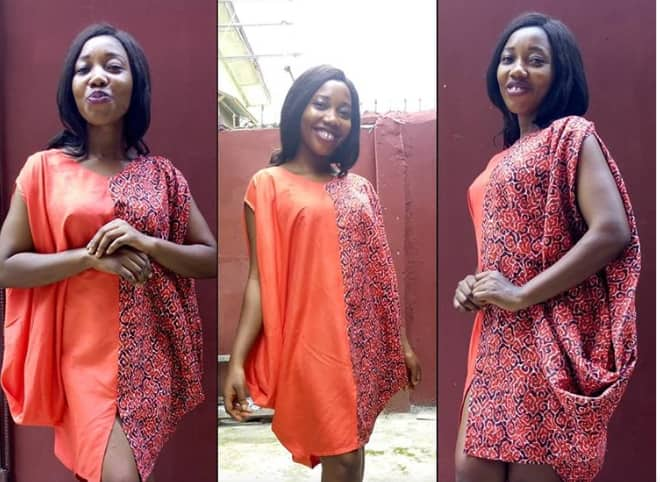 When you want a dress that is unique and dramatic, then this cowl dress will do. The best part is that it flatters your hip area.
5. Fashionable jumpsuits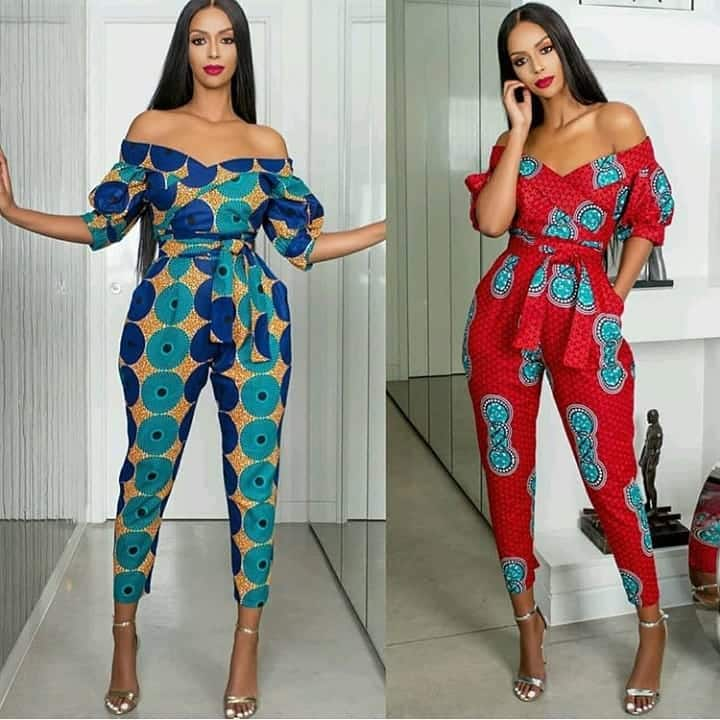 Jumpsuits have been in season for a while now. So, when they are still chic, you can find one that works best for you.
6. The ruffle maxi dress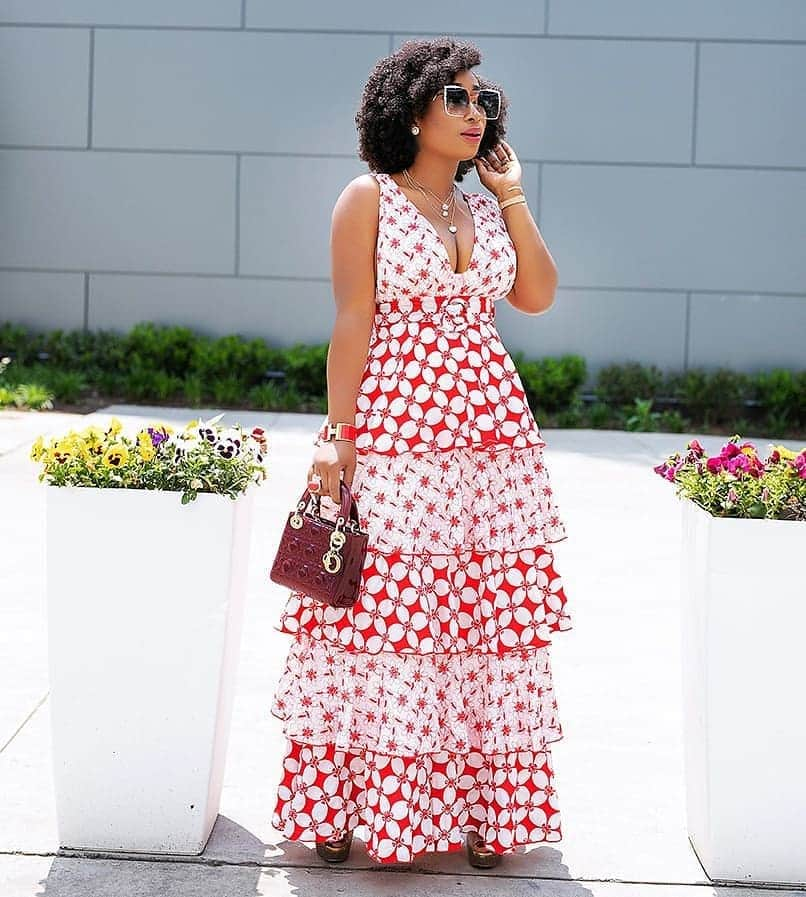 Every lady needs to have at least one maxi dress that makes your body look great. The dress is perfect for all body shapes as the ruffles add extra volume and conceal any problem areas.
7. Backless bandage dress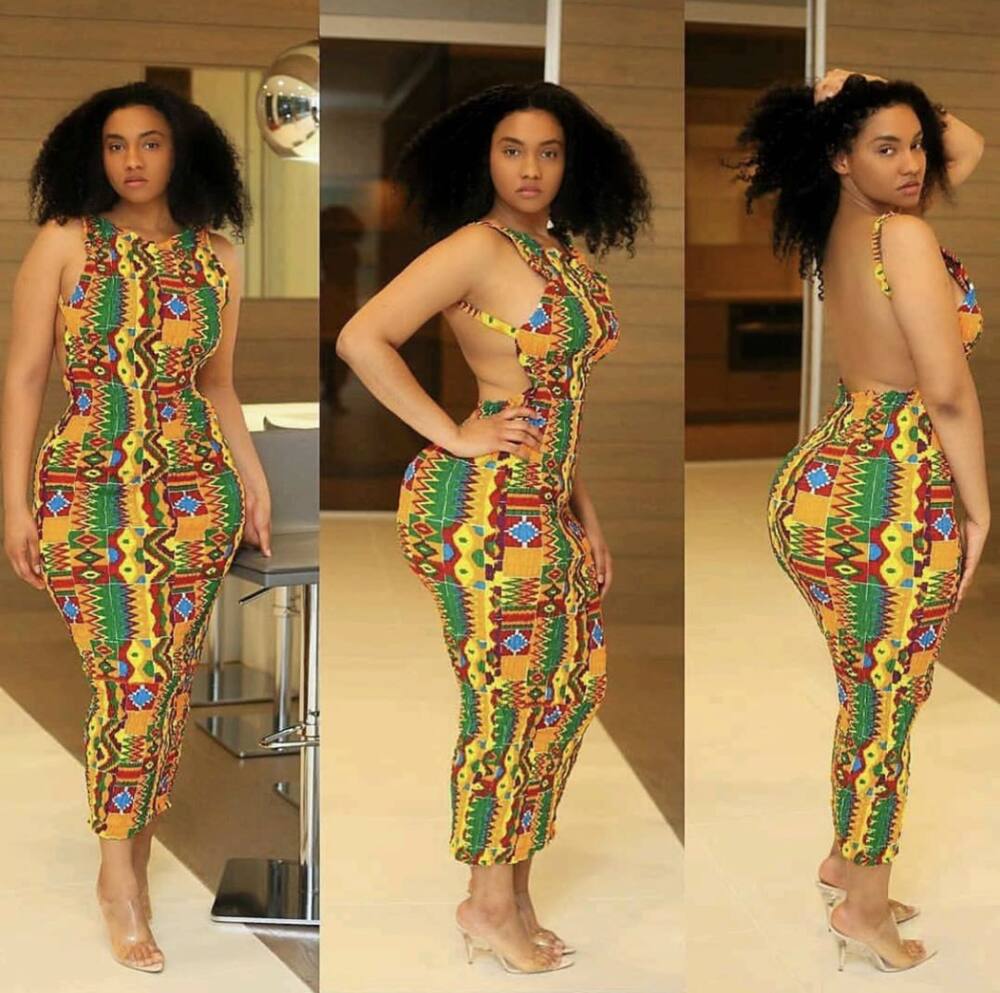 When you are feeling extra, you can always wear the bandage dress. The catch here is that you must be confident enough to expose you back and show off your figure.
8. The lace dress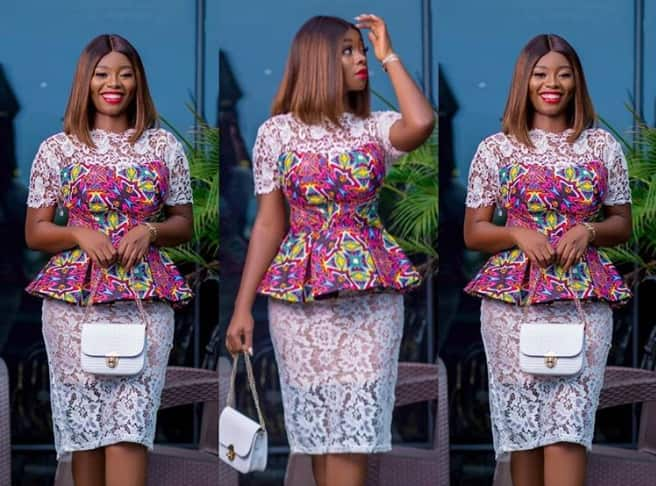 The lace dress is perfect for events like traditional weddings, prom, and engagement parties.
9. Belts made of this fabric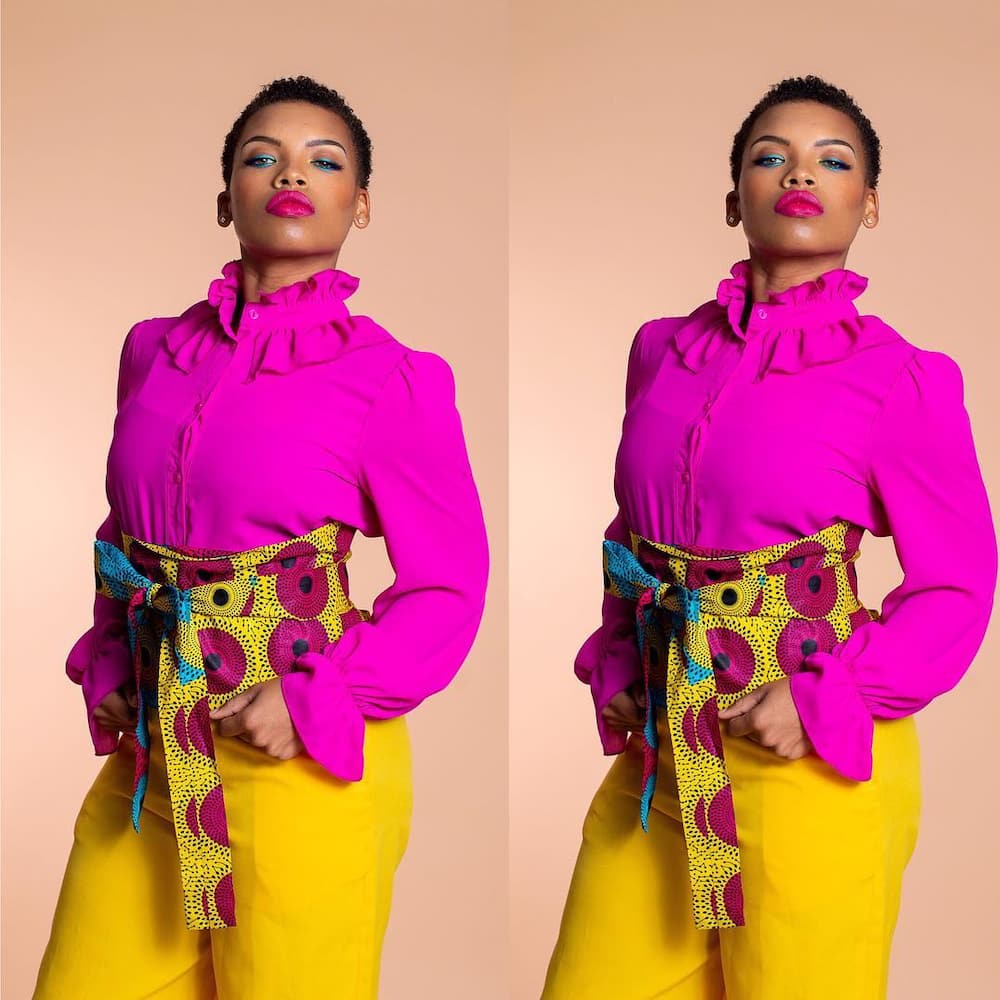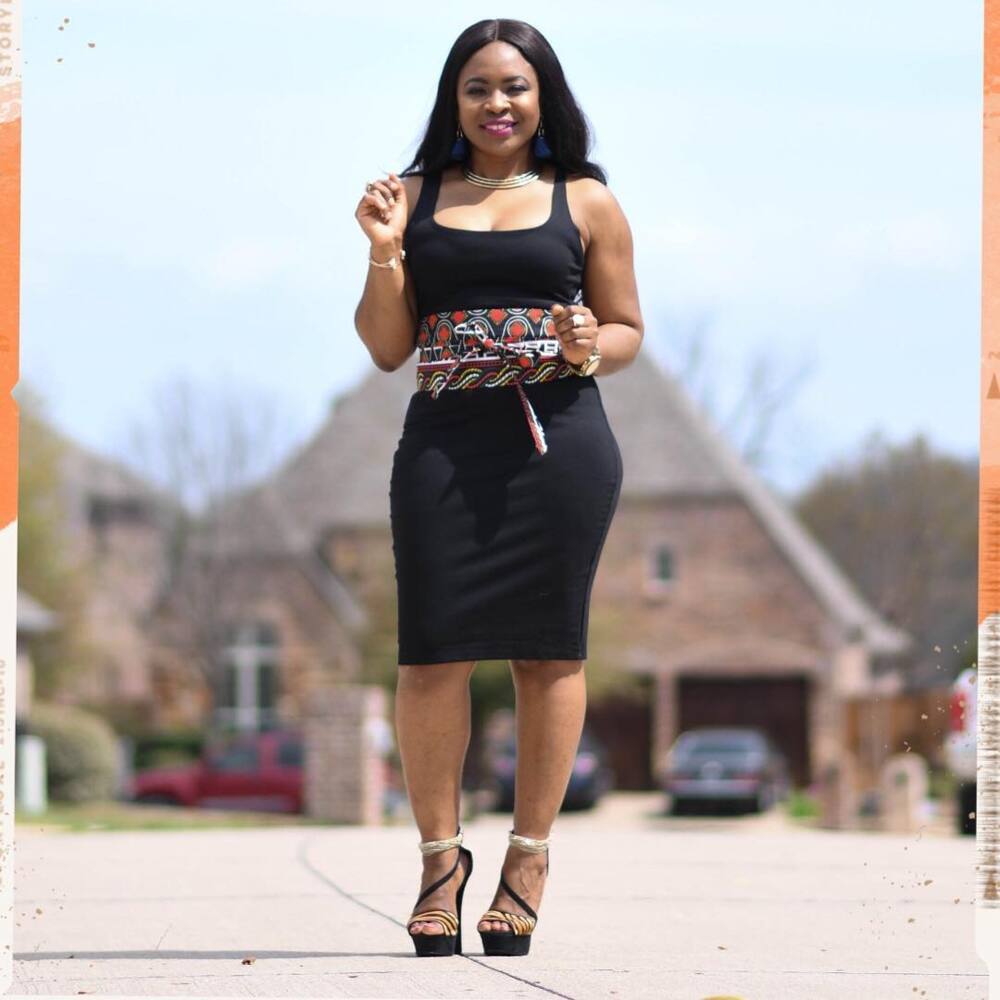 Like kimonos, Ankara belts will accessorize any outfit perfectly, particularly plain ones. Currently, ladies love the chunky belts made from this African print.
10. Beautiful neckpieces from this fabric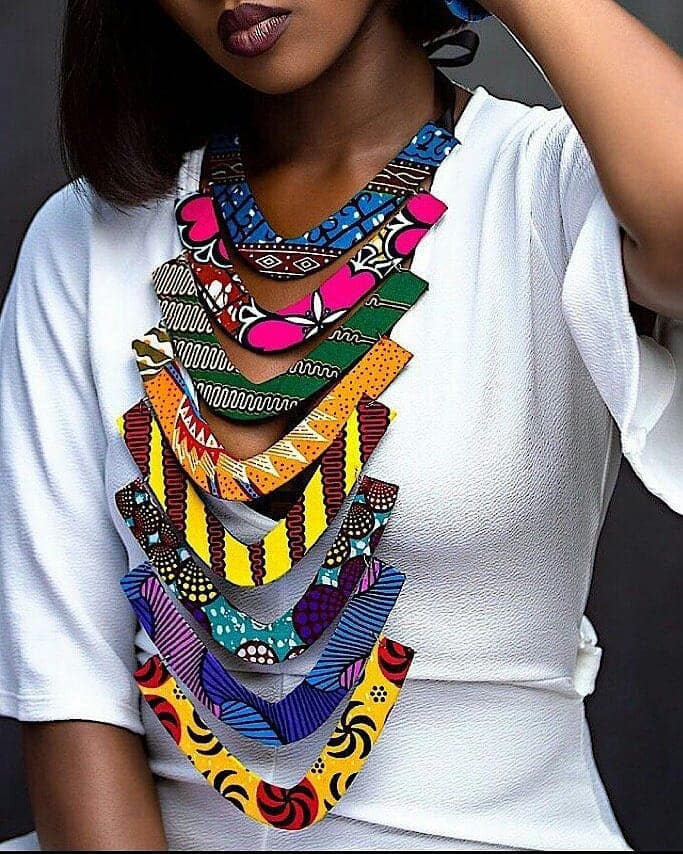 Do you have a plain cloth and want to further enhance your appearance? A statement necklace made from this African clothing may be all you need to turn heads.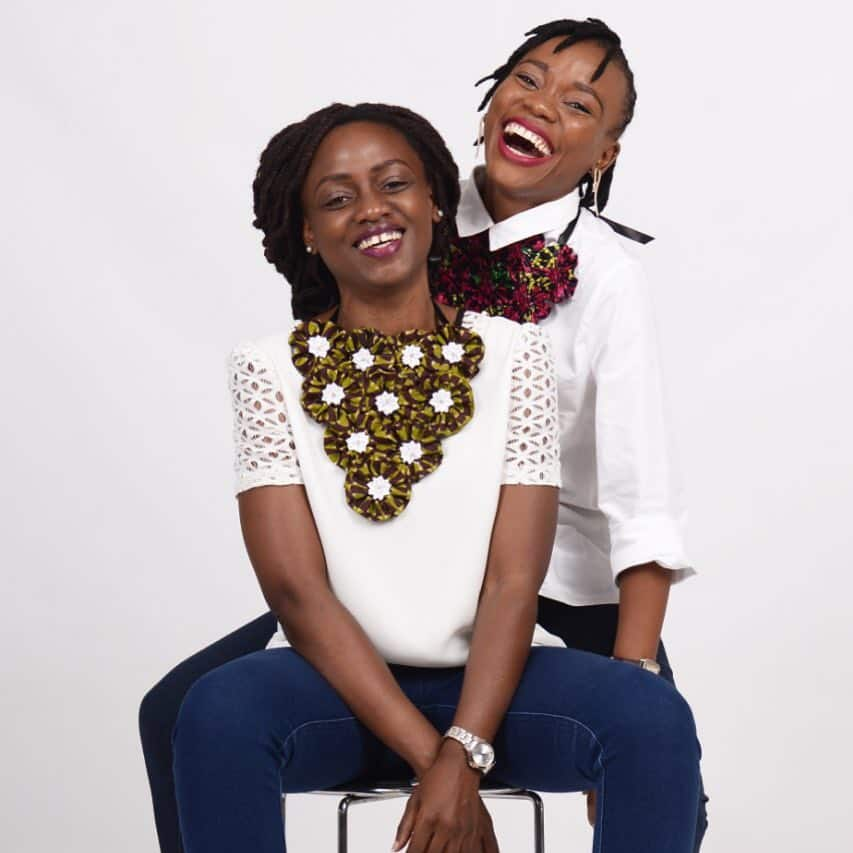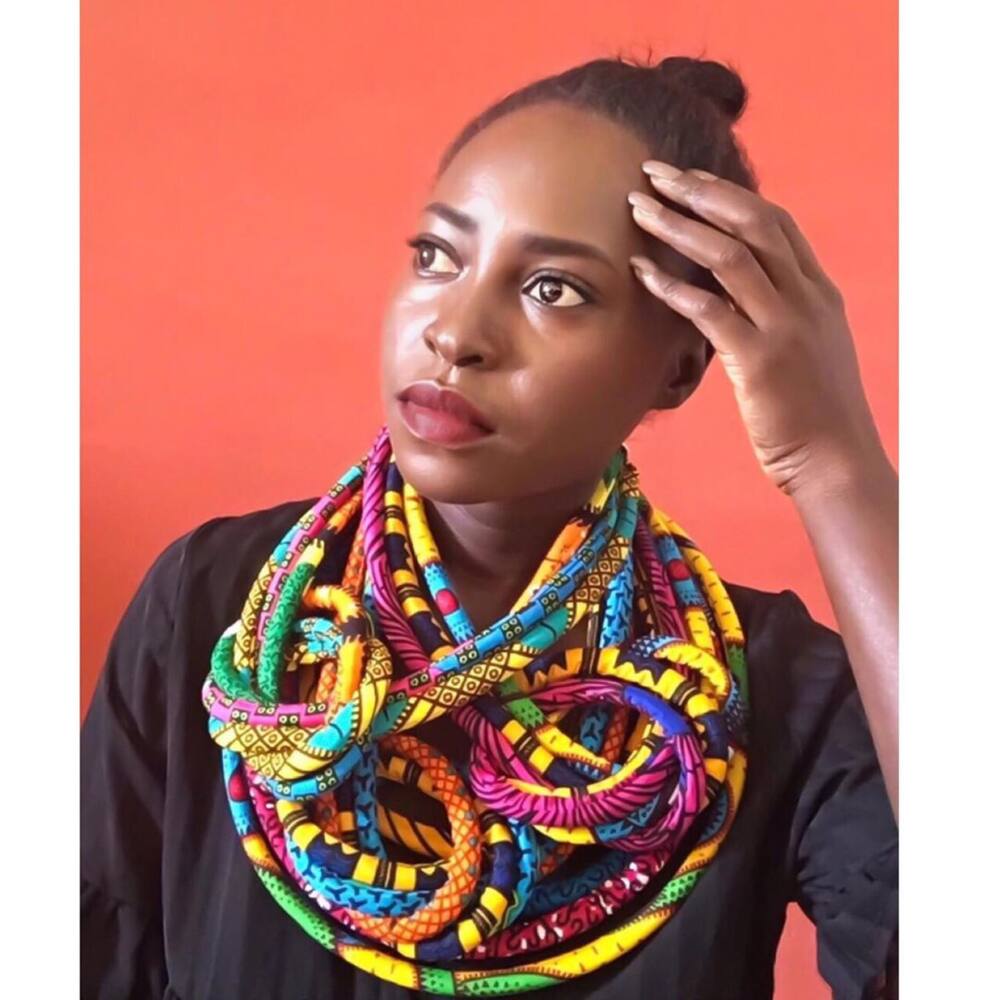 Ankara styles for men
Like with the ladies, the Ankara designs of men's outfits have changed over time. However, the extent of the changes for guys is different from that of their opposite sex. Some of the latest Ankara fashion for guys include:
1. African print bomber jackets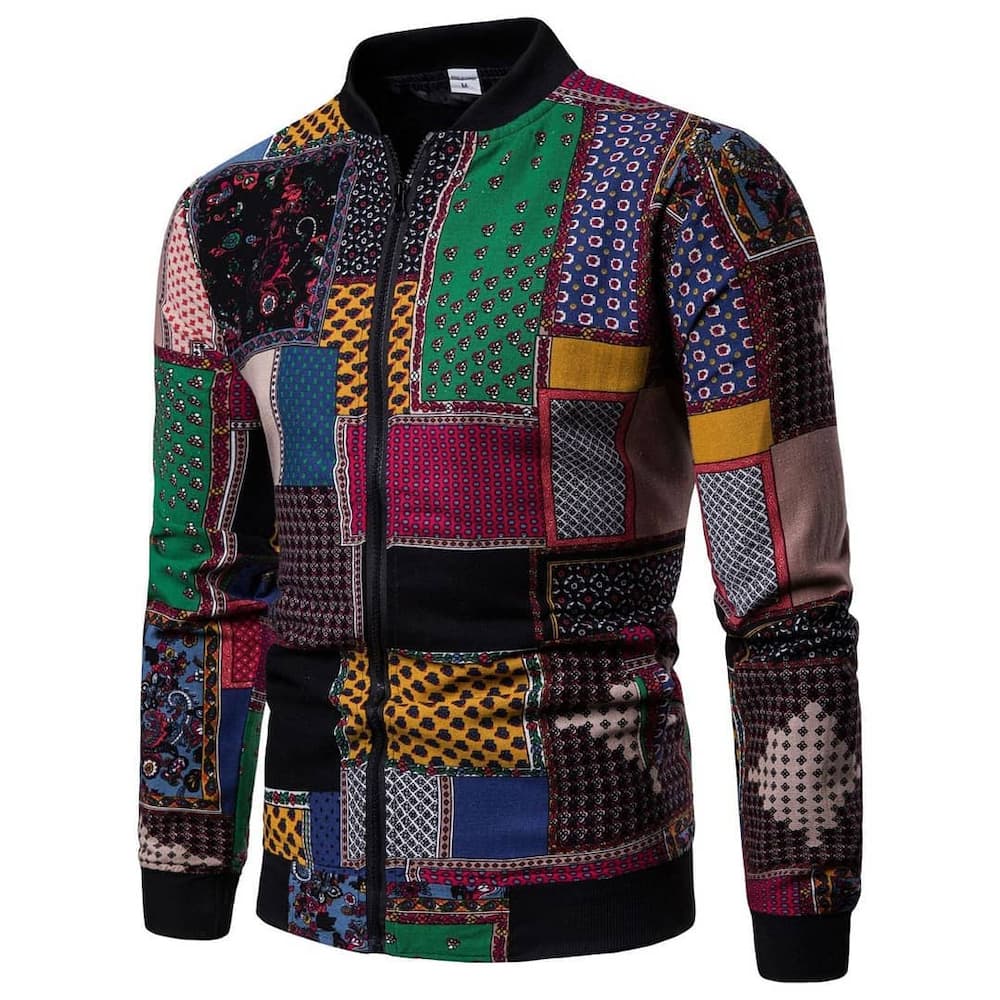 With these bomber jackets, you can be warm and fashionable. This is a better way of keeping warm and at the same time, fashionable or stylish.
2. African casual suit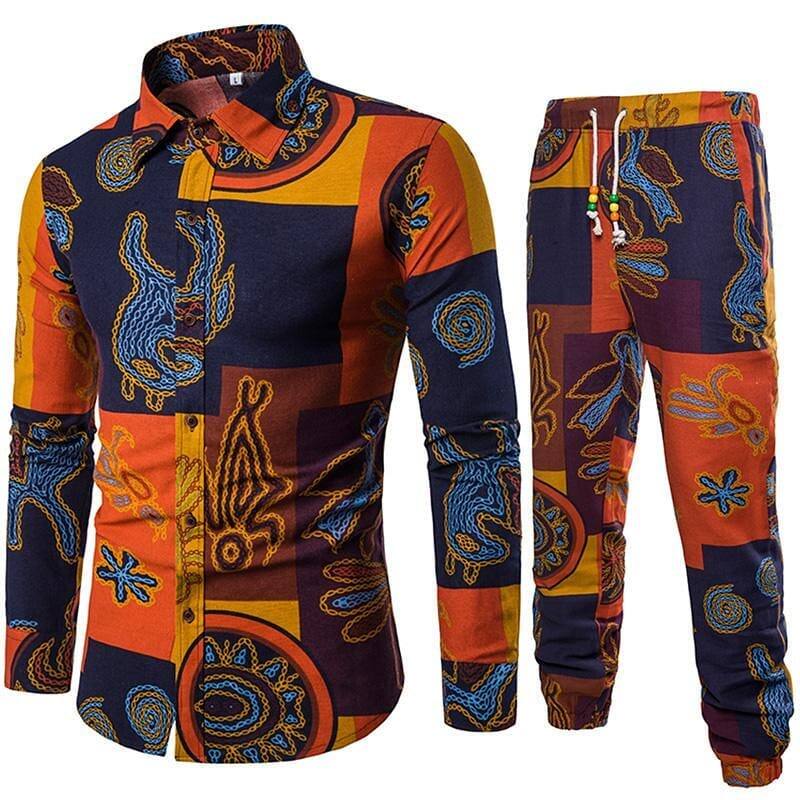 If you like matching outfits, this look is perfect for you. The trousers are as comfortable as sweat pants.
3. The classic man t-shirts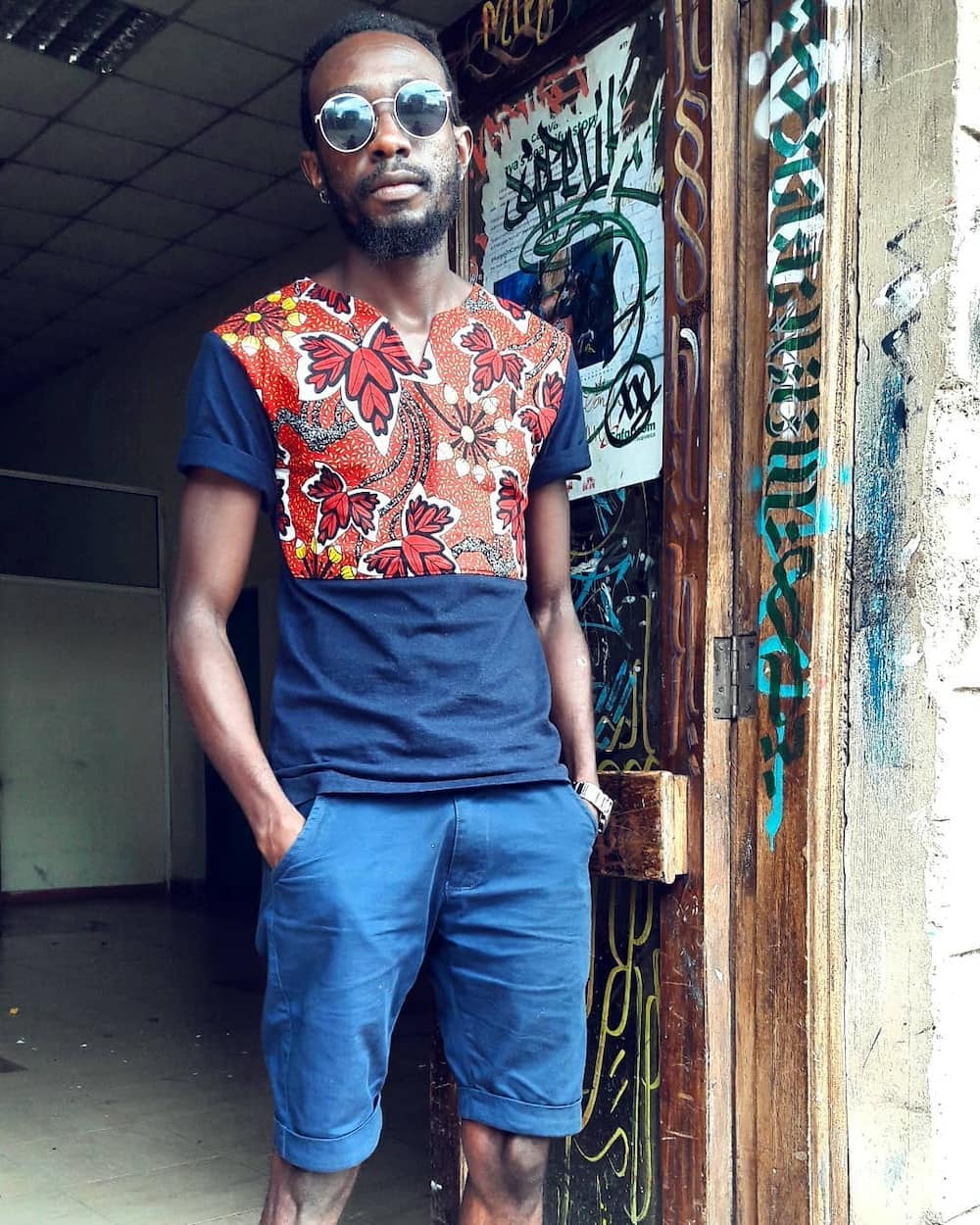 These t-shirts are suitable for all guys and come in handy when you have official and non-official functions.
If you are interested in a good-quality hoodie for a man, look no further. This Personalised Slogan Hoodie comes with ribbed hems and cuffs as well as a vintage-style kangaroo pocket. You can personalise it with a slogan of your choice. This black hoodie combines comfort and style in one convenient package. Get it for R810.
4. African print guy's dress shirt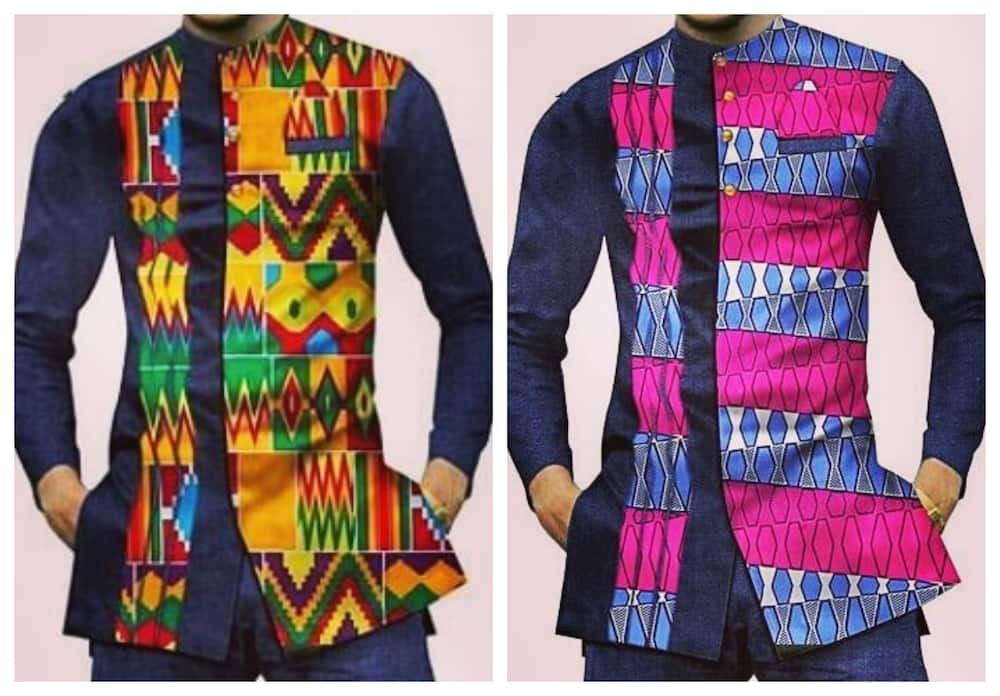 Interesting, right? Men can also rock dress shirts, and in this case, this fashion is for the confident African man.
5. Dashiki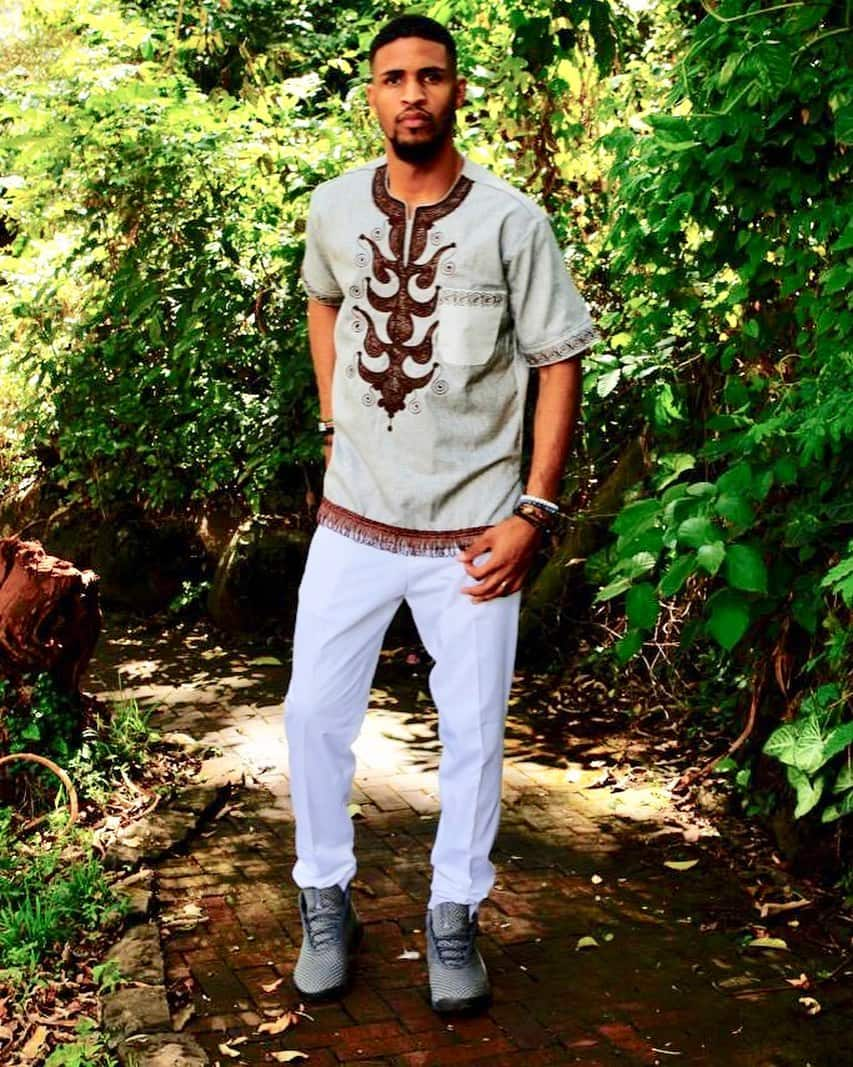 The dashiki is one of the most popular African prints. Couples can make a matching shirt and dress or patch for different occasions including going to church or attending a social gathering.
READ ALSO: 60+ African dresses for business and casual wear
Ankara styles keep changing every single day, and with the above trendy Ankara styles 2019 for both ladies and gentlemen, you surely have a design that will enhance your looks. You have numerous options to select from, plus you can always come up with an original design if you are creative enough. It is, therefore, up to you to find what works for you in all seasons and occasions. Share some of the unique African print designs for both genders in the comment section below.
DISCLAIMER: Please note that some of the links in the article are affiliate links and Briefly.co.za will earn a commission if you purchase through those links. However, we always choose only the best quality products that we use ourselves and recommend to our readers. The earnings we get from the affiliate marketing help us continue preparing useful and entertaining content, that our audience enjoys.
READ ALSO
20 Xhosa traditional attire for women
Best Boity Thulo hairstyles
50 traditional dresses pictures in South Africa 2019
30 best traditional wedding decor ideas in South Africa
Bonang Matheba casual style - best photos and looks
Source: Briefly News