Call it 'Shotpan' and Bad bit*ch tendencies as two of the most famous stars in South Africa go at each other in social media. Clearly, Prince Kaybee managed to cross Cassper Nyovest on the wrong side when he made fun of his arms. The two musicians have both been working out in the gym and sharing their progress pics pictures and videos. Followers have been enjoying their workout sessions on social media as the two used these as inspiration to their followers.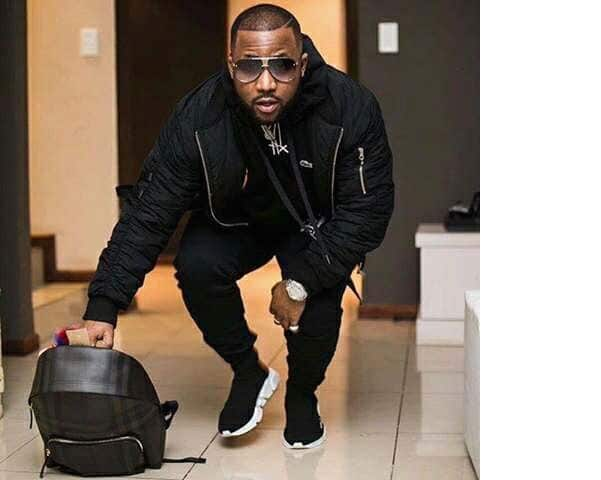 Things went totally wrong, however, after a fan insinuated that Prince was inspired by Nyovest to get into the gym. Prince, however, did not take this lying down and he took to social media, Twitter to be specific to respond, a move that prompted Cassper Nyovest to show fans his emotional side as he went into a runt.
Back to back as Mazanzi's biggest musicians fight over abs
Clearly, in this era and age, you are not a complete star if you have not had a few petty fights. Cassper and Prince proved this as they went on with their verbal fight and exchanges on Twitter, reason being that each felt superior to the other.
A fan may have been innocent in his suggestion of how Prince Kaybee was inspired by Cassper to start working out. What the fan did not know is that he was sparking a fire that would rage on for long after he was gone. His harmless comment on Prince's snap of him showing his abs, resulted in the two musicians throwing shade at each other.
Clearly, Prince Kaybee had come a long way after he had surgery back in 2017 with the aim of removing fat in his breast region, and he was not about to allow anyone to shine with his body achievements seeing how far he had come. Well, Cassper did not waste any second as he hit back hard with one spicy clapback in retaliation.
Kaybee may have written in response to the fan,"So you think my arms were inspired by someone who doesn't have them?" But Cassper was quick to retaliate with claims that Prince was fond of using Photoshop to enhance his looks when in real sense there was nothing there. As if that was not enough, he ended up adding that Kaybee had "bad b*tch tendencies". In his response, he wrote, "If only you could stop editing your pictures to make your waist smaller. You have bad b*tch tendencies".
These were only opening remarks that seemed to set up the field for the back and forth confrontation.
Cassper and Prince Kaybee exchange on Twitter
Saying that emotions were high and that people were rubbed the wrong way is not an understatement. Check out the exchange that ensued from the simple remark from an observant fan who was merely expressing his opinion after Kaybee shared his pics. Was this what he expected? Probably not. Anyway, this shows that men with their egos an go to any length to try and prove that they are the best. It is always a competition. Maybe we should have seen Cassper Nyovest latest pics to decide for ourselves. Check out how the argument between the two ensued.
Prince: Le ska lebala matsoho le tsebe ho kuka bo mme ka tlung bana beso‼️
Fan(Moyanatsundzuka@moyanatsundzula)Replying to @PrinceKaybee_SA: I bet Cassper Nyovest inspired this nigga to work hard on his body. It was at this point that other followers came in with a good number letting him know that Prince Kaybee was consistent in his routine and had thus acquired abs way before Cass ever did.
Prince: So you think my arms were inspired by someone who doesn't have them? Fans had mixed reactions right from the start with some warning Prince not to be too full of himself since anything could go south. Did he listen and will this be the start of a war? It is only a matter of time to find out.
Cassper: If only you could stop editing your pictures to make your waist smaller. You have Bad bitch tendencies. Cassper's fans were divided after this post. There are those who felt that his legacy is too big for such denting but again, a section of his fans want him to roast Prince because he started it. They feel it is only fair that he finishes what he started.
Prince could not take this lying down as as the diss got harder with Cassper's response. He came on up with his own, referring to Caspser as shotpan. This name refers to male underwear that is flexed people.
READ ALSO: K.O shows Cassper Nyovest mad love for his craft on social media
Prince: Ok Shotpan
This comment definitely attracted a lot of laughter from following fans. Most agree that Prince carried the day here. Even so, it is even more hilarious that all this heat is because of an argument on arms. Lame, right?
Although Prince' response was short, it was deep and painful and was sure going to touch Cassper where it hurt most and it sure did. He thus came back with his own response but after a while and a second tweet from Prince.
Prince: Tag me when Shotpan reacts to the "Ok Shotpan" reply, I'm in studio in England with Mafikizolo but I'll leave my phone on LOUD. Fans are flowing with him on this one as they keep hating on Cassper. It seems that Prince was determined to win this, and so far he is doign pretty well. Fans are loving him!
Cassper: This is the end of this one for me. A fan turned a hater for no reason. You make good music man. Concentrate on that, and stop being a bad bitch!!!!
Fans had to troll Prince with the reminders of his own adoration towards Cassper. On this one, Cassper definitely took the lead.
Cassper had to call the last shot by bringing up screenshots of how Prince was his fan that has suddenly turned into a hater. Before that, he had a tweet that claimed his disappointment in the tweets he had to wake up to yet he had planned to congratulate Prince for his progress.
Cassper: To think i wanted to tweet homie yesterday about how amazing his catalog had become and how i love Gugulethu. Then i wake up to tweets like that? Lol... Batho ba rata go sogela batho. That dude is such a bad bitch.
Amazingly, other celebrities weighed in on the issue with Metro FM DJ Mo Flava posting a hilarious meme that featured the feuding pair as well as Cassper's longtime rival AKA. Well, fans had a laugh of their life with this one. Way to go Flava, bringing humour in every diss.
After all was said and done, Prince Kaybee had to have the last say. However, he made it very clear that he still got mad love for Cassper because of his achievements in the industry and how much he had contributed. Either way, he still maintained that the only feud was him having bigger abs.
Prince Kaybee: You still my hero, love you to bits blackchild for what you have done for the industry, but I just have bigger arms
If you are to go by what many of the fans say about this conclusion, Kaybee seems to be the one that takes the cup home. Period!
It's amazing how it took the 'Shotpan' diss to bring the whole emotionally charged argument to a close. It may not matter who has the biggest arms of the two, what remains true is that both Cassper and Kaybee are amazing artists that bring the best to the floor. As long as they keep entertaining fans, all else is a matter of aesthetics and is only about preference and opinion difference. The team #casspernyovest twitter posts vs. the Kaybee side are all winners.
READ ALSO: