Amid the pride that Mzansi has had for being represented in the BET Awards 2019 by two nominees; Sho Madjozi and AKA, tweeps could not forget to look at the negative side of the matter. Apart from celebrating the country's big win and source of pride; Sho Madjozi, tweeps could not dismiss the fact that AKA was nominated but came back home empty-handed.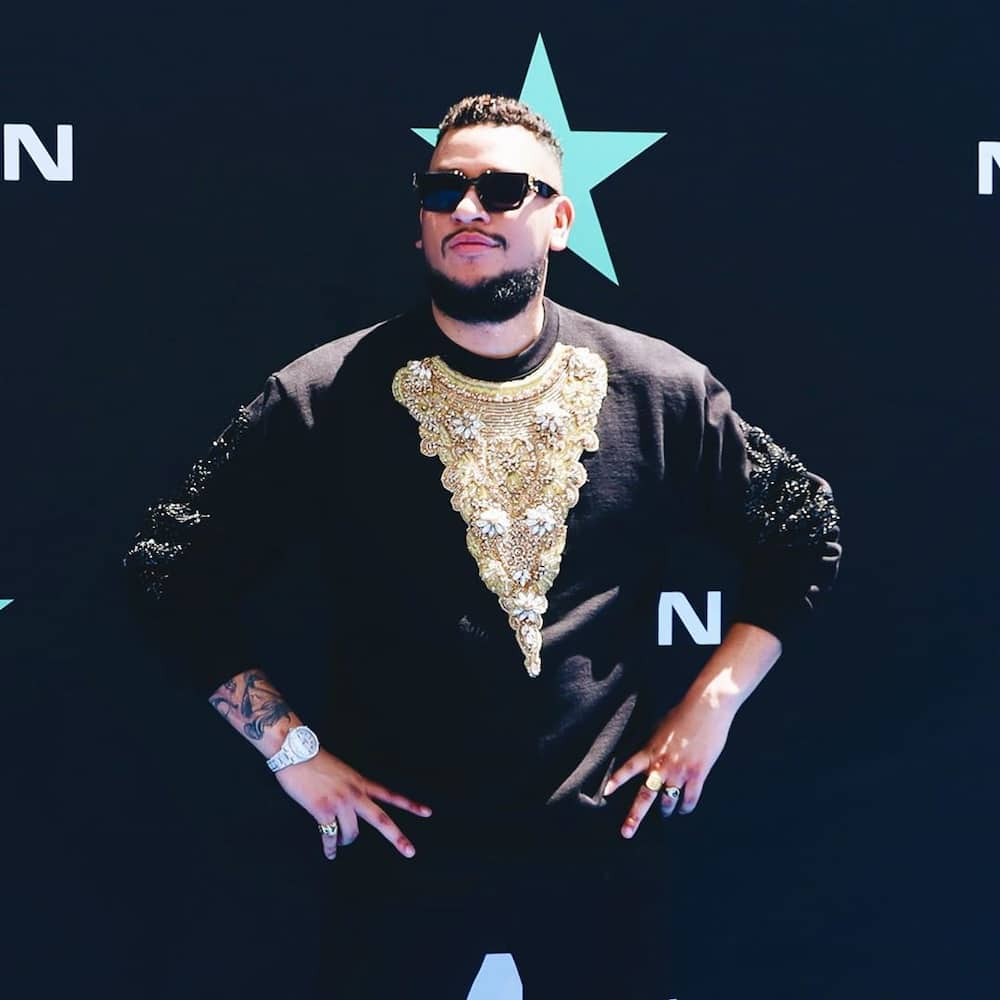 AKA has been the talk on Twitter for being nominated for the BET Awards 2019 for the fourth time without winning anything. The trolls came after fans took their time to celebrate the award that Sho Madjozi brought home after she bagged the Best International Act Award for the female's category. AKA, who had been nominated for the men's category, lost to Nigeria's Burna Boy and has since then been the centre of trolls. You might want to keep up with the highlight of the trolls and the hilarious tweets that have been put up regarding the same issue;
#AKAwinanga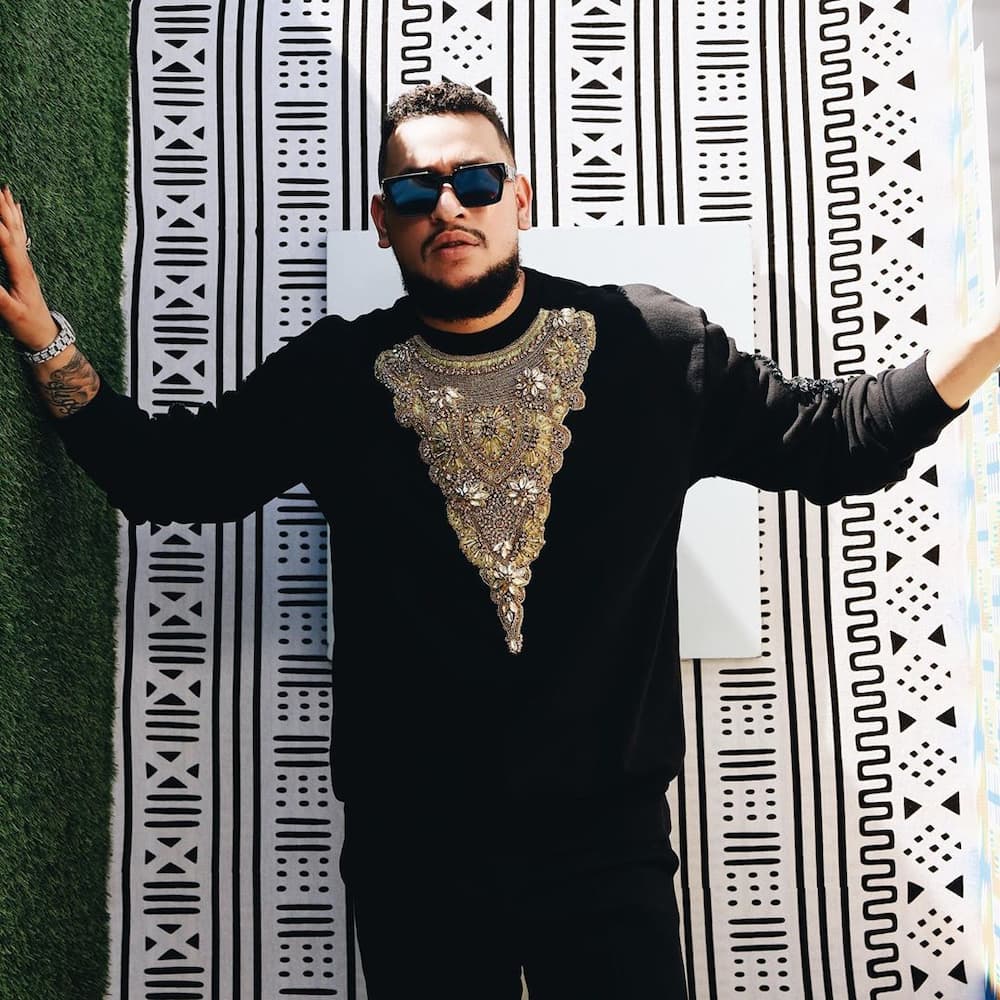 #AKAwinanga is the hashtag tag that went up minutes after the winner of the Best International Act of the year award was announced. AKA; who had been nominated for the same award and did not win. Instead, he lost to Nigeria's Burna Boy. Fans, therefore, took it to Twitter to bring out the humour that came with AKA failing to win a BET for the fourth time in a row. The trolls birthed the hashtag; #AKAwinanga. The comments on Twitter about the hashtag will not spare your ribs.
READ ALSO: AKA gets roasted on social media: Always a nominee, never a winner
#AKAwinanga retweets and comments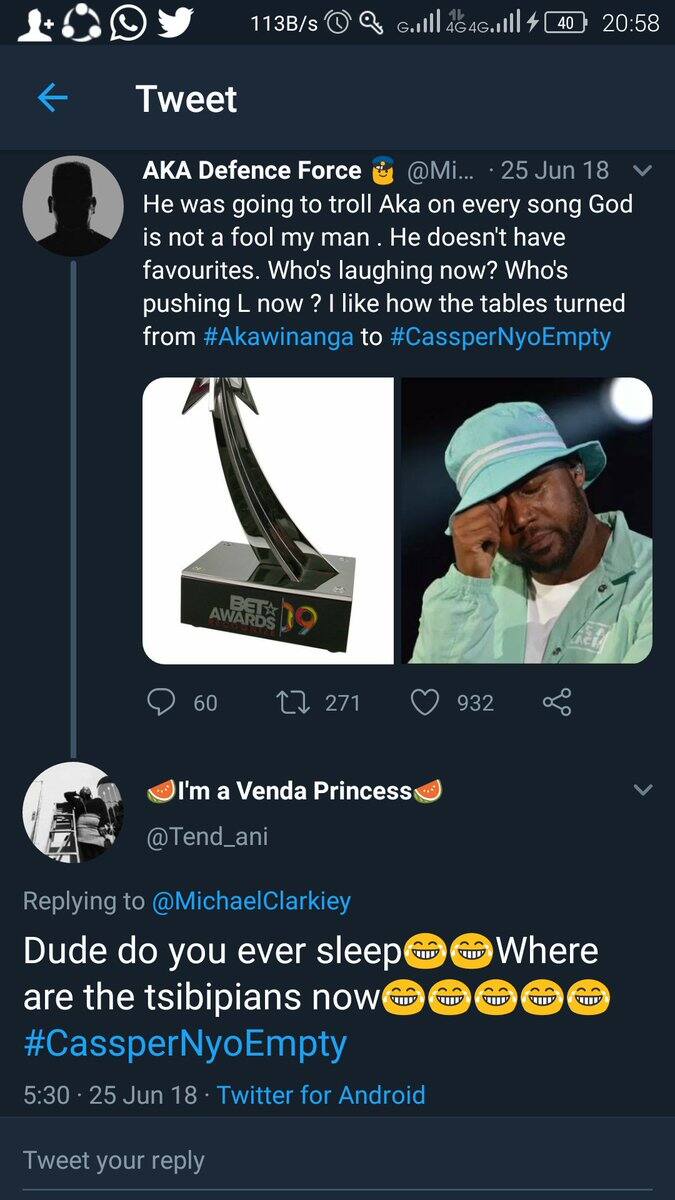 It looks like the fans of AKA are tired of watching their guy attend the big event and come back home without any prize. Others who were in his side affirmed that the trolls were up because he was being compared to Sho Madjozi. These are some of the juicy tweets that made the hashtag funny and the talk on social media sites.
@MugarukaPascal: Congratulations to u @akaworldwide once again for being the most nominated artist in SA and for always winning FOKOL at #BETAwards you making US proud for always winning DOLOLO.we can now sleep in peace and u can now drink that water u been drinking.what a good day. #AKAwinanga
@siphosami_sa : When the only reason you went there was to take pictures Take such videos And come back home with nothing Now you have to pretend you are happy and you don't care #Akawinanga #BETAwards
@Nonhlanhla_EG : Someone said AKA went to the BET awards to baby sit Sho Madjozi Nisile yaz nina!
@Mr_Majozi : Even when u drinking water ,minding ur own damn tuckshop... u still lose...kante matlapa a spana overtime #Akawinanga
@Iris38012434 : #Akawinanga vele cos out of 3.4 million followers he decided to follow back 6 people what kind of msunery is that
@itsmissBonnie : I didn't want to tweet anything about #Akawinanga until I saw a tweet saying "Disappoint us again Mabena of #BETAwards" That sent me
@RubuThulisa : That #AKAwinanga" hashtag gave me sleepless nights..this one time I woke up at 3AM and I started texting "#VoteAKA #KCA" for almost an hourthinking about it now seems ridiculous!!like WTF!!
@lebosema : He must buy new pants m tired of seeing him with those white "hunters dry advert pants everywhere -maybe #AKASANAMALI coz #AKAwinanga
@kay_malela : Can you imagine his speech if he had won thank god..we didn't have to suffer through another big headed rant. Humble down boy #AKAwinanga
@Miss_chanelP: Karma was very quick kule situation, karma's probably also a baby mama that's on side don't f*ck with baby mamas fam #AKAwinanga
The trolls intensified when some of Casper Nyovest's fans came up to reminisce how AKA had made the same hashtag to make of Casper for being nominated and not winning. The retweets that related to the incident expressed the disappointment that fans had towards AKA. Going through these comments will make you beg to have your ribs spared.
@siboniso_shezi : #Akawinanga If you have a problem with this hashtag go cry elsewhere...this time last year y'all were rejoicing that Cassper didn't now that the tables are turned we are childish? Eyy niyanya nina!!!
@siphosami_sa : Last year he was the first one to laugh at cassper Let us not leave him Mufasians Can we all laugh out louds #ImNotTryingToBeRudeBut #Akawinanga
@MathandaSandile : Do you understand that this #Akawinanga was manufactured by #Akawinanga himself for another child.... Is is unfair to taste your own medicine
@BassieKayy : This same time last year AKA himself spent the day rejoicing in his fellow South African's loss with #Akawinanga. He tweeted and retweeted posts from his fans celebrating Cass's loss. Our artists themselves need to grow up and set a better example.
@Thapelo_SM : Lol, didn't that guy troll Cass for not winning last year? Now people are saying South Africans are toxic for trolling him back. SMH. Ke yona karma ee. #Akawinanga
@NokeleTedd : Mufasa bayanya labantu. It was really painful last year to see that guy tweeting and retweeting that hashtag now tables have turned we must chill ? No ! Wena just observe and let us do the job for you. #Akawinanga nangok!!!! The real #Mabena
Amid the hilarious comments that were being made about his loss, his die-hard fans were up in arms ready to defend him. Some engaged in a heated exchange of words but did not give in to the fight. These are some of the comments that AKA's fans made.
@MphoMatsetela : #Akawinanga I still call you "Big shot,Superstar,Punisher & a Finisher"❤️
@Lmoose_ColdWind : #Akawinanga really? yall bash your own people who goes out to the world to represent you‍♂️
@Diba_Mwamba : #Akawinanga yes @akaworldwide is not just a legend, he is a King of Rap.He is not only trending, he is living a legacy. We love u aka
@knowthando : I have lost at some point in life... We all have.... Hence I'll never find this funny... I'm sure AKA is expected to sit somewhere and feel all shitty about himself... Y'all damaged #Akawinanga
It goes without question that the #AKAwinanga hashtag is the highlight of the just concluded BET 2019 Awards. The slams that AKA has received do not seem to end soon. His fans have, however, chosen to pick the most difficult stand of standing by him despite the criticism that is being displayed.
READ ALSO: