When something goes super viral these days, it is probably associated with a bottle, here we are yet again, with another bottled craze which is taking the internet by storm. The first bottle challenge that exploded on the internet a couple of years ago was the bottle flipping challenge, which traced its origin back to a high school talent show. So, since then, the newest viral train that even celebrities are getting on is the bottle cap challenge. So, bottle caps beware, famous people are coming to kick you off your bottles.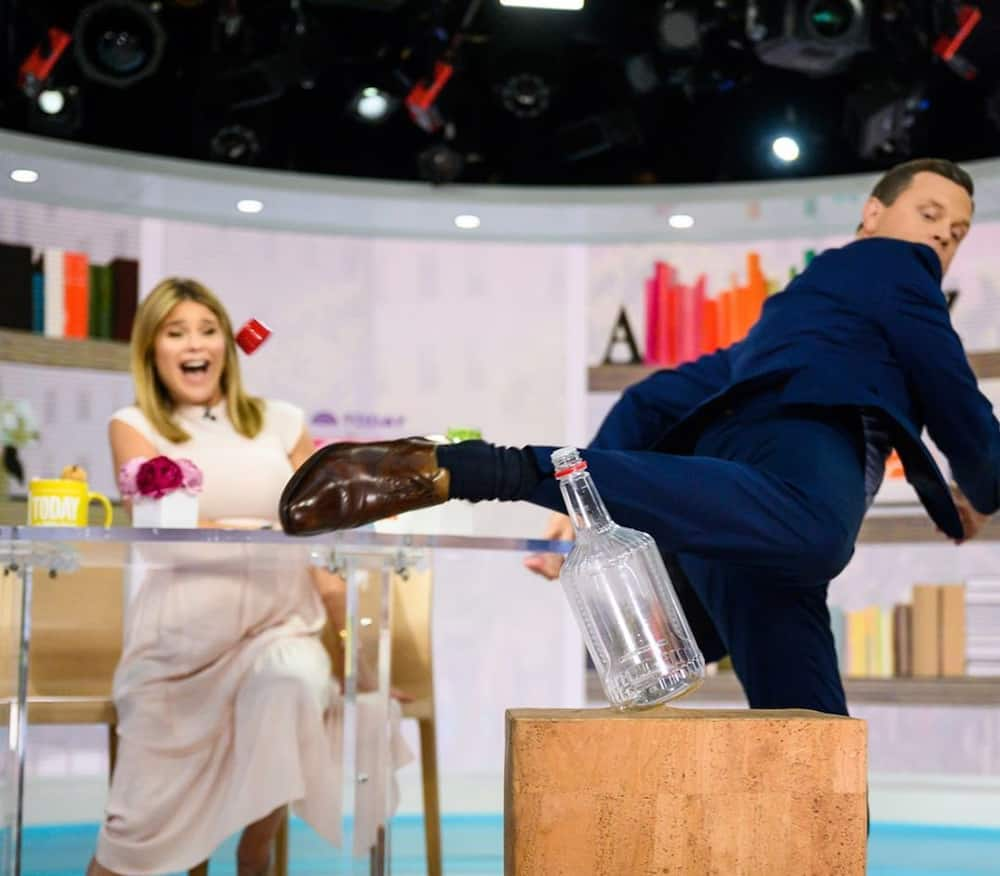 This article will tell you why you need to do the water bottle cap challenge, how to do it, and several videos showing celebrities who have done the challenge before. So, if you are wondering what the bottle cap challenge trick is, we have you covered.
READ ALSO: Sho Madjozi receives mad love and praise on her arrival home
What do you need for the bottle cap challenge?
To be able to pull off this challenge successfully, all you need is a bottle with a cap, and you need to know how to do a backspin kick precisely. You might also require a sturdy surface which will ensure stability as you perform the kick if you don't have someone to hold the bottle.
The bottle should preferably be plastic because the odds of you getting the challenge right on the first try are pretty slim, and no one wants to clean up shattered glass. The backspin kick helps with you knocking off the cap without using your hands. You can also just use your hands to unscrew the cap, but where is the fun in that?
Where did the bottle cap challenge originate from?
The first person to do the challenge or rather start the trend, was Farabi Dlvetchin, who is a well renowned Tae Kwondo champion from Kazakhstan. After he posted his video, he tagged other celebrities in it, and that is how the challenge spread like wildfire. He had initially called it #farakickschallenge, but it quickly caught on the name #bottlecapchallenge. Below we see him doing it.
The video which shows someone is holding the plastic bottle while Farabi kicks off the bottle top has about 250,000 views on Instagram and counting.
From this point, there was no stopping the challenge, as professionals from the Mixed Martial Arts world jumped on this bandwagon and tagged other celebrities who also began participating in this.
READ ALSO: Maps Maponyane treats Bafana fans to meal and inspires #BeMoreLikeMaps
Videos of celebrities doing the bottled cap challenge
Max Holloway
Firstly, we have the UFC fighter Max Holloway attempting to kick off the bottle cap at which he fails terribly. His version has almost 2 million views, and that value is rising fast. Below you see Max's failed attempt at unscrewing the bottle cap.
On Instagram, Max Holloway challenged John Mayer to remove the bottle cap using the backspin kick by saying,' Passing this on to our guy @johnmayer …. hey John if you can't complete this challenge @erlsn.acr, and I decided you have to come to Hawaii after your tour and kick it with us until you complete it! '
John Mayer
It seems that John Mayer felt the threat, and in response to this, he made his successful version of the video as seen below.
Jason Statham
John Mayer tagged Jason Statham, who in his usual fashion, made such a difficult stunt look extremely easy. He is probably the one who gave everyone the confidence to do such a hard-to-pull-off activity, and you can see him do it below. His video has been viewed over 12 million times on Instagram alone with celebrities from all over the world commenting on how smooth that kick was.
Ellie Goulding
When Ellie Goulding noticed this field was male-dominated, she went in, and it seemed as if knocking off that bottle cap was no trouble to her. As soon as the lid came off, she walked away with her arms up like the true boss lady she is. She showed us that also women can do this challenge.
Klava Coka
There is also a 22-year-old Russian celebrity Klava Coka who is making us not feel too bad for not being ninjas and knocking off that cap so swiftly. She fell down, nevertheless, she posted the video giving some comic relief to this intense, hard challenge.
Diplo
Another big-time celebrity who also did it, successfully, was Diplo, and he added his funny twist in the caption.
Since no one requested me to do this (@johnmayer ) and also since no one thinks I'm good at anything except pushing button on stage, here is evidence that I also do karate. I challenge Prince Harry and Meghan Markle, Kevin Durant and Obama
We doubt Obama's, and the Royals will do the challenge. For our sakes though, we hope that his tag works and we get to see them doing something so cool and hilarious too.
Conor McGregor
Another celebrity who absolutely nailed it was Conor McGregor, and he ironically challenged Floyd Mayweather to do it as well. We hope Floyd takes up this challenge.
Some honourable mentions
The videos below show other people other than celebrities doing the challenge, and they did an excellent job.
READ ALSO
As we wait to see more celebrities do the actual challenge, you can get that plastic bottle in the house and give it a try. With the number of people succeeding in doing the challenge, no wonder its gone as viral as it did.
READ ALSO: