- Rasheen Hill used his life-saving skills for the first time to save his own daughter's life
- His daughter suffered a severe seizure the day after she had a round of immunisation shots
- The immunisation shots resulted in a fever, which triggered the seizure
PAY ATTENTION: Click "See First" under the "Following" tab to see Briefly.co.za News on your News Feed!
A children's worker trained in cardiopulmonary resuscitation (CPR) used his life-saving skills for the first time to revive his own daughter when she suffered a terrifying seizure the day after a round of immunisation shots.
Rasheen Hill had just opened the door to his home after his shift at the New York City Children's Center nearby when his wife frantically called out to him.
Rachel Hill was trying to get her 1-year-old daughter, Shiloh and 4-year-old son, Zion to bed around 9pm on 25 June when the little girl suddenly went limp in her arms.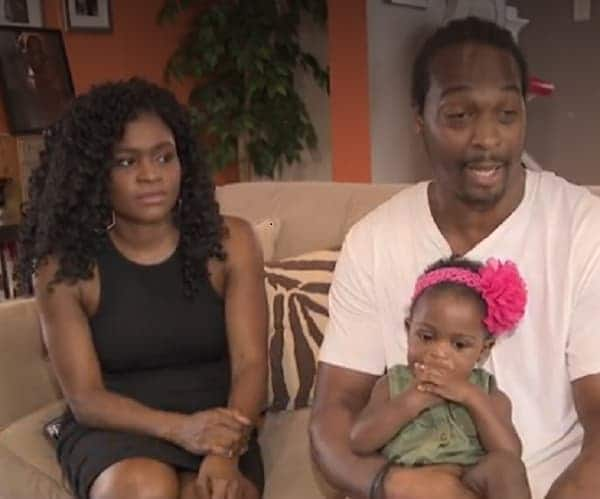 PAY ATTENTION: Do you want to know what's trending on Briefly.co.za? Join our WhatsApp group today.
Just seconds earlier, Shiloh was happily camped out near the tub, tugging at a roll of toilet paper as her older brother was bathed.
As the busy mom lifted Shiloh to shuffle her two kids to their room for bedtime, the girl stopped moving, and fear took over.
"I called to her and she didn't respond," Rachel said. "And that was where the panic had set in."
The normally-active Shiloh was motionless. Her lips were turning blue and her eyes weren't fixed, Rachel said in an interview.
"I kept calling her name and her eyes kept rolling back, I was really scared," Rachel recalled.
The terrified mother heard her husband Rasheen entering their St. Albans home and hastily called for him.
Rasheen saw his daughter in her unresponsive state and immediately sprang into action.
"Instincts just kicked in," said Rasheen, 43, a mental health therapy coordinator who is required to take annual CPR classes for his job, even though he'd never had to use them.
"I swept her throat to see if there was any blockage and did two cycles of CPR. I've worked with children for 19 years, and the first time I'm using my CPR training is on my own child," he said.
As he laboured to save his daughter, Shiloh's mom called 911. By the time first responders arrived a few minutes later, the girl was breathing again on her own and conscious, the parents said.
He added that the 4-hour stay at Jamaica Hospital ended with a 'lively and playful' Shiloh returning home at 2.30am with her mom, a high school assistant principal.
"By the time we came home it was as though nothing had happened," Rachel added after the alarming incident.
READ ALSO: Sho Madjozi explains rumours aren't true, she's not dating Sjava
The family later learned the adorable tot had a febrile seizure, the likely result of a 102-degree fever she had following a set of immunisation shots.
Rasheen, who works with troubled teenagers, said he was thankful for his annual CPR training, and glad his previously untested skills passed muster at the right time.
"It was divine intervention," Rachel said, adding that she'd been running a half-hour behind the kids' normal schedule the night of the frightening event. "I'm thankful I got the kids to bed late."
Her husband hopes their scare will inspire other adults with children in their care to get emergency rescue training.
"I think parents should learn CPR because I'm thankful I was able to use it when I needed it most," he said.
Enjoyed reading our story? Download BRIEFLY's news app on Google Play now and stay up-to-date with major South African news!