It came as a surprise to lots of South Africans and other stage performers when the announcement of the passing away of the world-renowned and veteran South African actress Nomhle Nkonyeni was made. In her lifetime, she was known for the tremendous impact that she made in the movie entertainment industry. Details about her birth, how she started acting, the cause of her death, and other vital information of interest are discussed in this article.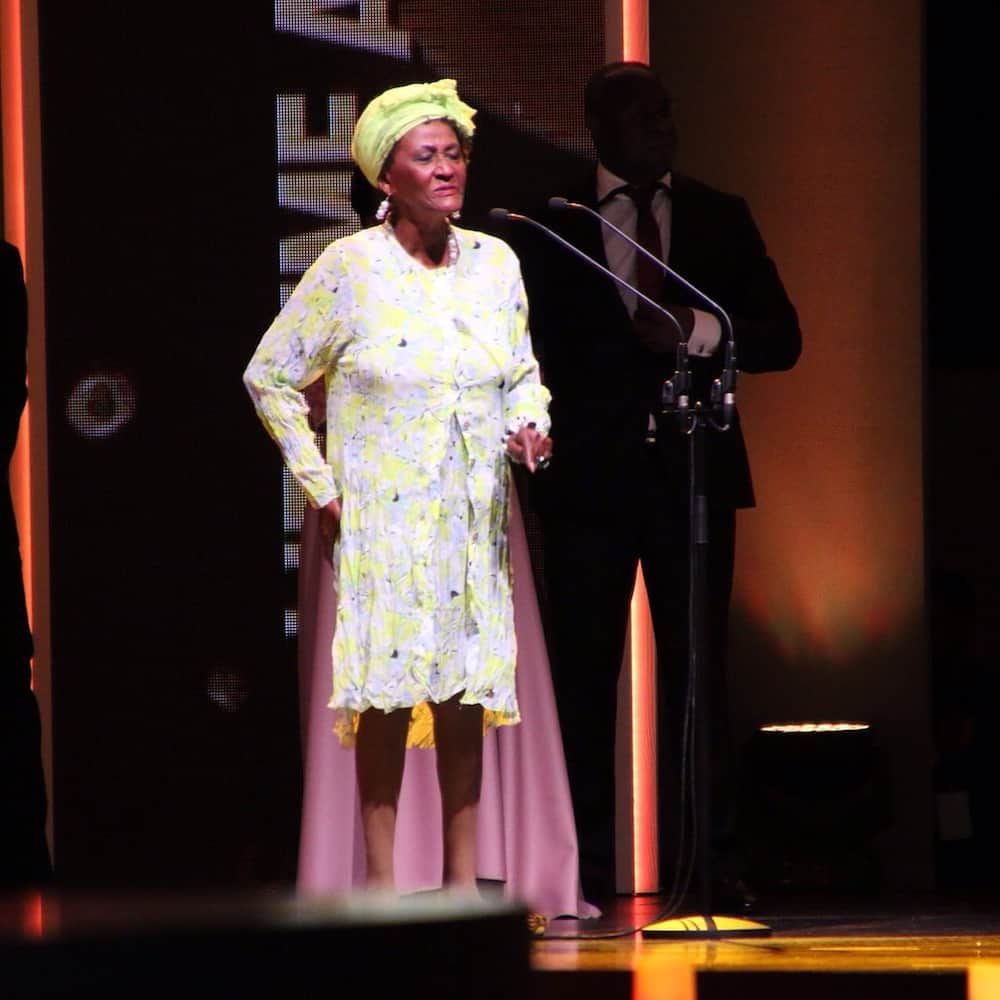 Known for her long-time performances on stage, the name of Nomhle Nkonyeni became a popular household in South Africa after she played a role in local TV dramas like Tsha-Tsha. Apart from that, Nomhle's name is one that is not new in the international community, at least, after she acted in movies like Catch a Fire.
No doubt, Nomhle Nkonyeni is a woman of a significant influence on the younger generation of artists. Giving herself out entirely towards the development and preservation of arts in the country is one of the things that she would always be remembered for.
READ ALSO: Nandi Mngoma biography: Age, baby, husband, parents, wedding and songs
Nomhle Nkonyeni biography
Born in New Brighton Port Elizabeth, Nomhle Nkonyeni has been known for her acting career in theatre as far back as when she was 19 years of age. She is also known for several works that she has done on stage with groups including Serpent drama group; the group did performances on anti-apartheid classics.
Understanding the role of education in the development of one's talent, in 1999, Nomhle Nkonyeni received from Lewisham College in London a Diploma in Conflict Management. Then, in 2002, she bagged a Master's degree in Theatre for Development in the United Kingdom from King Alfred's College.
During an interview that she granted, the Port Elizabeth born actress Nkonyeni explaining how passionate she is when it comes to acting said, "My love for the arts is burning even more." She also discussed a project that she was up to with a group of young aspirant artist known as Isithebe Drama Group in the Eastern Cape. According to her, "We write our own stories and perform them at festivals like The National Arts Festival. The aim of this initiative is to take the kids off the streets and keep them busy with the arts".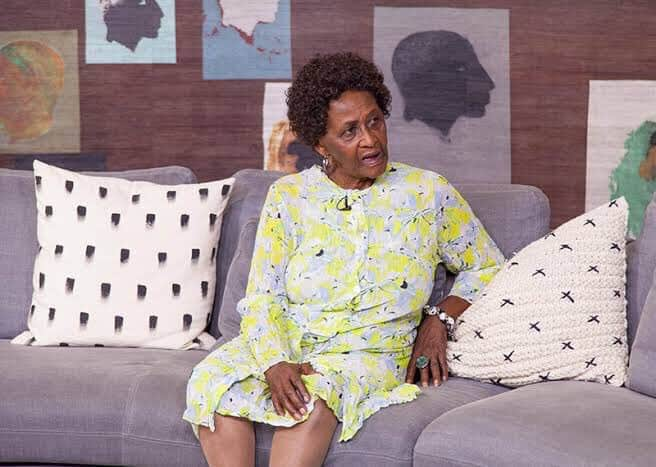 Moreover, Nkonyeni was known to be a very active person, especially in the development and sustenance of the performing arts. A proof of this was when she assisted in starting the Outreach Theatre for Education Programme. She also gave a helping hand in ensuring that young people are well-mentored and educated in the arts. In recognition of her work and contributions towards a better society, she got honoured with the National Order Of Ikhamanga by President Cyril Ramaphosa. Also, Aggrey Road in New Brighton was renamed in her honour.
Nomhle Nkonyeni age
When was Nomhle Nkonyeni born? Nkonyeni was born on the 9th of April, 1942, and based on this, she was 77 years old before she passed away.
READ ALSO: Pravin Gordhan biography: age, daughter, wife, qualifications, education, net worth and contact details
Nomhle Nkonyeni cause of death
Based on information made available to HeraldLive, Nomhle had a short illness which ushered her to the hospital since last week Friday. It was in the hospital that she died at about 4.30 am on Wednesday, 10th of July, 2019. Since the announcement of her death was made, there have been lots of tributes flowing in in honour of the veteran actress. Some of them have been captured from Twitter and published below:
Time to say good bye to Mam Nomhle Nkonyeni. Thank you for the laughs at the height of apartheid pain. Heartfelt condolences to family #RiPNomhleNkonyeni - @ThuliMadonsela3
I am deeply saddened by the passing of a great friend Nomhle Nkonyeni. I have just received the news from Minister Nathi Mthethwa. I have no words to express my pain. - @JohnKani2
Rest In Peace mama - you have given us years of your life. May the Almighty receive you with open arms ❤️ #RIPNomhleNkonyeni - @Tru_Royalty21
Thank you for giving me such a beautiful name mother-in-law. I still live by my name, Nozimanga (Woman of amazements). Thank you for the wonderful name as well.#RIPNomhleNkonyeni - @Yv_Langa
#RIPNomhleNkonyeni R.I.P Mama you have brought peoples attention to screens and made us laugh and sometimes cry because of you immaculate GOD given talent, May GOD continue to Bless your work even in heaven. Your work will live on. - @Musicafella
There has never been a more colourful, honest ( on stage and off) human being. Avele athi 'Rhaaaaaaaa mntanandini umilile'. We have lost a legend. A real one. Hamba ngoxolo Mama❤️ !!! #RIPNomhleNkonyeni - @tembisa
Nomhle Nkonyeni shows and movies
While alive, as said earlier, Nkonyeni made a significant impact on the entertainment industry. Both internationally and locally, she was known for several movies that she featured in. For instance, in international movies, she played a part in Of Good Report, Catch a Fire, and Red Dust with Chiwetel Ejiofor and Hilary Swank. Then, at the local level, she featured in hit dramas like Scandal, Tsha Tsha, Igazi and the 2007 mini-series Society.
READ ALSO: Mandla Maseko biography: Age, family, astronaut and, cause of death
Apart from those, Nomhle Nkonyeni has also played special roles in other movies like Gaz'lam (Season 4) where she played the role of Kim's Mom; Ihawu (Season 1) where she acted as Sihle's Gogo, and Ngempela (Seasons 1 and 2) in which she was the narrator. In 2017, after she joined Scandal!, she played the role of a mother to Siseko Langa which Hlomla Dandala acted, as Lulama Langa.
Nomhle Nkonyeni pictures
The picture below shows when she was awarded the Order of Ikhamanga in Silver.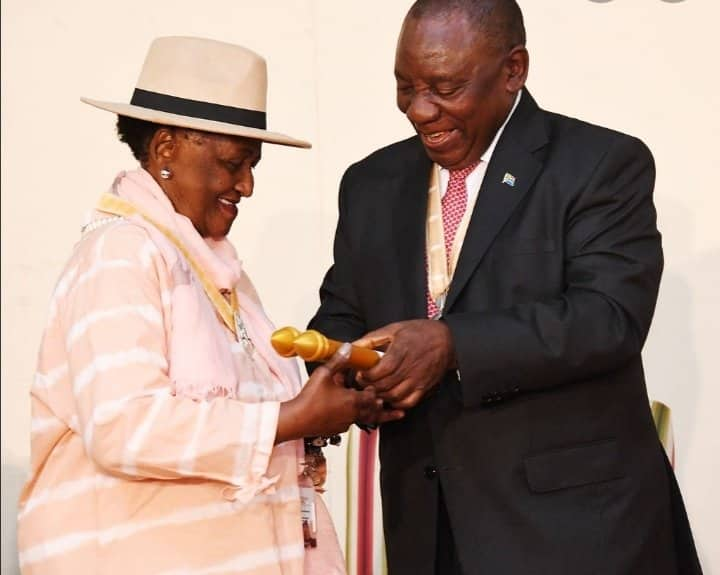 This was one of the times when the veteran actress Nomhle was cruising.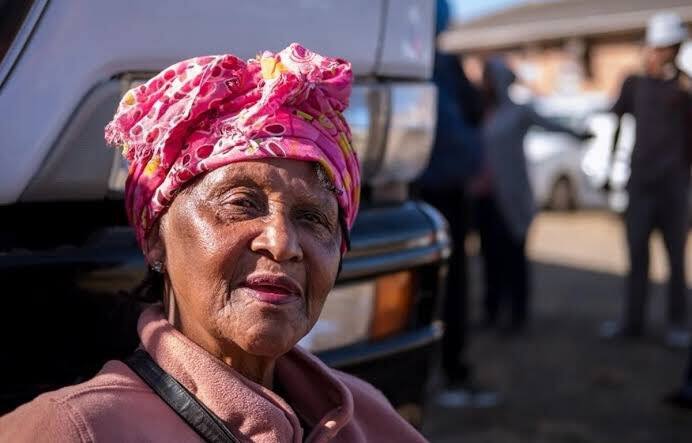 It is an absolute fact that the veteran actress and South African celebrated Nomhle Nkonyeni would be greatly missed for her immeasurable impact in reshaping and preserving arts in the country. Another thing is the big vacuum that the passing away of an iconic woman like this would cause. Our condolences to the bereaved family and the entire people of South Africa.
READ ALSO: Gugu Gumede biography: age, mother, MaMlambo Uzalo real name, Instagram, pictures