Ayanda Mabulu was born in 1981 in King William's Town, Eastern Cape, South Africa. He is best known for being a South African Postwar & Contemporary artist whose work is respected in South Africa and beyond.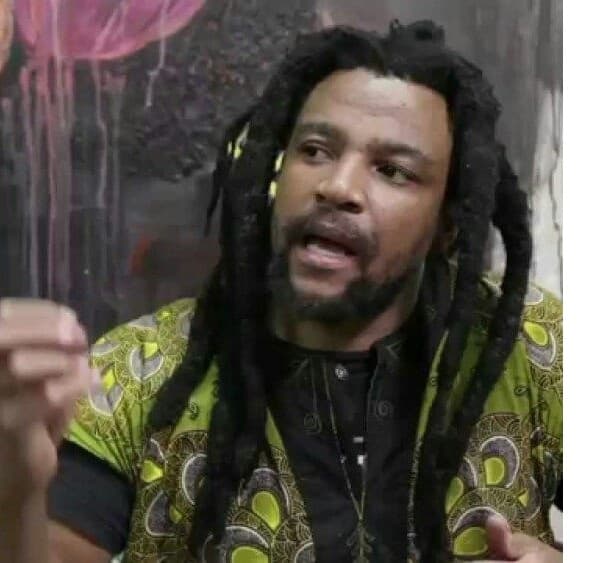 Mabulu is famous for his paintings and works that have inspired many and taught a lot about the history of Mzanzi. The painter has featured in various shows even internationally. This includes the exhibition at the DuSable Museum of African-American History. In addition to that, the MutualArt's artist press archive has also added him to A Time for Art, a piece from the Artthrob in 2019.
Ayanda Mabulu bio
Mabulu is known for his paintings. He has done so much especially paintings of prominent people in South Africa. This is a summary of his works, which make a significant chunk of his biography.
Ayanda Mabulu paintings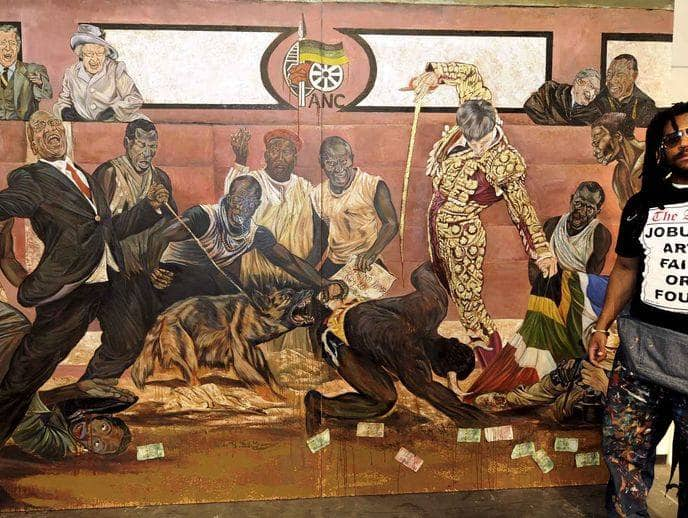 The 2010 Ayanda Mabulu painting which he titled 'Ngcono ihlwempu kunesibhanxa sesityebi' that translates to 'Better poor than a rich puppet' may have received minimal criticism in 2010 but it was until 2012 when it really came into the light. This was after another painting by South African Brett Murray titled The Spear came out in May 2012.
Ayanda's painting was a depiction of a number of national and international political figures appearing nude as a way of passing on the message above. The painting included then South African president Jacob Zuma, Desmond Tutu, Barack Obama, Robert Mugabe as well as Nelson Mandela.
He could not understand why critics had chosen to ignore his painting in 2010 and were attacking Murray in 2012 with even some going to the extent of wanting him stoned to death. He could not understand the motives for the attack. Mabulu went on to criticize Zuma and the ANC party for having responded to Murray's satirical presentation. He was also on the neck of Nazareth Baptist (Shembe) Church, who had proposed that Murray should be "stoned to death"
Ayanda Mabulu new paintings
Apart from the old paintings that Mabulu is famous for, there are a few that are a bit more recent and known to may. These include:
READ ALSO: Painter turns world of art upside down by painting using his foot
Mabulu Zuma painting
Check out the Ayanda Mabulu Zuma painting. This is a combination of Zuma-Gupta painting and maybe the most controversial Mabulu painting. This was a 2016 picture. The painting is that of former President Zuma depicted performing a sexual act with another famous figure, Atul Gupta, who is a wealthy Indian-South African business man that had been accused of influencing the president. Even so, this was not received well by many and was shot down. This Zuma painting Ayanda Mabulu worked on, may have been meant to be satirical but it rubbed people the wrong way.
Zuma and Mandela painting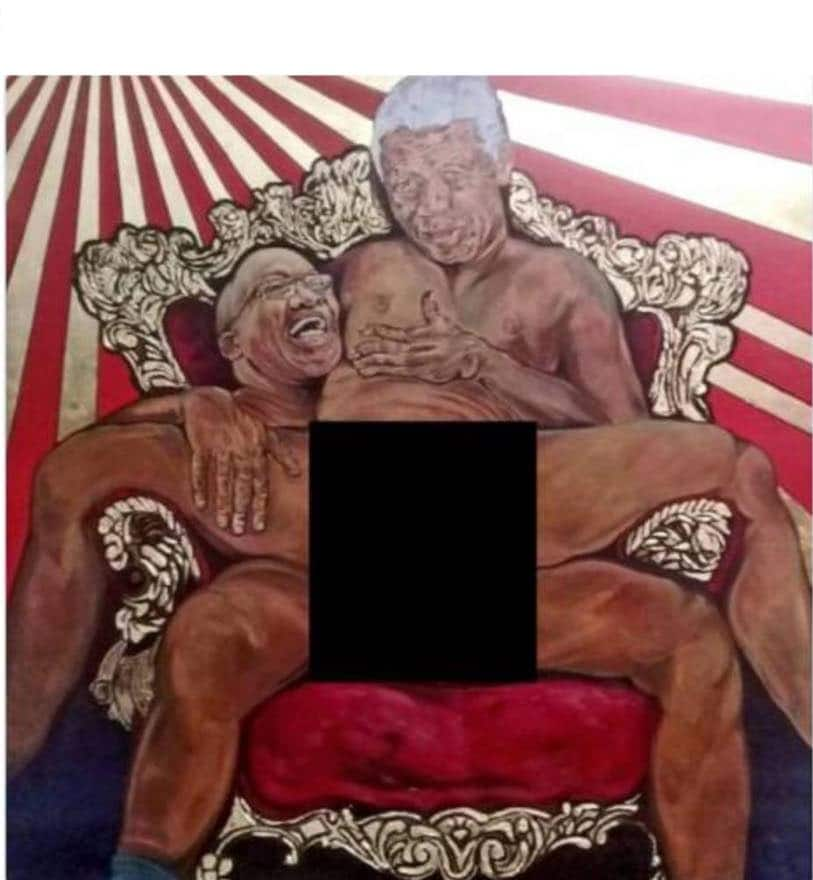 In 2017, the Ayanda Mabulu Mandela and Zuma painting was released, much to the outrage of a lot of people in the country. The picture depicts two former presidents Zuma and Nelson Mandela engage in a sexual act. The image is that of a well respected Mandela who sits down on Zuma when caressing his nipples and Zuma having a big smile on his face. In his defense about this disturbing and rather uncouth Dlamini Zuma painting, Ayanda went on to describe the image as being a portrayal of what Zuma had done in Mandela's legacy, total losing!
Both the party, ANC, which was both presidents' party, and the Nelson Mandela foundation released statements condemning the picture without undermining the freedom for choice. The sentiments of the two groups are as follows:
The Nelson Mandela Foundation: "The Foundation would like to express that it respects Mr Mabulu's right to freedom of expression. We however find this painting distasteful.″ On the other hand, ANC statement was, ″crossing the bounds of rationality to degradation, exploiting the craft of creative art for nefarious ends."
It is clear that most, if not all of Ayanda Mabulu Dlamini Zuma paintings were about criticizing the former president. He is indeed one of the critics that would scrutinize Zuma's leadership and not be afraid to make his views and feelings known through the tools he had, in this case, painting. Going by Ayanda Mabulu latest painting works, it is easy to see that he is one man that is bold and not afraid of any form of controversy. In fact, it appears as though he thrives on it.
He has a way of focusing on what can be termed as political injustice and things he feels are not right. Well, we may not always agree with his means and style but again, there is freedom of expression and that is what matters.
READ ALSO:
It wasn't me: Rasta defends himself against hideous Ramaphosa painting
Rapper Kwesta does "N'gud" by making an artist's dreams come true
Meet 'Pigcasso': South Africa's very own painting pig who is doing great