- A 33-year-old woman, Georgina Wambui, has tied the knot with herself after a grisly accident left her wheelchair-bound
- The woman was engaged to a man before she had the accident, but she decided to call it quits
- Now, wheelchair-bound without a man in her life, Georgina made the decision to marry herself to live a happy life
PAY ATTENTION: Click "See First" under the "Following" tab to see Briefly.co.za News on your News Feed!
Born a pretty and flawless girl, Georgina, who is now wheelchair-bound, got engaged to a man in her youthful age but the relationship never worked, compelling her to call it quits.
Briefly.co.za learnt that Georgina said her life took a tragic turn in 2014 after she was involved in a grisly accident which left her crippled and confined to a wheelchair.
As a result of the tragedy, the woman recalled the trauma she underwent after her close friends distanced themselves from her.
PAY ATTENTION: Do you want to know what's trending on Briefly.co.za? Join our WhatsApp group today.
"After the accident, I lost of my friends who were close to me. That changed me a lot, it gave me a lot of strength. It made me realise some people are there to stay and others are not. This is one reason why I choose very few people around myself," she narrated.
On her 32nd birthday, which she celebrated on June 1 last year, Georgina chose a peculiar way of commemorating the day by buying a ring and getting engaged to herself.
READ ALSO: Couple holds 2nd 'wedding' at bride's grandmother's nursing home
It is on this special occasion that she disclosed to friends and family members that she would marry herself the following year.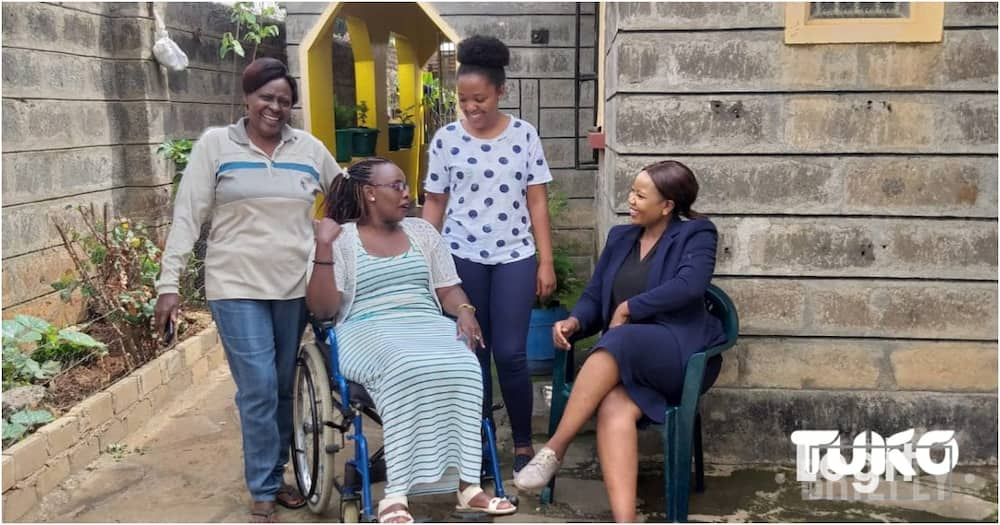 Perplexed with the revelation, her close allies thought she was crazy but could not change her mind, they only gave her time.
On Saturday, June 1, to the shock of many, the 33-year-old woman made good her promise by marrying herself in a colourful wedding.
READ ALSO: Man shares plight of orphan (11) who pushes trailer to fend for himself
Georgina bought herself a ring, shopped for a glamorous gown, a moreish cake decorated with "Gee weds Gee" and dressed her maids in perfect red outfits to rock the event.
"I chose to do that according to the inner feeling in me, not because I don't believe in love, I do believe in love, I believe in marriage but I chose I will go for what I want, not what the society wants," she said
Asked what she really yearned for, the composed lady was quick to reply "happiness".
She disclosed her dream of getting married to a man and having a happy life but the day seemed too far from becoming a reality.
"You may choose to wait but will you wait for the rest of your life. I really wanted to be married to a man but it has taken longer than what I expected, that is why I decided I will go ahead and marry myself," said Georgina.
Despite the unusual move, she is still optimistic and looking forward to having children one day.
"After my wedding, the next thing is getting a child, that is where I'm heading now," she revealed.
On the options she is considering to have a child, Georgina said she will not mind a 'deadbeat' dad or any genuine man who will come in her life.
Enjoyed reading our story? Download BRIEFLY's news app on Google Play now and stay up-to-date with major South African news!