A tale of Sarah Baartman popularly called Saartjie triggers both admiration and empathy among South Africans. She is an irresistible historical figure, having struggled many hardships to earn interstate fame. Born in the 1770's and raised in the Eastern parts of Cape Colony, Saartjie Baartman grew to become a bold Khoisan woman, and she later relocated to England alongside her employer Hendrik Cesars, a free black man. What was Sarah Baartman known for?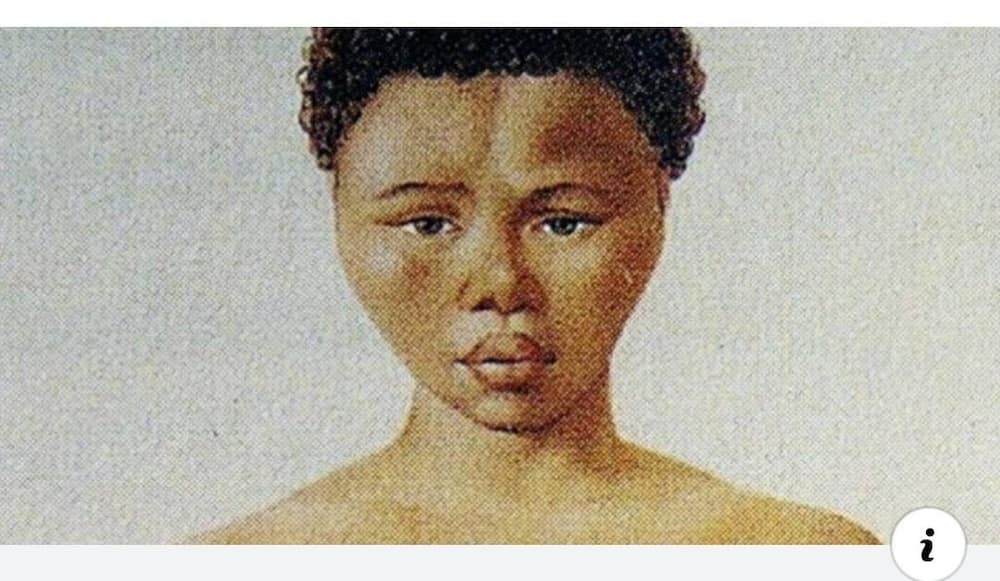 What happened to Sarah Baartman? 2002 was a good year for us and the long fallen South African woman, Sara Baartman, whose memorial grave became a South Africa National Heritage Site. It is the same year that the state received her body remains and buried them in a modest grave within Hankey, Eastern Cape. It is over a decade now, and not many people understand much about this iconic woman from a humble Khoisan Village. Let us discover the untold facts about Sarah Baartman.
READ ALSO: The other side of Zodwa Wabantu that you may not know about
Facts you must know about Sara Baartman
From a humble Khoisan village girl to a Hottentot Venus, Sarah Baartman is one of the most celebrated South African women of all time. Her untimely death in 1815 would later accord her massive reputation beyond her dead-bed. Sarah's recognition as the "Hottentot Venus" of both London and Paris wraps up her story, and her ever-growing fame in the country has had Sarah Baartman district named after her. Here are 11 little known facts concerning Sarah's mysterious life and death.
1. She was fluent in four dialects
Many people majorly assume that Sarah was exclusively fluent in her native dialect and a little bit of the Dutch language. Interestingly, she was fluent in two other languages; French and English, given her expository travels in various parts of the world.
2. She relentlessly fought against publicity of her elongated labial lips
European patrons were particularly excited by Baartman's elongated labial lips which she continually retracted from the public show. Her labia extended about 4 inches, a phenomenon that particularly thrilled scientists and other curious citizens at the time. Interestingly, most of them offered vast tokens as a reward to have their way. Unfortunately, several of Sarah Baartman pictures only displayed her beauty and nudity, but none of them captured her labia. Even when she was posing for nudes, Sarah insisted on having an apron wrapped tightly around her waist to cover her genitalia.
3. Displayed in more than 200 London exhibitions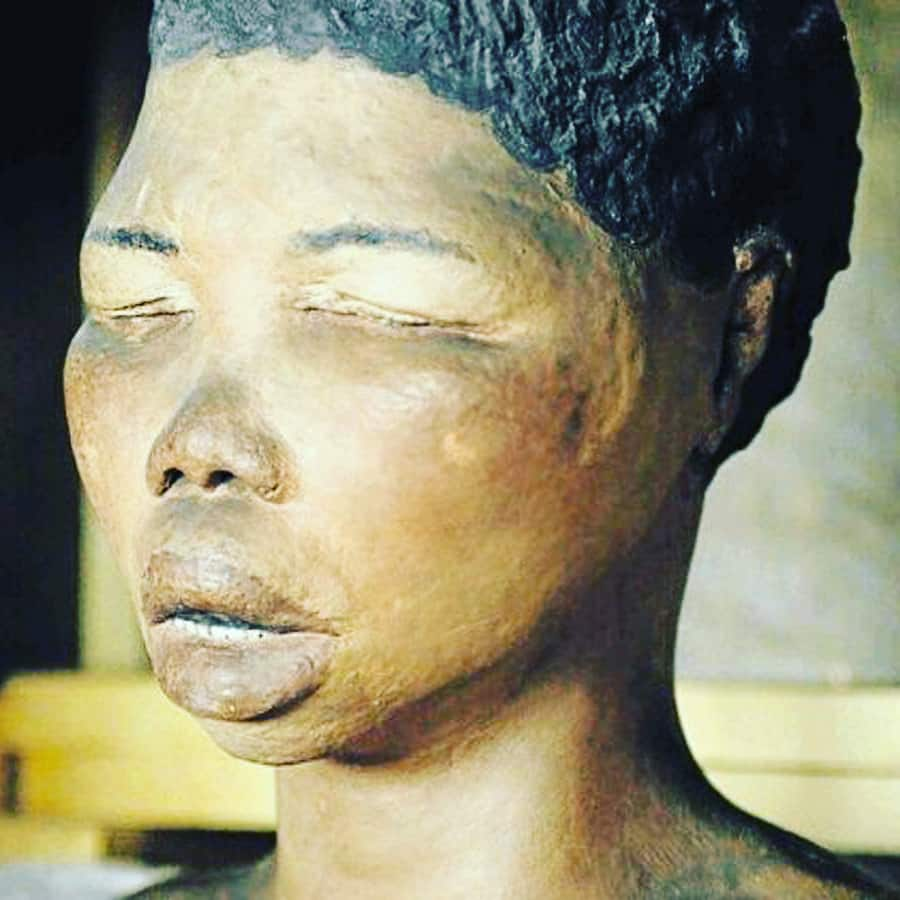 London was Sarah's first stop after leaving South Africa in the company of her boss. Her willingness to leave the country came short of her expectations when she arrived in London. She was shocked on finding out about her objectivity in lifelong exhibitions. Statistics indicate that Baartman was displayed at least two hundred times in different exhibitions across London. Her move to Paris was equally overwhelming for her as a display object in exhibitions.
4. She was gifted in music
Baartman was highly skilled in her traditions according to which she danced flexibly and with zeal. Georges Cuvier, a French naturalist, narrates how Baartman was an accustomed woman in the manner in which she carried herself with more considerable influence from her country, South Africa.
5. She turned down a rescue attempt
The African Association initiated a release campaign in favour of Baartman following the institution of the Slave Trade Act 1807. After tabling the matter in court, Baartman disappointed the Association stating that she was not under any form of restraint and had not been abused in any manner whatsoever. She also insisted that she had traveled to London ridden by free will. Her statement also noted that she was fully aware that her employers were paying her half of what she accrued from displays.
On this basis, she outlined her reluctance to return home, cutting short an attempted rescue mission by the African Association. Eyewitnesses on her situation later provided contradictory observations indicating that she was not indeed a free woman as she claimed.
6. Civilians touched her for an extra penny
Europeans perceived Baartman as a freaky of nature, explaining the reason why some exhibition members were permitted to touch her with their fingers and at times with sticks. The treatment she received was similar to that of a caged animal. Scholars admit that she was compelled to wear a collar at times.
7. Sarah was not her birth name
Formerly Ssehura, Baartman later received the name Saartjie from the Dutch. Saarjie was a diminutive equivalent of Sarah. Later on, she was sold into slavery under Pieter Willem Cezar, a famous trader.
8. Sarah and The Freak Show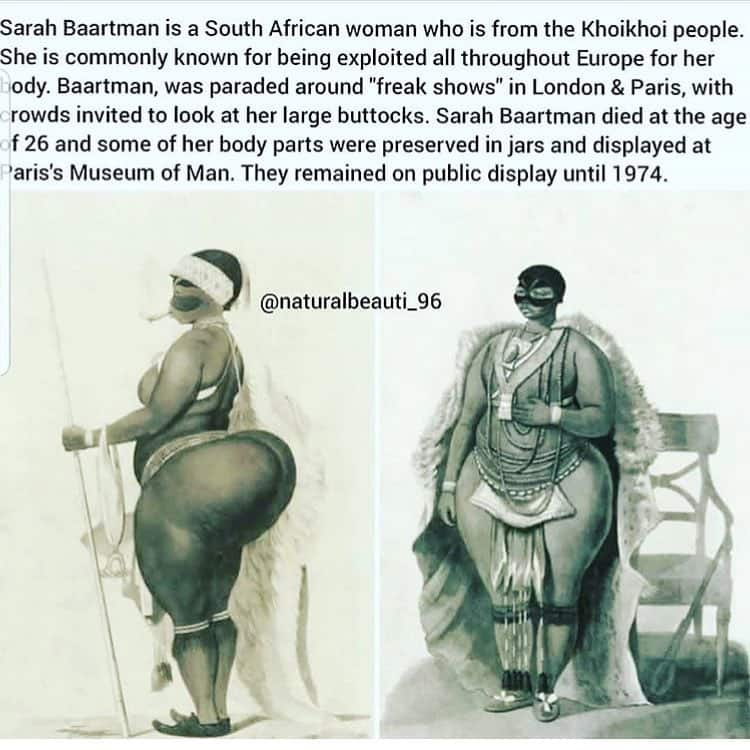 Sarah entered into London exhibition displays as a nature freak during which she publicly displayed much of her nakedness. Her bosses collected a lump sum from admittance fees given that the country's fashion at the time emphasized on feminine curves. Despite frequent exploitations, Sarah always went unrivaled for her secretly craved enlarged buttocks.
9. Sarah freaked scientists at the time
Her curves and exceeding large buttocks enriched her London masters. She was later sold to an animal trainer as a slave following which she suffered poverty and succumbed under terrible conditions.
10. Sarah's appearance reshaped perceptions of Africans
A show of Sarah in London and France mostly convinced Europeans that Africans were oversexed and a lesser race. That followed inconclusive arguments that Africans represent a linkage between humans and animals.
11. Sarah's fatal death
When did Sarah Baartman die? Sarah Bartman succumbed early in life, aged 26 years, but her freak show proceeded beyond her life. She is thought to have fallen to an inflammation relating to syphilis, pneumonia, smallpox, or alcoholism. It is unfortunate that Cuvier did not conduct an autopsy on her body but dissected it for scientific research on African woman in contrast to their civilized counterparts.
READ ALSO: Greg and Lucky biographies: ages, wives, show, and WhatsApp number
Sarah Baartman remains one of the most famous South African women from Khoisan descent better known for her bravery and continued endurance in the foreign land. Her accomplishments and the naming of Sarah Baartman District Municipality demonstrated her outspoken legacy.
READ ALSO: