- A woman named Taiye Feyisayo Adedeji recently narrated how she gave birth to triplets after six years without a child
- The woman, who had experienced four failed in-vitro fertilisation procedures, got pregnant after she plucked up the courage and went for a fifth attempt
- According to her, she specifically told God that she wanted triplets - two boys and one girl - and she got what she wanted
PAY ATTENTION: Click "See First" under the "Following" tab to see Briefly.co.za News on your News Feed!
Taiye Feyisayo Adedeji had been waiting for six years to bear fruit of the womb. In fact, she underwent four IVF procedures, which all failed. Despite the fact that she stared multiple failures in the face, Taiye did not relent. She picked herself up again and tried it one more time.
Surprisingly, the result was positive. She took in the news, and nine months later she delivered her triplets- a girl and two boys, just the way she wanted and hadprayed for.
In an interview with Woman.ng, the lady opened up about the journey to having her bundles of joy, the obstacles and how she overcame all of them with the power of her tongue.
"I got married in May 14, 2011, and I wanted babies immediately but it wasn't happening. So, after a year, we went to see a doctor and the journey for IVF began. We started IVF from 2012 to 2015. I did two in the United States and two in Naija, but it all failed.
"One thing I remembered is that, during my third year anniversary, we had a programme in my church (Fruitful Vine) and it was on my wedding anniversary day. I wrote a prayer point and I said I want triplets - two boys one girl - and the church prayed and agreed with us. Since then, I had the baby names, so I tell anybody that was talking to me or praying for me that I want triplets not twins. I just want to go into the labour room once and I'm out with three babies.
"In 2016, we didn't do anything. I wasn't ready to go to any hospital. It was a year of break for me. Then 2017, after much persuasion from my dad, he booked me with a fertility doctor and told my husband to take me to see the doctor. I went to the hospital and when she saw me, she could see in my eyes that I had lost hope because after the fourth failed IVF, I decided I was done.
PAY ATTENTION: Do you want to know what's trending on Briefly.co.za? Join our WhatsApp group today.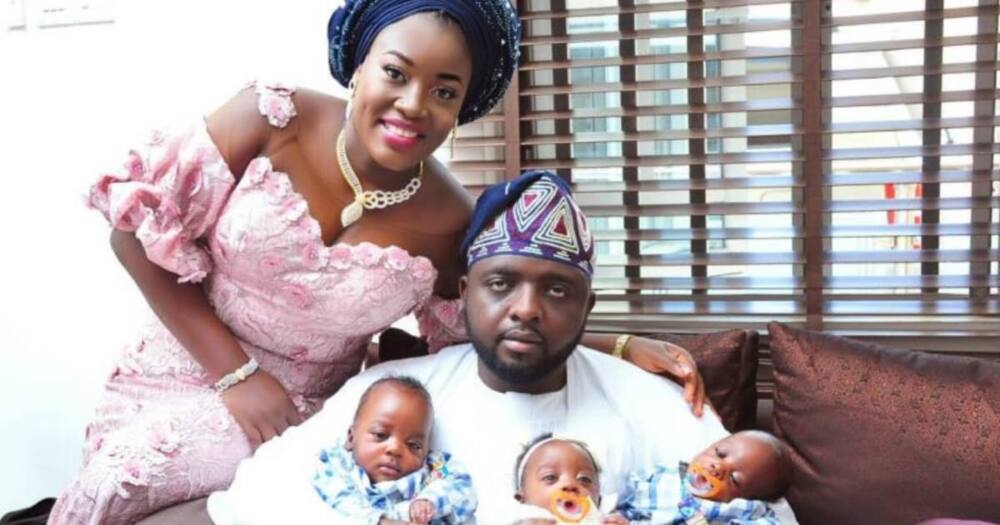 READ ALSO: Graduate who sells food using a wheelbarrow shares her success story
"So, that day, I just went to the hospital to hear what the doctor had to say. She started asking questions but it was my husband that was answering. She now goes, "Taiye, I'm not leaving you until you are pregnant." I just said, "Madam, that is money and we don't have that money. We are not even doing IVF but my daddy said I should come and I decided to come.
"And she goes, "I'm feeling led to start now." Those were her words. I was surprised to hear a doctor telling me "I'm feeling led," putting God with IVF, but I wasn't still interested. So, I said, "what is it you want to do that is different?" Then, she started giving me options and asked to run some tests and scans.
"Then I remember that the first nurse I met said my promise for the year, "Job 8:22- Madam, God will fill my mouth with laughter and my lips with shouts of joy." In my church, we pick a promise for the year; you pick a sheet of paper with a bible passage every first day of the year.
"And I just started crying because I knew my coming there that day wasn't normal, it was God ordained because nobody told her my bible verse for the year and in my church, my pastor would tell you that if it is one bible verse you know, hold on to it, it's your weapon, fight with it, confess it daily, it will work wonders, so I just said, "let's do it."
"So, we started the procedure in January and the doctor said my body needs to rest in March and then I got pregnant in May. When the doctor heard the heartbeats, and heard three, she said, "Taiye, you sha said you want three and you have three, I'm hearing three heartbeats. I'm a doctor but I can't explain your confession and faith. Sometimes, when I put in three embryos, everything sticks. Other times, one may stick or nothing stays."
"And the whole pregnancy thing, it went well and we have the babies to show for it."
Enjoyed reading our story? Download BRIEFLY's news app on Google Play now and stay up-to-date with major South African news!