Tshego biography: age, King Monada, songs, album, and Instagram
Many African artists grow up aspiring to settle and advance their music in the west, but for Tshego, it was different. To him, his native land was more attractive than the west, and today, the flamboyant artist has no regrets. Sometimes, one has to go against the current because that may just be the road leading to your treasure box.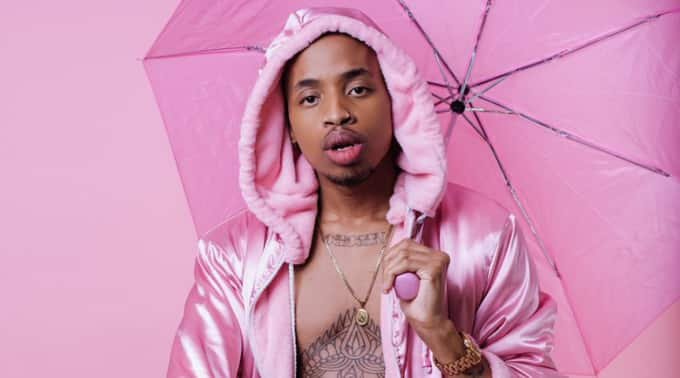 Originally called Tshegofatso Ketshabile, Tshego was born in the US when his parents, who are Church ministers, were studying in Atlanta, Georgia. He is a singer, producer, and songwriter. The artist started visiting South Africa from an early age of four until he finally settled in Mafikeng in 2002. Naturally, he could have settled in the US, but since the better part of his musical talent was developed in South Africa, he chose to practice from there.
Tshego was fortunate to have liberal parents who believed that a child could excel more when they are given the space and freedom of expression. For that reason, his mother allowed him to keep exploring until he would discover his talent. It has never been clear why he ventured into music, but when asked about it, he said:
"I do music because I simply fell in love it."
By the age of five, he already appeared on stage to express his musical talent. Tshego tried learning to play many instruments, but due to an element of impatience, he never quite mastered even one. This included the guitar, piano, violin, and drums.
"My mom used to advise me to choose one instrument, master it first before moving to the next one but I couldn't listen. Now I understand why wish I listened!"
READ ALSO: 20 famous women in South Africa
Tshego songs and albums
The project "Since 1990" generally represents what the artist owes his music fans, the art of music, and of course himself. It is at this time that he decided to drop his earlier nickname Shag Tha Gorilla to adopt the shorter version of his name Tshego.
His song Fomoza from the project "Since 1990" was approved for the movie Happiness is a four-letter word which was starred by Renate Stuurman, Mmabatho Montsho, and Khanyi Mbau. Another one of his tracks We Okay-In the Dark, ranked number seven and five in the YFM and Gagasi FM Top Ten R&b charts.
Tshego Hennessy (feat. Gemini Major & Cassper Nyovest)
Hennessy was produced by Tshego with the help of Yaw Bannerman. The video gives you an idea of how the artist and his squad enjoy their night-outs.
Nadia Nakai is right there too. The track that now has over 970,000 YouTube views features Cassper Nyovest and Gemini Major.
Tshego and Nyovest have been friends for a while because he looks up to Cassper for mentorship. In 2014, he featured in Cassper Nyovest's track "Cold Hearted "from the Platinum album Tsholofelo. This good relationship culminated in his signing of the contract with Family Tree Records in the year 2015. He also appeared on Cassper's album "Refiloe "on the track "A Lot to Live For.
Tshego Garden (Official Music Video) 705,651 Views
On Garden, Tshego's vocal output is a lot more different, but if you've been following his music keenly, you will realize that there is a lot of improvement. The hook is contagious and very easy to sing along.
And who produced the song? Well, Tshego co-produced the track with Alie Keys, and they indeed delivered a superb song. So far, it has almost garnered 1 million views on YouTube
Tshego Pink Panther album snippet
This guy has been working so hard, and his fans should expect some fantastic new releases soon. According to a recent Tshego Instagram post, the much-awaited Tshego Pink Panther album, for example, is expected to be released on August 30th, 2019.
But before then, he would have dropped a new single on August 26th.
Tshego Pink Panther album list
Right Now Lyrics
2. Playing (Featuring Thabsie) Lyrics
3. Ubumnandi (Featuring BLACK. CASS & Kwesta) Lyrics
4. The Touch (Interlude) Lyrics
5. Together (Ft. FOCALISTIC) Lyrics
6. The Touch (Featuring. Frank Casino & Riky Rick) Lyrics
7. You Don't Have To Lyrics
8. On You (Featuring. Tellaman) Lyrics
9. With My Bro's Lyrics
10. Me and You (Featuring. Riky Rick) Lyrics
11. No Ties (Featuring King Monada) Lyrics
12. Waves Lyrics
13. On God Lyrics
14. I Been Good Lyrics
15. The Touch (Interlude) Lyrics
Very little information is out regarding this Tshego album because it is not yet released. However, Tshego in a recent interview, simply said that it is an intimate vibe with high energy and great quality.
Did Tshego leave Family Tree?
Yes he did, and the rapper has now partnered with the Universal Music Family after leaving Tshego Family Tree Records. When asked why he moved, he had this to say,
" I moved because the time was ripe for me to do so. Cass and Nadia are still my friends but I just felt it was time to invest in my own company which is 258. Everything I drop now will be dropped under 258
Tshego - The Vibe [Feat. Cassper Nyovest] (709 887 views)
This artist is obsessed with pink; no wonder he promised to name his upcoming album Pink Panther. However, in this video, he almost over-indulged. It opens with two girls dressed in shades of pink while driving the pink Gusheshe in a somewhat reckless manner. You will notice that even the car rims are pink.
The girls drive around as he sings Tshego the vibe lyrics. He featured Cassper Nyovest and so far the video has almost hit 710,000 views.
READ ALSO: Sophie Ndaba Biography: Age, daughter, husband, sickness, and recent pictures
Short Lyrics for Vibe By Tshego Featuring Cassper Nyovest
Oh I do this shit every night
flow in slow damn
Cup of lean I call dat dirty sprite
Pro lean costed
Hit me up you know I got the vibe
Hit me up you know I got the vibe
One excited fan commented on this video saying;
Ayo TaRi : Cassper needs to start promoting this kid more he is sleeping on the boy's talent
Did you know that Tshego Ketshabile and Tshego Seakgoe are two different people? Well, they are not even related, but they both enjoy the celebrity status. Ketshabile has been releasing a hit after hit, and at this rate, the rap artist is clearly destined for musical greatness. For now though, we can rest easy knowing that in a few days time, The Pink Panther album tracks and the promised single will be out.
READ ALSO:
Top Afrikaans Songs of All Time
Top facts about Simone Biles and her historic jump!
Lady Zamar-Collide lyrics and official video
Source: Briefly News