PewDiePie is a Swedish based YouTuber whose skill is moving masses. He is earning the most from his carrier in creating and sharing content about irrelevant gaming on his YouTube channel. The latter recently married his long-time lover in a classy wedding ceremony. Regardless of whether you are his fan, you might want to keep up with details about him.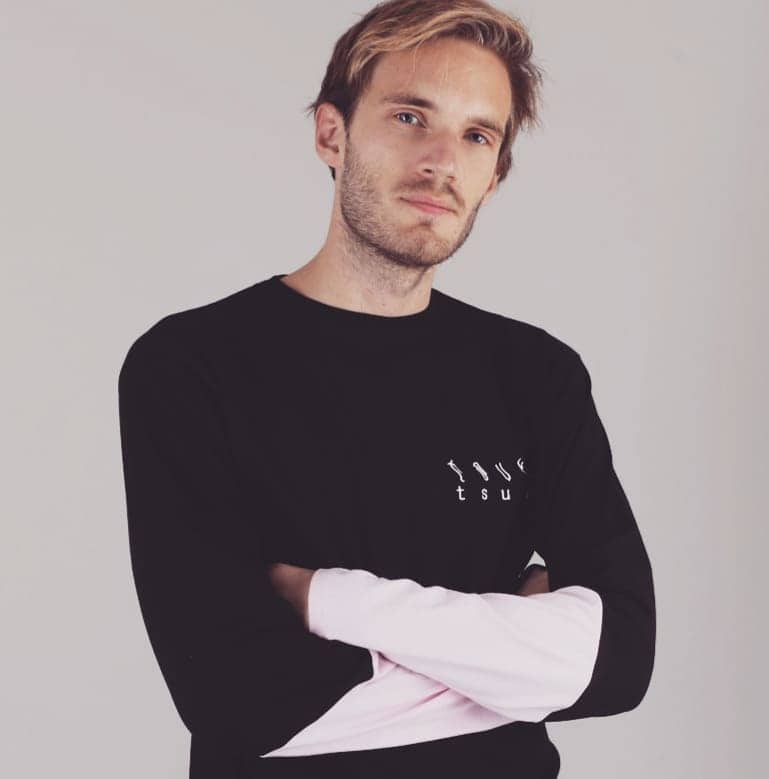 PewdDiePie, who has been the centre of attraction for most gamers is one of the highest-paid YouTubers. His YouTube career has been flourishing as he got into it. His channel has for the longest been the most subscribed channel on YouTube. He is making headlines after he officially sealed his union with his girlfriend for eight years in a lavish private wedding. You might want to know more about him.
Who Is PewDiePie?
Would a parent name their kid PewDiePie? Probably not. Felix Kjellberg, popularly known as PewDiePie, is one of the stars who is making the most out of the internet. His influence is evident on his YouTube where he boasts of having close to 100 million subscribers with some of his videos gaining up to 16.5 billion views. In his YouTube channel, he displays his repertoire ranging from creating content in gaming to animated comedy. More details about him are highlighted in PewDiePie biography.
READ ALSO: Nick Mallett biography: age, wife, education and SuperSport
How old is PewDiePie?
Felix Arvid Ulf Kjellberg, popularly known as PewDiePie, was born in 24th October 1989. He was born in Gothenburg, Sweden. That makes PewDiePie age as of date to be twenty-nine.
He is the son of Ulf and Johanna who are successful chief executives. As a young boy, PewDie Pie was passionate about arts and video games.
PewDiePie measurements
If you have been seeing his photos and were wondering what PewDiePie height is, the latter is 1.81 metres tall.
PewDiePie YouTube
In 2006, he began the journey to making his YouTube career successful when he sold a piece of art from his grandmother and acquired a computer. This was the first time that he created content for his channel which he called Pew, which was the slang for the sound that a laser gun makes when it is fired. He, later on, had to abandon that account because he had forgotten the password to that account.
In 2010, he created his second YouTube account which he called PewDiePie. He then began to share content in his "Let's Play" where he shared a couple of videos of himself playing Minecraft. He got the account registered while he was at the Chalmers University of Technology in Gothenburg where he was pursuing industrial economics and technology management.
YouTube PewDiePie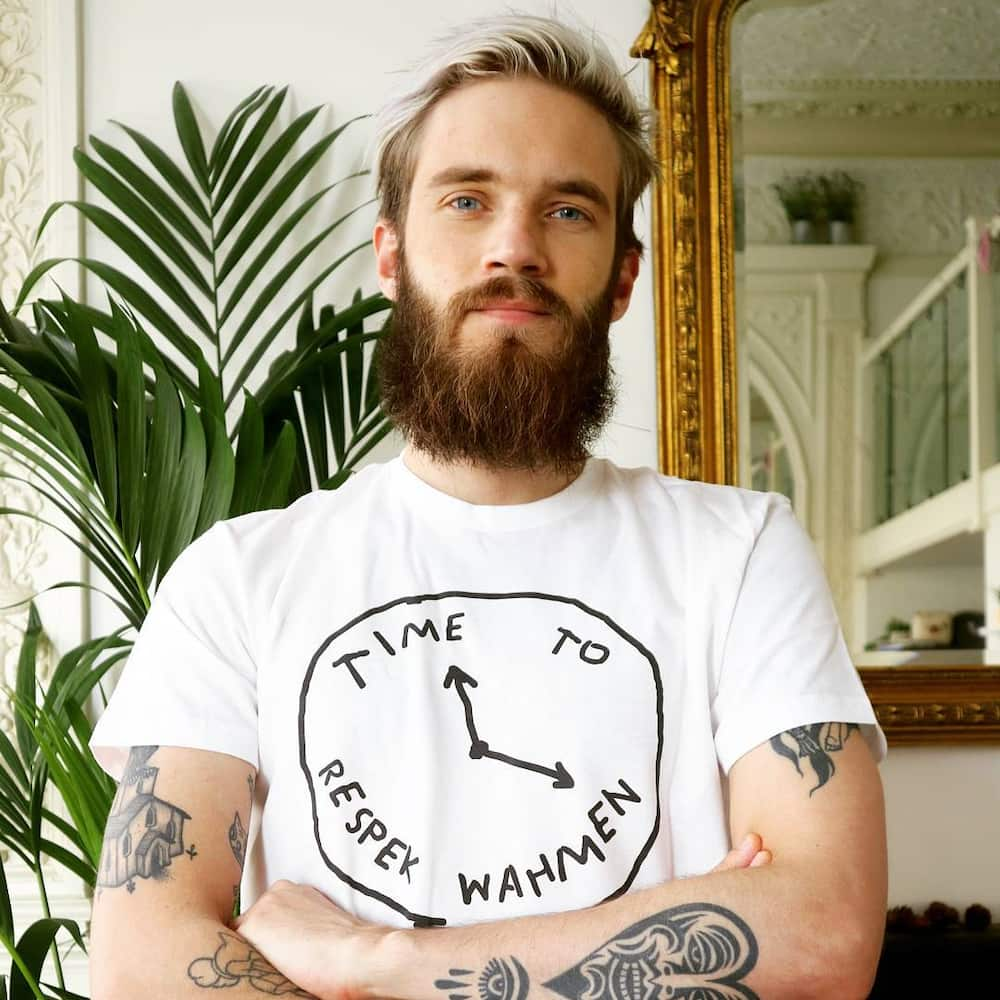 His YouTube career which started as a joke took a new turn when he shot a video of himself screaming after watching: Amnesia, a horror movie. This clip drew the attention of most people and that is how his fan base grew as most of them requested him to record more videos with nearly the same content.
Seeing the potential in his YouTube career, Felix dropped out of the university to focus on growing his career. He also started a hotdog kiosk where he worked part-time to earn some few coins.
To prove that there was light at the end of the tunnel, in 2012, he hit 1 million subscribers. Within the second month, he was already at 2 million subscribers. In December that year, he signed a deal with Maker Studios that helped him market his account and earned him at the same time. This move had a drastic change in his account as his subscribers grew twice within one month. In August 2013, he was recognised as the most subscribed YouTuber in the world.
PewDiePie house
His YouTube account is focused on giving tutorials on how to play games. The most recent gaming video that has made him famous is the giant meatball Minecraft house that he uploaded in July.
PewDiePie sub count
Pewdipie is on his way to reaching 100 million subscribers. With a few more new subscribers, he will get it.
PewDiePie logo
The latter has had two logos for all the years when he had been pursuing his YouTube career. The logos have been a signature mark for his brand.
PewDiePie vs T Series
T Series vs PewDiePie is an online competition that involved the latter and T series, which is an Indian company that is run by Bhushan Kumar. The competition involved finding out which one of the two would be the most-subscribed channel on YouTube. T - Series has for the longest time held the title of being the most viewed channel whereas Kjellberg's channel had held the title of the most subscribed YouTube channel.
PewDiePie Twitter
Being a YouTuber who is making it in the industry, makes it so obvious that the latter would be famous on other social media sites. For instance, his Twitter account boasts of having close to two million followers. Pewds Instagram account also boasts of 18.9 million followers.
PewDiePie Merch
Besides earning from his YouTube account, the latter also earns from his business. He sells custom made apparels on his Merch website.
Pewdiepie net worth
Being among the top YouTubers, it goes without question that the latter earns a dime out of it. According to Wealthy Gorilla, the latter has an estimated net worth of $30 million. If you were wondering who is the richest YouTuber or were curious to know how much does PewDiePie earn? This figure already explains how lucrative the career is.
PewDiePie and Marzia Bisognin
In 2013, Kjellberg relocated to Brighton, a town that is famous for being home to YouTube content creators because of its reliable internet connection. He moved in with his girlfriend Marzia Kjellberg. This was after they had met in 2011 and dated online before living together in Italy.
PewDiePie latest news
PewDiePie wedding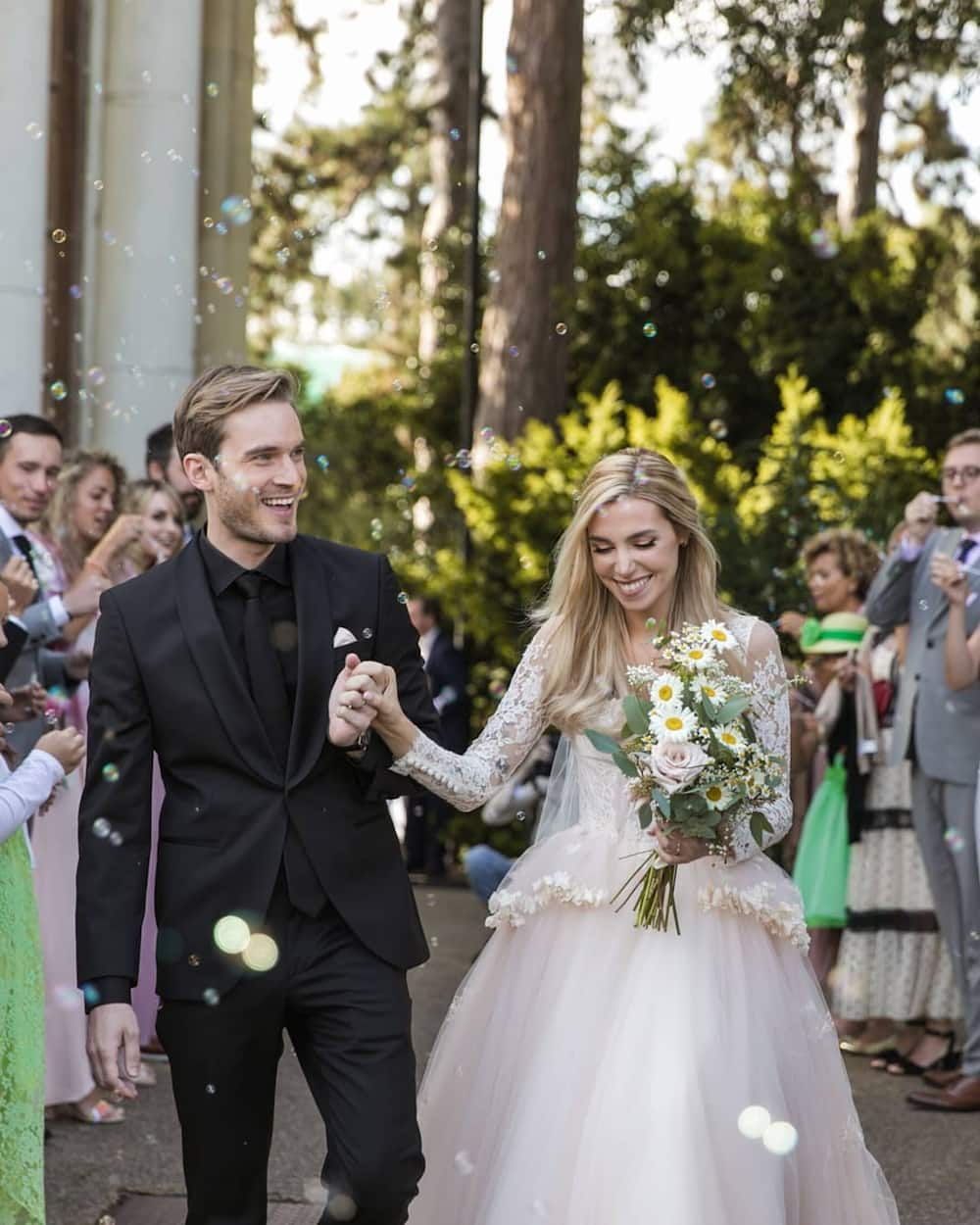 Pewdipie, one of the world's most famous YouTubers, married the love of his life and fellow YouTuber: Marzia Bisognin. The two got married in a lavish wedding after eight years of dating. Their wedding came on the exact date that the two met, how awesome is that?
Marzia Bisognin, his wife, is a twenty-six-year-old Italian who has also been into the YouTube world as a fashion blogger. The two could not hide their excitement after they sealed their union. They have shared pictures of their beautiful wedding on their Instagram accounts. It goes without question that they are excited about their new journey and how prepared they are to take on their marriage life.
In an Instagram post, Maria wrote:
Yesterday, the 19th of August—after exactly eight years since we met—we celebrated our wedding with our closest friends and family. It was the most beautiful day, which I will treasure forever. I am so thankful for all the people that made time to attend the event and helped us celebrate our marriage. I feel like I'm the luckiest person and I'm so full of love. Incredibly ecstatic to be able to call Felix my husband for the rest of our lives.
Pewdie Pie on the other had, could not hide how excited he was about the union. He posted on his Instagram account saying:
We are married!!! I'm the happiest I can be ❤️ I'm so lucky to share my life with this amazing woman.
PewDiePie is officially off the hook and social media cannot keep calm. Neither can he hide his excitement about being married. His wedding might be the highlight that will get him to 100 million subscribers on YouTube, who knows.
READ ALSO: