You barely would have mentioned rising stars in South African sports without mentioning someone like Aphiwe Dyantyi. As one who was once denied access to playing because he was small, he has worked his way to become one of the best rugby players that sports fans want to see playing on the field. Reading through his stories serve to prove to everyone that delay is never denial in life and that with determination and tenacity, there are no limitations to one's greatness.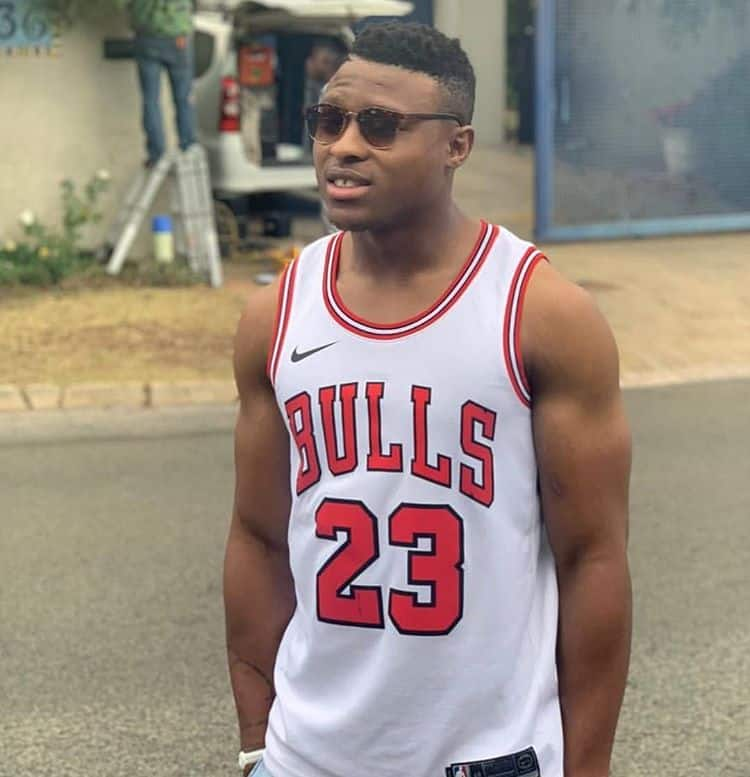 Having featured in various competitions, Aphiwe Dyantyi has become one of the fast-rising stars that would make South Africans proud even at the international level. With his impressive start during the Super Rugby season, he has won the hearts of many. Consequently, he was called up to join the Springbok squad during the international competition that was held against England and Wales in June 2018. Without any prior international competition experience, he performed so well that he became the first South African to bag a Breakthrough Player of the Year award.
Aphiwe Dyantyi biography
The South African rugby union player Aphiwe Odwa Dyantyi is notable among the Golden Lions in the Currie Cup and the Lions in Super Rugby. Known for the regular centre or wing position that he plays, when he was much younger, he had once been told that he was too small to be one of the players for the 1st XV when he was in the matric year. This could be one of the reasons why he gave up on the sport when he finished school to pursue other interests like furthering his education at the University of Johannesburg.
READ ALSO: Zikhona Sodlaka biography: Age, speech, profile, Nomhle Nkonyeni, Generations, Instagram and contact details
However, before his admission into the University of Johannesburg, Dyantyi in 2007 had represented the Eastern Province at Under-13 level where they touted him as an exciting talent at the school level. At that time, he played as a fly-half when he represented the Border Bulldogs in Krugersdorp.
While studying for a degree in Marketing at UJ, he played mainly soccer but later got an invitation from friends to play in the internal koshuis (residency) league in the University. Recalling the moments, Dyantyi had this to say:
UJ asked me if I didn't want to focus more on the game and to try out for the U19s. The management at UJ was very good, but it still took me a while to warm to the idea. Eventually I was offered a sports bursary and as I was looking at the time for an academic bursary I thought this was a win-win situation. So I decided it could do no harm and gave it a go.
Aphiwe Dyantyi profile
In 2014, Dyantyi represented his institution at the Young Guns competition, and because of his performance in 2015, he again played in the Varsity Cup for the senior team of UJ. In the 2016 Varsity Cup competition, he scored one try and later linked up with the city's professional Under-21 rugby team. Interestingly, in the Under-21 Provincial Championship, he scored four tries.
After signing his first professional contract with the Golden Lions, in the final match of the Currie Cup qualification, Aphiwe Dyantyi made his first-class debut for the Golden Lions XV side. More so, after a new Rugby Challenge competition was created, he made another first class appearance where he played for the Golden Lions XV and scored his first points when he scored two tries.
In the 2017 Currie Cup Premier Division, he was part of the Golden Lions squad, and there, he made his debut during Round One match as well as his first Currie Cup try. Eventually, Dyantyi featured in all of his 13 side matches with several goals.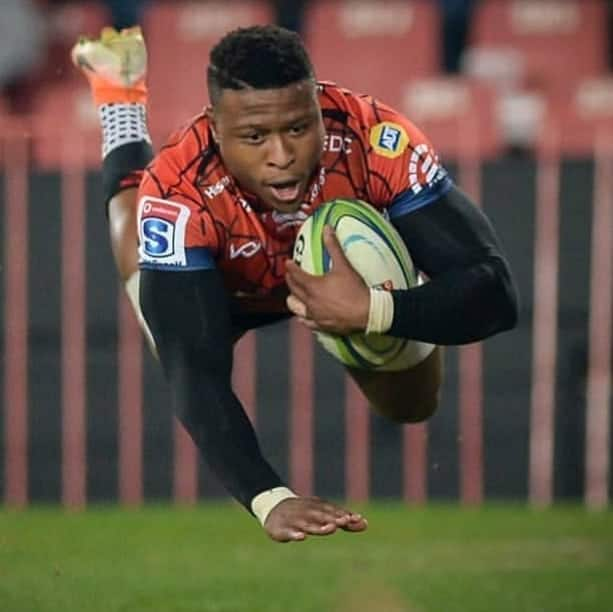 Aphiwe Dyantyi age
Dyantyi was born in the small Eastern Cape town of Ngcobo on the 26th of August, 1994 which means he is now 25 years of age.
READ ALSO: Moshidi Motshegwa biography: Age, place of birth, child, husband, family, The River, house and Salary
Aphiwe Dyantyi award
On the 25th of November, 2018, Aphiwe received an award as the World Rugby Breakthrough Player of the Year during the World Rugby Awards in Monaco. Because of this, Aphiwe became the fourth person to win this award in the world as well as the first South African to get this honour during their international debut season.
While the South African Rugby president Mark Alexander was commenting on this, he said:
Despite his limited experience at the international level, Aphiwe never looked out of place in the Springbok jersey, and he made an immediate impact, scoring a try on debut for the Boks against England in June. It was his two tries in Wellington though, when the Boks beat the All Blacks in New Zealand for the first time in nine years, that will be remembered the best for his superb debut Test season.
Then, when he was receiving the award, the Rugby player Aphiwe Dyanti confessed:
I'm still shaking from disbelief, but above everything, I feel honoured to be a nominee and to be a part of this… I've always watched people get these accolades, and I never really thought or imagined I'd be the one sitting here right now. For any youngster, sports as a platform allows them to express themselves. For me, that's a great platform, it puts a smile on my face. When I'm on the field, it's playtime, fun time.
Aphiwe Dyantyi measurement
Aphiwe is 1.81 m in height, and he weighs 90 kg.
Aphiwe Dyantyi salary
There is no verified information made available to the public regarding how much the star rugby player earns. However, with his level of experience and the records he has broken, we know that he must be one of the heavily-paid rugby players in the country.
Aphiwe Ddyantyi injury
During a Bok training session on the 12th of July this year, Dyantyi sustained a hamstring strain that ended up denying him of playing in the first half of the Lions' Currie Cup campaign as well as the title-winning Rugby Championship campaign of South Africa.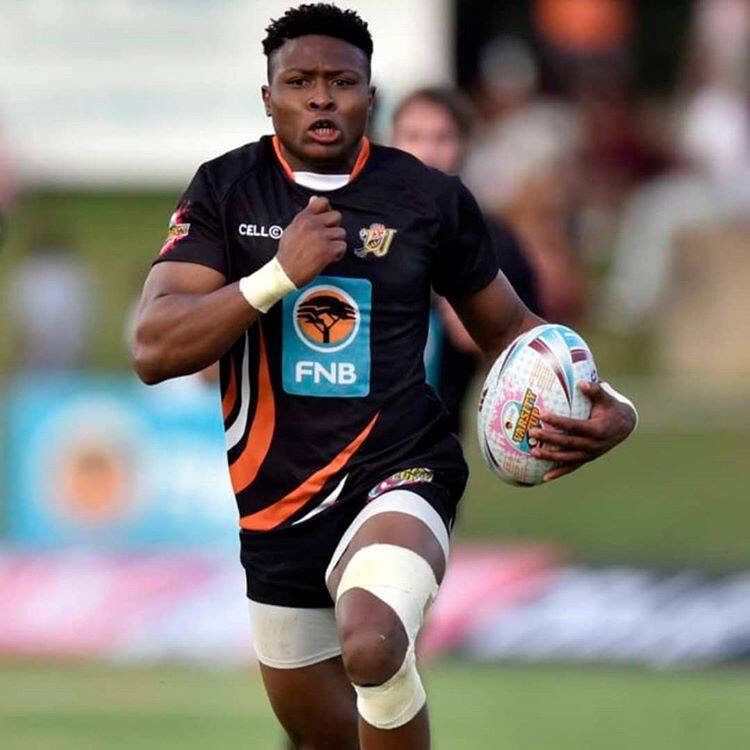 READ ALSO: Kim Engelbrecht biography: age, husband, wedding, series, Movies, TV shows, Instagram, Interview and net worth
There were news reports later that confirmed that he had returned to training except for the fact that he would be able to take part in full-contact exercises within two weeks. Then, it was stated that if he was able to regain full fitness within a stipulated period, that means that he would join the Lions based on the Springbok management wishes.
Aphiwe Dyantyi drug saga
Aphiwe Dyantyi Springboks tested positive for "multiple anabolic steroids and metabolites" after being charged with a doping offence. This is based on the test conducted according to the National Anti-Doping Regulations. The implication of this is that he is likely to face a potential four-year ban.
However, as gathered, the option left with Dyantyi is to either to admit to the charge and accept whatever sanctions measured to him according to the World Doping Code's framework or submit a plea for consideration. This plea is so that there would be a reduction in the sanction through the provision of mitigating circumstances.
Then, in case he disputes the charge and pleads that he is not guilty, that means there would be a hearing where he would have to provide evidence that proves his innocence. And from there, the independent tribunal panel will see into it and decide on what happens next.
Aphiwe Dyantyi Instagram
If you are passionate about your favourite rugby player, following him on his official Instagram page is one of the best ways through which you can get firsthand information about him. Interestingly, he enjoys not less than 66,400 followers currently.
Aphiwe Dyantyi is, without doubt, one of the star rugby players that South Africa is proud to have. Going by his story, it is not a fallacy to conclude that rugby is his calling. Even though he was almost derailing from it, destiny walked him into it again after he gained admission into the University, and this marked a turning point in his career, thanks to invitations from his friends.
READ ALSO: Nomvula Mokonyane biography: age, son, daughter, husband, family, qualifications and house