The news of late president Mugabe's death was received with a mix of reactions especially for the people of Zimbabwe. Even with the upcoming Mugabe funeral arrangements, a lot seems to be under wraps as not much has been revealed yet.
The body of Mugabe left Singapore and is currently in Zimbabwe. There have a lot of reactions on social media following the proceedings since his death.
Mugabe's body leaves Singapore
In a clip appearing on YouTube by the AFP news agency, Robert Mugabe was given a decent send-off from a funeral parlour in Singapore on Wednesday. The hearse and accompanying escort motorcade were bound for the airport where his body was to be flown back home. People had a lot to say following the announcement of his death. Here are a few sampled views on YouTube.
Handy Wijaya: Congratulations Mugabe!! You deserves it!!!
Tendai Mandizvidza: Always remembering u yr works is done RIP
Millicent Mildred: Noo death is joyous no matter wat you did to the country, may your soul rest in peace.
silaz Silaz: RIP Mdala wethu our father Zimbabwe you deserve all of this papa
It is clear that most people are positive and saddened by the death of Robert Mugabe regardless of how things were before.
State and full military reception
The body of the former president came into the country on Wednesday through the country's capital, Harare. Fully uniformed military men were around to accord him the necessary respect that the head of state would require. A lot of people lined up to pay their respect even as funeral arrangements were made for the weekend.
It was interesting to see hundreds of Zimbabweans lined up along the Robert Mugabe International Airport to receive the dead president who passed on at the age of 95 years. He was loved and loathed in equal measure as he led the country to liberation from the British colonial rule and was also said to be responsible for the economic and democratic slump in the country in later years.
The current president, Emmerson Mnangagwa declared Mugabe a national hero and said the country would remain in a state of mourning. The runway had a convoy of 4×4 vehicles with the initials "RG Mugabe" as well as his signature on them. Accompanying the dead president on the plane was Mugabe's wife Grace as well as the Zimbabwean Vice President Kembo Mohadi. Receiving them on arrival was the president and other top government officials as well as close family members to the late Mugabe.
Thursday was the day slated for ordinary Zimbabweans to pay their last respect to their former leader at Harare soccer stadium, where the body would lay in state before being transported to his rural home in Kutama, which was 85 km from Harare.
READ ALSO: Robert Mugabe biography, death and interesting facts
Public mourning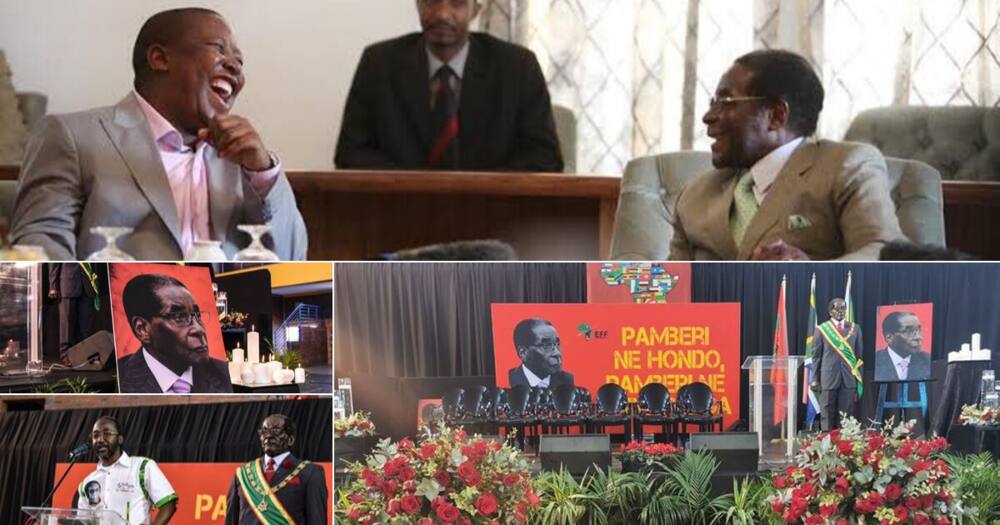 On Thursday, there were mixed reactions as different Zimbabweans had different sentiments about the national mourning. Some of them said that hey could never pay their respect to a man that ruined their lives. A case in point was that of a man that said he was well educated but forced to become a hustler because there was nothing to do.
On the other hand, there was another person who said all dead people were good as God opened his arms to accept them. It does not matter what bad or good the person did when he was alive. To him, once a person dies, they automatically become good. This was in reference to a popular local saying 'afanaka.' He said that inasmuch as he would not be attending the public last respect, he would go to the rural home for the burial since he was from the same locality with the former president.
Other people also believed in the good that Mugabe did when he was alive. These recognize his hand in the liberation process and the sacrifices he had made in the process. In fact, one lady said that Mugabe was not bad. The only thing was that bad things happened during his reign. Teacher Judith Mukuta, 55, thinks that the late president should be given the respect he deserves as the hero that he is.
Then there are the factions of indifferent citizens. They are not saddened by his death and cannot shed a tear over the same. They chose to consider themselves as a realist.
As the citizens were given a chance to pay their last respect, the serving president met with Robert's family in the palatial Blue Roof residence as they discussed when and where the former president would be buried. The family was considering a private burial where no details would be supplied to the public yet the government wanted an iconic burial at Harare's Heroes' Acre cemetery.
Some people were injured during the rush to see the former president's body at the public grounds. Whether some were coming to confirm that he was truly dead, or they showed up because of their love for the former president, the truth remains that Zimbabweans came in large numbers to pay their last respect. If anything, this is a great show on the citizen's parts and proof that Mugabe had enough support back home.
Robert Mugabe latest news - funeral arrangements
In earlier news, it appeared as though no tangible funeral arrangements were made since the final resting place of the former president has not been settled on. According to SABC digital news, it seems as though nothing has been settled on yet. This being an earlier situation, as things progressed, the former president's family expressed their shock at their exclusion when the government went ahead to plan for his burial.
However, after the family expressed their shock on not being brought in as funeral arrangements were made by the government. However, as things appear, the family will get their wish as the former president will be buried in his rural home. This is a move that is supported by many of Mugabe's fans as some believe that he deserves to rest with his family as opposed to being laid to rest with his comrades. Some believe that the manner in which he was ejected from power was uncalled for and not deserving of a national hero.
News outlets all over the world had headlines with titles such as 'Robert Mugabe dead' after the former president succumbed to an illness he was being treated for in Singapore. He died at the age of 95 years. He goes down history as one of the oldest African presidents to have served.
Family takes a stand
After meeting with the president, the family spokesperson, Leo Mugabe, said that the government had been wrong in announcing that Mugabe would be buried on Sunday. He also said that they did not want the public to know where he would be buried and that no one except family would follow the proceedings of the private burial.
"We don't want the public to come, we don't want you to know where he's' going to be buried."
"The government cannot announce on behalf of the family, I announce on behalf of the family and no we're not witnessing the burial on Sunday."
Grace Mugabe latest
It appears as though Grace is one of the most hit individuals by the demise of her husband. She was always close to him and the two practically did everything together. She saw Robert Mugabe health deteriorate fast, especially after the 2017 coup. Family reports say that he became a shell after he was not able to do the things he used to.
It appears that he never recovered from the shock and the military coup was his lowest moment and it hit him hard. Leo Mugabe, his nephew said that he would wake up and just be there unlike before where he would exercise after waking up at 4 as the country waited for him. Taking this away from him in an abrupt manner that it was done seemed to take a toll on him. It must have been disbelief to watch the people he had groomed betray him. It is believed that this is what pushed him to his end as he gave up even on his well being.
Robert Mugabe children
Despite the divided nation and the different sentiments people have, Mugabe had a family that cared about him. He leaves a wife and children behind. When all is said and done, it is the family that will be left to bear the brunt of his loss. His children include:
Bona Mugabe
Chatunga Bellarmine Mugabe
Robert Peter Mugabe Jr.
Michael Nhamodzenyika Mugabe
These are the people that will feel the impact of his death even in years to come. Whether you think Mugabe died a hero or was the man behind Zimbabwean's suffering, as a head of state and liberation warrior, he deserves a decent send-off. Even as Mugabe funeral arrangements continue, all we can do is wish his family well.
READ ALSO: