- A young woman drove home late at night and started panicking after her car started misfiring and lost power
- She was frantic and stopped at a petrol station where she came across a petrol attendant, named Goodman
- Goodman calmed her down while doing a temporary fix and has been hailed on social media as a hero
PAY ATTENTION: Click "See First" under the "Following" tab to see Briefly.co.za News on your News Feed!
A young woman was on her way home from work when she experienced some car trouble.
Her vehicle lost power and started misfiring. Fortunately, the panic-stricken woman was able to find her way to the nearest petrol station.
She feared the worst and was concerned as it approached 10pm, but she met a Good Samaritan by the name of Goodman.
READ ALSO: Sport Throwback Thursday: Remembering the glory days of Doctor Khumalo
The petrol attendant saw her emotional state and took her mind off the situation in an attempt to calm her down.
After taking Goodman's advice, she took a deep breath and felt much better, while he was inspecting the engine for the issue.
He noticed a loose cable and did a temporary fix to enable her to get home.
The single mother was eternally grateful for his mechanical ability, but appreciated his kindness even more.
Natalie Dobrovic shared the inspirational story through the #ImStaying Facebook group and Briefly.co.za was stunned by the overwhelming impact.
To date, the post has attracted 15 000 likes and hundreds of comments.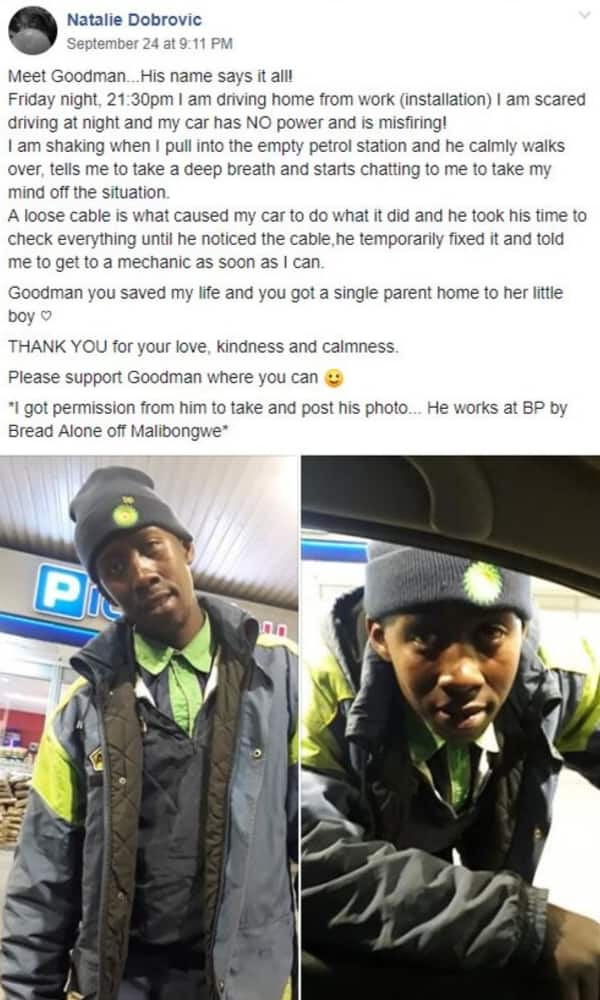 READ ALSO: Man pays tribute to local traffic cops and leaves Mzansi inspired
Binky Ann Peo commented, "So just like I said I would, I went to make Goodman's acquaintance to day. Recognised him immediately. I said "Goodman, you are a good man" "And do you know you are famous". It seems other people have been chatting to him too. He wears a happy smile on his face and shakes my hand."
Esme Wessels Booysen said, "We salute you. God will bless you."
Anne Mhindurwa added, "There is power in names. God bless you brother."
Smith Busisiwe commented, "Goodman you and many others not told to the world are a true representation of what most black people are, same goes for all the white individuals and families who are being told of on this amazing #ImStaying... it's a pity we have to define ourselves by color and not our humanity, but what matters is that in our own little spaces we know better and belive in doing good unto others... God Bless all Good human beings Let's spread Love."
PAY ATTENTION: Do you want to know what's trending on Briefly.co.za? Join our WhatsApp group today.
Enjoyed reading our story? Download BRIEFLY's news app on Google Play now and stay up-to-date with major South African news!