- More than 260 000 South Africans have joined a group proclaiming that they're staying in SA
- A man, Tshepo Spana Kekana, put up an inspirational post on the group and it snowballed into something amazing
- South Africans ended up apologising to each other in a true display of unity
PAY ATTENTION: Click "See First" under the "Following" tab to see Briefly.co.za News on your News Feed!
Despite all troubles in the country, South Africans have proved that we are on the road to reconciliation and unity.
A man, Tshepo Spana Kekana, took to Facebook group #ImStaying on Thursday and his post sparked a massive, touching reaction from all South Africans.
Briefly.co.za gathered Kekana apologised to all white people because he thought they were all bad and racist.
Kekana went on to explain that the group proved him wrong.
Dashboardst hilarious, caring and loving people... Thanks to this group I have managed to see that. I love you guys... and am sorry," he wrote on Facebook.
PAY ATTENTION: Do you want to know what's trending on Briefly.co.za? Join our WhatsApp group today.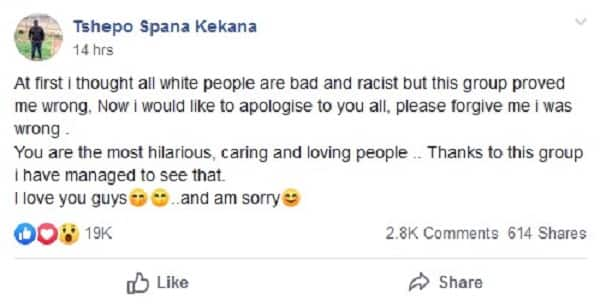 READ ALSO: Haibo: Lady falls in love with DJ who performed at her wedding
The post touched the hearts of so many social media users of all races and soon South Africans were moving towards reconciliation with their posts.
Janét Kruger commented: "Tshepo, we all have, at some point in our lives, had misconceptions about other races. The thing is, we need to focus on tomorrow, take hands, and move forward."
Morgan Smit added; "Thank you for your post Tshepo! Personally, I don't believe any apologies are required from anybody, I believe what is important is getting along, spreading the love, moving forward, looking at the future. Healing. For the good of everybody in this beautiful country of ours!"
Nicolene Van Staden Stiglingh wrote: "Thanks guys not all white people are bad like not all black people are bad im the the only white lady work with black people the whole day and we are getting along very well."
Dean Hurn said: "Tshepo Spana Kekana..you are loved brother...enjoy your day.."
Kobus Brisley commented: "That is so true. You get bad people everywhere. White black coloured you name it. I always say if you treat other people good they will do the same. It is just some bad apples here and there. The best thing is to get South Africa on a good path so that all of us can benefit not just a few. It is time for change. We cannot be brainwashed by old ideoligies anymore. We must stand together and build a new South Africa."
Enjoyed reading our story? Download BRIEFLY's news app on Google Play now and stay up-to-date with major South African news!