Cats are some of the most beloved pets on earth. They act posh and elegant, do not like to be disturbed and can be slightly snobbish. It is no surprise that most cat videos trend. The newest trend out there involving them is a hilarious meme that will have you rolling on the floor! Twitter users chase down their pets, mostly cats and use Snapchat filters on them! These unsuspecting, innocent creatures are then made to look hilariously altered, and you cannot help but burst out laughing. We have compiled funny cat filtered videos and pics for your enjoyment.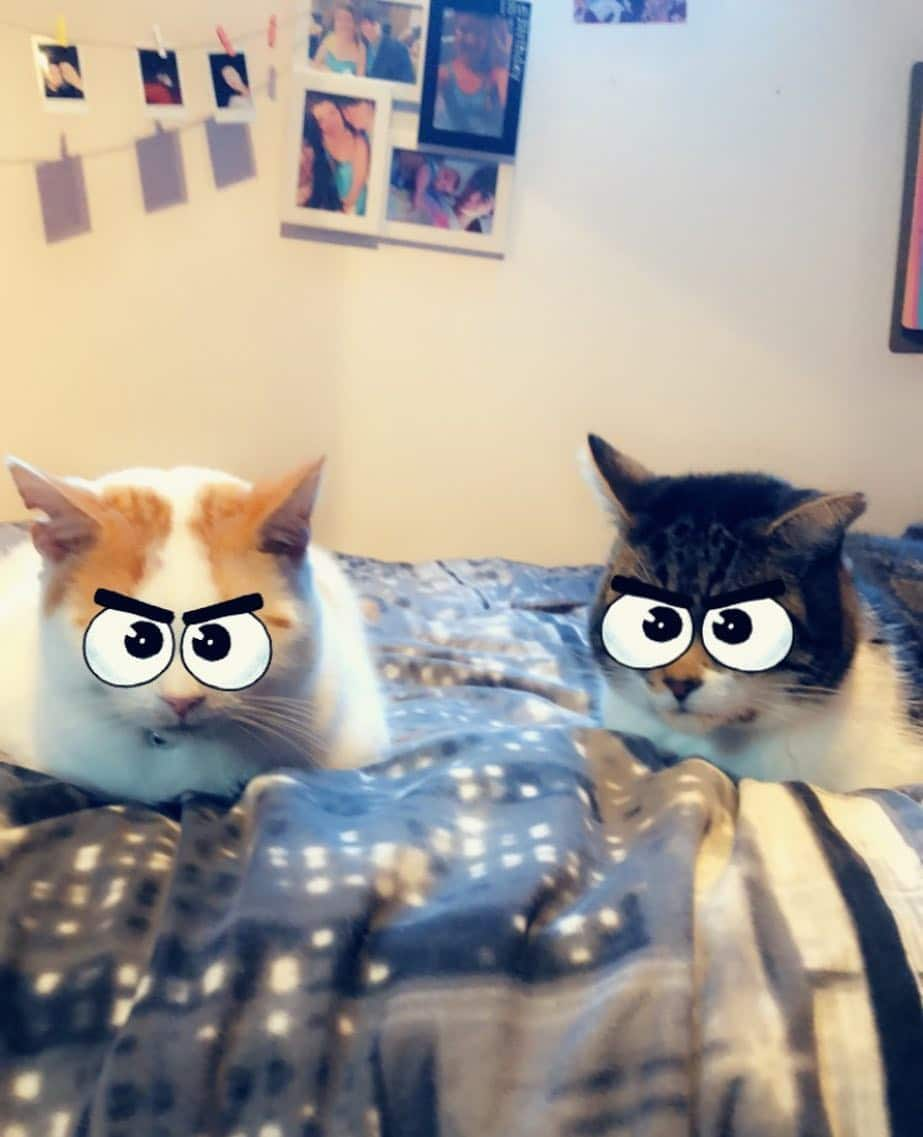 Previously, it was almost impossible for cats to use filters because of their facial structure. The pets that trended cause of filters were mainly dogs and hamsters, but this changed when Snapchat announced the release of filters fit for cats by introducing object recognition.
In this article, we will answer your questions, such as where is the cat filter on Snapchat? How do you get Snapchat filters for cats? And much more.
READ ALSO: Trending videos of celebrities around the world doing the bottle cap challenge
Which Snapchat filters work on cats?
Several filters work on the cats unlike before. The photo filters for your cat include decorating your pet with hats, glasses and slices of bread. The filters can make it look like your cat is wearing glasses, or has devil horns, flower crown, other animals' ears and much more.
The photo-messaging application, snapchat, released this statement on Twitter saying, 'lenses for cool cats and their cool cats. Try them meow'. Since then, the world of memes has never been the same.
It was trending back in 2018 and its trending again. So there you have it, what you need to do to trend is release a cat with hilarious filters on it. The Snapchat filters for cats 2019 are so creative.
How do you use the filters on your cat or pet?
Well, snapchat has made this very easy for you. To use the filters, you need to focus the snapchat cat lenses on your app on the animals face. Once this is done, click on the face of your pet and then it will bring lens options for you at the bottom of the screen. Click the lens option that has a paw on it, and you can get a filter on almost all kinds of pets.
How did the trend start?
On October 3rd, a user on Twitter who goes by the username 'Esme', posted a video of her cat and the tweet exploded. In just a few days of being on Twitter, it has over 4.5 million views!
Before putting filters on the cat, it looks like such an elegant lady. After the filters though, its a whole other story. The face scrunching filters make her 'cat' look so comical. See the before and after pictures below.
Esme's cat, called 'ket' is quite gorgeous.
Once the filter was on though, the whole game changed. Ket ended up looking like she has a crushed face or she was a cat from a science fiction movie that has been exposed to radioactive material. If you are a cat lover, there is no way you won't want to see this.
READ ALSO: 6 Snaps from Clement Maosa and Kemo Manyoga's beautiful baby shower
For Esme, the first hilarious video was not enough. She may have felt like we needed another even funnier video of Ket, and she gave us what we wanted. The video below the first one is even funnier than the one that went viral, and you will not be able to get enough of it.
Once Esme went viral, everyone with a cat wanted a taste of the drama, and after this, it followed with a series of people putting filters on their pets and posting in the comments section. We have some of the funniest video and picture compilations of cats with filters.
Trending cat videos and pics on Twitter
Below is user 'Zahir Saidi' who commented on Esme's post with a video of his cat using the unicorn filter and it looks so cute!
Another twitter 'Katie' jumped in on the fun, posting an image of her cat with the filters and without the filter. She first shows the cat with her filter on looking like the crazy cat from the movie 'Alice in Wonderland'.
It makes you wonder what the cat actually looks like without the filter. Katie puts your questions at ease by posting a picture of her cat, who is so adorable.
READ ALSO: Man gifts yoghurt seller R27 000 as repayment for his kind deed
Trending cat videos and pics on Instagram
The trend is not only on Twitter, but Instagram is also flooding with all these cat videos.
The following video posted by @amazinglycat with a cat that has googly eyes is hysterically funny, and we are here for it.
There is also a video posted by @emily_denlinger of a sphynx cat with an animated version of it dancing with the cat. Snapchat really gets creative with pet filters as can be seen below.
Next is a very funny picture collage by @bigmanlikejaffa, who obviously runs his own account and is super excited to have the new Snapchat filters. His cat is adorable, funny, cute and delightful in all the pictures taken.
The last funny and cute post is by @cassandra where the caption is 'Harry Catter'. Very fitting for this cat that looks a lot like the actual Harry Potter with the round glasses and the adorable bow tie. He looks ready to cast his spell of cuteness on everyone.
Those are some of the most popular, funny videos and pictures of cats out there using the Snapchat filters. Thank you, Snapchat, for giving us these filters and making the internet so much joy. At this point, try out the Snapchat filters for cats 2019 and you are sure to have a good laugh.
READ ALSO:
The Zumas celebrate a birthday: Msholozi's daughter turns 12
Oprah graduate opens up about black tax: "Love me without the house"
Vatiswa Ndara age, Interview, TV shows, nominations, awards, stunning photos, and Instagram