For a long time now, most individuals have been struggling to identify an easy lemon meringue recipe. The majority of the people that have prepared a lemon meringue pie have complained of bumping into complicated lemon meringue pie recipes. To avoid further problems when making this pie, you need to use this straightforward lemon meringue recipe South Africa.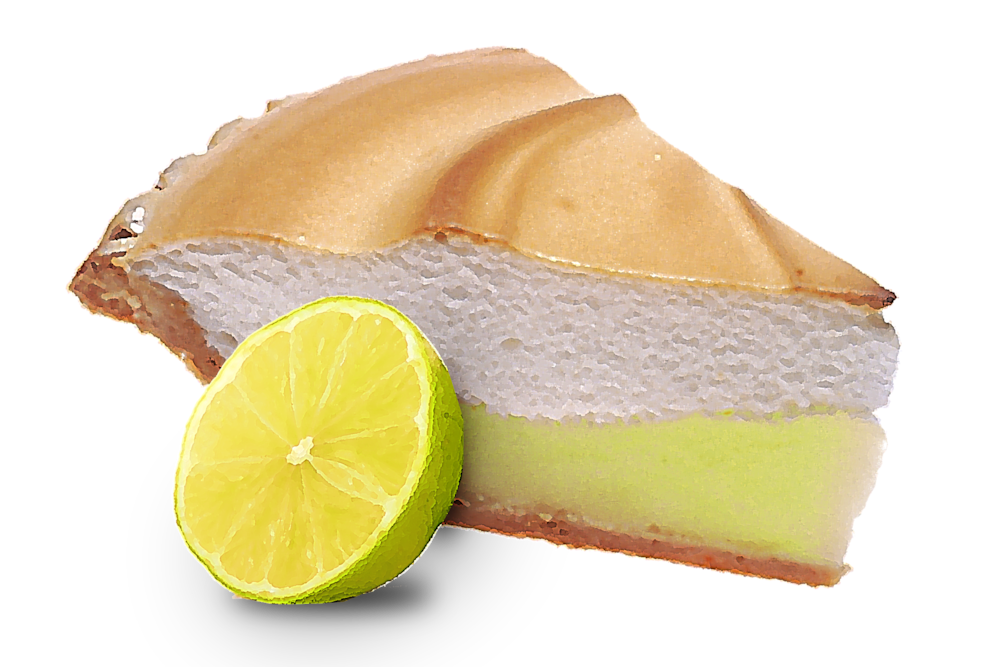 Do you need a guide to help you prepare a perfect lemon meringue pie? Then you need to use this easy recipe to come up with that delicious homemade lemon meringue tert, with a crunchy crust and a smooth yet irresistible lemon filling.
The process of making a delicious lemon meringue pie
For you to come up with one of the tastiest lemon meringue pies, you need to follow the following steps:
Step 1: Gathering the required ingredients
The necessary ingredients for the pastry include:
110 grams of plain flour. You also need a little extra flour for the rolling out process.
25 grams of softened butter. Ensure you cut the butter into small lumps.
A pinch of salt
25 grams of softened pure lard. Ensure it is also sliced into small pieces.
Ingredients required for the filling:
Three tablespoons of cornflour
40 grams of butter
grated zest and two large juiced lemons
50 grams of golden caster sugar
Three large egg yolks
READ ALSO: The best fish pilchard recipes South Africa
Ingredients needed to prepare the meringue:
Three large egg whites
175 grams of golden caster sugar
Step 2: Gathering the required equipment
You will need the following equipment when preparing this pie:
A baking sheet
A 1.5 inch deep, sloping-sided, non-stick pie tin
Step 3: Preparing the pie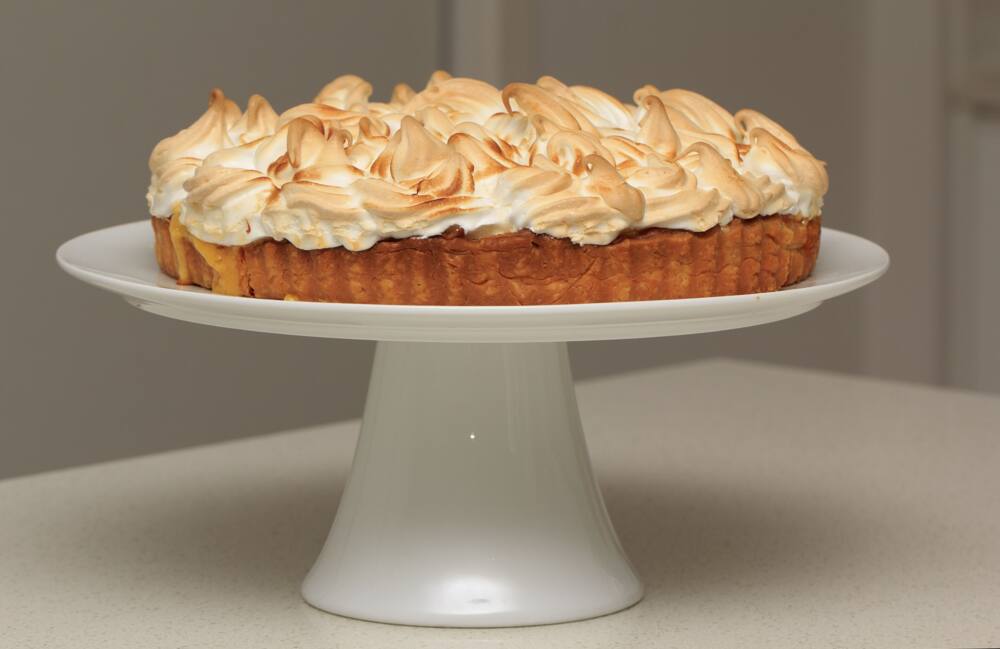 Here are the steps to follow to make your pie:
Take a medium-sized bowl and mix in it the flour and salt. After that, take cold water and sprinkle it on the mixture using a tablespoon. Sprinkle one tablespoon of the water at a time, as you toss with a fork till the flour mixture is moistened. Ensure the mixture is smooth enough to be pressed into a ball.
Take the mixture and place it on a flat surface that has been floured. Go ahead and shape the mixture into a flattened shape by pressing it using a rolling pin. Then, wrap the dough using a plastic wrap, and put it in the refrigerator for 45 minutes or until your dough is cold.
Heat your oven to 450°F. Remove your dough from the fridge and roll your pastry. Ensure you do this on a surface that has been lightly floured. Fold your pastry into fourths. After folding the pastry, ensure you firmly press them against the bottom and side of the pie plate. Get rid of the pastry overhanging the rim of the pie plate by trimming it.
Take a fork and prick the side and bottom of the pastry regularly to prevent puffing. Having done that, bake your pastry for 13 to 15 minutes until it turns light brown. Take it out of the oven and let it cool down on the cooling rack.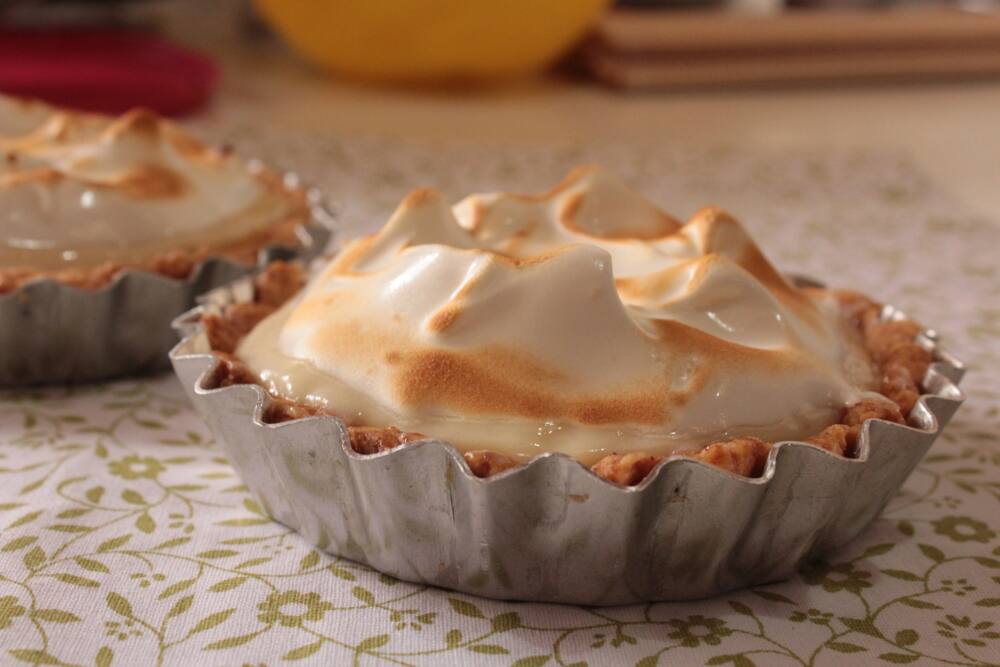 5. Reduce the temperature of your oven to 350°F. Take a small clean bowl and beat egg yolks using a fork. Having done that, take a 2-quart saucepan and mix 1 1/2 cups of sugar and the cornstarch. Add 1 1/2 cups water and ensure you stir this mixture gradually. Adjust your heat temperature to medium heat and cook this mixture. Ensure you continuously stir until the mixture begins to boil and thicken. The mixture should boil for at least one minute.
6. Stir using a whisk around half of the hot mixture and the egg yolks. Return the mixture in the saucepan and continue to stir the hot broth. Let it continue to boil as you stir for at least two minutes. After that, remove the mixture from the heat source. Using a whisk, stir the mix in lemon zest, butter, condensed milk, and lemon juice. Cover the mixture and ensure it is kept warm. This is a temperature to take note of when using the lemon meringue recipe with condensed milk.
7. Take a medium-sized bowl and beat egg whites and cream of tartar at high speed using an electric mixer. Do this until the mixture becomes foamy. Also, beat in 1 tablespoon of sugar at a time, as you also occasionally scrape the sides of the bowl. Continue beating the mixture until the sugar is entirely dissolved. You will start noticing the formation of stiff and glossy peaks. Also, beat in vanilla. Pour into the baked pie shell hot lemon filling. Also, ensure you immediately drop meringue spoonfuls on the hot lemon filling. Carefully spread the meringue until it completely covers the top. Ensure you also spread it to the edge of crust to avoid weeping or shrinkage.
8. Bake, the meringue for 20 to 25 minutes or until it is brown and the temperature reaches 160°F. Take it out and cool it for 1 hour on the cooling rack. Later on, refrigerate for close to 4 hours or until the filling is set. Store it loosely and covered in your refrigerator.
Do you want to learn how to prepare lemon meringue recipe with condensed milk or the lemon meringue resep? Try out this easy lemon meringue pie recipe. It will help you come up with a sweet and flavour-full pie with a creamy meringue topping.
READ ALSO: Easy chicken liver pasta recipe South Africa