- A top KwaZulu-Natal private school has come under fire for displaying "satanic" artwork
- A furious parent was filmed showing the alleged blasphemous art and 'demon' sculptures
- The exhibition was part of a Grade 12 project and a final submission to the IEB
PAY ATTENTION: Click "See First" under the "Following" tab to see Briefly.co.za News on your News Feed!
Grantleigh School, a top KwaZulu-Natal private school near Richards Bay, has gone viral for all the wrong reasons.
The private school was on the receiving end of furious parents and social media users after a video of a "satanic" art display at the school went viral.
A parent who was attending his child's last day at school was shocked to find artwork which many on social media described as blasphemous.
In the video, the furious parent walks over to the art display, which shows images of the Ronald McDonald clown as God and Jesus, as well as "demon" statues constructed out of ripped pieces of a Bible.
Grantleigh is an independent school and a member of the Curro Group, which has a "Christian ethos and is set in a tranquil country environment offering old world values with new world standards".
READ ALSO: Video shows former Bok player's wife allegedly assaulted on plane
Briefly.co.za gathered the backlash was of such a magnitude that the school was forced to release a statement.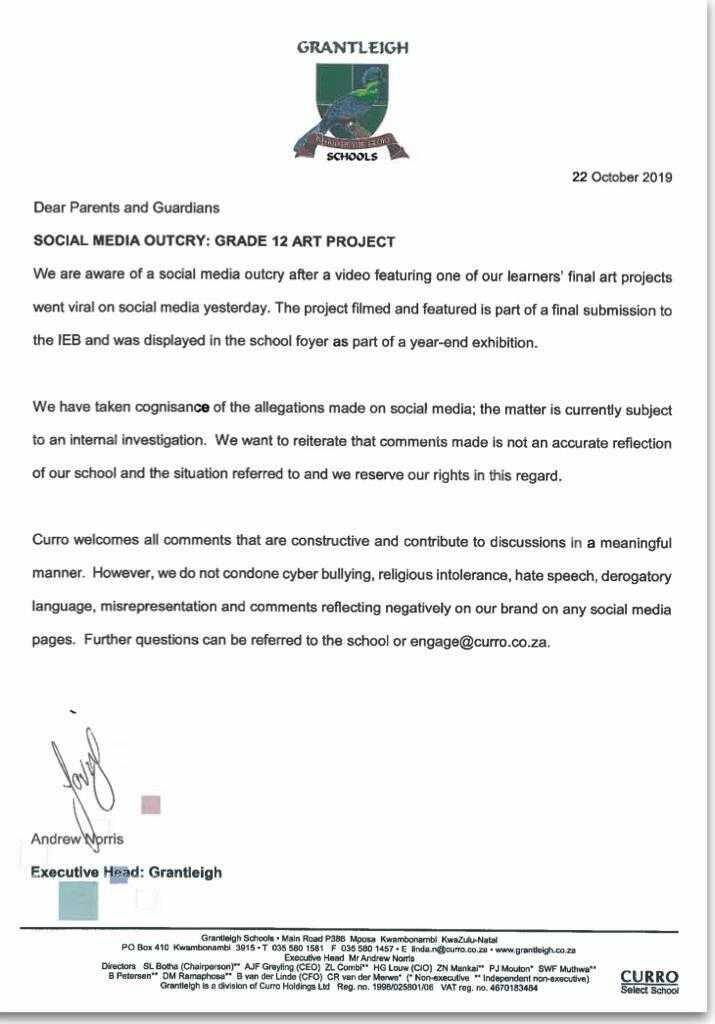 The video sparked a massive debate on social media, with Christians slamming the "attack" on their religion while others praised the artist's creativity.
Jacqueline Pieterse commented:
"As a child of God displaying this is extremely offensive. Tearing the Bible in the name of art, nothing pretty. Very talented but the actual content, thumbs down art 'teacher'. As Christians we can say no, this is offensive, this is unacceptable, this is blasphemous, this is wrong."
Peet de Jager added:
"You can try and smooth talk the school out of this but to rip a Bible apart and use it to make satanic sculptures is just showing what your morals in life are."
Ian Oberholzer wrote:
"What an absolute shocking disgrace and there is no excuse for it. Allowing such mockery of Jesus our Christ in your school will have dire consequences. May God have mercy on you all."
Rudy Du Plooy added:
"You promote the tearing up the Bible and then accuse others of hate speech and religious intolerance. Typical. Your school will fall."
Nicola McMurray wrote:
"Firstly, a huge congratulations to the amazingly talented young artist from Grantleigh. You have managed to achieve what true art should achieve. 'Make the comfortable people uncomfortable and comfort the uncomfortable'. Your work is absolutely magnificent, your message was perfectly clear. Applause to your teachers for being open-minded and for fostering a creative environment you have obviously greatly benefited from."
Take a look at the video below:
Enjoyed reading our story? Download BRIEFLY's news app on Google Play now and stay up-to-date with major South African news!