- Many South Africans feel that things have gotten so bad that leaving is the best thing to do
- However, there are many others who feel there's still hope and who say they'll stay in Mzansi no matter what
- One such person is a lady who recently shared her story on why she's staying - her miracle son
PAY ATTENTION: Click "See First" under the "Following" tab to see Briefly.co.za News on your News Feed!
With all the violence, crime and political unrest in South Africa, many are so fed up that they want to leave the country and never come back.
But there are many South Africans who feel there is still hope and reason to stay in Mzansi.
A young woman recently shared why she wants to stay - her son, whom she calls a miracle.
READ ALSO: Minister Ndabeni-Abrahams not happy with coverage of her burning home
She took to the wall of a growing community on Facebook, #I'mStaying, to share her experience. Here's her story:
"This is my son, his name is Miracle. Born @42 weeks. I stayed in the hospital for one week waiting for induced labour. After 24 doses he stopped moving, his heart stopped and they said he had died. Words can't explain the pain I felt and how I cried.
"They took me for emergency CS coz they said my life was in danger also. After they took him out I closed my eyes coz I didn't want to see him, I didn't want to have any memories of his face. As soon as I closed my eyes I heard a cry of a baby I thought I was dreaming I started crying. When I opened my eyes and looked where the cry was coming from, behold was my baby crying, he was alive. Oh, my baby was so alive. He was healthy with no complications and so was 1. The doctor and the nurses said he was a magic baby but because I am a Christian I said he was a Miracle.
"He will be turning one in 8days.....and because of him #iamStaying"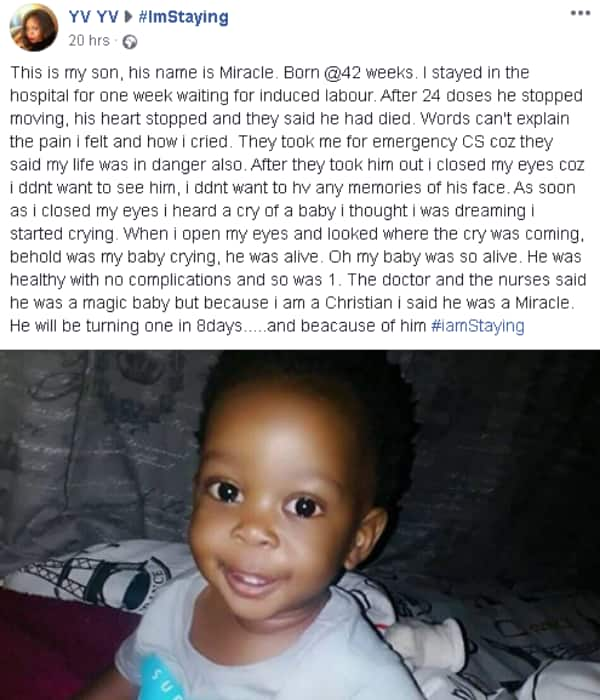 Briefly.co.za noticed that other South Africans were deeply moved by her story.
Deon Landman - "What a blessing you received, Thank you for sharing your experiences."
Heather Rose Reed - "So beautiful... Too preshus"
Alma Krause - "He is so beautiful. What a blessing."
Jenny Wood - "He is gorgeous. Miracles happen to special people. Lots of love"
Margaret Thomas - "He's beautiful. Enjoy him they grow so quickly"
Nelisa Nhlapo - "Shuuuu! Am I the only one with a tight chest, stuffy nose, and watery eyes after reading that my gawd"
Karlien Van Blerk - "Aw, baby boy. You are such a miracle. Mommy, you are such a hero / inspiration. Enjoy the birthday!"
Lizanne Keen - "Amazing. May he continue to be a blessing to many."
Enjoyed reading our story? Download BRIEFLY's news app on Google Play now and stay up-to-date with major South African news!