Ganyani Tshabalala is a professional DJ from South Africa known for his technique of mixing compatible songs harmonically. He became passionate about music at the young age of 15 years, and over the years, he has perfected his art. So, who is DJ Ganyani and what should you know about him?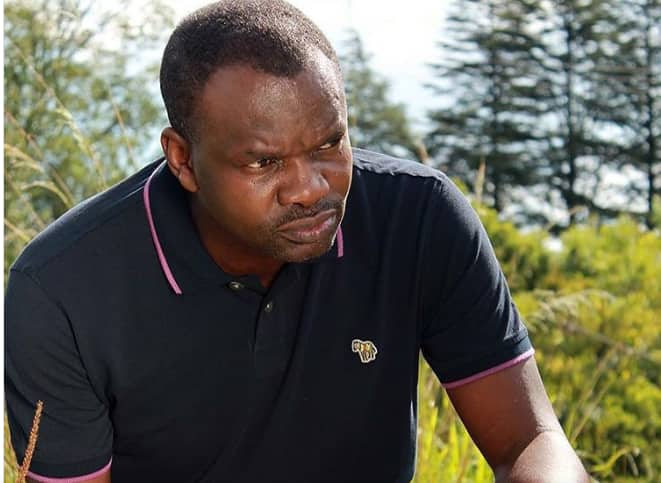 Famous for songs such as 'Xigubhu' and 'Faded,' Ganyani is recognized as one of the pioneering DJs in the mastery of harmonic mixing of compatible tracks. Even though Tshabalala has been in the music industry for more than two decades, it is surprising to know that not much is known about him. Here is more to him that will help you know him better.
READ ALSO: Francois Henning (Snotkop) age, real name, partner, sexual orientation, 7 de laan, songs, albums, record labels, awards and Instagram
10 DJ Ganyani facts that you may not know
If you are one of his fans, here are ten interesting facts about DJ Ganyani that you ought to know.
1. His real name
The music maestro was born Fredericks Ganyani Tshabalala. Most people think that Ganyani is a nickname; however, it is not. According to the DJ, the name was given to him by his grandmother, and it means to be 'rich.'
2. Ganyani's hometown
Frederick Tshabalala came to this world on January 19th, 1969, which makes him 50 years old in 2019. He was born in Limpopo and Ndofaya, situated in Meadowlands, Soweto. According to the DJ, Soweto township has individuals from various cultures, making it an excellent place for talent. It is no wonder that many prominent figures have emerged from Soweto.
Nambitha Restaurant is one of Ganyani's favorite place to eat in Soweto while Sedibeng Pub & Restaurant is one of the places he loves to party while in town.
3. Tshabala's education credentials
Fredericks pursued a Bachelor of Commerce at UNISA; however, he did not graduate. After dropping out from university, he began selling music cassettes in the dusty streets of Soweto and at taxi ranks. Later on, Frederick started to deejay at various places, including football matches, taverns, night clubs, institutes, and private parties.
4. How DJ Ganyani learned to mix
Did you know that Ganyani is a self-taught DJ? Shocking right! The legendary house DJ hails from a family that loves music. His parents were music lovers even though none of them became a professional in the industry. Due to this background, Frederick Tshabalala began teaching himself how to Deejay since he was passionate about art.
With time, he managed to teach himself various DJ skills to manipulate prerecorded music. Such skills include equalization, cueing, beat juggling, and phrasing, among others. His mastery of these skills has enabled him to conduct transitions and overdubs of several sources creatively.
5. How DJ Ganyani songs came to the limelight
The talented DJ breakthrough into worldwide appeal occurred in 2001 when SABC requested him to broaden the Simunye brand to charm youth. It was at that time that Mr. Tshabalala put together two album titles: Simunye House Grooves Volume one and two. Ever since, the gifted DJ has continued to produce one hit after another. Presently, he is considered a master of his genre of music.
6. He has an entertainment company
In 1990, Mr. Frederick Tshabalala founded the Ganyani Entertainment company. Presently, the skilled DJ works as the company's CEO. The company has created several urban and contemporary pop and house collections.
7. DJ Ganyani Fading is shy
Did you know that DJ Ganyani is shy? Yes, the DJ is quite reserved while in public amongst strangers. However, when around people he is acquainted with, he is talkative and comfortable. Different from other local and global personalities, Tshabalala is not big about social media. Despite being inside his studios most times, Ganyani is a household name recognized across the music sphere.
8. He has mentored many DJs
Throughout his career, DJ Ganyani has tutored, inspired, and mentored several noteworthy artists such as the late DJ Khabzela of YFM, DJ Slender, DJ Bradley, Mpho Tsedu, DJ Mbuso, DJ Clock, and Fiesta Black to mention a few.
9. Achievements and awards
DJ Ganyani is widely known throughout South Africa as well as the SADC region like Botswana, Lesotho, and Swaziland. On top of that, he was awarded the Achievers Award by Castle Loud in 2002 for his extraordinary DJ skills. The legendary DJ also is a recipient of a Gold Disc Award for Simunye House Grooves since he managed to attain the client's objective. Besides, Frederick Tshabalala is a DJ of choice for Orlando Pirates F.C as well as the South African Football Association.
10. Dj Ganyani albums and children
Frederick Tshabalala, a father of three (two girls and a boy) has recorded and produced over eight hit albums, including the Ganyani House Grooves 1 to 8. Besides, he has collaborated with other well-known artists such as Big Nuz and Fiesta Black (FB). Moreover, the DJ has various tracks to his name that are loved by house music lovers across the globe. Here are some of those hit songs.
1. DJ Ganyani Emazulwini
You can find DJ Ganyani Emazulwini mp3 online.
2. DJ Ganyani Fading
3. DJ Ganyani Xigubu
READ ALSO: Kabelo Mabalane age, children, wife, gym, bootcamp, becoming pastor, songs, album, music group and Instagram
Ganyani urges all who want to pursue djing as a career to be consistent and hardworking. This is owing to the great competition within the music industry. He also advises them to pursue music production as it can assist in elevating one's career into the market just like it did for him.
READ ALSO:
Blade Nzimande age, children, wife, education, party, office, SACP, memes and contact details
Tharina Human age, parents, case, voice note and latest news
All the Cyril Ramaphosa children: Here is everything you need to know about the first family
Londeka Mchunu age, place of birth, family, TV shows and Instagram
Acie Lumumba age, wife, father, education, party and Instagram