Dino Ndlovu age, measurements, wife, current team, position, stats, salary, cars, house and Instagram
Dino Ndlovu is a professional South African footballer best known for his deep founded interest in sports. A mention of Ndlovu's name is enough to spark an endless conversation about his unfailing striking record in both local and international teams. His life story beyond the world of football is an epic tale that often leaves thousands of his fans inspired.
You will agree that there is a strong spirit of football in South Africa witnessed by the increased number of fans and local players that continue to raise our flag higher beyond borders. Dino Ndlovu is among the best performing footballers of our time for his skilful possessions and tactful shoots. Watching him play is a charm that fills stadiums, and his young age and success in football make many people admire him. Even with his fame, not many of his fans know much about his personal life including his age, wealth, and social presence. How old is Dino Ndlovu?
READ ALSO: Kaizer Chiefs logo, jerseys, sponsors, coaches, players, new signings, transfer rumours, website, salaries, facts and latest news 2019
Dino Ndlovu profile
Real names: Dino Ndlovu
Date of birth: 15th February 1990
Place of birth: Jouberton, Klerksdorp, North West Province, South Africa.
Nationality: South African
Dino Ndlovu age: 29 years (as of 2019)
Profession: Professional footballer (striker)
Field position: 9
Height: 1.83 m or 6 feet
Years active: 2006 to present
Marital status: Married
Dino Ndlovu wife: Felicia
Famous for: South Africa national football team and China League One Zhejiang Greentown striker
Dino Ndlovu Instagram: @dino_ndlovu
Twitter: @dino08bravo
Facebook: @Dino Ndlovu
Dino Ndlovu biography
South Africa continues to score well as a nation in international sports, thanks to dedicated professional players such as Dino. His rags to riches struggles have shaped him to become a player that any team can rely on for great performance as evidenced by his career accomplishments.
Early life and qualifications
The footballer was born in Jouberton close to Klerksdorp. It is during his mid-teen years that Dino immersed himself in football, playing in the streets. His impressive plays would later earn him a chance to enrol in the Academy of Excellence when he was 16 years old. Sadly, he decided to turn down this lucrative opportunity so as not to leave his mother alone.
Ndlovu recounts sleeping at a train station bathroom for three days in a row. He had traveled to Johannesburg purposely to take part in Platinum Stars football trials. His impressive show of skills compelled the team to sign a contract with him. However, 2011 was not a good year for Dino given that Platinum Stars failed to renew his contract because his new source of income started destructing him.
Family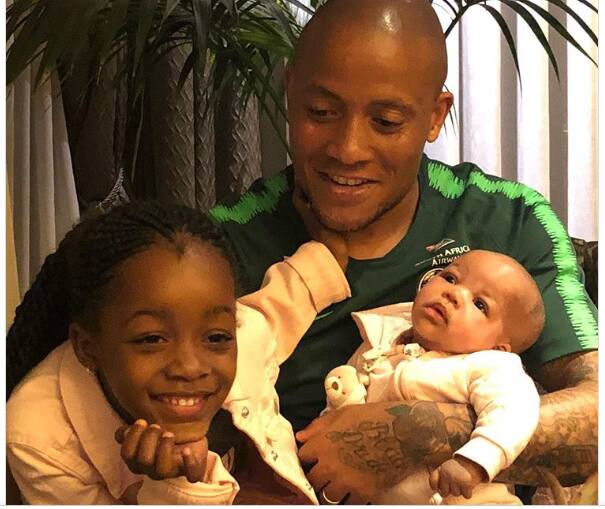 At the time when the contract was not renewed, the young player had no alternative sources of income to support himself and his pregnant wife, Felicia Ndlovu. Today, the couple is blessed with two kids, Oratiliwe Fatima Ndlovu, born on 21st August, and Fidelia Ndlovu who was born on 16th August 2018. However, the couple officially became man and wife just recently in 2018. The private wedding took place in Spain.
Ndlovu's mother is South African, while his dad was Mozambican. Dino Ndlovu's father died in 2011 from a heart attack.
Dino Ndlovu career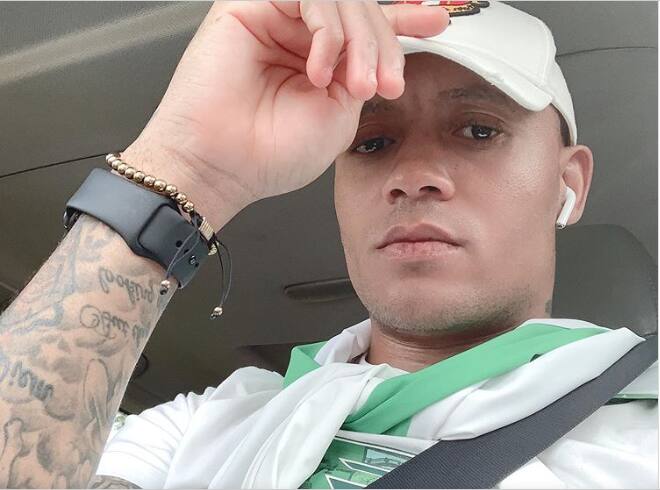 Dino has progressively built his career, advancing his recognition as a talented striker. Dino Ndlovu career summary is as below:
Youth career
Dona Young Stars
OI Celtic
Digagabi FC
Motherwell FC (South Africa)
Platinum Stars
He holds an indisputable record of scores in different clubs and takes much after his agent Walter Mokoena who is equally successful. Dino's senior and national career profiles are proof enough that the star is naturally talented.
i. Bnei Yehuda
Ndlovu's untimely release from Platinum Stars left his career in stitches. His prospects recovered sooner after upon heeding to his agent for advice. The talented sportsman signed a contract with Bnei Yehuda in a matter of days.
ii. Anorthosis Famagusta
Ndlovu's career took another turn in 2015 when he joined Anorthosis Famagusta. His record-breaking record of six goals in friendly preparation goals propelled his career even further.
iii. FK Qarabag
FK Qarabağ gave out an official statement confirming that they had signed Dino for a contract lasting a couple of years. His place in the team enabled them to perform excellently during the 2017–18 UEFA Champions League campaign. His score was a huge success, allowing the club to qualify for the group stages of the tournament.
The footballer currently plays for Zhejiang Greentown where he is a top scorer.
Ndlovu career statistics
The player has scored pace setting apps and goals in different clubs, seasons, and competitions as illustrated in summary.
1. Mamelodi Sundowns
2009 – 2011: Premier Soccer League, Apps (0), Goals (0)
2. Bloemfontein Celtic (loan)
2010 – 2011: Premier Soccer League, Apps (10), Goals (0)
3. Bnei Yehuda Tel Aviv
2011 – 2012: Israeli Premier League, Apps (34), Goals (9)
2012 – 2013: Israeli Premier League, Apps (6), Goals (2)
4. Maccabi Haifa
2012 – 2013: Israeli Premier League, Apps (26), Goals (15)
2013 – 2014: Israeli Premier League, Apps (15), Goals (2)
5. SuperSport United (loan)
2013 – 2014: Premier Soccer League, Apps (15), Goals (2)
2014 – 2015: Premier Soccer League, Apps (14), Goals (1)
6. Mpumalanga Black Aces (loan)
2014 – 2015: Premier Soccer League, Apps (10), Goals (2)
7. Anorthosis Famagusta
2015 – 2016: Cypriot First Division, Apps (35), Goals (18)
8. Qarabağ
2016 – 2017: Azerbaijan Premier League, Apps (34), Goals (15)
2017 – 2018: Azerbaijan Premier League, Apps (20), Goals (8)
9. Zhejiang Greentown
2018: China League One, Apps (24), Goals (19)
10. Men's national team Bafana Bafana
2012: Apps (3), Goals (0)
2013: Apps (0), Goals (0)
2014: Apps (1), Goals (0)
2015: Apps (0), Goals (0)
2016: Apps (0), Goals (0)
2017: Apps (1), Goals (0)
2018: Apps (1), Goals (1)
International career
In October 2018, Dino was recalled into the national team. It is through his good record that the team destroyed Seychelles, 6-0 during the Africa Cup of Nations qualifier matches.
Dino Ndlovu house
Ndlovu has a new house in town and was never afraid to show it off to his fans. This posh house is a masterpiece of art gone right and looks more like a family home.
Dino Ndlovu cars
Dino has an intense taste in cars, given that he owns a fleet of dream cruises. He recently acquired yet another cool ride worth R3 million and a Mercedes-AMG G-Class G63 Edition 1.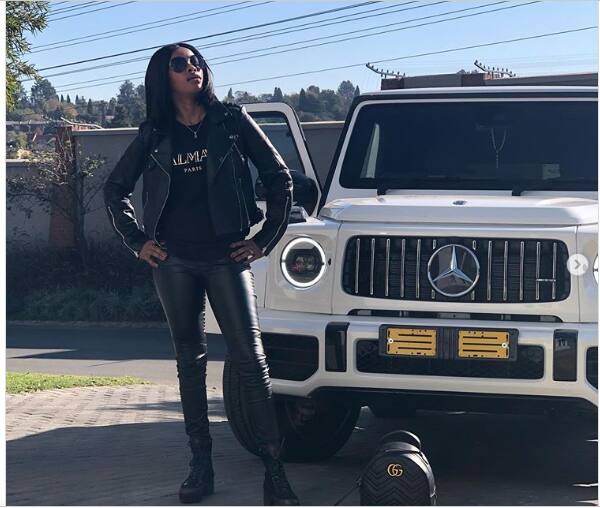 Besides his recent car, Mercedes-AMG G-Class G63 Edition 1, Ndlovu owns other superior cars among them Porsche Cayenne GTS Turbo, Audi R8, and Mercedes Benz GTS. His fleet costs about R6.7 million.
Ndlovu latest news
Ndlovu is back on the mainstream headlines, this time not for his tactful scores. A new report about the footballer smothering his wife with surprise gifts valued at R21k confirms that he is now a big earner. The footballer sent his fans into a shock after he acquired Prada leather boots worth R13,500 for his wife. Besides, he spent R7,500 for her Versace bikini.
Dino Ndlovu salary and net worth are yet unknown, but unconfirmed sources indicate that he is one of the highest-paid footballers in South Africa.
READ ALSO: Kabelo Mabalane age, children, wife, gym, bootcamp, becoming pastor, songs, album, music group and Instagram
Dino Ndlovu is a gifted professional footballer best known for his unchallenged striking record. He has amazingly nurtured his talent, enabling him to become a competitive footballer beyond South African borders. Ndlovu is now a stronghold player at Zhejiang Greentown, and we wish him all the best in his career.
READ ALSO:
Francois Henning (Snotkop) age, real name, partner, sexual orientation, 7 de laan, songs, albums, record labels, awards and Instagram
Lee Thompson age, spouse, parents, rugby career, The Bachelor SA, hot photos, modelling and Instagram
Latest Bafana Bafana squad with names and pictures 2019
All the Cyril Ramaphosa children: Here is everything you need to know about the first family
Source: Briefly.co.za