Wiseman Meyiwa is one of the few stars who make playing football interesting. The former Kaizer Chiefs midfielder has the spirit of the game in his heart from how he played before his accident to how he talks about the game even today. His passion for the sport is evident, which explains why he has been able to put a brave face despite losing the ability to play his favourite game.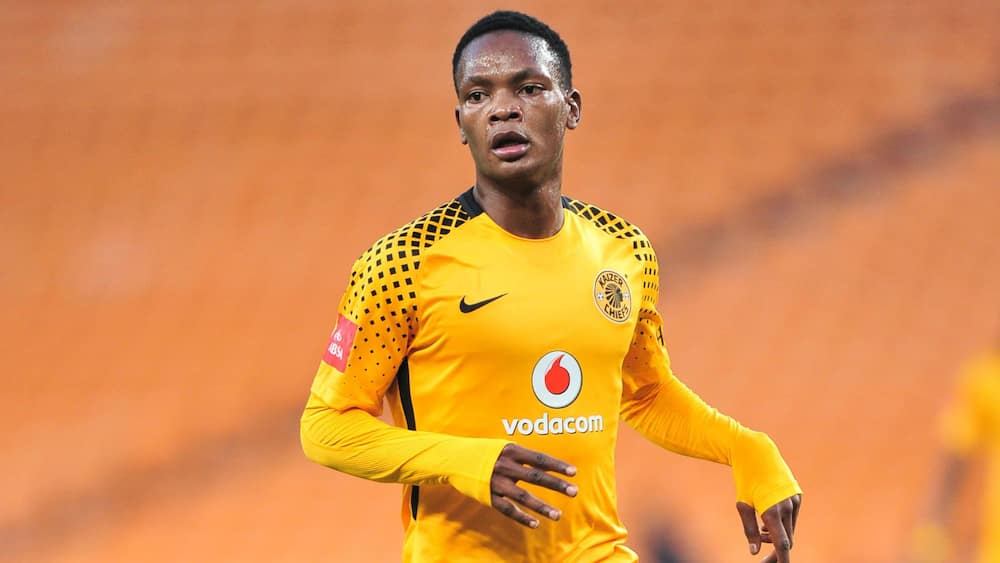 But who is Meyiwa alias Ten-Ten? If you haven't figured this out then you need to keep on reading. The following is a brief biography of Wiseman Meyiwa and details about his accident in addition to the milestones he has taken so far towards getting back on his feet.
Wiseman Meyiwa biography and profile summary
Date of birth: Dec 27, 1999
Age: 19 years
Place of birth: Pietermaritzburg, KwaZulu-Natal South Africa
Height: 1,73 m
Citizenship: South Africa
Position: Midfielder - Central Midfield
Foot: Right
Current team: None because he is retired
Early life and childhood
Like most people's childhood, Wiseman Meyiwa came from a humble background. He is the last born son of Ngenzeni Meyiwa. His love for football was nurtured from a tender age when he used to play in the streets of Dambuza, Pietermaritzburg.
Wiseman Meyiwa age
Having been born in December 1999, he is yet to turn 20 years old on 27th December of this year.
Club and football career
Wiseman Meyiwa started his football career in 2014 at Kazier Chiefs academy. He was enrolled and immediately started playing the position of midfielder. He was groomed and directed by his manager Steve Komphela.
To prove his expertise, he went on to score in a game played in Cape Town City back in September 2017. At the time he was just 17 years of age.
It was in the same game that he went on to break the record that was once held by Marks Maponyane. He then became the youngest player to represent as well as score for the club in a professional match.
During this time, there were numerous speculations of him having lied about his age. The allegations were later denied by the club chairman Kazier Motaung.
Club stats
The screenshot below captures some of Meyiwa's game stats that will be great to note.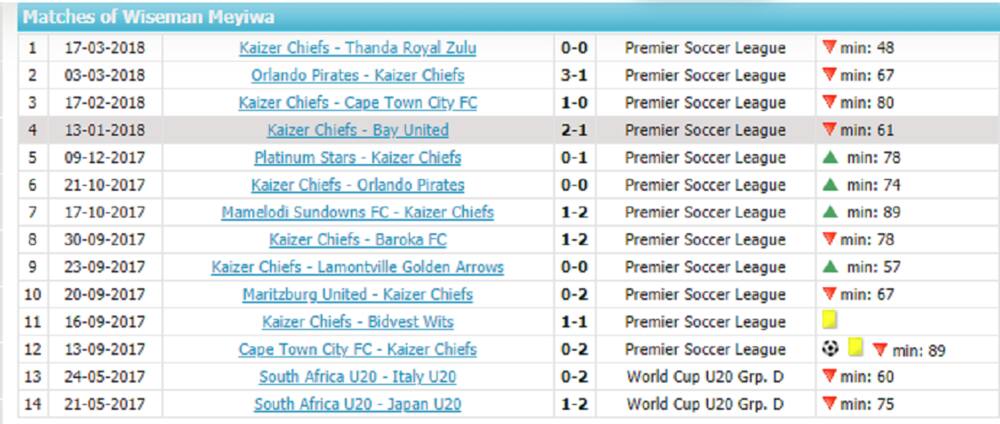 International career
Meyiwa represented his country at the 2015 FIFA World Cup as well as the 2017 FIFA World cup. He made a single appearance for the South African national team on 12th August 2017 in the 2018 African Nations Champions qualification match against Zambia.
Meyiwa accident and injury
Unfortunately for the star, his career came to a standstill when he was involved in a grisly motor vehicle accident in November 2018 at the Free State Province. This left him paralyzed which meant that he would not be able to play football unless a miracle happens.
On 31 January 2019, Kazier Chiefs released a statement saying that the young player had been forced to retire after he had sustained major injuries including an unstable fracture of his backbone. In total, he had made 21 appearances for the club across all of the competitions.
READ ALSO: DJ Zinhle drops Umlilo music video, fans divided in their reactions
Wiseman Meyiwa wife
The young player may not have married yet. There is no known wife. It appears as though all his focus was on his football career.
Wiseman Meyiwa car
The star drove a VW Golf GTI and he is especially keen on speeds as indicated by his choice of favourite movie, Fast and Furious.
Wiseman dreams of returning to football
Even after retiring and all hope seemingly lost, Meyiwa has not given up on his dream of becoming a star. He refuses to succumb to fate and a life without football. He hopes that one day he will make a miraculous comeback and live his dream.
Retiring at the age of 19 years is not something he planned. The accident left him paralysed from the waist downwards. Even though doctors said that this was permanent, it has not stopped him from dreaming of a miraculous return to what he loved doing.
Before the accident, he had just made his debut at an international platform and things were looking up. It had been rumoured that he was a Bafana Bafana prospect. Even as he continues to recover back at home, he cannot hold his desire to play again. He recently shared a Bible verse alluding the same.
Current team
He is not in a team currently because he is paralysed.
Salary
He is currently not on a salary since he is not a player. However, his highest mark value was €350k.
Wiseman Meyiwa was an excellent player. It is so unfortunate that he suffered a twisted fate when an accident cut short his just budding career.
READ ALSO:
Makashule Gana bio, age, wife, education, party, current position, and Instagram
Kaizer Motaung age, children, grandchild, wife, parents, position, cars, house and net worth
Andile Kamajola age, children, spouse, songs, album, awards and Instagram