Solly Msimanga age, children, wife, education, resignation, current office, salry, car and contact details
Solly Msimanga is a South African based politician. Apart from being busy with politics, he is also a family man. He is married with one wife and two children. He hit the headlines this year after stepping down from being the mayor of Tshwane. What else do you know about him?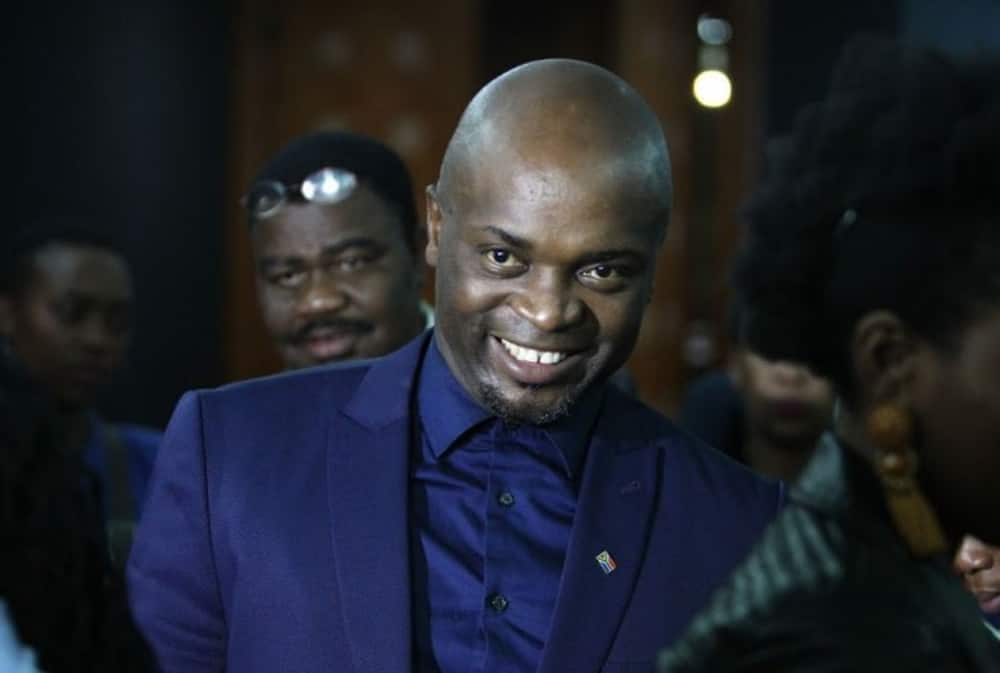 Solly Msimanga is the leader of Gauteng Provincial Legislature opposition. He has been a Democratic Alliance since 2006 and has been active in its activities. He has worked in numerous powerful offices. For instance, Liberian embassy, United States embassy, and the office of the mayor of Tshwane.
Solly Msimanga profile summary
Full name: Solly Tshepiso Msimanga
Date of birth: 16th July 1980
Age: 39 years
Spouse: Monde Msimanga
Children: Amogelong and Aobokwe
Party: Democratic Alliance
Solly Msimanga biography
Solly was born in Atteridgeville Pretoria, South Africa, on 16th July 1980. His mother was a single mom. His family was raised in a shack in Atteridgeville.
He was raised together with three siblings, two boys, and a girl. He used to bath his younger brother every morning before going to school. After school, he would fetch water for cleaning and cooking as well as clean the house. Currently, he is 39 years old.
His education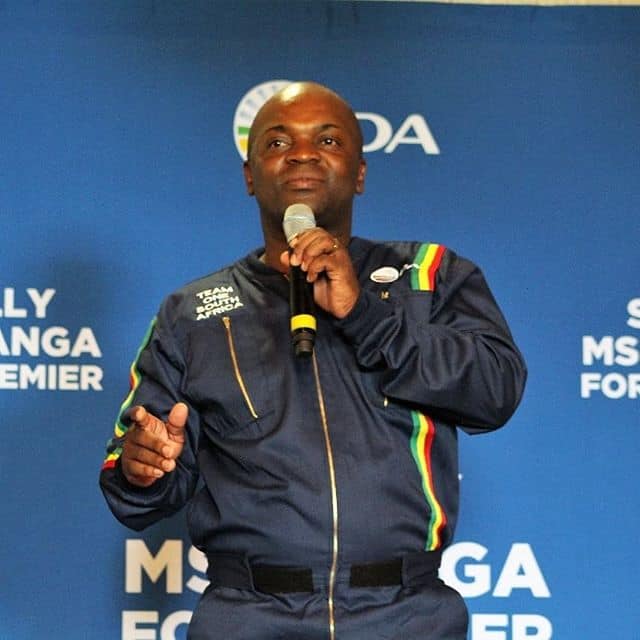 Solly started schooling at Mwore primary school. Later, he joined Patogeng Higher Primary. After that, he attended Soulridge High School. He used to be referred to as 'Kleintjie' at school by one of his teachers. This is because he was the youngest and shortest in his class.
At school, he has a best friend, Themba Fosie. The two would sit together in front of the class. Moreover, they were good boys who would do all the assignments, and their books would be presented to school inspectors whenever they visited.
At one point, the two tried to gamble and were busted by their teacher. His friend's father was a bishop. He came to school because of the incident and beat them in the principal's office. He was also involved in extra-curricular activities. He was the captain of the school debate team. Moreover, he was active in church, and he would sing in the choir.
For his tertiary studies, he was enrolled at the University of Pretoria. He attained a national diploma in Marketing Management. He also acquired a BCompt. While studying, he worked as a waiter for Union Caterers to help his mum pay his fees.
His family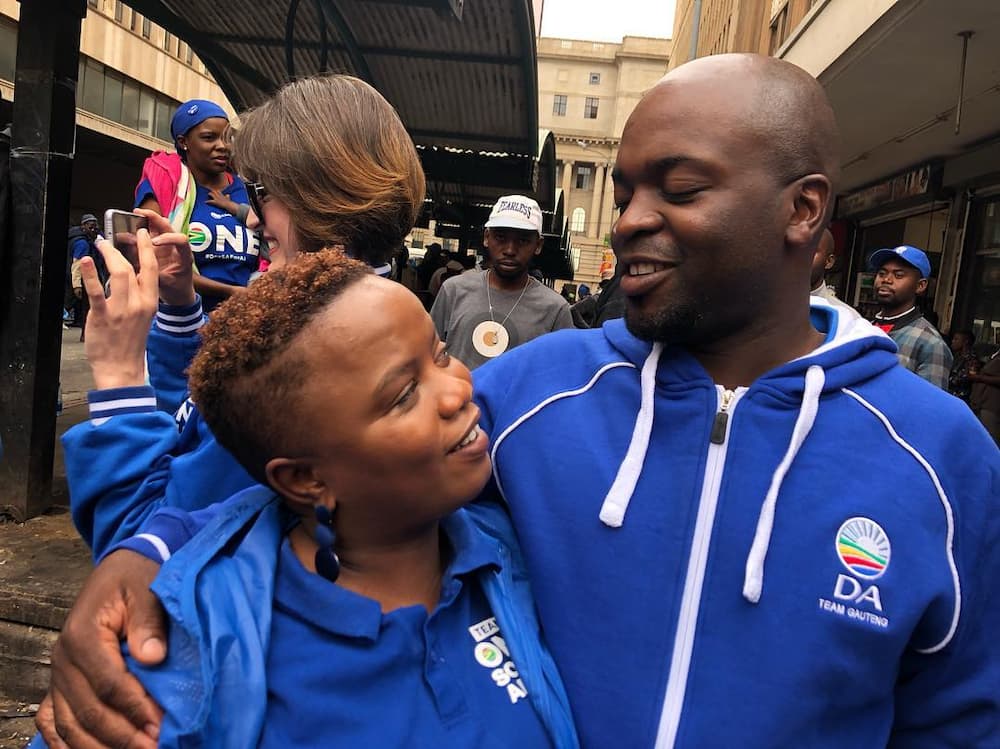 He got married in 2006 to Monde Msimanga. Solly Msimanga wife works on 'Make Somebody's Christmas a Merry One,' a charity organization. The organization has a project that donates groceries to needy families. The two are blessed with two children: Aobokwe and Amogelong.
Career
He worked with Project Literacy, which at one stage enlisted him at the Liberian embassy. Thereafter the United States embassy employed him. At one point, he was the Legal Education and Development, national director. Moreover, he held numerous senior management positions in the sector.
In 2006, Msimanga attended a Democratic Alliance event. Later, he wrote the party criticizing the campaign approach it was using. The party's CEO, Ryan Coetzee, offered him a staff position. Subsequently, he began rising on various ranks in the party.
READ ALSO: Aldrin Sampear age, wife, podcast, photos, leaves SABC and Instagram
Solly was elected to the Tshwane City Council in May 2011. He also became the leader of the Democratic Alliance North region. Three years later, he was appointed as DA's spokesperson for education, Economic Development Portfolio Committees, and sports. He also succeeded in the party's Provincial Chairperson position from Mike Moriarty in November 2014.
The following year he was announced as the party's mayoral candidate of Tshwane city. He emerged as a winner for the nominations for the 2016 municipal elections. However, his party was the largest, but he did not have a majority. They formed a coalition with smaller parties in the region. Consequently, Msimanga was elected unopposed as the mayor of Tshwane.
Mayor Msimanga motion of 'No Confidence'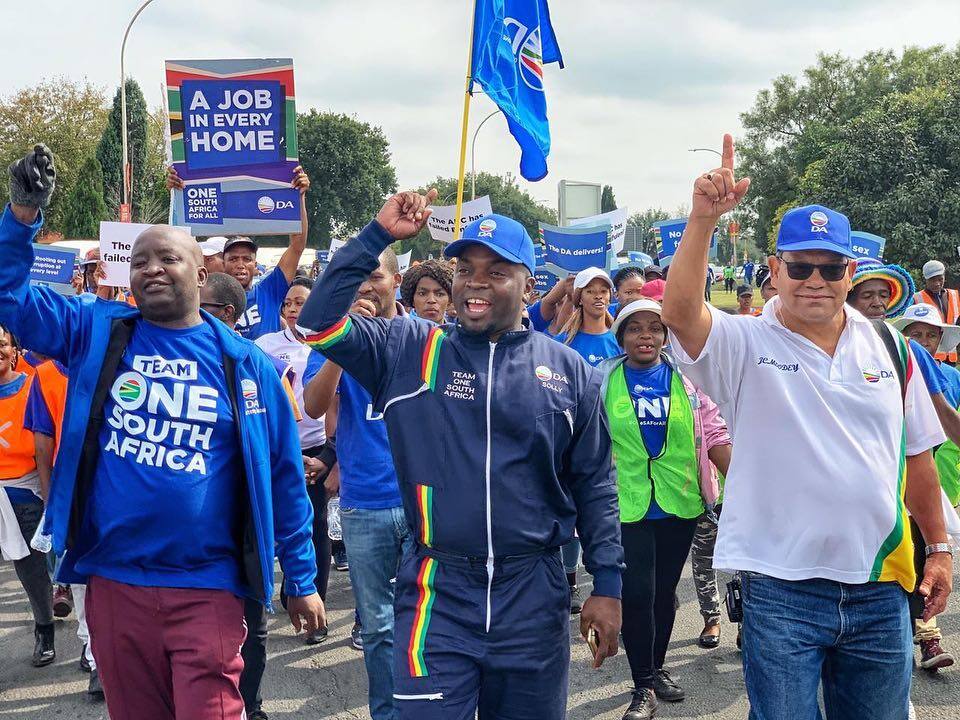 When Solly was the mayor of Tshwane, he survived two bids to oust him from his position. The ANC and EFF tabled two distinct motions of 'No Confidence' against the mayor. This was because of a twelve billion Rand consultancy tender. The tender also led to the suspension of Moeketsi Mosola, the city manager.
Katlego Matheba dismissed the EFF's motion since it did not comply with the rules of the council. Later, ANC withdrew their motion.
Solly Msimanga resigns as the mayor of Tshwane
In January this year, he announced his resignation as the mayor of Tshwane. He also explained that the resignation would be finalized by February. After he stepped down, he was succeeded by Stevens Mokgalapa.
Moreover, he explained that he had made the decision because he wanted to focus on campaigns for Gauteng premier. Tshwane's resignation was Solly Msimanga latest news.
Current office
Recently, he is the opposition leader of Gauteng Legislature.
His salary
His salary as the Gauteng legislative opposition leader is not known to the public.
His car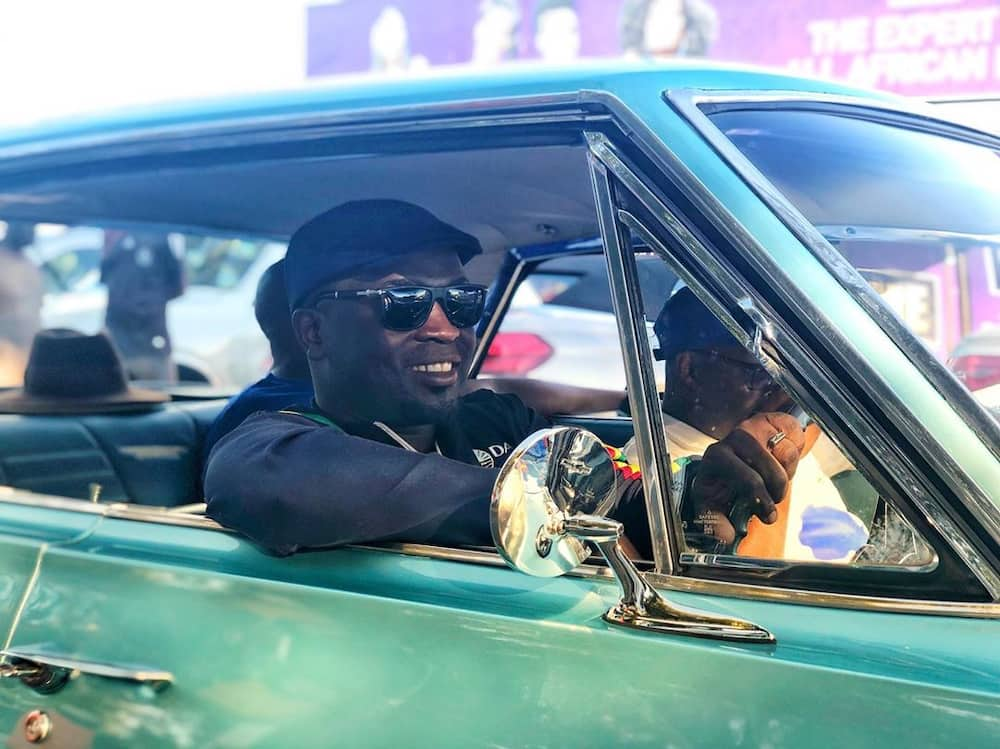 He is famous for not liking luxury cars. After being elected, he stated that he would not purchase a new fleet. Instead, he would continue using the BMW 5 series that was used by his predecessors. However, while he was mayor, he was hijacked, and thieves got away with his silver Mercedes car.
Solly Msimanga contact details
You can contact him through postal address PO Box 440, Pretoria,0001. Solly Msimanga email address is not known, but you can contact him via Twitter if you want to get his attention.
Solly Msimanga is the former mayor of Tshwane city in South Africa. He is a famous politician who rose to power despite coming from a very humble begging. Recently, he is the opposition leader of Gauteng Legislature.
READ ALSO: Quinton Fortune age, height, wife, Manchester United Coach, football career, trophies, stats, Instagram, and net worth
Source: Briefly News