- A woman's actions served as a reminder that everyone has the power to make a difference
- While working in her garden, a man approached her and begged for some food to eat or clothes to wear
- She used it as an opportunity to give the man a helping hand and to motivate others in the process, but not everyone approved
PAY ATTENTION: Click "See First" under the "Following" tab to see Briefly.co.za News on your News Feed!
It is a debate that never seems to end.
Is it better to share details of one's generosity in the hope of inspiring others or should we keep it to ourselves?
A woman shared her story of benevolence via social media, but it also opened up a can of worms.
READ ALSO: Halala: Woman told she'd never have kids, shows off beautiful son
Masefako Legwabe explained how she worked in her garden while a desperate man pleaded for a meal or some clothing to help his family.
The man's plight tugged at her heart strings and she decided to bless him with food, two pairs of jeans and a pair of boots as well.
In the hope of motivating others to give, she shared details of the experience via the #ImStaying Facebook group.
Briefly.co.za noted the post went viral and attracted hundreds of positive comments.
However, there was a twist.
While many praised the young lady for her actions, others shared their concerns and felt the man may not have been comfortable with his identity being shared via social media.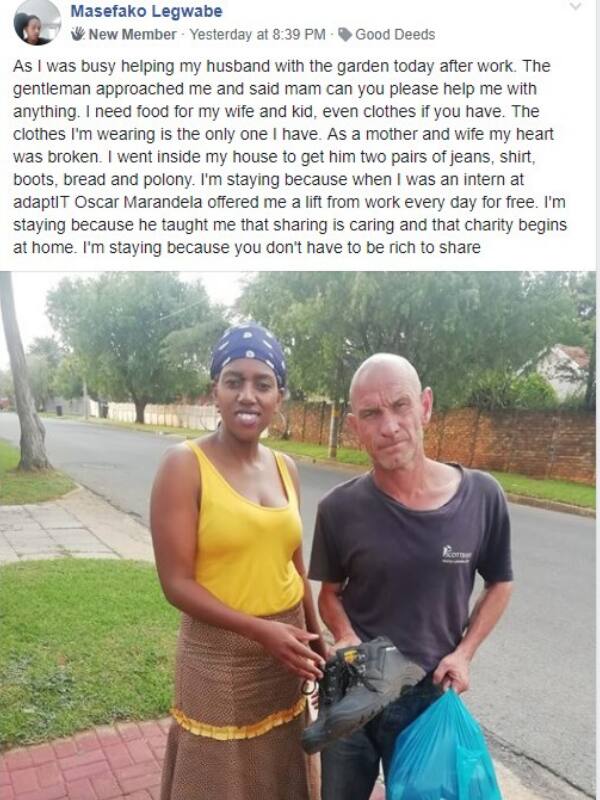 READ ALSO: Daddy goals: Siya Kolisi creates customised t-shirts for his kiddies
Faith Mpete felt that the post epitomised what the Rainbow Nation stands for:
"A true reflection of SaTaAfika we pray for."
Lesmarie Williams shared a message for the sceptics:
"Folks if this is how we are staring to help each other let's be happy. I love the pics. The unity. The people who may not have helped others different to us. Rejoice in the love. Rejoice in the unity. Don't criticise."
Bongani Gina also focused on the positive aspect of the post:
"Well done keep up the good work! To those who are questioning why she included a picture, she did so to encourage each one of us to do good and help those who are less privileged than us regardless of race. A story with a picture is always nice to read."
Renee' Kisten expressed her reservations:
"Do you think that gentleman is happy he has to beg? I don't think so. Its beautiful to share stories but not to see your pic all over social media just because u asked for help."
Lineo Dinny Mhlongo added,
"Telling a story is enough you don't have to embarrass someone by posting their pics.i would be embarrassed if I saw my fathers pic like this cos I know someone out there would make a joke about my father's inability to provide for his family. Its wrong sisi."
Rafiekah Jardine was bemused by the negative energy the photo attracted:
"There's been so many people who've posted picture of others that they've helped. Why is this suddenly a problem? I have an idea why, but I'm trying really hard here to push it to the back of my mind."
Enjoyed reading our story? Download BRIEFLY's news app on Google Play now and stay up-to-date with major South African news!