A story of hope: Lady finally graduates after 10 years of study
- A woman shared a story about hope and hard work
- Her childhood was affected after her father threw them out when she was 12
- She triumphed through the odds against her and is now a successful academic
PAY ATTENTION: Click "See First" under the "Following" tab to see Briefly.co.za News on your News Feed!
A woman has shared an inspiring story about how hope kept her going even when circumstances seemed hopeless. She shared how it took her over 10 years to get through tertiary. Today, the hardworking woman is completing her Master's degree.
After their father kicked them out, Konesoang Kepotsa Bohlale Ramakhunong, her siblings and her mother moved to Soweto.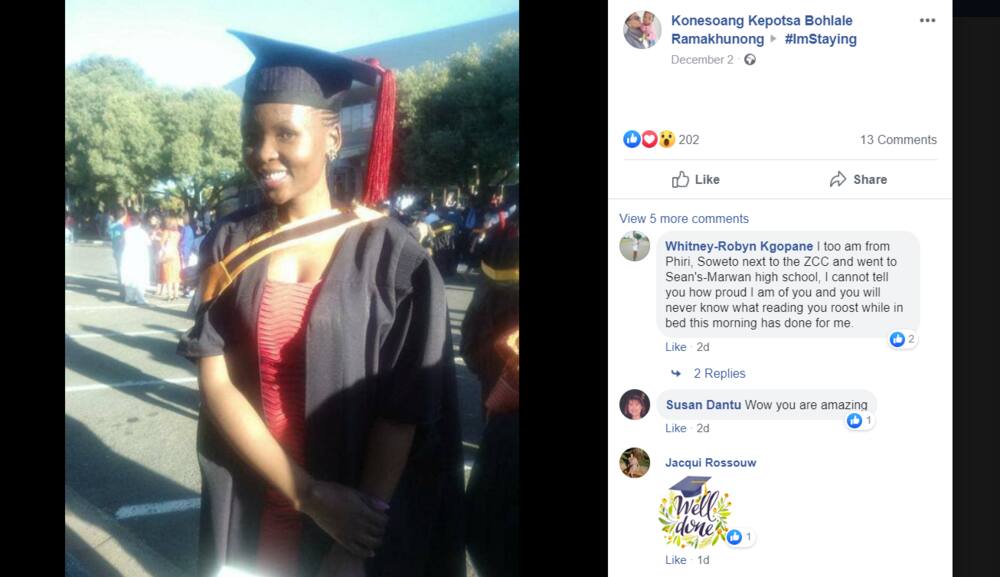 Throughout her high school years, his mother was unemployed and she would make ends meet by selling sweets to her classmates. After completing matric, she applied for NSFAS funding and enrolled into Technikon South Africa for a National Diploma in Banking.
She dropped out after struggling academically. She worked as a child minder for 6 months before moving to Bloemfontein.
In 2005 she decided to try tertiary again and enrolled for NQF in Human Resources. She dropped out again and pursued a new qualification in Communication Studies at the University of South Africa in 2007.
She used the credits she acquired from the qualification to register for a BA Degree in Corporate and Marketing Studies at the University of Free State.
"I used to be so hungry on campus to a point of sleeping in the library as I tried to study. In that same year I developed iron deficiency, so I bought myself a water bottle from Pep stores, would fill it up with water"
She approached then VC, Prof Jonathan Jansen, to tell him about his battle with getting a daily meal. The porfessor advised her to join the "No Student Hungry" campaign. Her application was successful and was able to get R25 daily for some food.
In 2012 she received a bursary from the Free State Provincial Government and completed her degree the following year.
"As I graduated I counted the years and it was exactly 10 years after I had passed my grade 12. As excited as I was on my graduation day, I felt that the achievement was for my mother. I honoured her for choosing to take us with and she was told to leave her marriage. I am happy to this date for that one sacrifice she made"
She continued studying and achieved her Honours degree. In 2016, the hardworking man got married. Unfortunately, seven months into her pregnancy, she found out that her husband was cheating on her.
She decided to forgive him, only for him to do it again.
"I remember asking God why on earth was He allowing me to go through such pain with just a 6 months old baby in my arms"
The couple separated in 2018 but she did not let the heartbreak deter her. She has enrolled to complete her Masters and should graduate by 2020.
READ ALSO: Young man reunites with nurse who helped deliver him as baby
"I call my story the story of HOPE. From struggling for 10 years and not giving up on my dream of being a University graduate. Being betrayed and insulted by the love of my life and still not giving up"
Enjoyed reading our story? Download BRIEFLY's news app on Google Play now and stay up-to-date with major South African news!
Source: Briefly.co.za