- A young man revealed the struggles he had to overcome to make it to his final year on varsity
- Thokozane Zulu opened up about working at fast-food restaurant under an allegedly abusive manager
- However, he pushed through and now hopes to one day make it to Parliament
PAY ATTENTION: Click "See First" under the "Following" tab to see Briefly.co.za News on your News Feed!
A young man, Thokozane Zulu, like many others, had to go to extreme lengths to be able to follow his dreams.
Zulu revealed he started working at a fast-food restaurant because of he could not afford varsity registrations.
He claimed that he was humiliated and treated unfairly bu his managers because of the colour of his skin.
He wrote on the #ImStaying Facebook page:
"My manager at that time told me I will die under his feet and I will always be beneath him, no matter what."
However, his dreams were bigger than the job he held at the time and he openly spoke about one day becoming a parliamentarian with his co-workers.
Zulu said his colleagues laughed at him, saying he'll never make it to Parliament. He said:
"I chose not to argue with them because I knew what brought me there, some friends left, people judged and rejected me and some laughed at me."
Despite all the negativity, Zulu held onto his dream and he told his managed: "Today you can be my manager but tomorrow I can be your President."
Briefly.co.za learned Zulu worked hard and saved up R8000 for registration fees and is currently in his final year.
"Today, I'm doing my final year BA in Public Governance and Politics and I'm a passionate student leader. I've never been a quitter."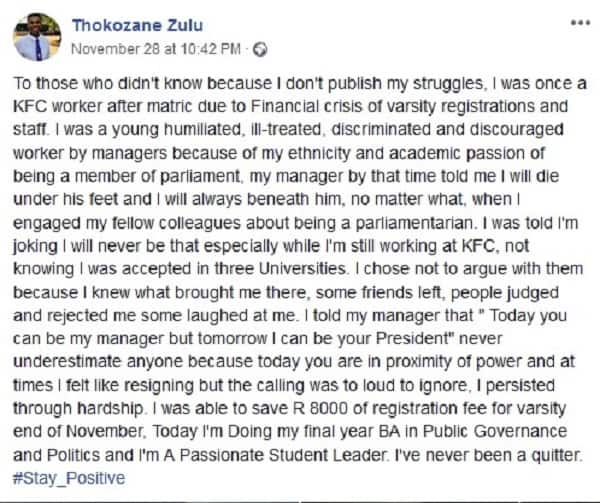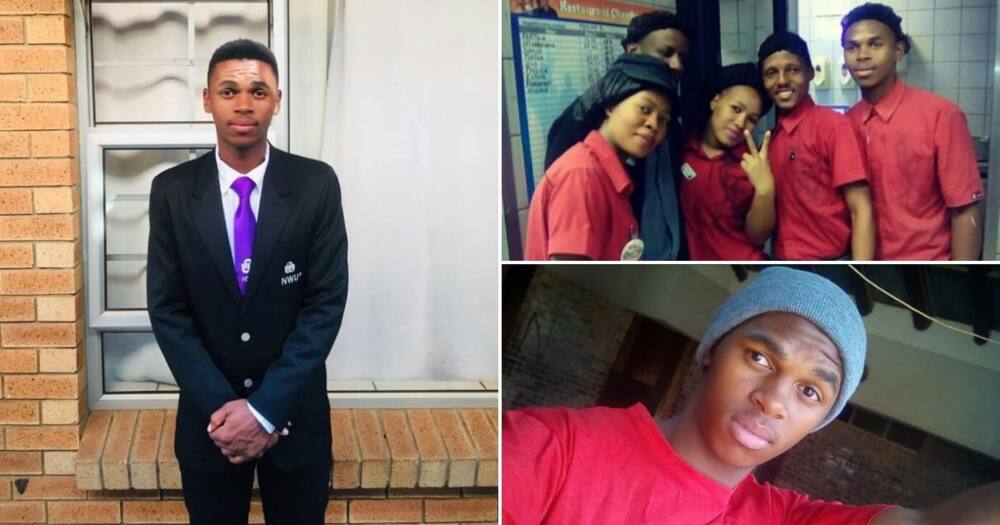 READ ALSO: Halala: Former petrol attendant starts own business and graduates
South Africans applauded Zulu's determination to succeed, adding they hoped to see him in Parly one day.
René Lawrence commented:
"Well done! Maybe you can lead this country to greatness one day!"
Veran Lizelle Rampersad said:
"Don't let anyone put you down. All the best, keep on following your dreams, what makes you happy and trust in God."
Soemaya Wörsdörfer wrote:
"Wow. Loved reading this. Well done child, well done! Keep going."
Claire Casserley added:
"Good for you. You stuck by your dreams and you will get there and your old manager will still be a manager. Congratulations."
Enjoyed reading our story? Download BRIEFLY's news app on Google Play now and stay up-to-date with major South African news!