- On this day 23 years ago, Kofi Annan was appointed as the UN general-secretary
- He went on to serve two terms in that position
- Annan passed away in last year and was honoured with a funeral attended by many state leaders
PAY ATTENTION: Click "See First" under the "Following" tab to see Briefly.co.za News on your News Feed!
On this day 23 years ago, Kofi Annan was appointed as the secretary-general of the United Nations. The Ghanaian citizen replaced the outgoing Boutros Boutros Ghali.
Annan studied economics at Macalester College, international relations at the Graduate Institute Geneva and management at MIT. He joined the UN in 1962, working for the World Health Organization's Geneva office.
After accepting office, Annan said that the United Nations, along with the rest of the world, would have to change. He urged all member states to welcome change, not resist it. Annan worked to combat HIV/AIDS, especially in Africa, and launched the UN Global Compact. He was re-elected for a second term as secretary-general in 2001.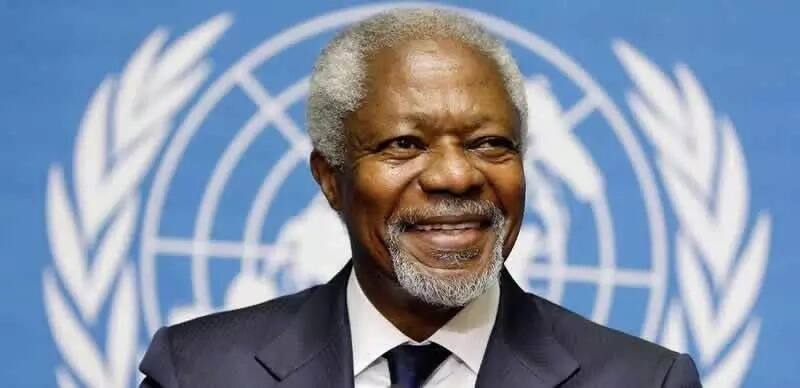 Annan also proposed to hold a Millennium Summit in 2000. After years of research, Annan presented a progress report, In Larger Freedom, to the UN General Assembly, on 21 March, 2005. Annan recommended Security Council expansion and a host of other UN reforms.
On 31 January, 2006, Annan outlined his vision for a comprehensive and extensive reform of the UN in a policy speech to the United Nations Association UK.
Three months later, he presented to the General Assembly his proposals for a fundamental overhaul of the United Nations Secretariat. In that same month, Annan presented to the General Assembly his analysis and recommendations for updating the entire work programme of the United Nations Secretariat.
In 2000, Annan issued a report entitled: "We the peoples: the role of the United Nations in the 21st century." The report called for member states to "put people at the centre of everything we do".
After the end of his term as UN Secretary-General, he founded the Kofi Annan Foundation in 2007 to work on international development.
Annan died on 18 August, 2018 in Switzerland at the age of 80 after a short illness. His body was returned to his native Ghana from Geneva.
READ ALSO: Mzansi still loves Cynthia: First SA black woman at Miss World
On 13 September, 2018, a state funeral was held for Annan in Ghana at the Accra International Conference Centre.
Enjoyed reading our story? Download BRIEFLY's news app on Google Play now and stay up-to-date with major South African news!