- A group of diners has in a generous way impacted on the life of a waitress, Angelica, in New Jersey
- Before they came to the IHOP restaurant, they all planned to come with $100 each as a tip
- After their meal, the group gathered all the money and gave it to the waitress who attended to them, she almost cried out of joy
PAY ATTENTION: Click "See First" under the "Following" tab to see Briefly.co.za News on your News Feed!
A group of people has been a source of blessing to a waitress, Angelica, at an IHOP restaurant in New Jersey, giving her a $1 200 (approximately R17 000) tip.
One of the people who showed the rare act of kindness, Zellie Thomas, shared the pictures they took with the waitress on Saturday, 14 December.
Thomas explained how he and 11 other friends of his brought $100 each to the restaurant with the plan that they would gather and give them to the waitress.
He said after they had paid their food bill, they gave the money they brought which was $1 200 in all to the lady.
"We paid the bill and gave our waitress a $1 200 tip. It really is a privilege to be someone else's blessing," Thomas said.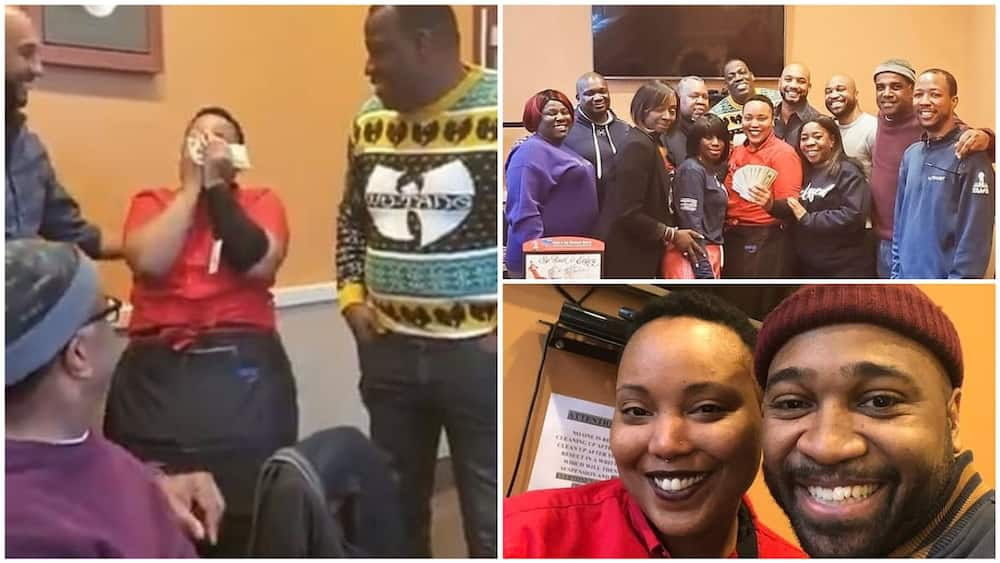 The lady reacted in a very emotional way as she covered her face in amazement, saying they were going to make her cry.
Angelica was more surprised when she counted the money and could not believe how much it really was, thinking perhaps they made a mistake.
READ ALSO: Enhle looking great and back at work amid Black Coffee divorce drama
Thomas, in speaking with NJ, emphasised the power in a community, saying all it takes sometimes is for people to come together and change a person's life.
"I really hope this shows people that there's power in community and all it takes is a group of friends to come together and change someone else's life.
"If you and your friends have the capacity and heart to pool your money to give a large tip to a waitress this holiday season that you know deserves it, I encourage it. You'll be surprised how many of your friends would be supportive of the idea!" he said.
Enjoyed reading our story? Download BRIEFLY's news app on Google Play now and stay up-to-date with major South African news!