- When Florinah Sizane was a final year student in varsity, she received news that changed her life forever
- Sizane found out that she was pregnant and after her baby daddy bailed, she was left alone to figure her future out
- Things got even more complicated when Sizane gave birth to not one, but two babies
- However, the proud mom now opened up about how they overcame challenging times to succeed as a family
PAY ATTENTION: Click "See First" under the "Following" tab to see Briefly.co.za News on your News Feed!
A baby is a blessing, but sometimes people may feel like they are not ready for the responsibility. Florinah Sizane was not one of those people.
More than two decades ago, Sizane was a final year student on varsity. However, as in most cases, her life at university was not all work and no play and Sizane ended up pregnant.
Her boyfriend at the time felt he was not ready to become a parent and he insisted she end the pregnancy. But, it was not something Sizane could do - even though she had not planned to have a baby, she was not giving up on her little bundle of joy.
Sizane's decision to keep her baby stirred up more complications - her father's reaction. Taking to the #ImStaying Facebook page, she revealed how her father took the news.
"The thought of facing my father was so, so scary. My mom kept the secret for about seven months until I was about to come home" - she revealed.
Briefly.co.za learned Sizane said the disappointment on her dad's face was something she would not forget.
However, being a dad, he still cared and used the money he had to pay for Sizane's ultrasound because he felt her "tummy was too big".
"The scan only showed one child. Come delivery day, boom! There was the second baby and I felt like the earth can open and swallow me. How do I face my parents?" she added.
Sizane said her mother immediately accepted the twins but her dad took some time to come around.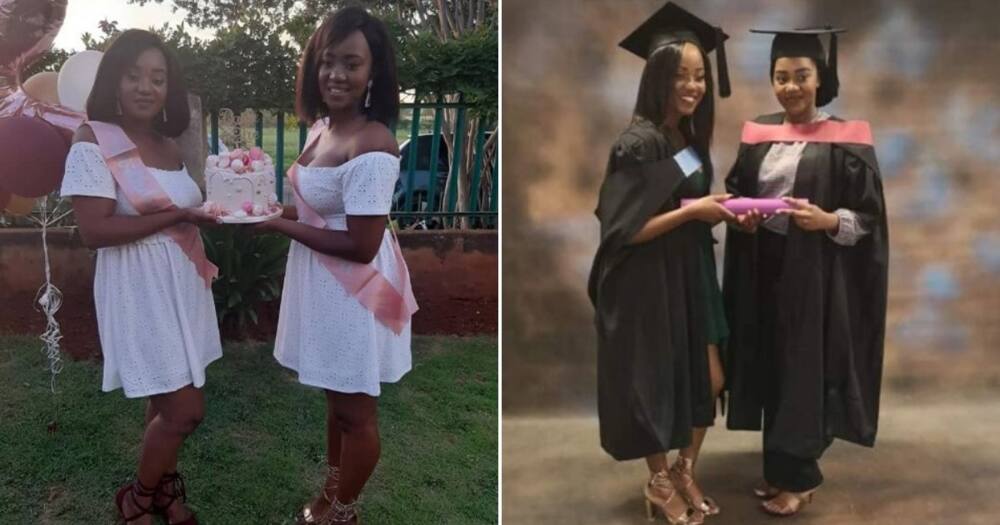 READ ALSO: SA reacts to pic of bride and curvy bridesmaids: "Confusing the groom"
Sizane's troubles were far from over. The new mom of two had no job and no money, which meant she could not afford baby clothes.
"Most of the time the twins would just wear nappies and waterproofs because they did not have clothes and fortunately it was too hot, and that saved us from explaining to people who came to see them," she revealed.
She revealed her mother managed to scrape together some cash to buy the twins clothes and she decided it was time to find a job.
Her dad gave her money to buy clothes for an interview and Sizane started a new career only a month after having the twins.
However, she now revealed all the struggles were worth it. The twins have been successful in their lives, with both finishing high school before enrolling in varsity.
The mother revealed the first twin dropped out of law school to focus on her well-being. She then enrolled in teaching qualification. Sizane did not disclose whether or not her daughter completed the teaching degree but she did reveal the young woman plans on resuming her law studies in 2020.
The proud mom revealed the other twin pursued a career in nursing after bagging a scholarship from the Department of Health. She is set to start her second year in her Master's of nursing degree.
"It was a challenging journey as one of the twins also graduated heavily pregnant and I have learnt to gracefully accept things that I cannot change. I love my granddaughter to bits. That's the reason I'm staying" - Sizane ended her post.
Enjoyed reading our story? Download BRIEFLY's news app on Google Play now and stay up-to-date with major South African news!