- Five friends became pregnant almost at the same time after they went through the difficult journey of trying to conceive
- The mothers - who are Micki Berg, 34, Amie Thomas, 36, Kristin Matty, 31, Kristen Heller, 45, and Celeste Zazzali, 37 - had to resort to IVF to help their conception
- To continue the bond between them, they have also been raising their children born in 2017 as best friends
PAY ATTENTION: Click "See First" under the "Following" tab to see Briefly.co.za News on your News Feed!
Five friends who had been trying to fall pregnant finally got what they wanted as all of them conceived in the same summer, with their babies born within a few months of each other.
Daily Mail reports that the friends ((Micki Berg, 34, Amie Thomas, 36, Kristin Matty, 31, Kristen Heller, 45, and Celeste Zazzali, 37) could not naturally conceive and had to take IVF as an option.
READ ALSO: Broken border fence allows Zimbabweans to pour into South Africa
The five mothers first met at a support group at their local fertility clinic in New Jersey where they had weekly meetings during their pregnancies.
The interesting part of the story is that they are now raising their children as best friends as they said they their journey to becoming mothers together helped them create a bond.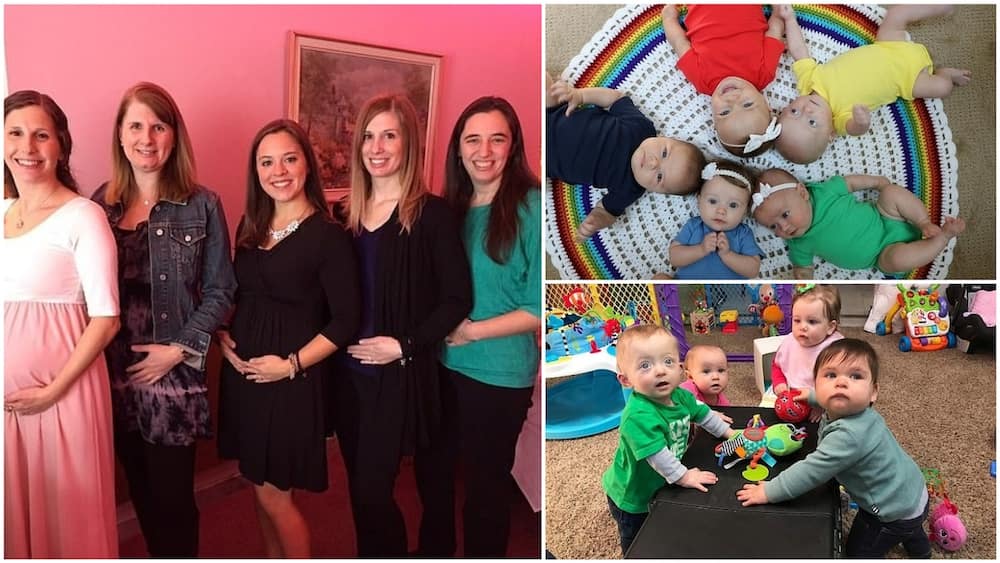 One of the women, Anime, talked about how they were at each other's baby showers and showed up at important times.
"We wanted to be at each other's baby showers, we wanted our bump pictures, we wanted to be there for each other.
"We would chat about our symptoms and ask for advice. There were times where I felt: 'Will I ever be a mom?' To be able to share those feelings with four women who completely understood was amazing," she said.
Celeste, who is a music teacher, spoke about how being with them helped her to get through the difficulty of the IVF process.
"Just being at the group helped. The other people were understanding and knew what I was going through without me going into the whole backstory.
"As much as my friends wanted to support me, they often didn't know what to say. It was nice to go somewhere where they understood why Mother's Day made me sad.
"The difficulty of IVF is not just the needles, the needles are not even the hard part, it's the emotional side of things that is really difficult," she said.
Others also spoke on how the group has helped them in their different emotional states when they were trying to conceive.
Enjoyed reading our story? Download BRIEFLY's news app on Google Play now and stay up-to-date with major South African news!