How many wives does Jacob Zuma have exactly?
The Australian Prime Minister has 3 wives. The President of Italy has 4 and the French President has 2... Obviously none of that is true. No President of a civilised country would have more than one wife.
But you'd be wrong. Our President, Mr Jacob Zuma, has had 6 wives, still has 4, and is estimated to have between 20 and 22 children. That's around 28 dependents - which the taxpayer pays for.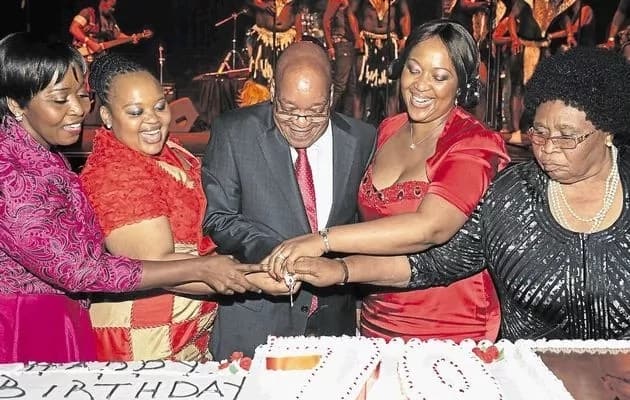 Now while the Zulu culture allows for multiple wives, and theres nothing wrong with traditions, one needs to consider a few things here -
1. Jacob is due to retire at the end of the year. Which means he'll ultimately stop being at the helm of the country and, one would imagine, stop drawing a ludicrous salary. So, how will JZ be paying for his brood and keeping his 6 wives happy?
It's an interested question, when one considers that the Zulu Monarch, King Goodwill Zwelithini receives around R60 million rand every year to take care of his 6 wives and 18 princes and princesses.
READ ALSO: Battle for control of ANC in KwaZulu-Natal heats up
So where does tat leave us, the tax payers when Jacob Zuma's term comes to end?
But before we get to that - here's a break down of just who's who in the Nkandla palace.
First wife, Gertrude Sizakele Khumalo, who is now aged 77 served as SA's first lady from 2009 – 2014.
Jacob's second wife, Nkosazana Dlamini-Zuma is 68. She divorced JZ in June 1998 due to "irreconcilable differences".
Kate Mansho was 'lucky' number 3, but sadly committed suicide at age 44. Breifly.co.za believe she left a note to Reverend Frank Chikane that summarised her desperate situation, which read in part that "Our marriage has been 24 years of hell".
Nompumelelo Ntuli, aged 42, was number 4 and is currently Zuma's youngest wife to date.
Number 5 is Thobeka Stacie Madiba, aged 45. Jacob Zuma paid lobola to her clan for the right to marry her, and tied the knot in January 2010
His 6th wife, Gloria Bongekile Ngema is aged "somewhere in her 40s"
Each wife bore a number of children, some of whom are well connected in government circles, while others are infamously so.
But this all begs the question - how much will Zuma need to support his horde? And where will the money come from should he be found guilty of his hundreds of corruption charges?
In light of the upcoming elections, Jacob Zuma's family should be of a very big concern to you and me.
We might just be the ones left supporting them.
Do you have a story to share with us? Inbox us on our Facebook page and we could feature your story.
Stay up to date with the latest news by downloading the Briefly App on Google Play or iTunes today!
Source: Briefly.co.za