- A woman has taken to social media to thank a man who rescued her from robbers
- She was loading groceries into her car when two men attempted to grab them
- An employee at a funeral parlour nearby saw the incident unfold and rushed to help
PAY ATTENTION: Click "See First" under the "Following" tab to see Briefly.co.za News on your News Feed!
A woman took to social media to thank an Avbob employee after he rescued her from two robbers. According to the relieved lady, the man fought off her attackers using his brute strength in an act of sheer bravery.
Ms Ashleigh van Rooyen took to social media to share how Rias Matlala's kind act of bravery saved her from being robbed. Van Rooyen and her mother were out shopping at the Shoprite store in Middelburg. While her mom remained in the shop, Van Rooyen left with the trolley-full of groceries to load into their car.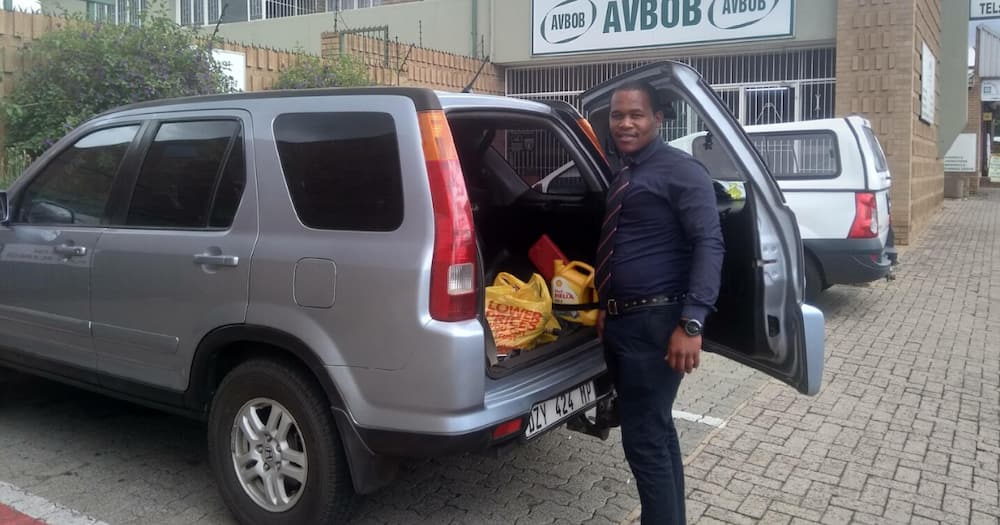 As soon as she exited, two men accosted her, spurring Mr Matlala to intervene.
"The robbers were pushing me around but before they could inflict any damage, Mr Matlala was on top of them, fighting them off me."
Upon confrontation, one of the robbers immediately fled while his accomplice was locked in a wrestling match with Matlala. The stronger Matlala was able to successfully drag the robber into the Avbob building but before he could lock the security gate, the robber broke loose and made a run for it.
After the attack, he helped van Rooyen to gather her groceries, which wwereas scattered around the car, and loaded the bags into the vehicle.
"I want to thank this kind man from the bottom of my heart for his bravery, Mr Matlala you are my hero!"
Social media users applauded Matlala for his bravery. Facebook user Thandeka Nxasana said:
"He is a true hero who deserves a medal. We thank God that we still have caring people like him in our country. May He bless him abundantly."
Jacky Cellere said:
"Our very own SUPERMAN"
Margi Booysens said:
"Well done. A REAL MAN!!!"
Ursula Smit Perry said:
"Thank you for stepping in, you are a hero in my eyes."
Cathrine Henriette Nysschens said:
"Mr Matlala you are an absolute hero!!!! May you be blessed every day of your life!!!"
READ ALSO: Asylum seeker gushes about graduating from South African university
Liz Labuschagne said:
"Mr Matlala you are a real man. God bless you for rescuing a lady at the risk of your own safety. The world needs more men like you."
Enjoyed reading our story? Download BRIEFLY's news app on Google Play now and stay up-to-date with major South African news!