UCAS: courses, UCAS number, university application, fees, clearing, tracking, interuniversity transfer
Fresh out of high school and looking forward to higher education? Are you going to finish your undergraduate degree soon and contemplating postgraduate studies? Why not apply via UCAS and grab the opportunity to further your education in the United Kingdom.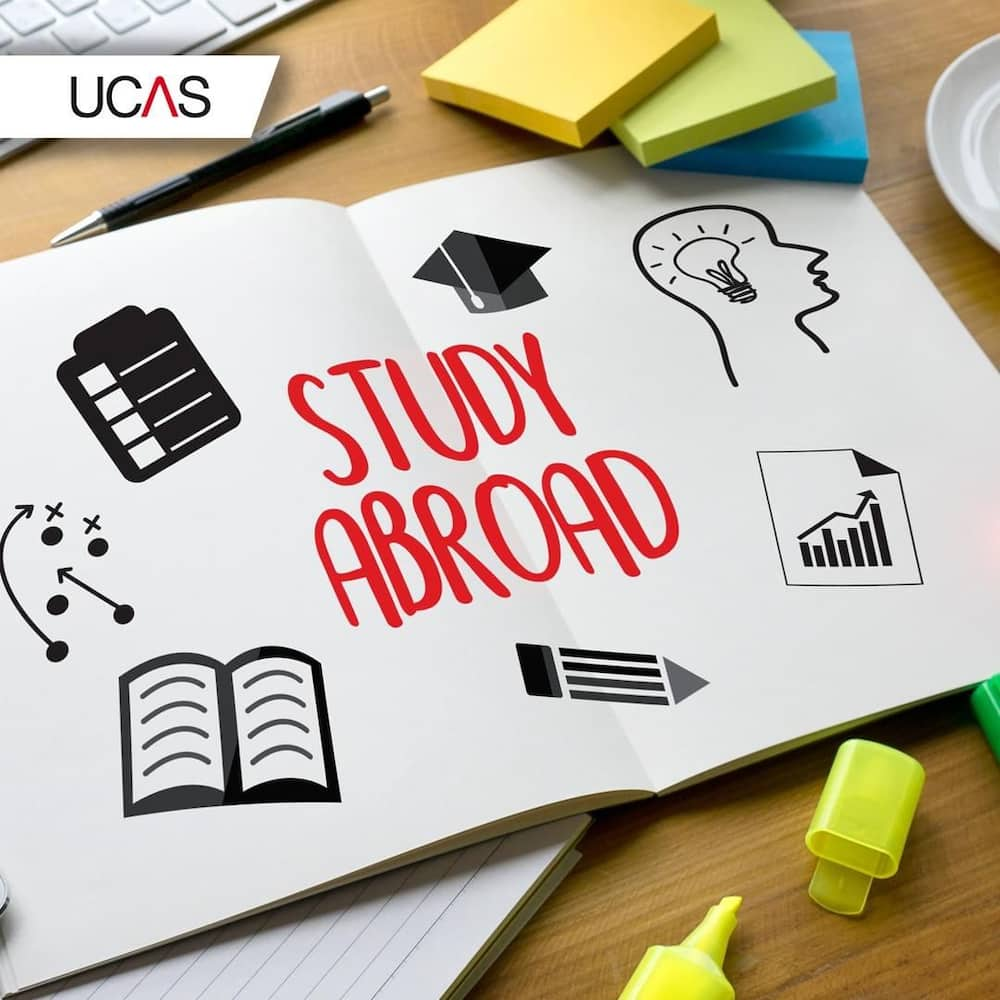 UCAS, in full Universities and Colleges Admissions Service, is an organisation based in the United Kingdom that mainly deals with the operation and handling of applications for British universities. It was formed in 1992 after the former system for university admissions, UCCA, was merged with the former system for polytechnic admissions, PCAS.
READ ALSO: List of all university of Johannesburg courses and fees 2020
UCAS profile
Chief Executive: Clare Marchant
Motto: "At the heart of connecting people to higher education"
Location: Prestbury, Cheltenham, Gloucestershire GL52 3LZ, United Kingdom
Formation: 1992
Purpose: Higher-education application processing
Website: www.ucas.com
UCAS application
Studying abroad is not only a good opportunity to explore but also to expand your horizons. All this can be achieved through several very simple steps. To apply, one must submit their application through the organization's online application service.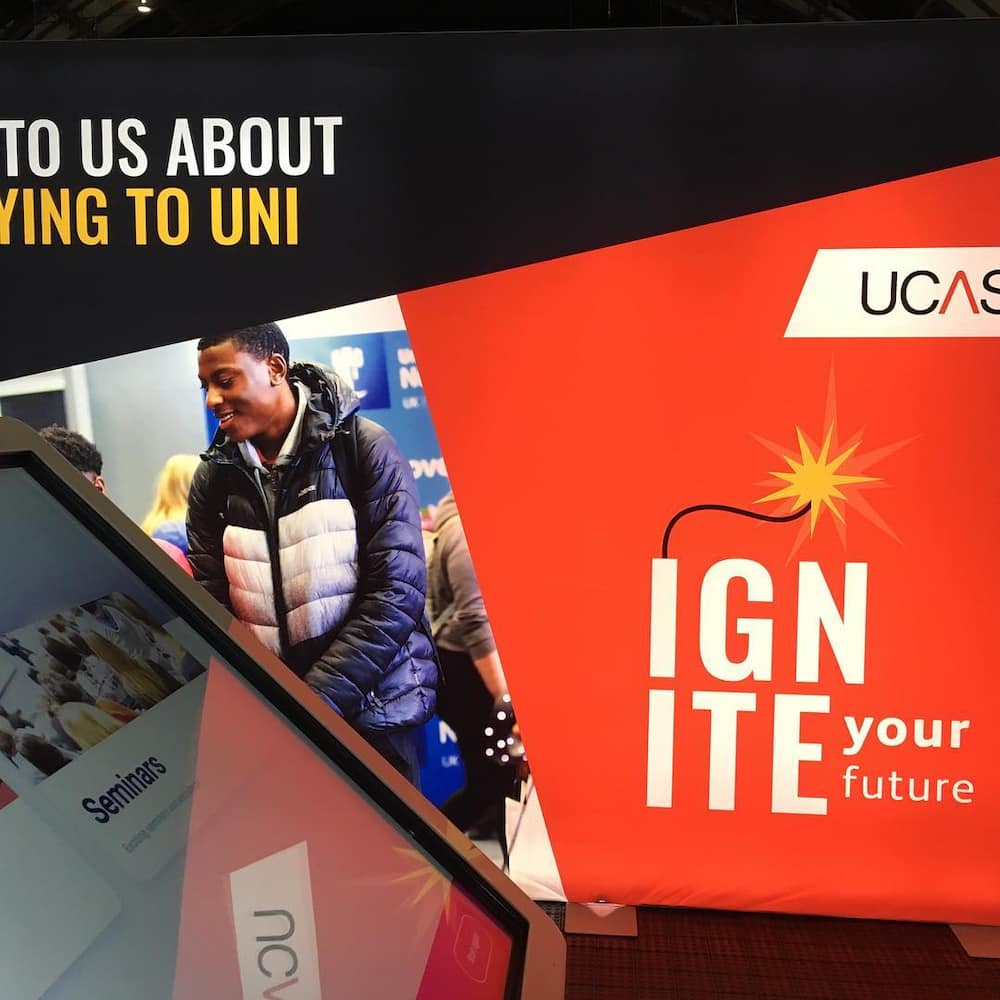 READ ALSO: 5 Incredible stories from abroad that had South Africans proud
UCAS login
In order to submit your application, you have to register on the UCAS website. Here, you will be required to fill in your personal details, including:
Your current qualifications
National identity
Ethnic origin
Employment
Criminal history
Student financial arrangements
If you have any disability, you will be required to declare them at this point.
Personal statement
After successful registration and login, you will submit your personal statement. This will be an opportunity to really sell yourself. You should express your interest in higher education, your passion for the course you have chosen to apply for as well as stating your achievements.
The statement is limited to 4,000 characters, which includes spaces. This is the equivalent of 47 lines, with 94 characters on each line. This happens to be the most important part of the application process so make sure you give it your best shot.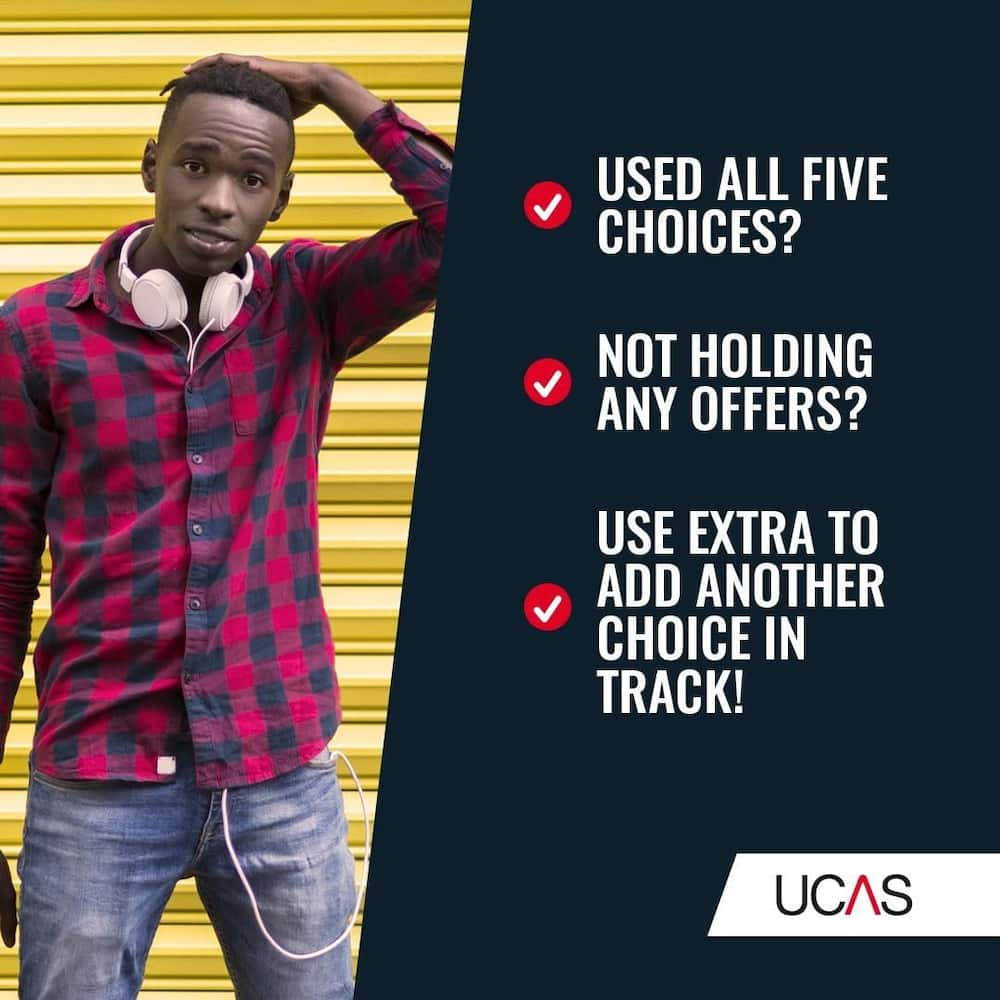 University choices and application fees
After the statement, you will have the opportunity to choose up to five courses in different universities. You will then proceed to pay an application fee. The current fee per student is £20 for one course and £25 for a minimum of two or more courses.
After payment, you will receive a reference. Afterward, your application will be forwarded to the respective universities by UCAS. The universities then assess your application, and it is solely up to them to decide whether they will offer you a position in the course applied to.
The university may offer an unconditional offer where you receive a place regardless of qualifications or a conditional offer, which will be based on your academic qualifications and grades. The universities also reserve the right to withdraw your application prior to the interviews due to various reasons, such as your failure to reply to emails in a timely manner, so do your best.
Application deadlines
As is the case for most universities, there are several deadlines for your application to be submitted. This depends on the course you wish to pursue as well as the university you wish to be admitted to.
The deadlines are as follows:
October 15th - Students applying for an undergraduate in medicine, dentistry, and veterinary science courses. Those young people who apply to the universities of Oxford and Cambridge are also required to submit their applications by the 15th of October in the year prior to the one they wish to commence their studies.
January 15th -The majority of the UCAS applications must be submitted by this date in the year the student wishes to commence his/her studies.
March 24th - Various art and design courses submit late, giving the applicants time to complete their portfolios.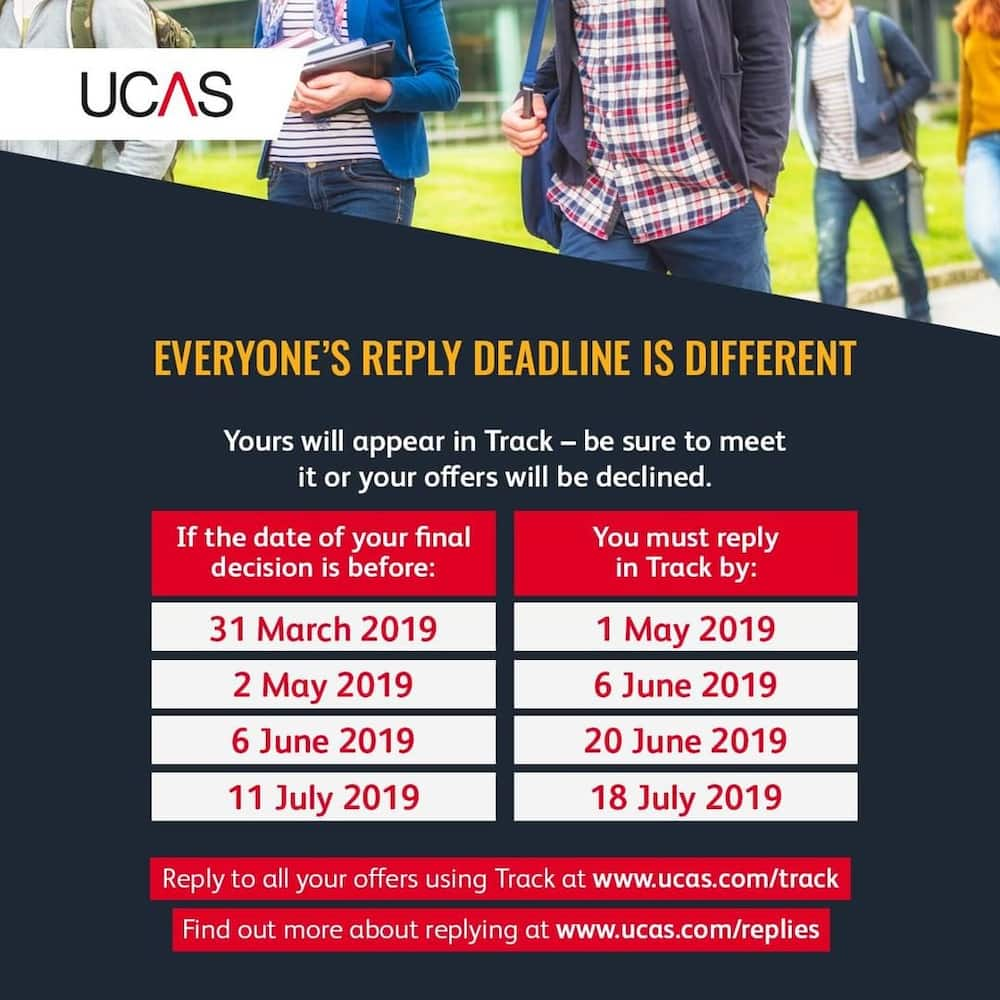 Students can submit until the 30th of June yearly. However, these late submissions may not be handed the same levels of consideration as those submitted earlier. All applications received after 30th June are forwarded directly to UCAS clearing.
READ ALSO: Top universities in South Africa 2019 - 2020
Offers
Once all universities have assessed your application, your offer will be made available to you via UCAS Track service. Here is where you will find out if you have been accepted to pursue the course on a conditional or unconditional basis. Students can also be informed that they have not been accepted to any university.
Via UCAS Track you will be required to choose a Firm Choice and an Insurance Choice. Your firm choice is the university you will get into on an unconditional offer once the grades are acceptable. The insurance choice is the university you will get into in case your grades fail to meet the firm choice's requirements.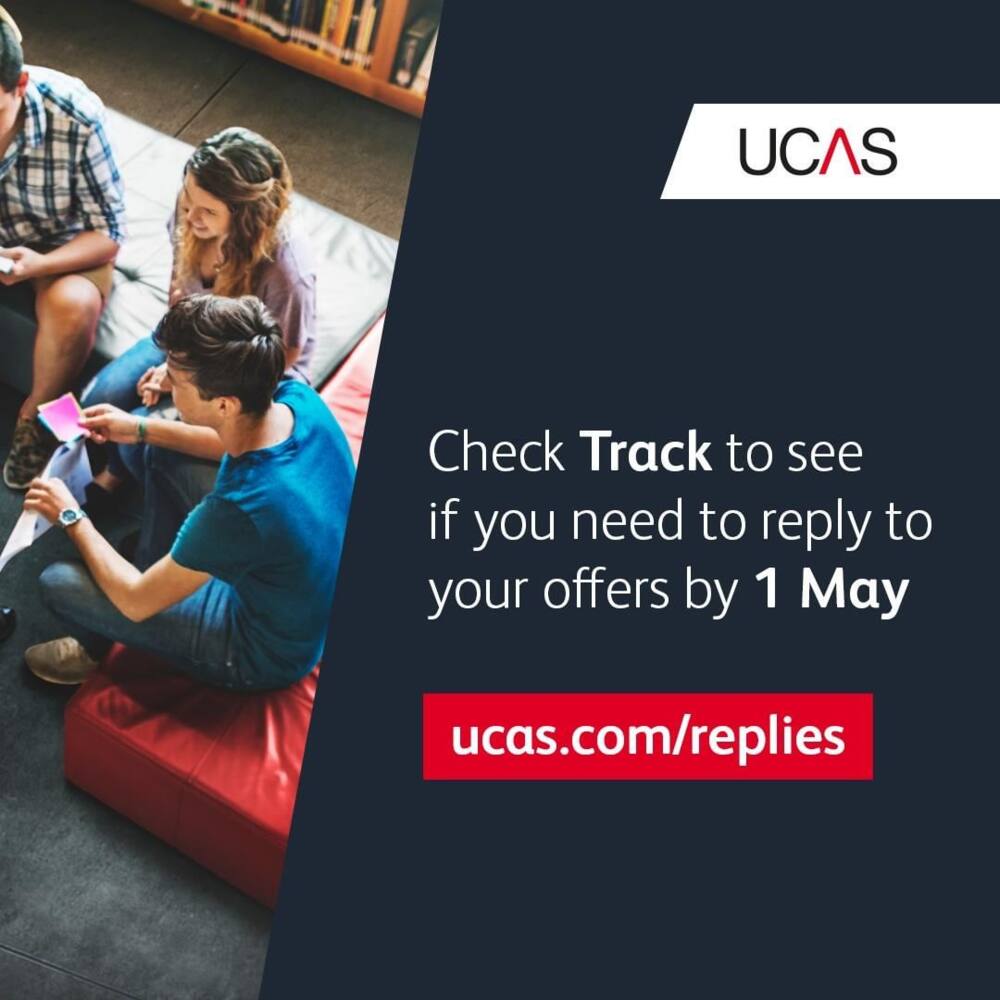 UCAS Extra
When you fail to be offered a place in all your five choices or decide to decline them all, you can apply to other universities via UCAS Extra until you receive an offer that suits you.
UCAS postgraduate
UCAS is also an admissions service for postgraduate studies and courses. The application process is similar to that of the undergraduate application outlined above.
Take a chance and apply to a university in the United Kingdom for your undergraduate degree or postgraduate studies. Explore and learn more in different environments. We wish you all the best as you embark on this journey to grasp opportunities that lie beyond the horizon.
READ MORE:
Halala: 2 South Africans awarded opportunity to study medicine abroad
Source: Briefly News