- 33-year-old Sebastian Kurz has formed a significant coalition between the People's Party and the Greens in Austria
- The coalition also helped secure the Chancellory for Kurz
- The main focus of the coalition is to make the country climate neutral by the year 2040, a move some have called expensive
PAY ATTENTION: Click "See First" under the "Following" tab to see Briefly.co.za News on your News Feed!
New Austria's chancellor, Sebastian Kurz, has formed a coalition government between two political parties in his country.
Kurz was sworn in by President Alexander Van der Bellen after the coalition agreement became official and named Kurz the leader of the new Austrian government.
Bloomberg reports that the agreement between Kurz' People's Party and the Greens will aim to tackle climate change and Austria's role in it.
With the coalition, there will be a smooth combination between Kurz's passion for migration and deficits, and the Green's party leader, Werner Kogler's interest in climate change.
Gernor Bluemel, Kurz's finance minister, and Kogler's "super minister", Leonore Gewessler, will work on how to reposition the country's economy, reduce tax burdens and fix climate by 2040.
READ ALSO: Devastated man finds out he's not child's father via WhatsApp
Inga Fechner, a well-known economist, has said that fixing taxes and achieving climate neutrality by the said time would be very expensive.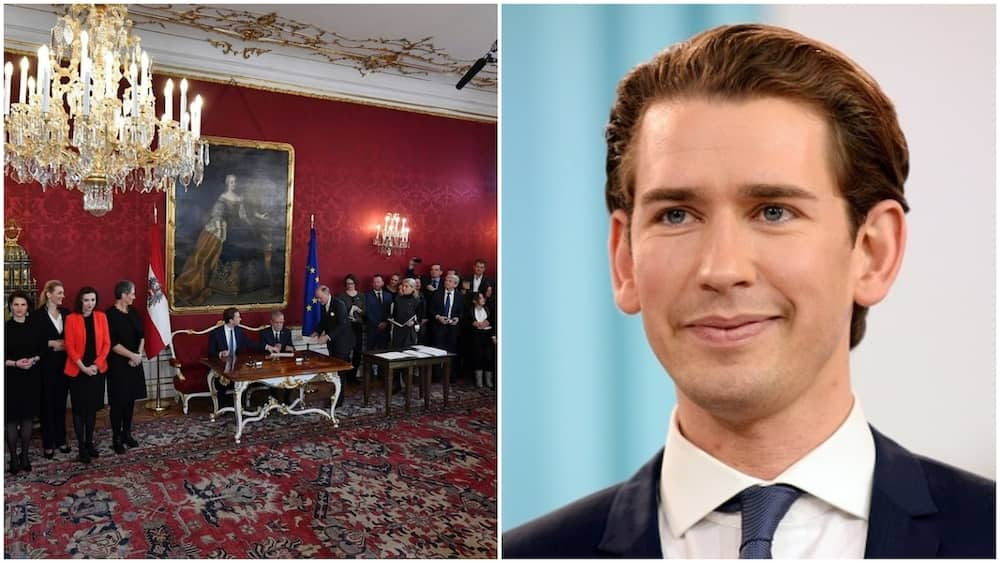 "Reducing the tax burden or reaching climate neutrality by 2040 are costly plans. The budgeting of the government's plans is not yet entirely clear," he said.
It should be noted that the new coalition has been reported as a big change from Kurz's former merger with Freedom Party. With the new government, the executive will be made up of seven men and eight women.
The country's new coalition could be seen as a promising example for politicians wanting to stabilise their government by conquering the threat of "right-wing" populism.
READ ALSO: Fact Check: 'Cyril' tells Donald Trump SA will send troops to Iran
Meanwhile, the world's youngest prime minister, Sanna Marin of Finland will be introducing a four-day working week and six-hour workdays.
The young prime minister's massive reform would allow workers to spend more time with family and enjoy their lives, culture and hobbies.
"People deserve to spend more time with their families, loved ones, hobbies and other aspects of life, such as culture. This could be the next step for us in working life," the prime minister said.
Enjoyed reading our story? Download BRIEFLY's news app on Google Play now and stay up-to-date with major South African news!