50+ cute short haircuts for women 2020
Are you looking for the best ideas on hairstyles for short hair? Well, you are in luck because today, we have gathered over 50 short hairstyles to inspire you. We also have different dye ideas, curls and so forth for all hair types and face shapes. Continue reading this article on short haircuts to see what we have in store for you!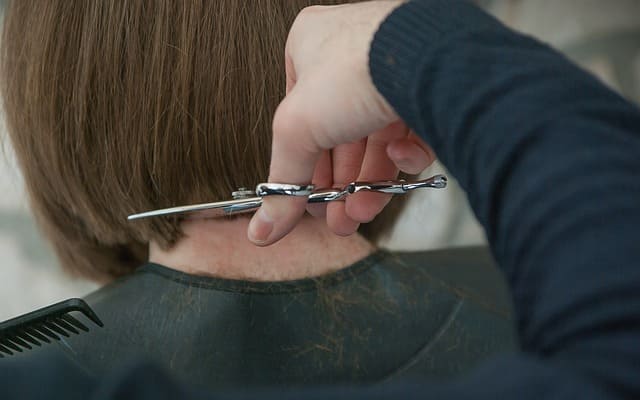 With the new year upon us, some of you may have decided to go through the big chop and start your short hair journey all over again. If so, we have the best inspirations in this photo gallery article of short haircuts.
Before going on, you need to be aware of the factors that should go into making your decision. The main ones include:
Face shape - oval, round, square, heart, diamond, long.
Hair texture - divided from Type 1 to Type 4, where Type 1 is straight and Type 4 is curly or kinky. The types are further divided from class A to C e.g. 1A is completely straight and fine hair while 4C has very tight and kinky curls.
It is best to speak with your hairdresser before choosing a style to go with. You should also know how to look out for your hair. Read on to see the ones we have for you.
Short haircuts for women
1. A good fade
We are going to start with black hair. First, we have a fade with curls and some patterns added.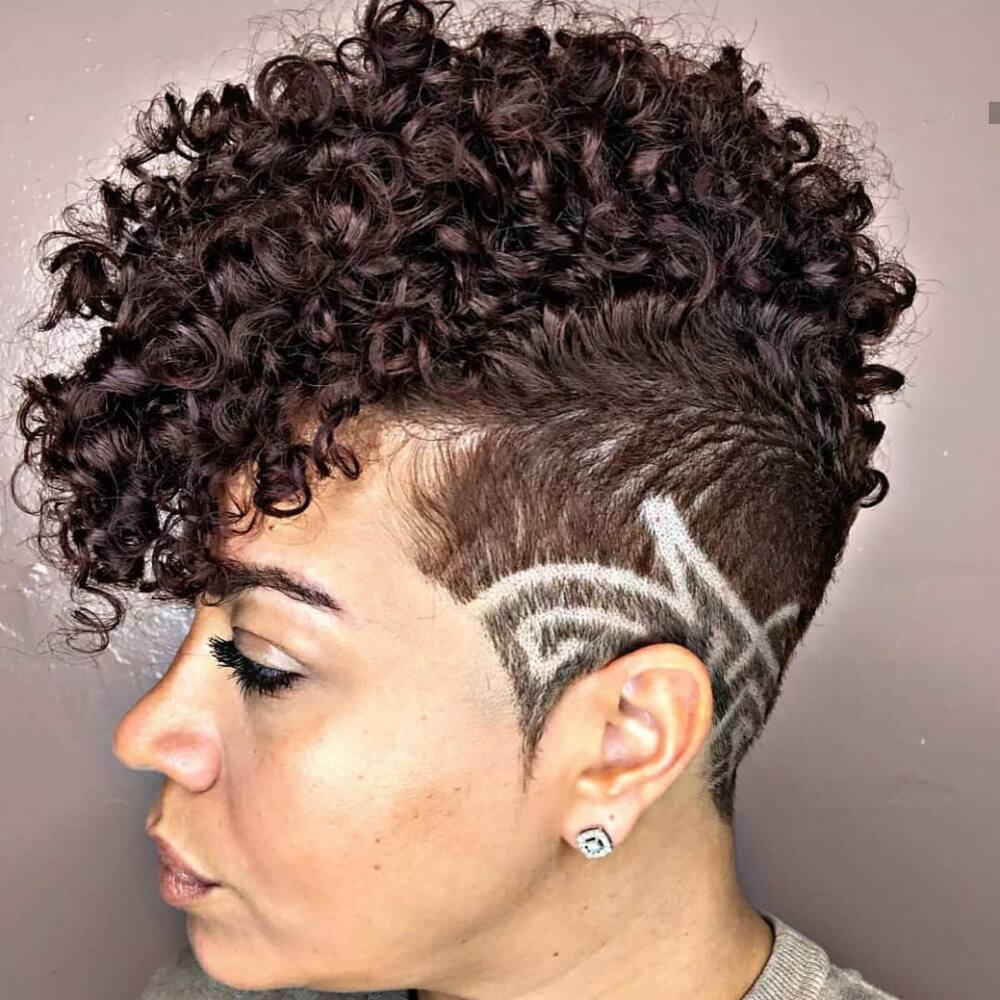 2. Combining curls with dye
The second style is blonde-dyed curls.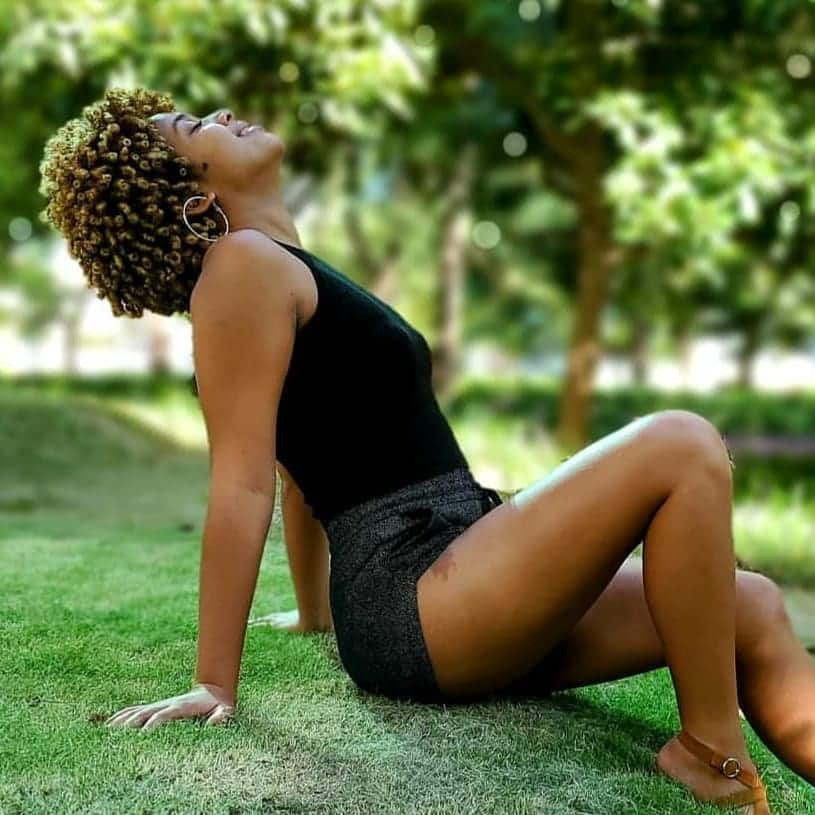 3. Always look out for your edges
Here we have some curls with blonde highlights.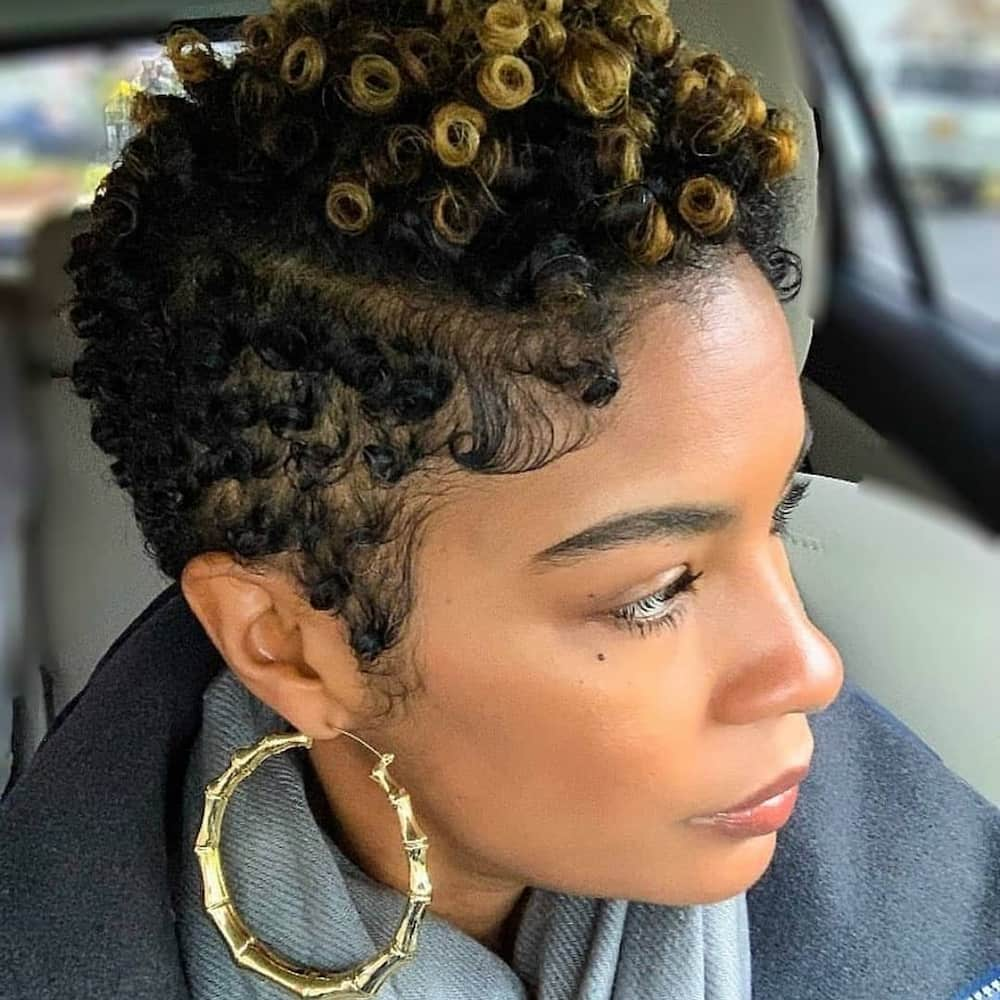 4. Accessorize more
Here we have some blonde curls with an added flower accessory.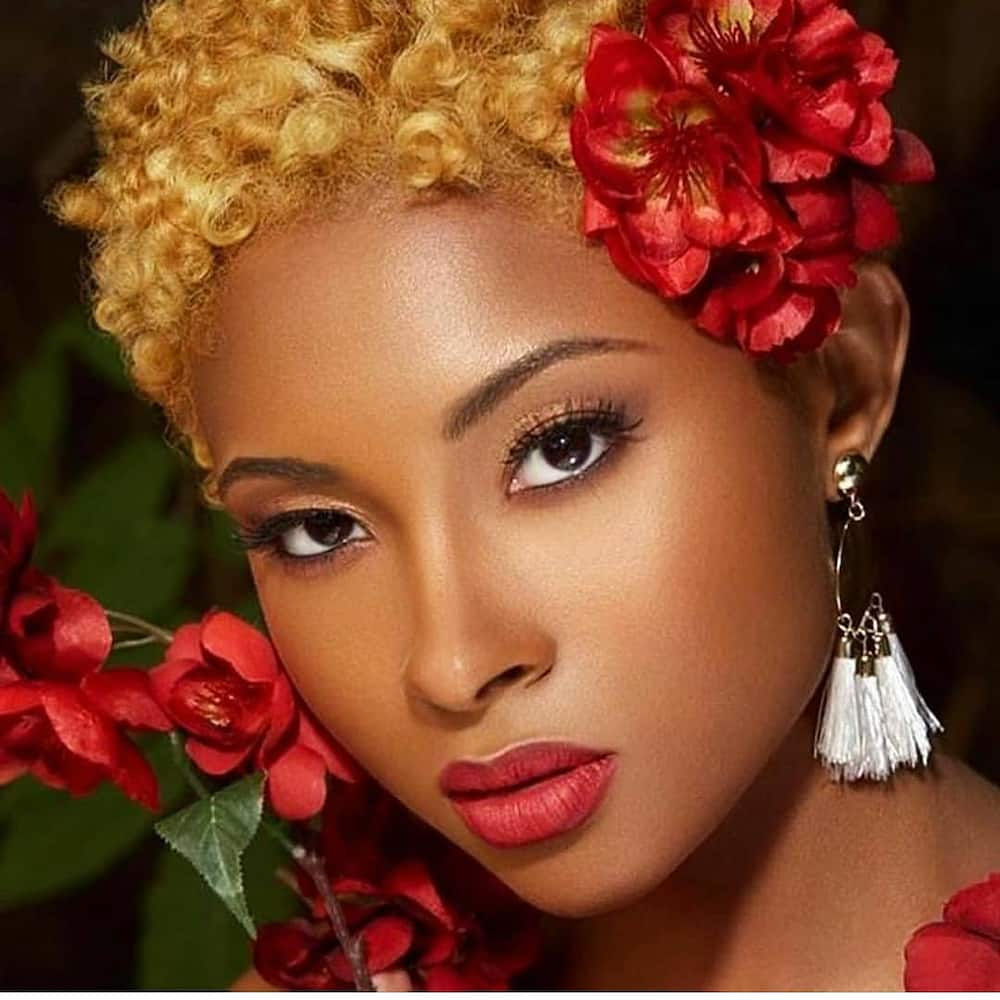 5. Try some bouncy curls
This is a great style for hair that has grown a bit for some time or if you do not want to trim too much.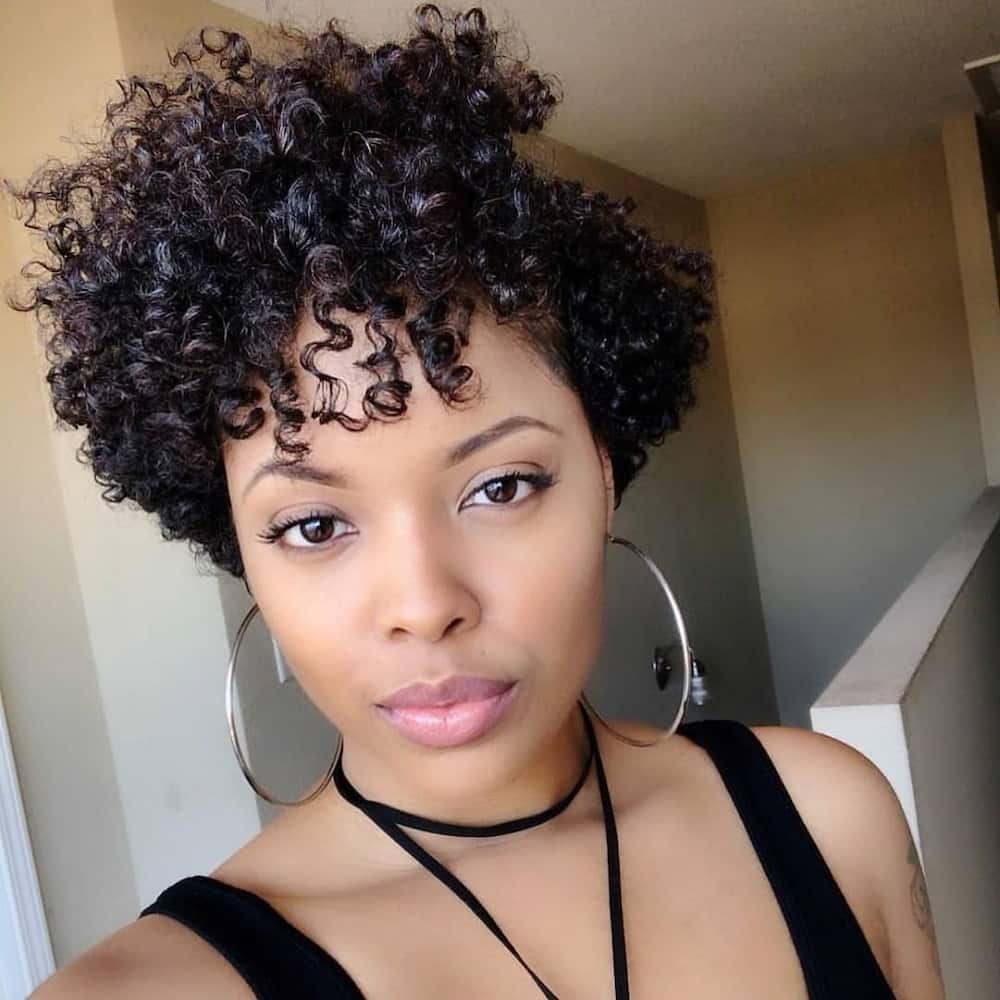 6. Bouncy curls for round-faced women
This is similar to the above style.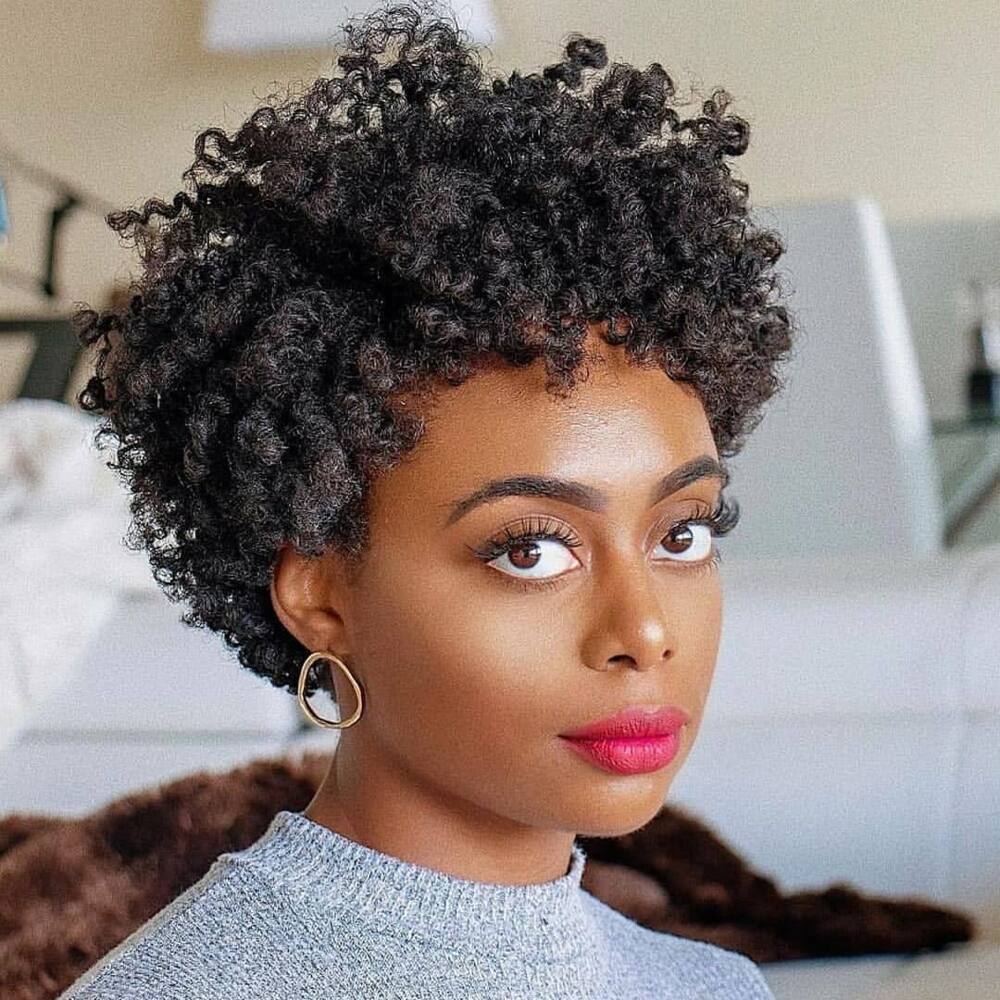 7. Try a high-top fade with uneven curls
This style adds great highlights to your hair.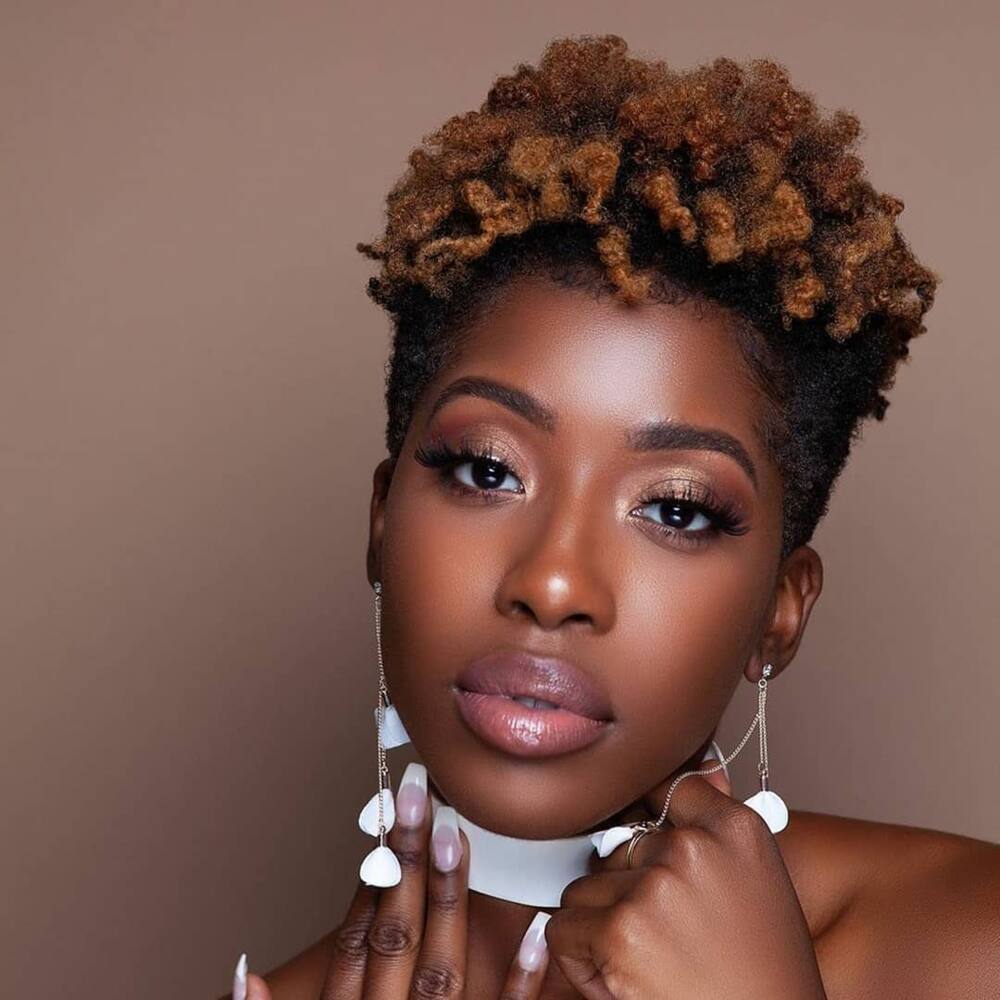 8. Get the techno look
Consider playing around with colours, such as purple.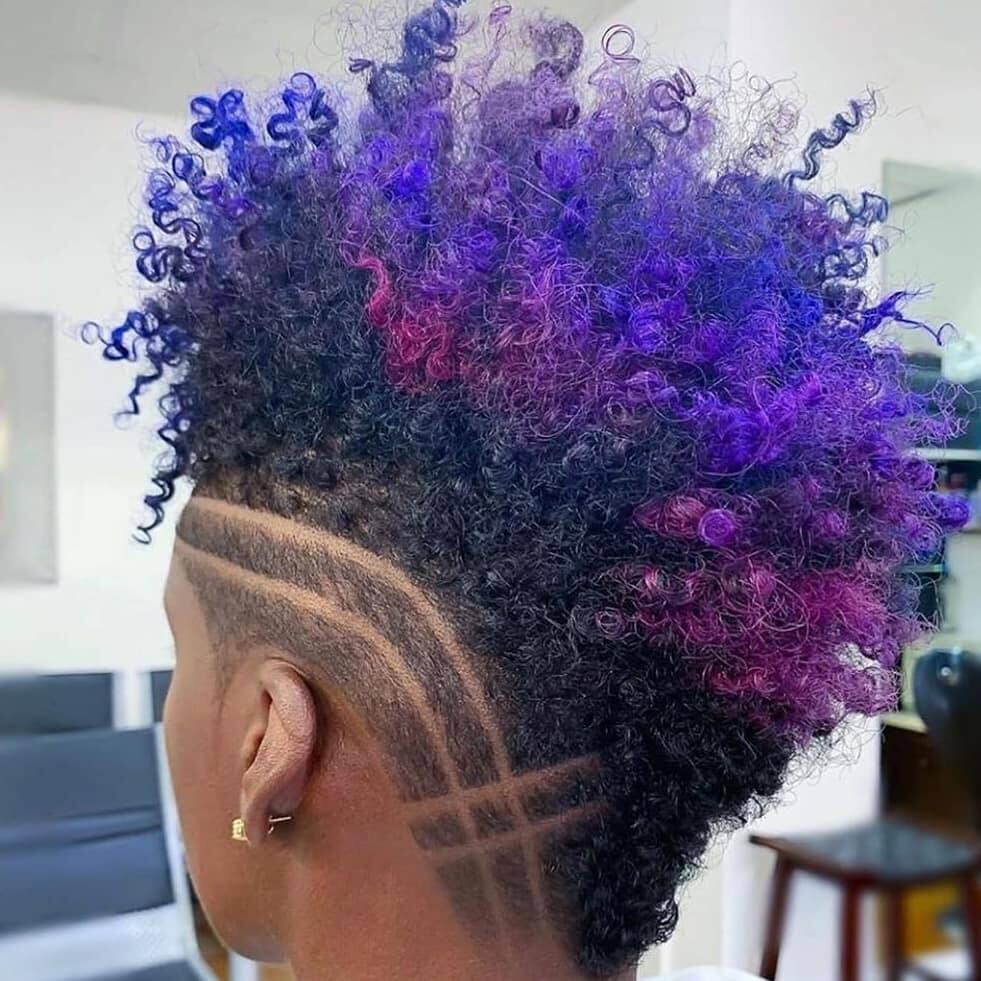 9. Use some products
For this style, you can try relaxing your hair and adding blonde dye.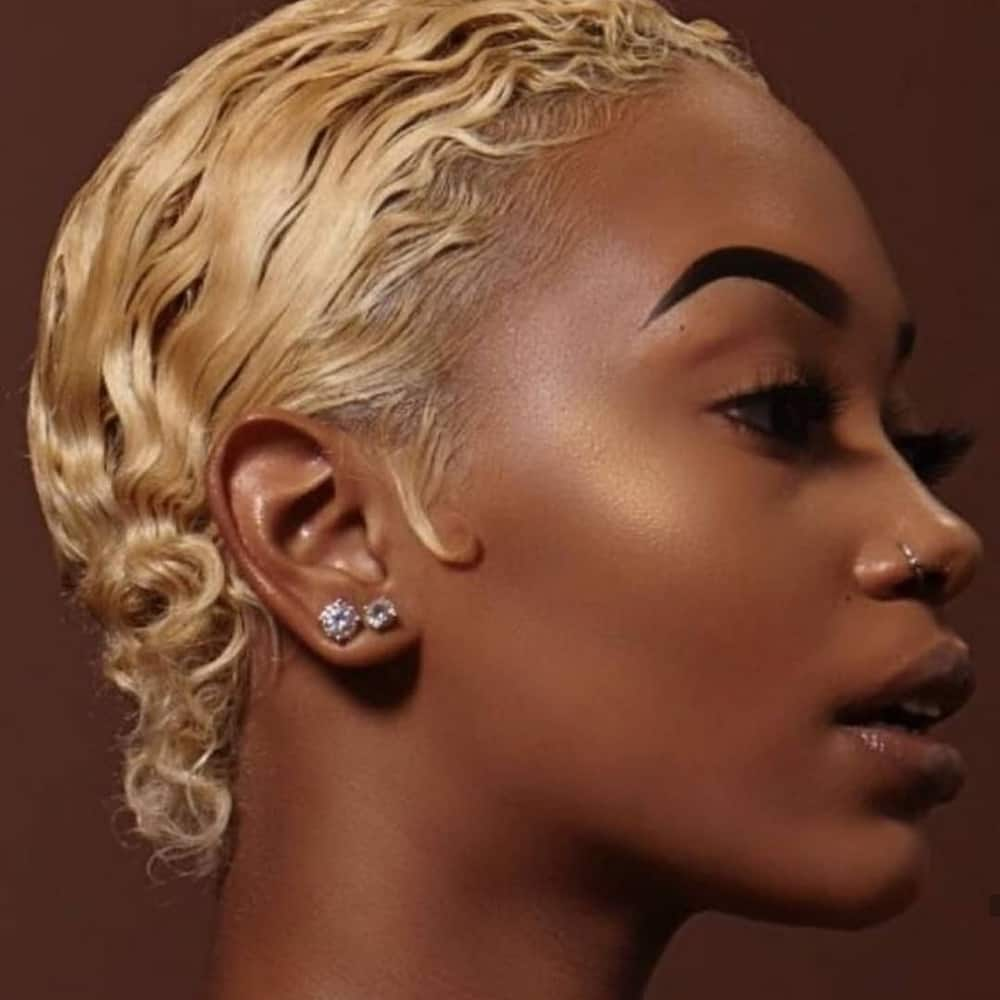 10. Natural short haircut
You can never go wrong with a mini-afro.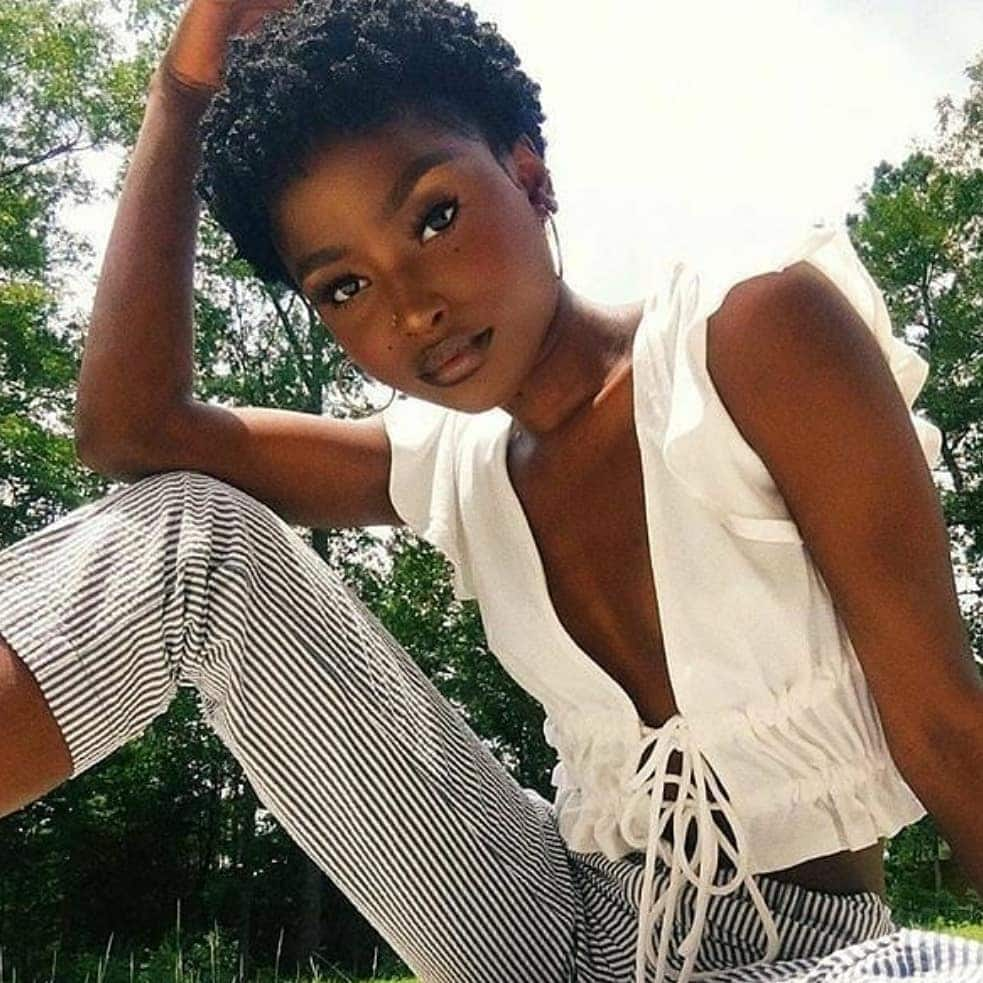 Pictures of short haircuts
11. A simple perm idea
This one requires a lot of products to pull off but the result is worth it as you can see.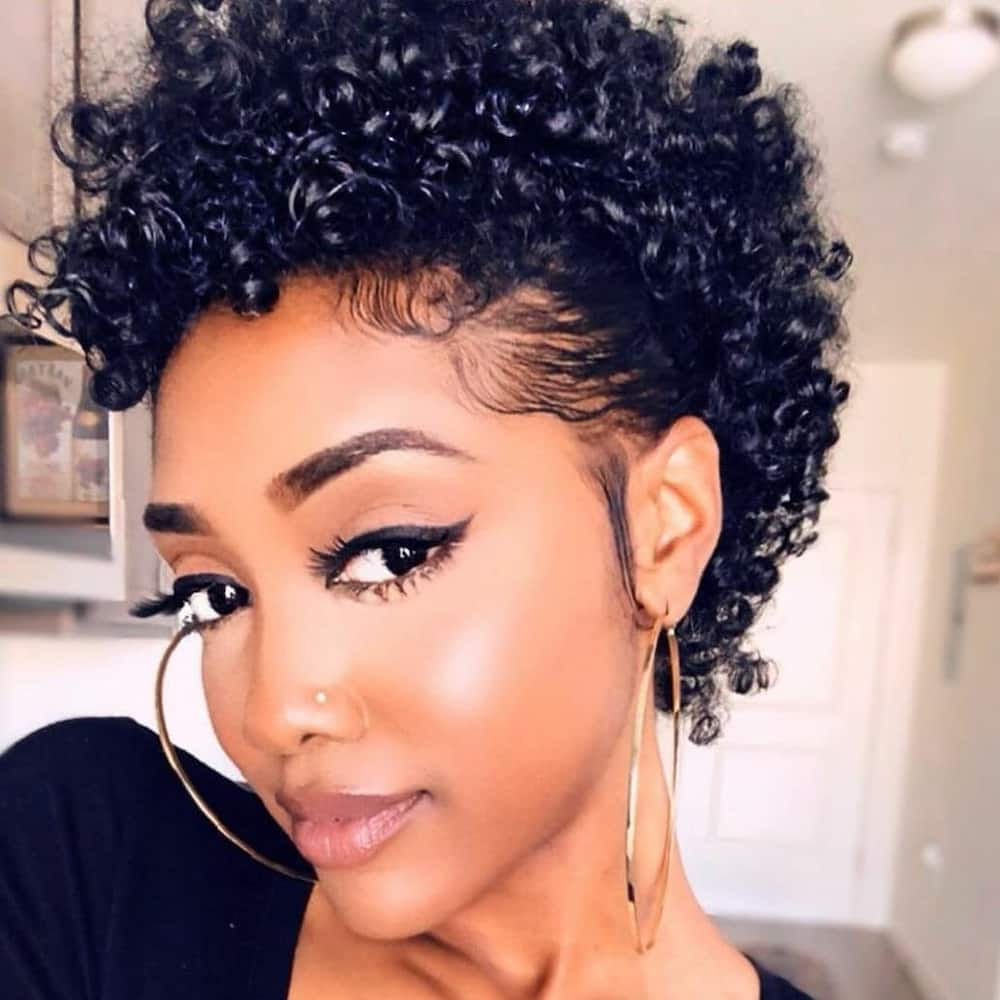 12. Use unique highlights to your advantage
Blonde and some patterns are a great combination.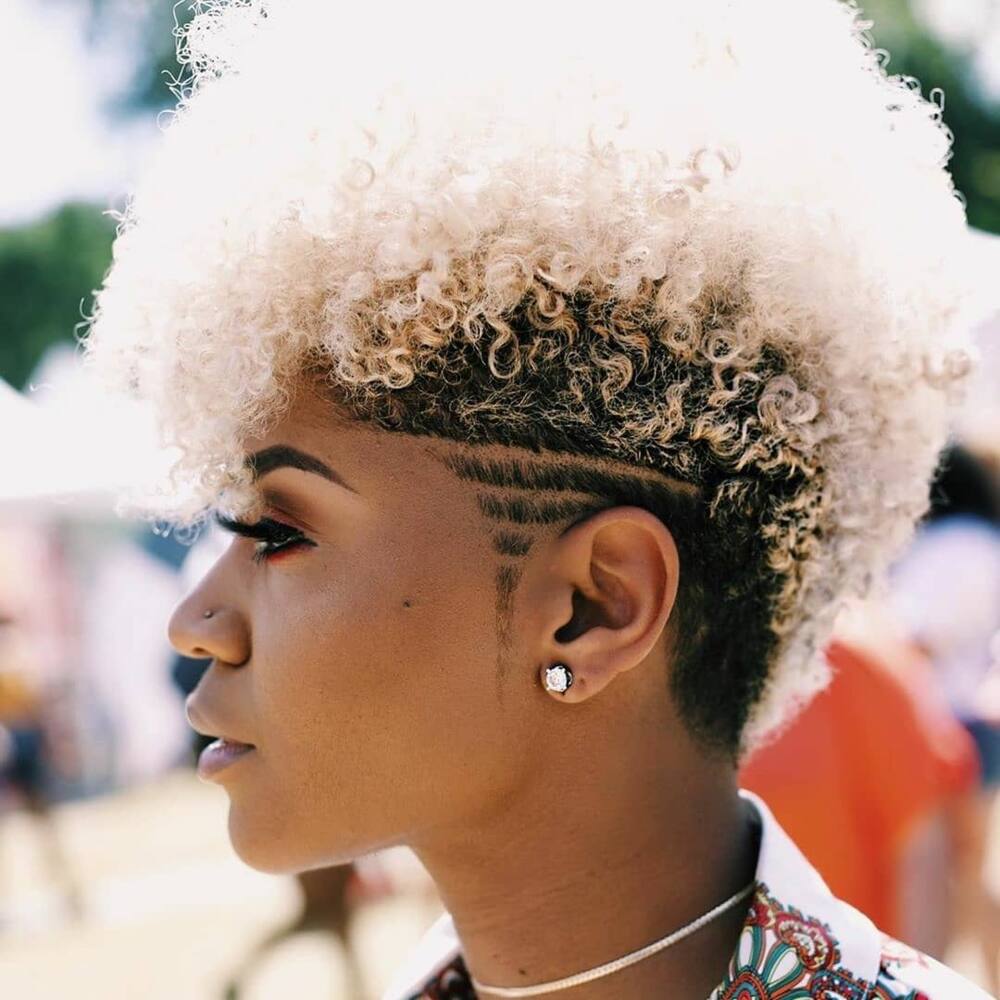 13. Afro sheen
This is a great style as well.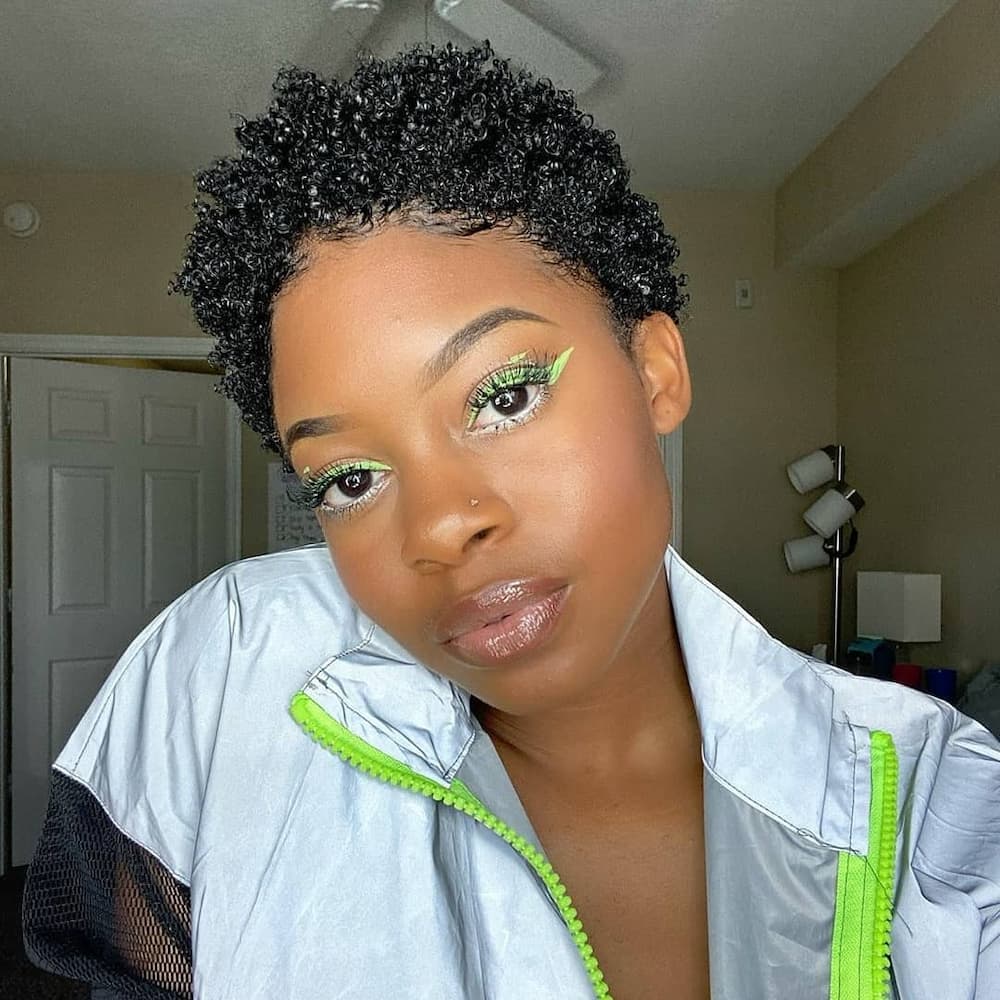 14. Bouncy curls with laid edges
This one demonstrates a great way to have your curls laid in order to complement the look.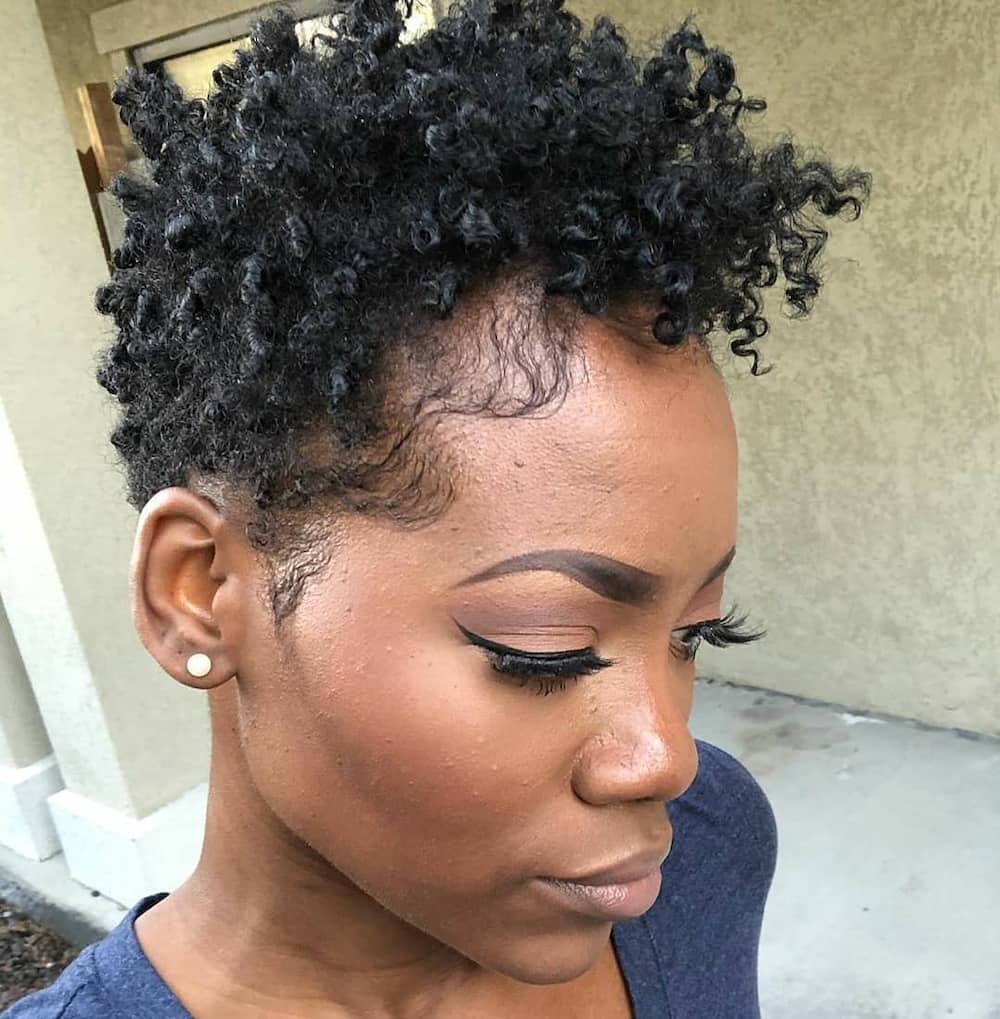 Short haircuts for black women
15. Blonde short cut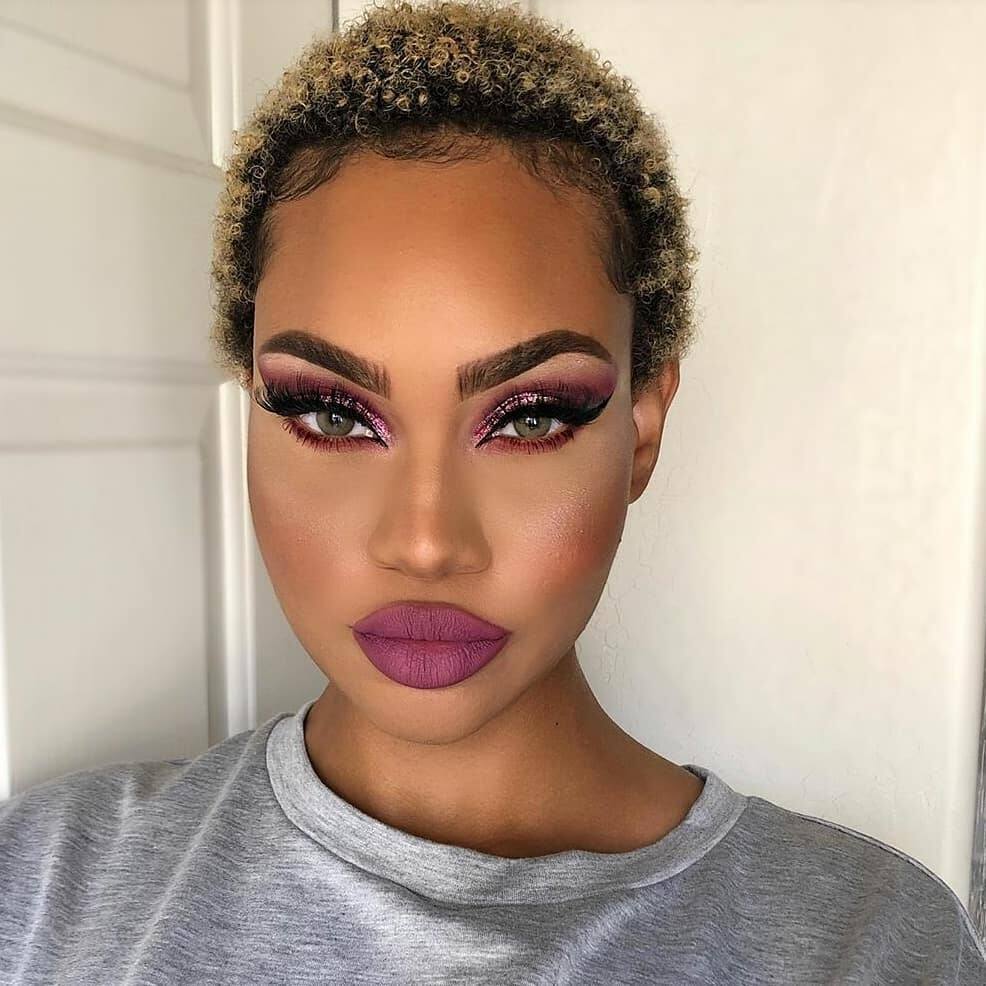 16. Patterns and colours
This style also invites you to play with some vibrant colours.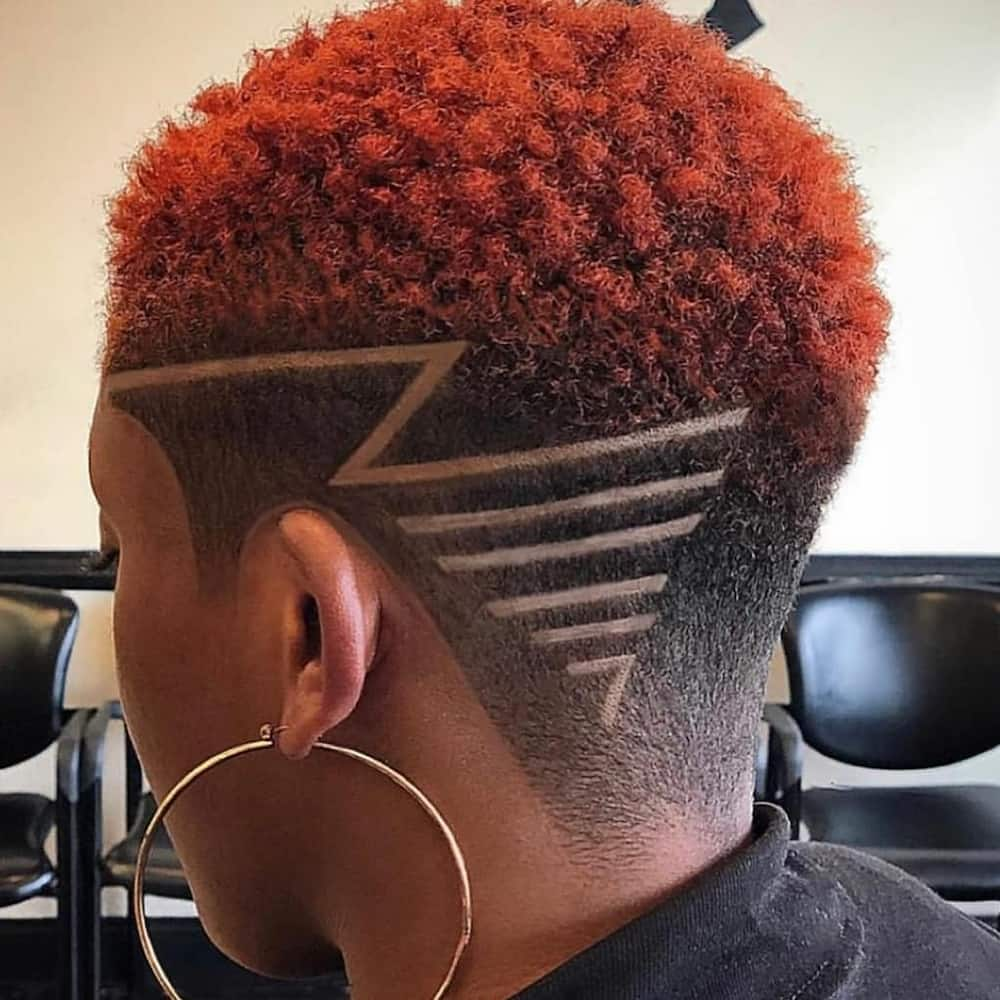 17. Complementary accessories
This hairstyle and colour go well with the accessory.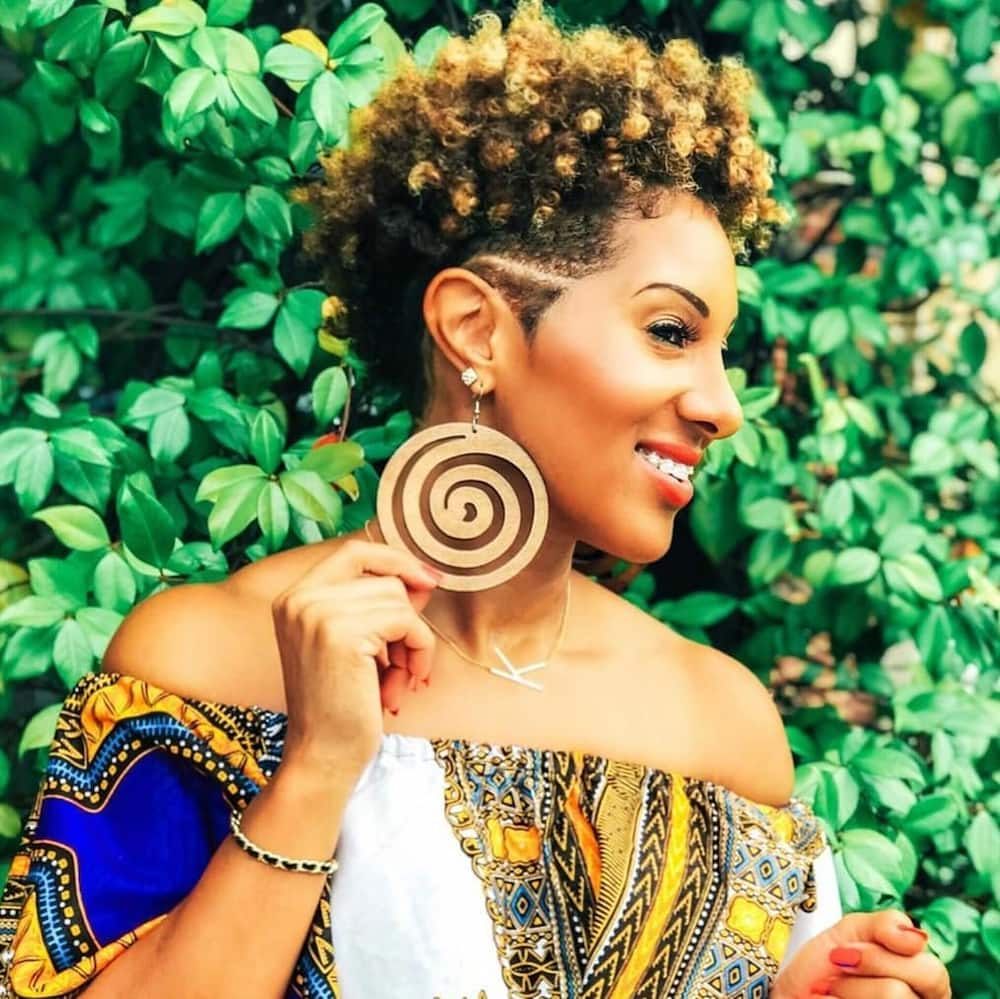 18. The mohawk
This style mimics a mohawk and puts a spin on it.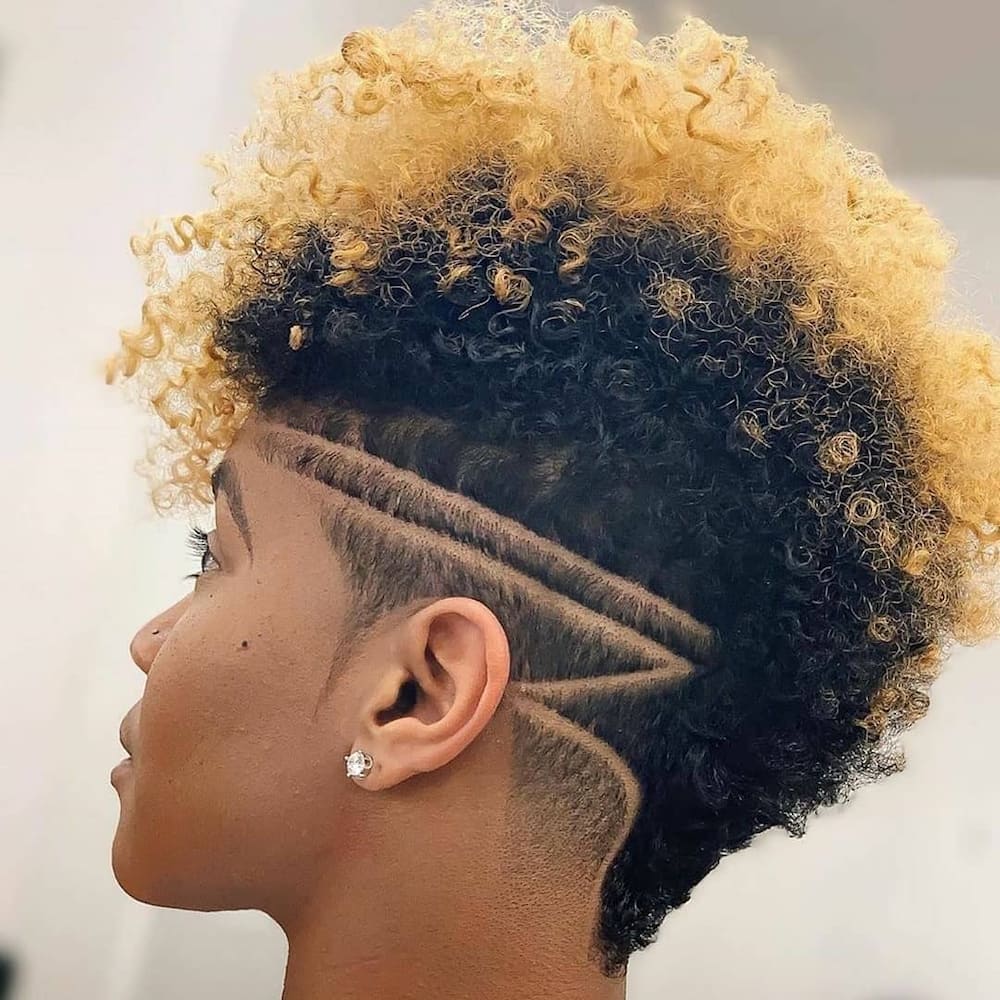 READ ALSO: 30 best African braids hairstyles 2020 (with pictures)
19. The flame look
This short style gives the appearance of fire and flames for the perfect hot look.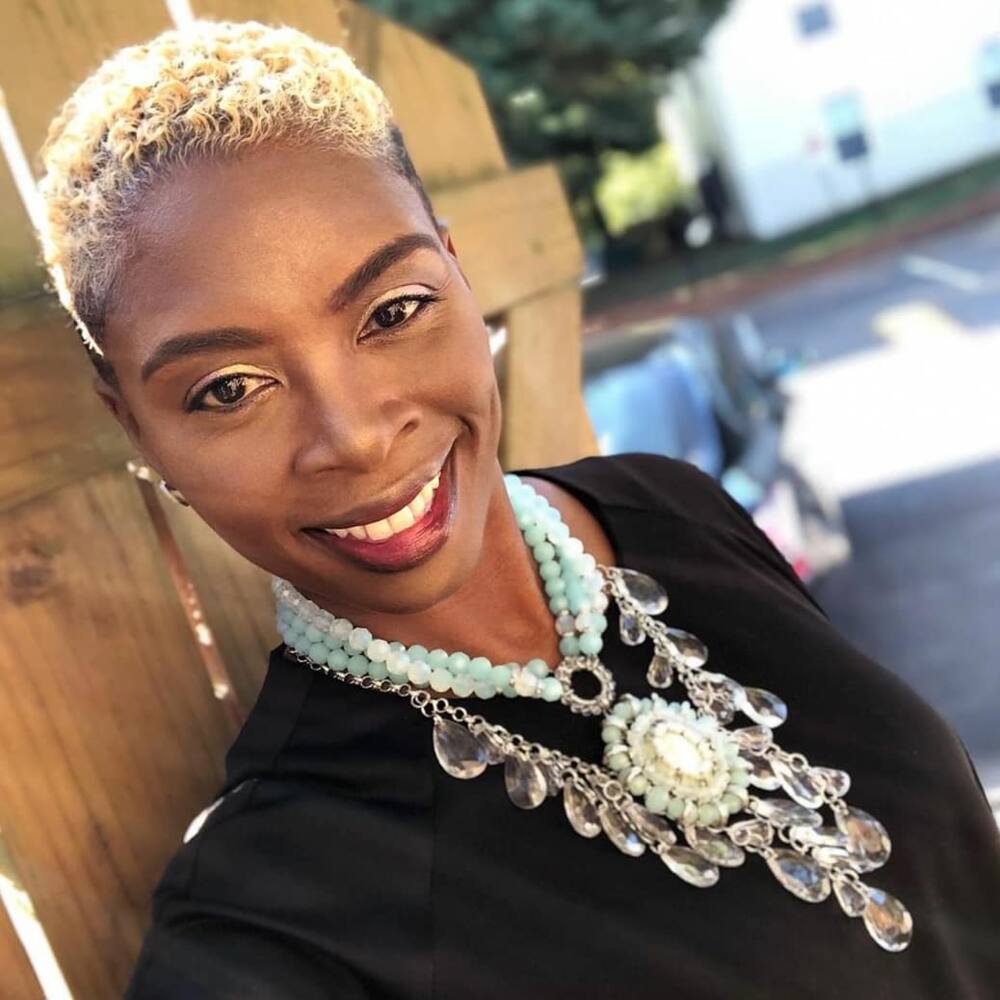 20. The chameleon
This collage shows that you can have different looks on the same length of hair.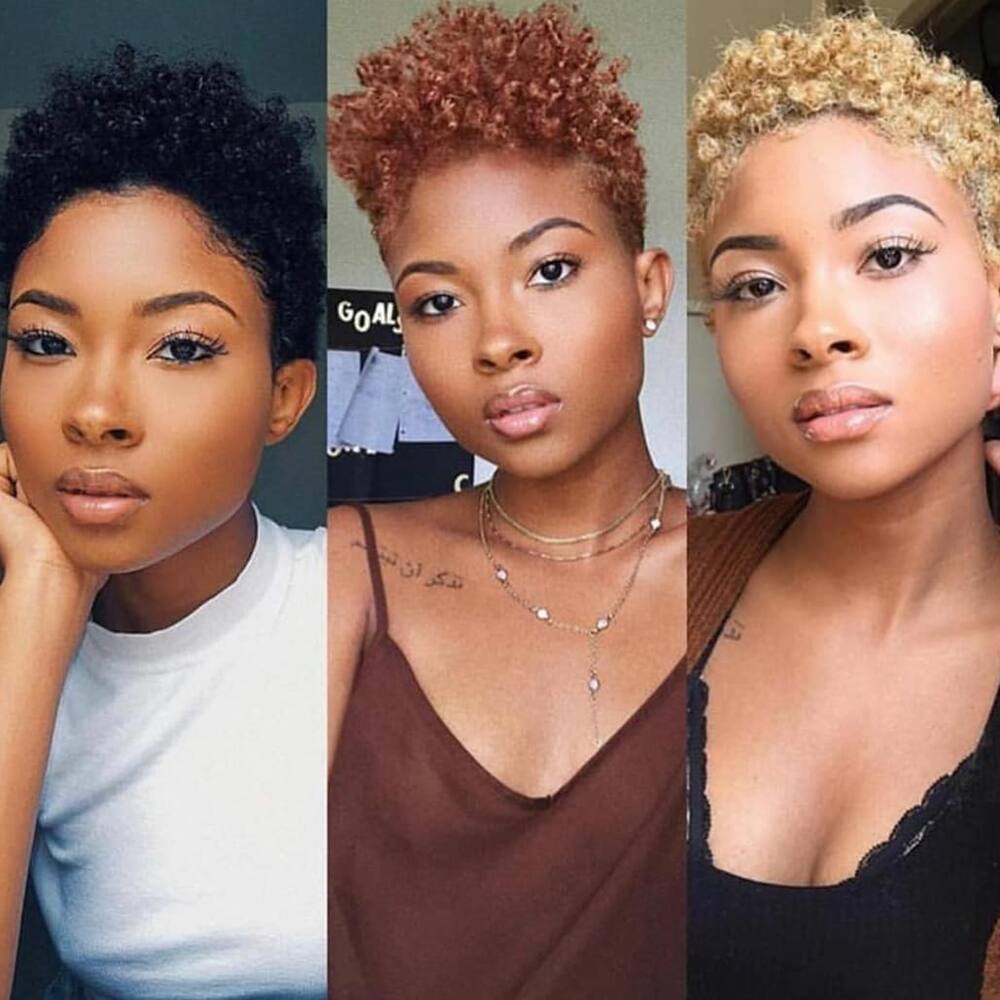 21. Radiance
This style combines a radiant colour and curls to achieve a great look.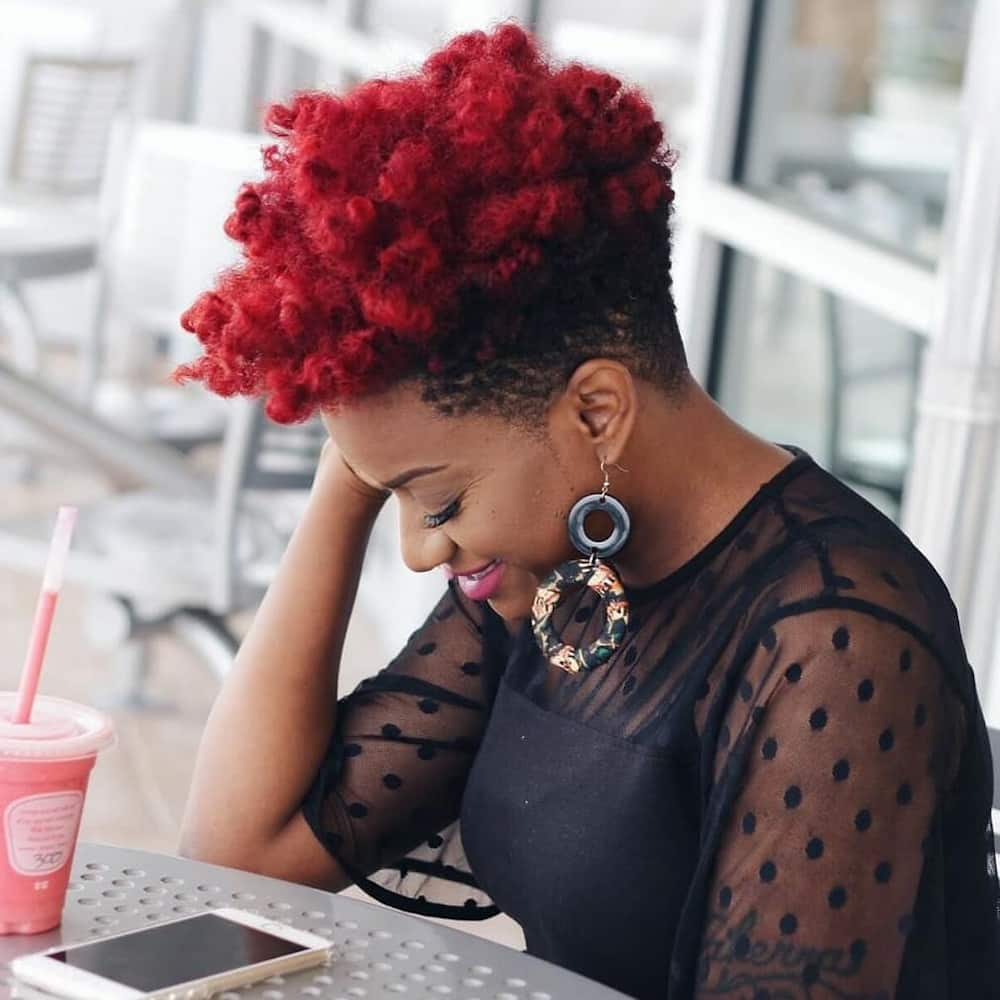 22. Dark brown
Sometimes the simplest colours have a great outcome.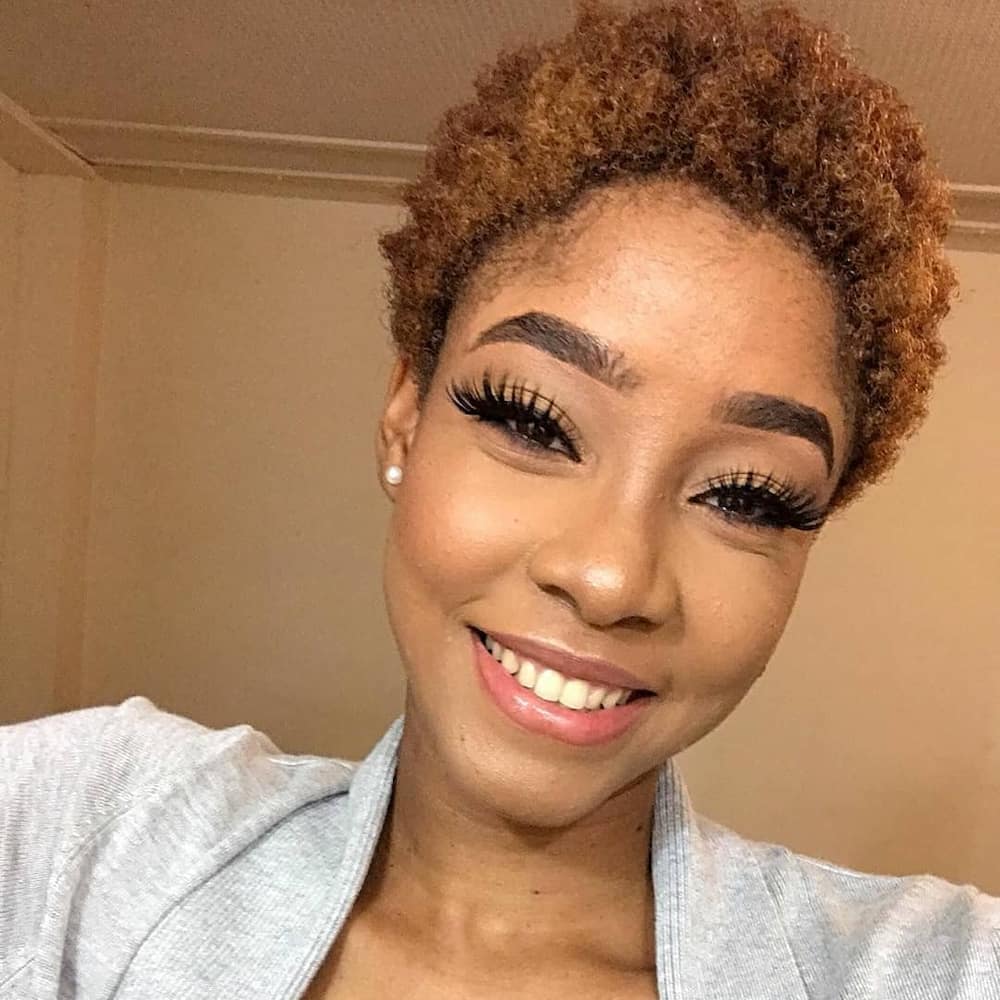 23. Another high-top fade
For this look, you do not have to cut the entirety of hair on the sides.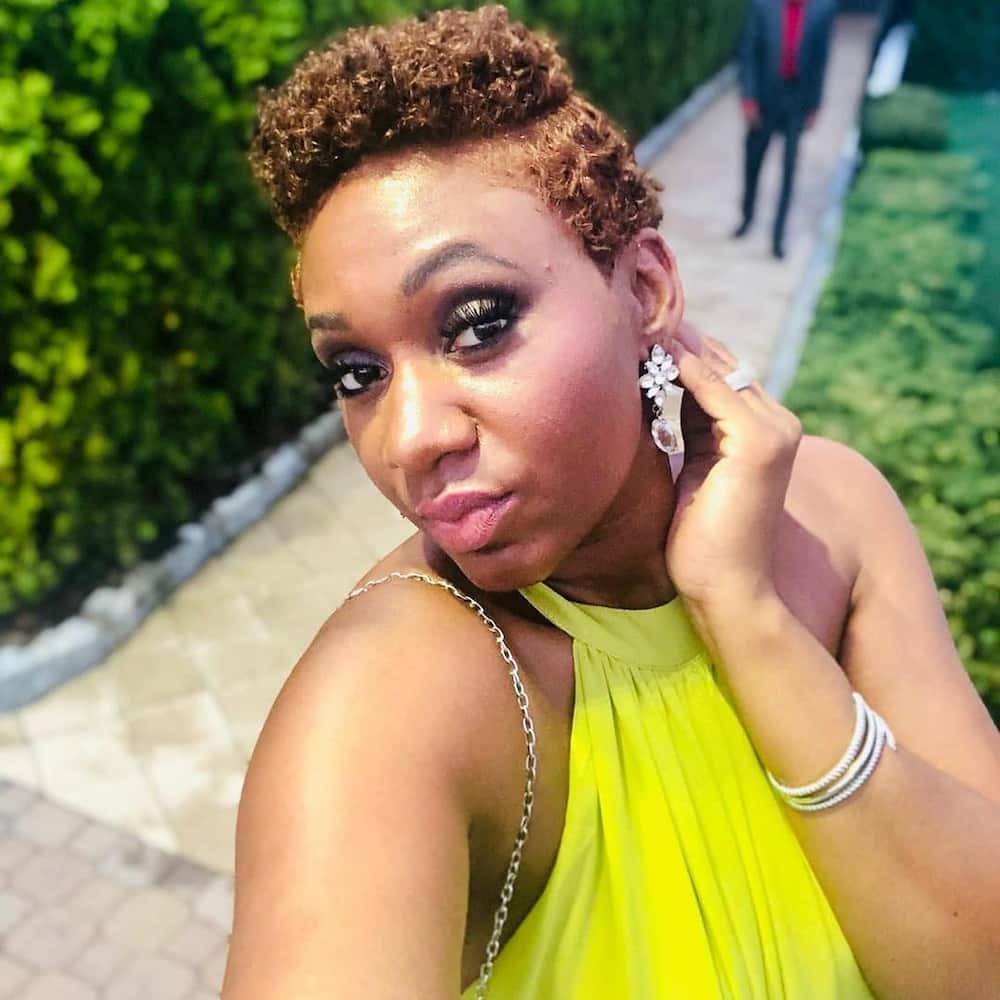 24. Arrows and colours
Again, we encourage you to play with different buzz-cut designs such as this downwards-pointing arrow.
25. The tight afro
This look is for those who want to restart their hair journey over, as it keeps the length even on all sides. If that is not your intention, it still works on its own.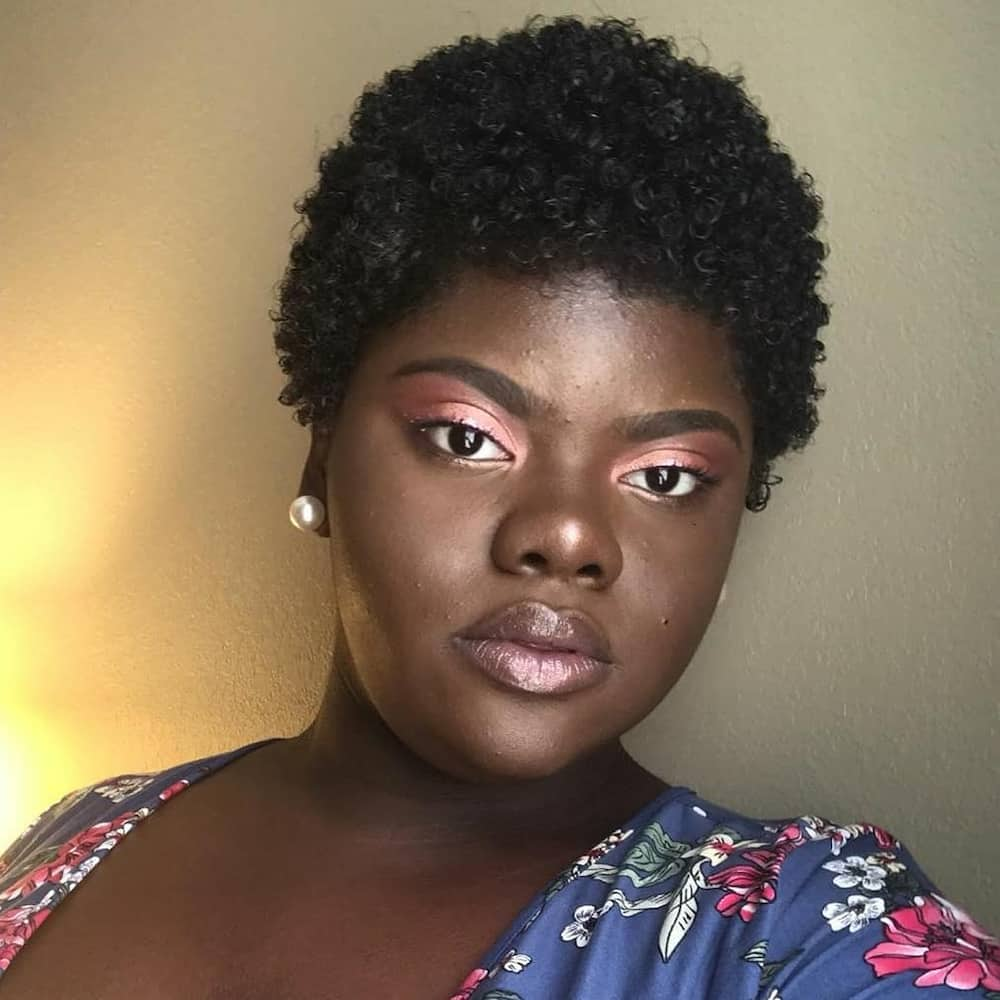 26. Tight dyed afro
This one is similar to the above one with a twist in its colour.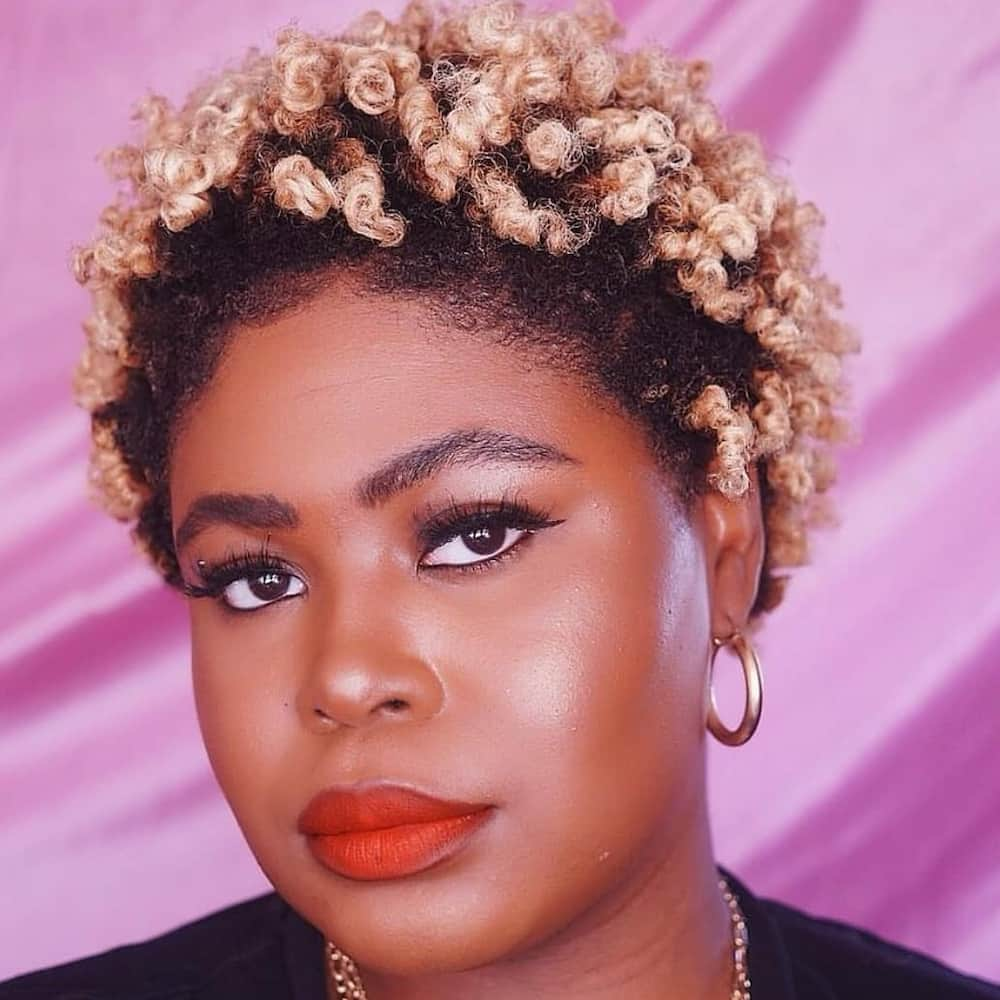 27. Use a bright hue to make a statement
This one combines a great vibrant color with a bold part to create a fantastic look.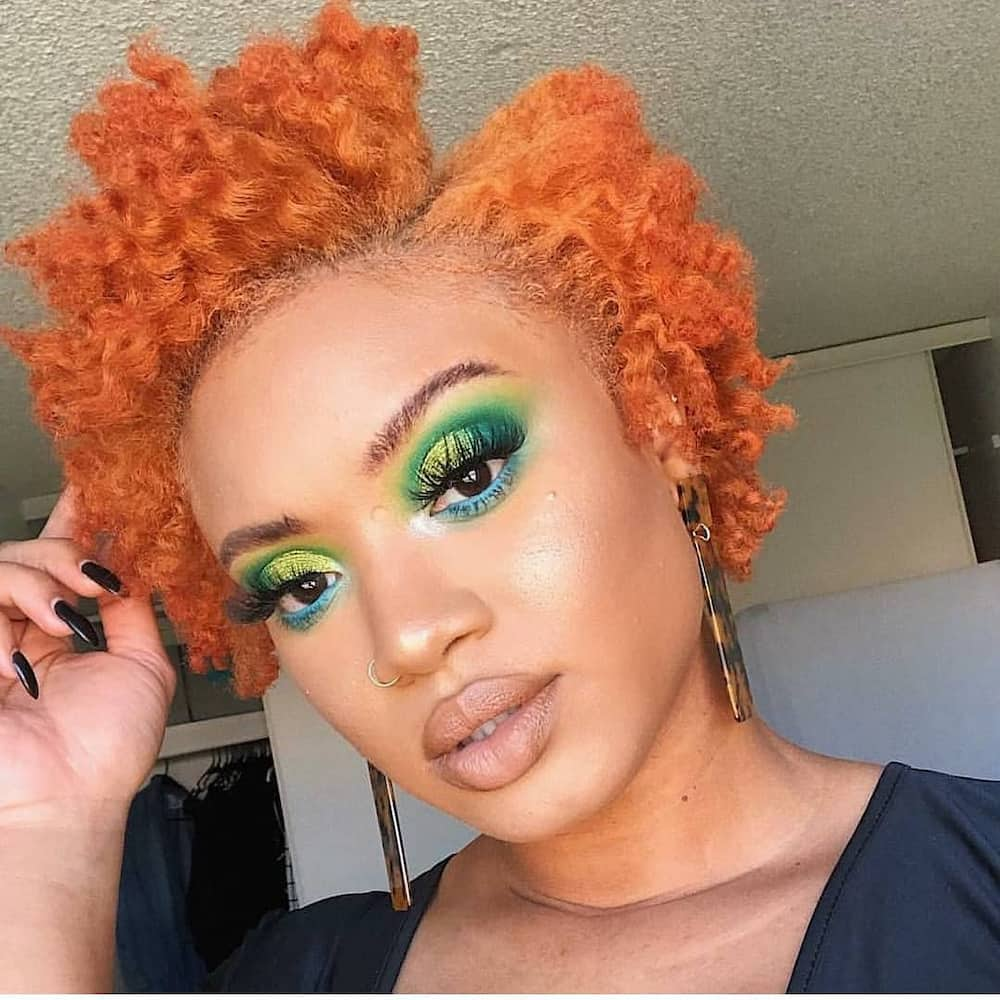 28. Tight curls
These tight curls go very well with the colour and definitely stand out.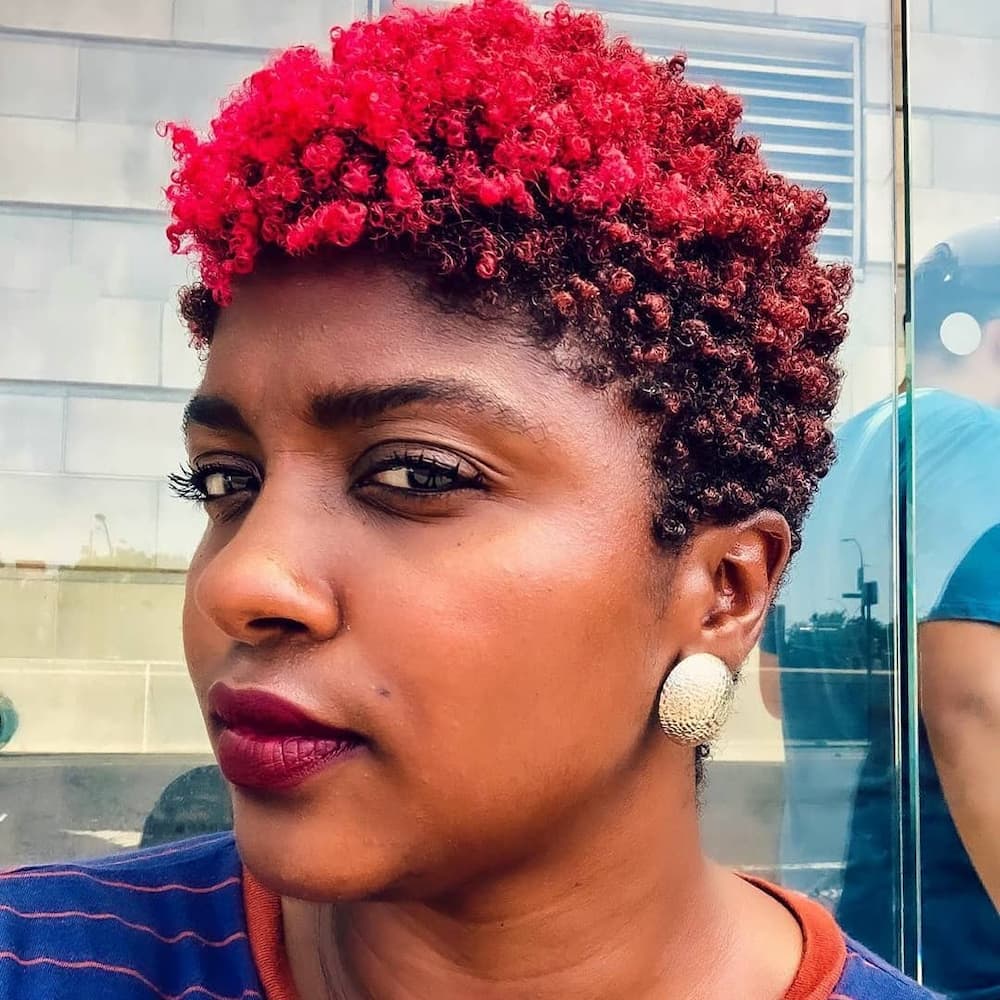 29. Smoky edges
Yes, the look of smoky is not only for eyebrows, as seen with the edges on this look.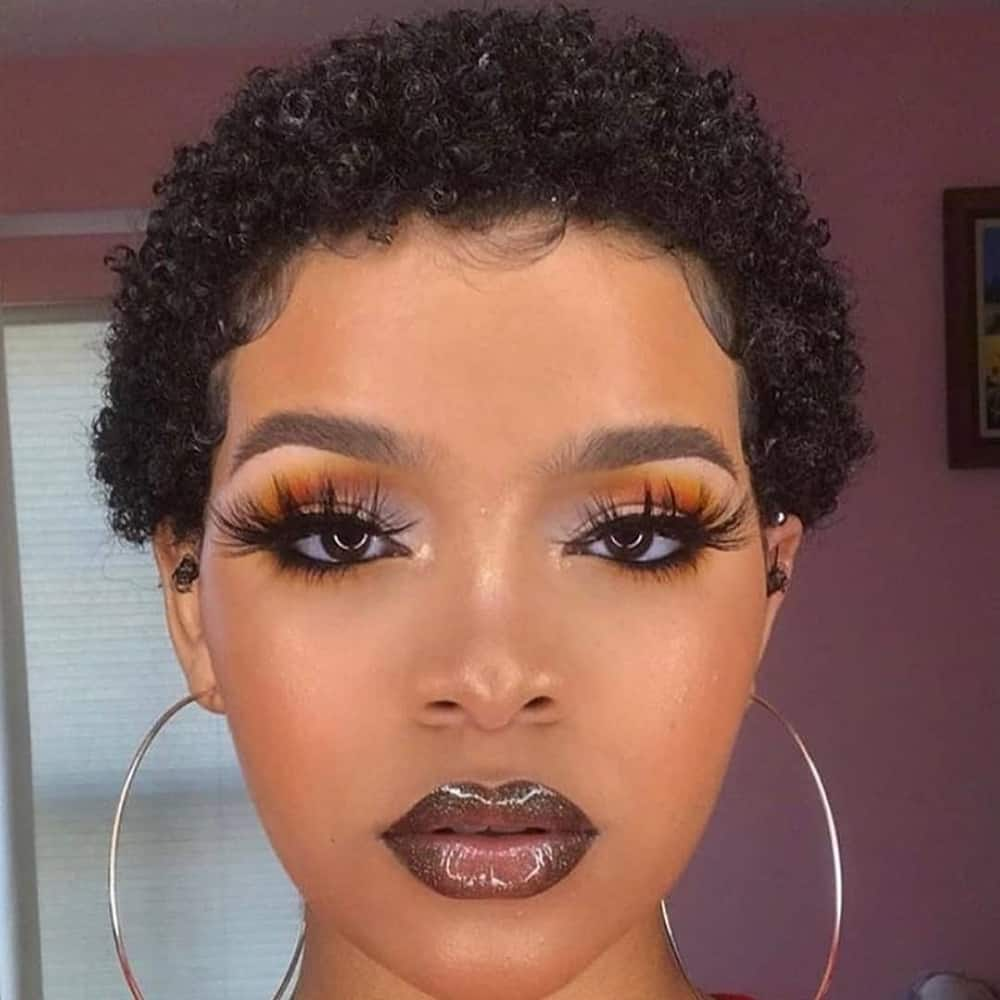 Very short hairstyles
30. Purple is for royalty
This look uses everything it has to co-ordinate beyond the hair alone without taking attention away from it.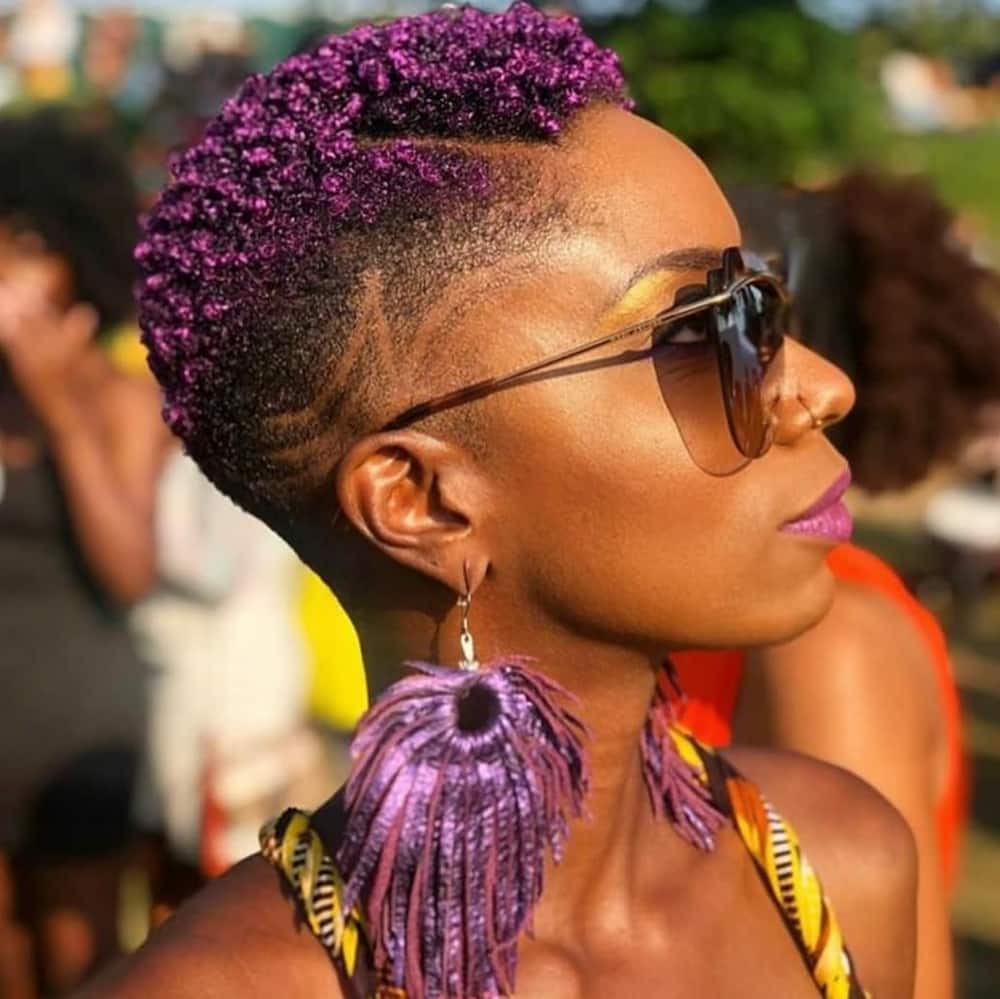 31. The fro-hawk
This look combines an afro with a mohawk to create a frohawk and we love it very much!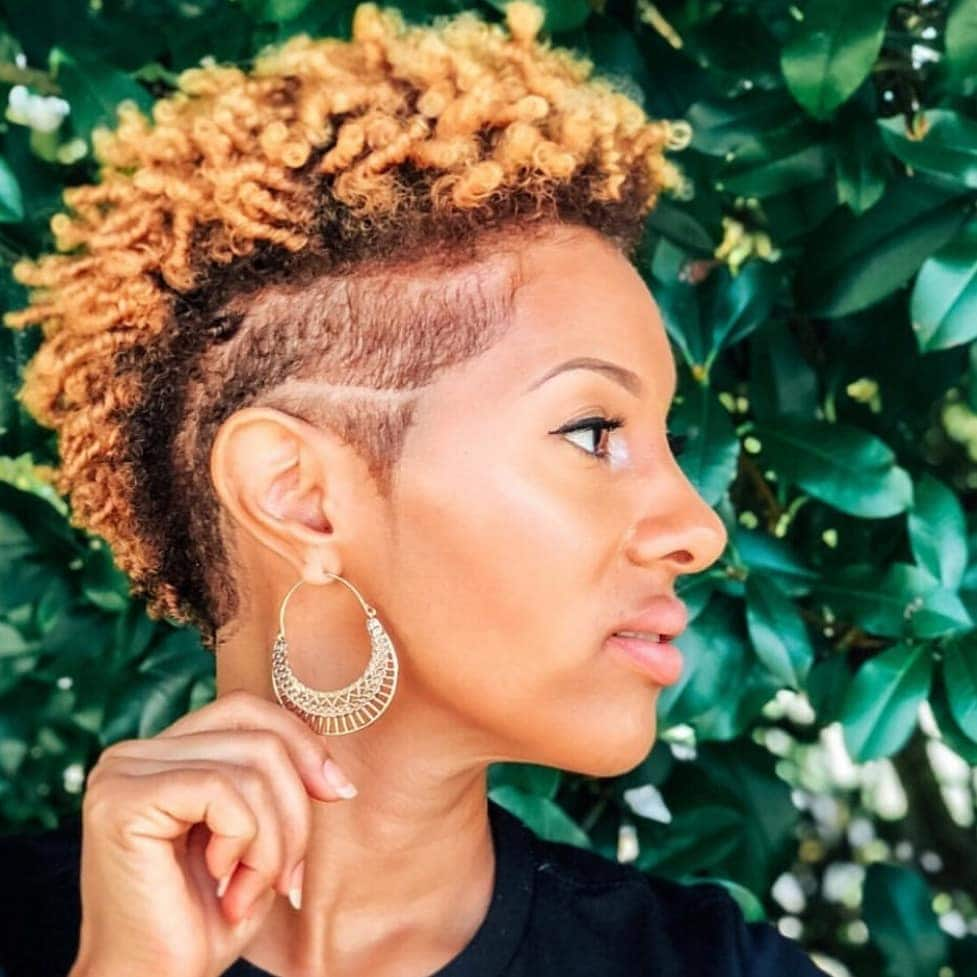 32. Long curls
This look gives the appearance of baby locks but does not lock you into that style and allows you to experiment in the future!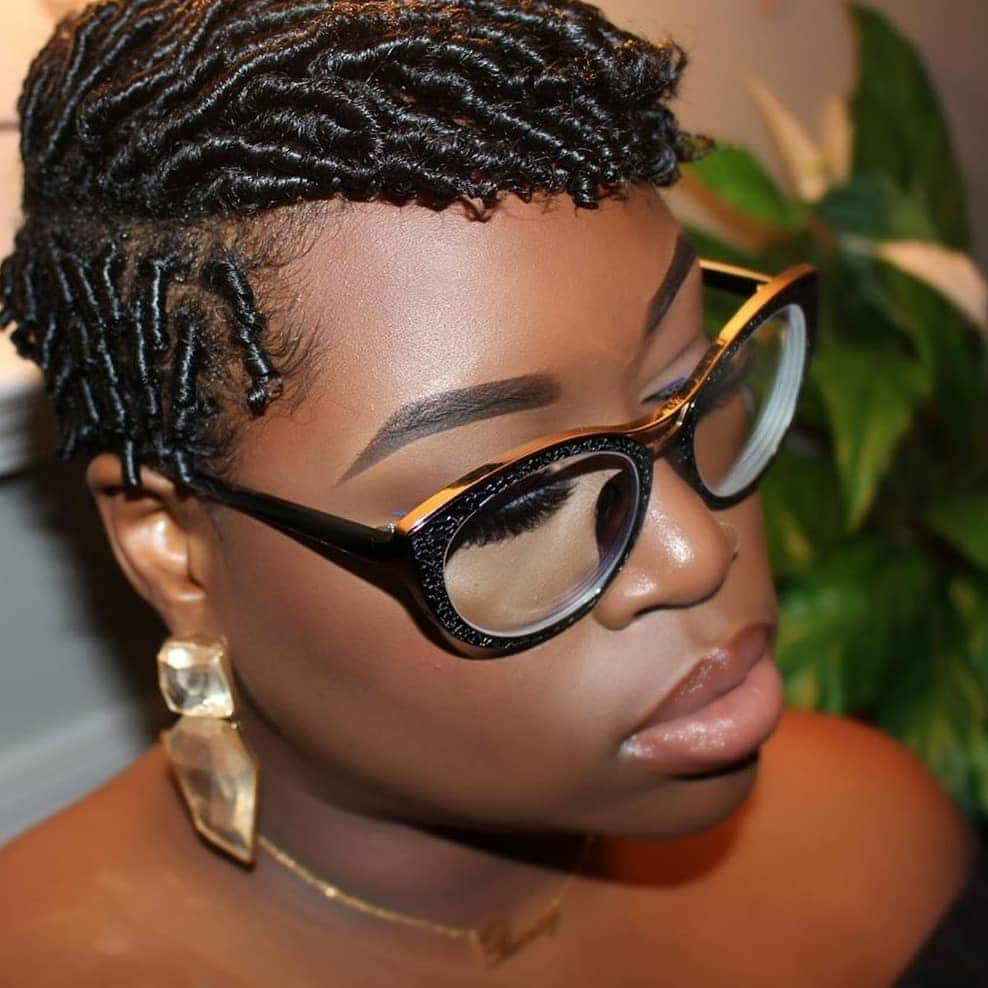 READ ALSO: 100+ latest haircuts and hairstyles for short hair
33. Tangerine
This look uses an uncommon colour to stand out from the crowd.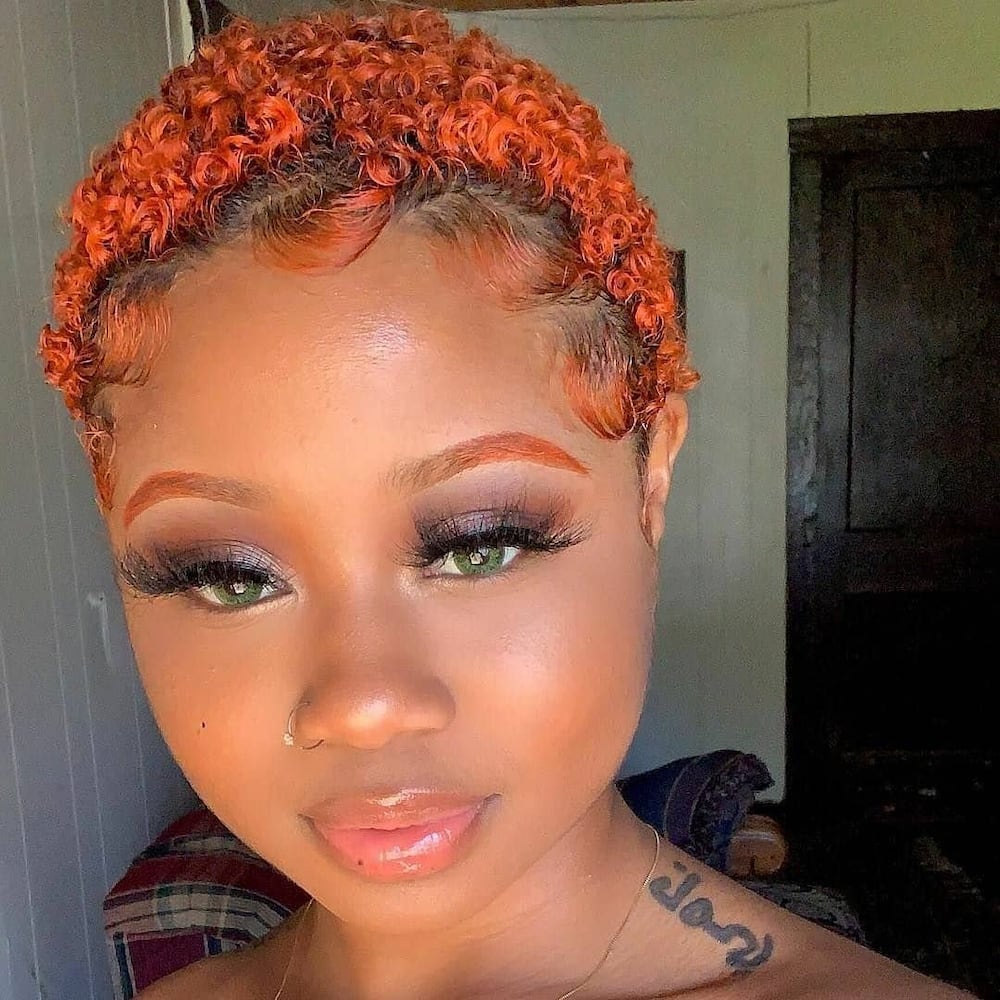 Short hairstyle
34. The close cut
This short hairstyle keeps it simple but still manages to look very spectacular.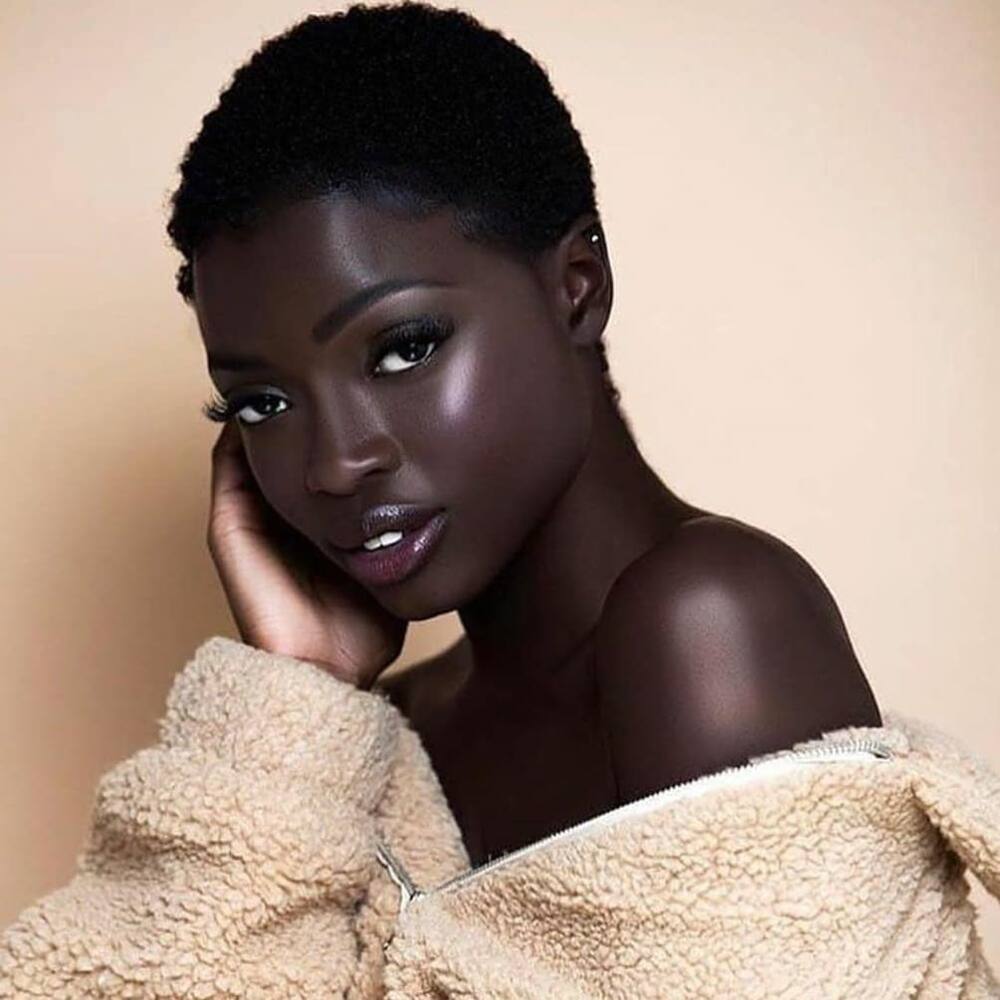 35. The reset
This ultra-short style is simple but elegant.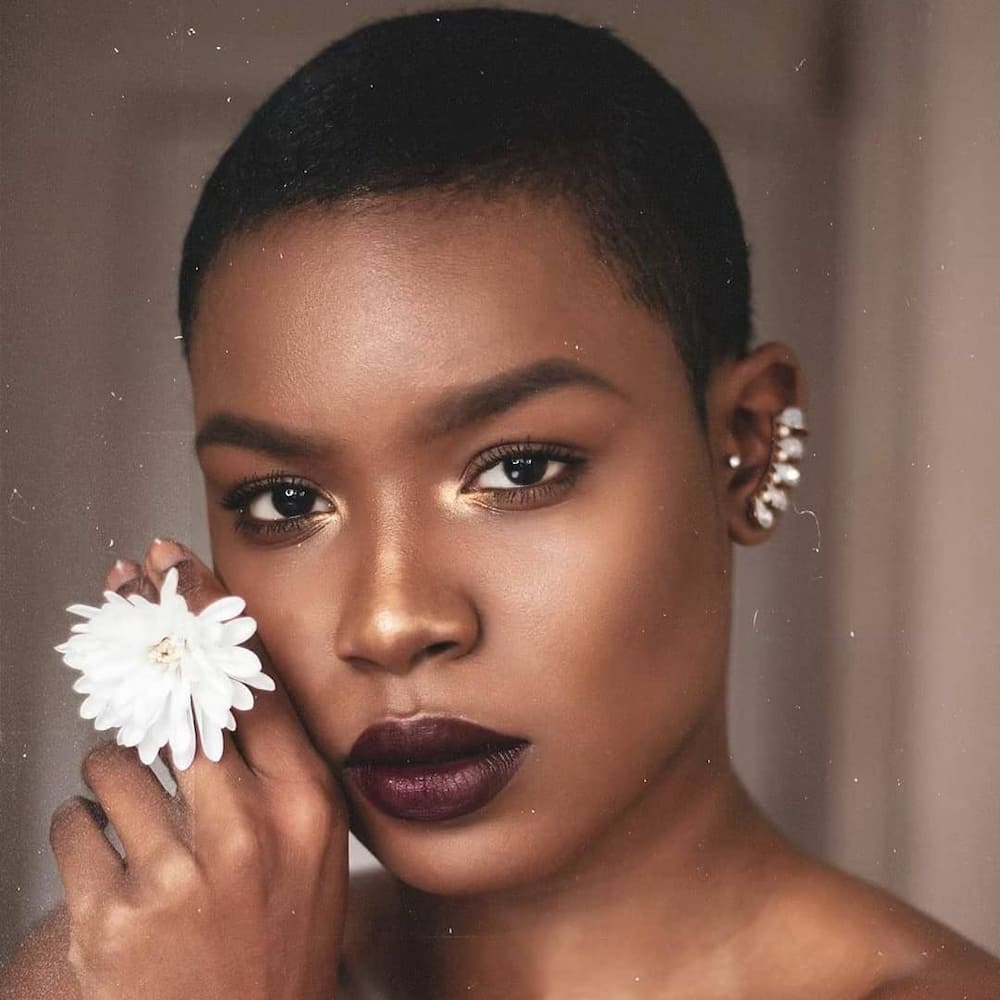 36. Tight and tiny blonde curls
This look uses a halfway part on the left side to set itself apart.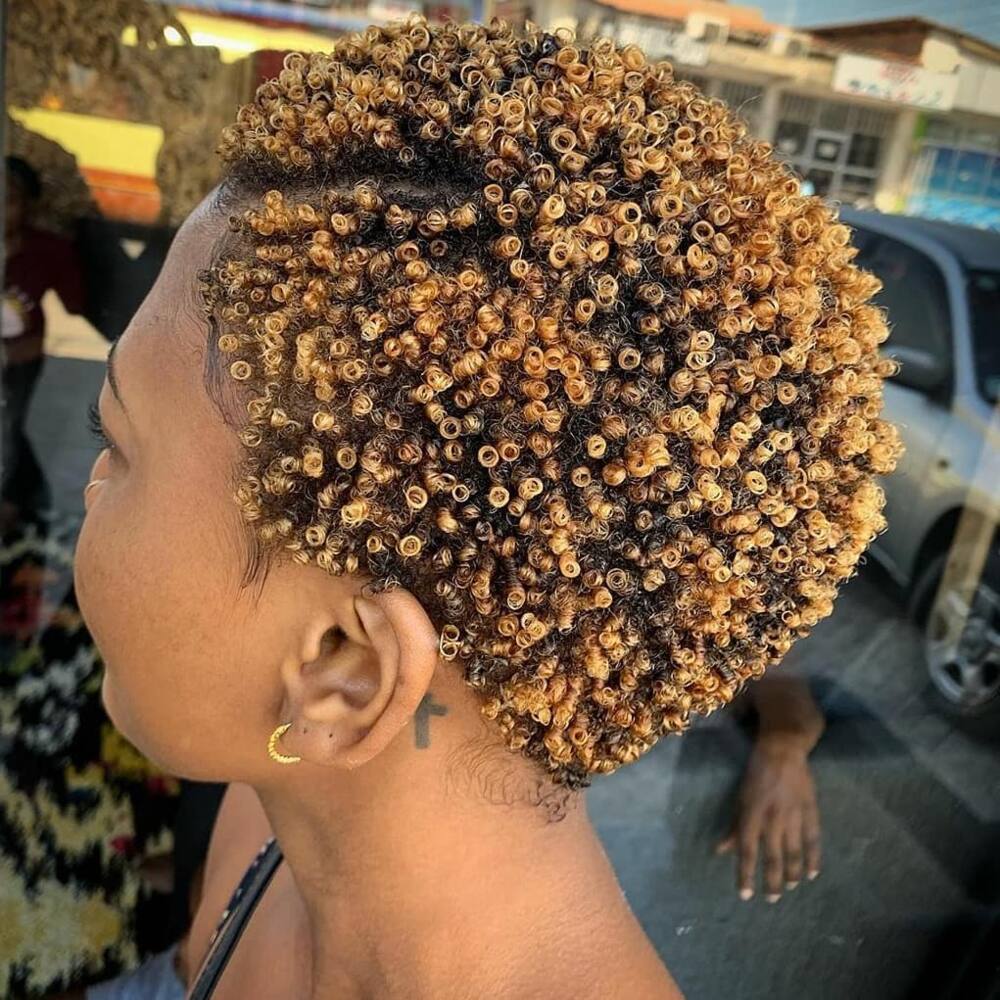 Short natural haircuts for black females
37. The blizzard
Another fantastic look created by playing with colours.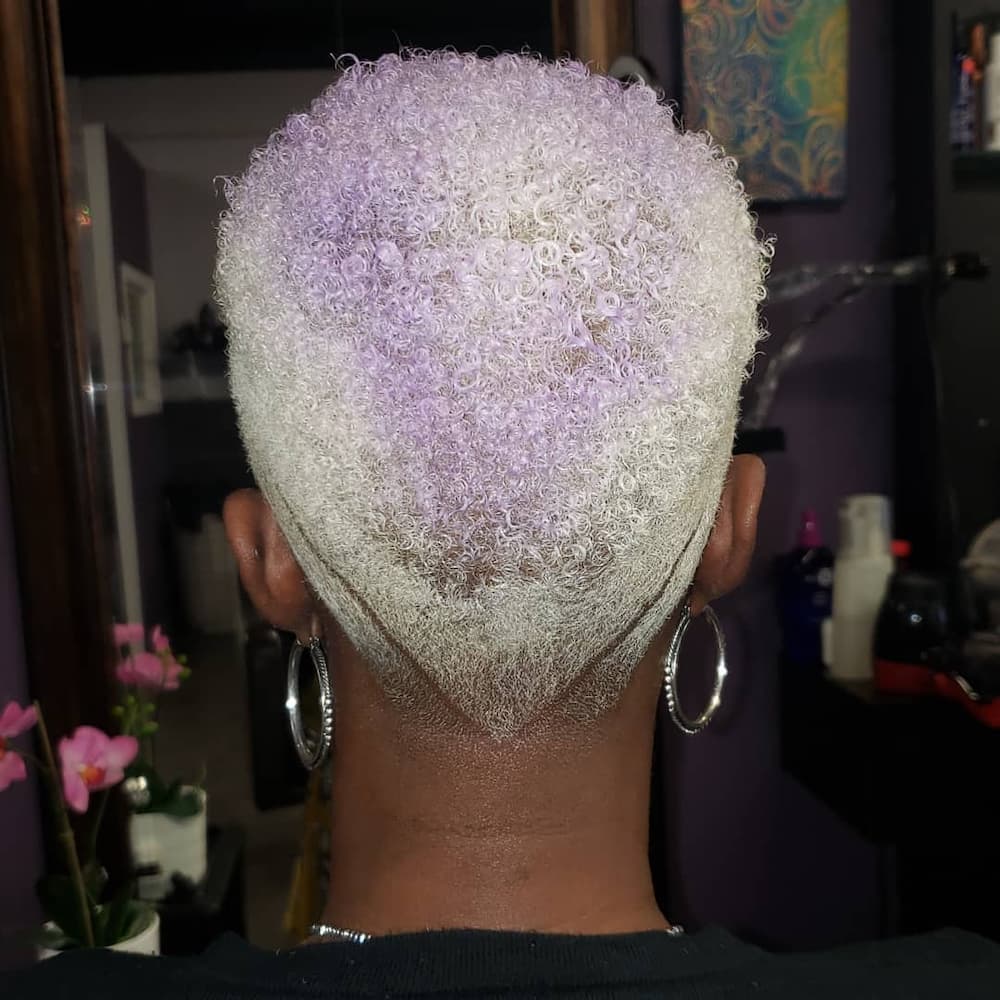 38. The transformation
This collage shows that you can achieve almost any hairstyle despite your hair texture through the magic of the right professional.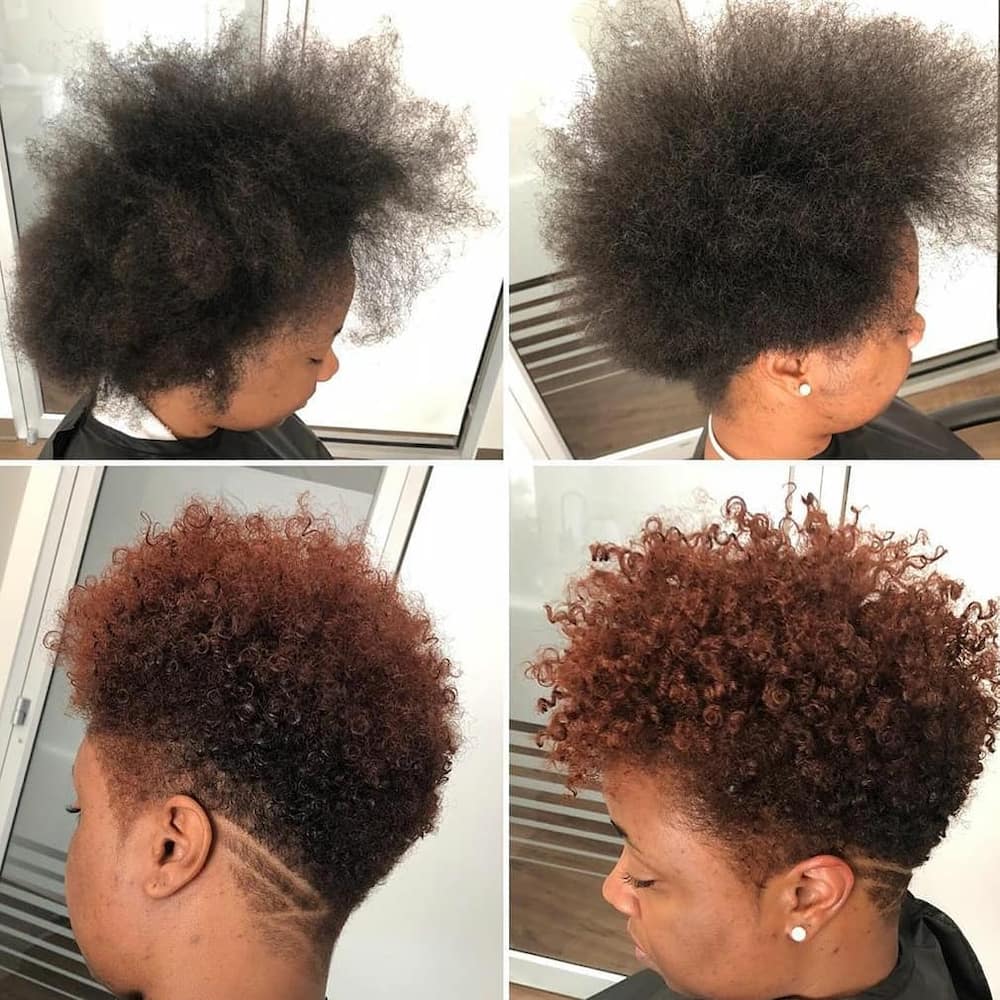 Black short haircuts
39. Medium curls with part
This look utilizes a halfway part on the left and keeps it simple.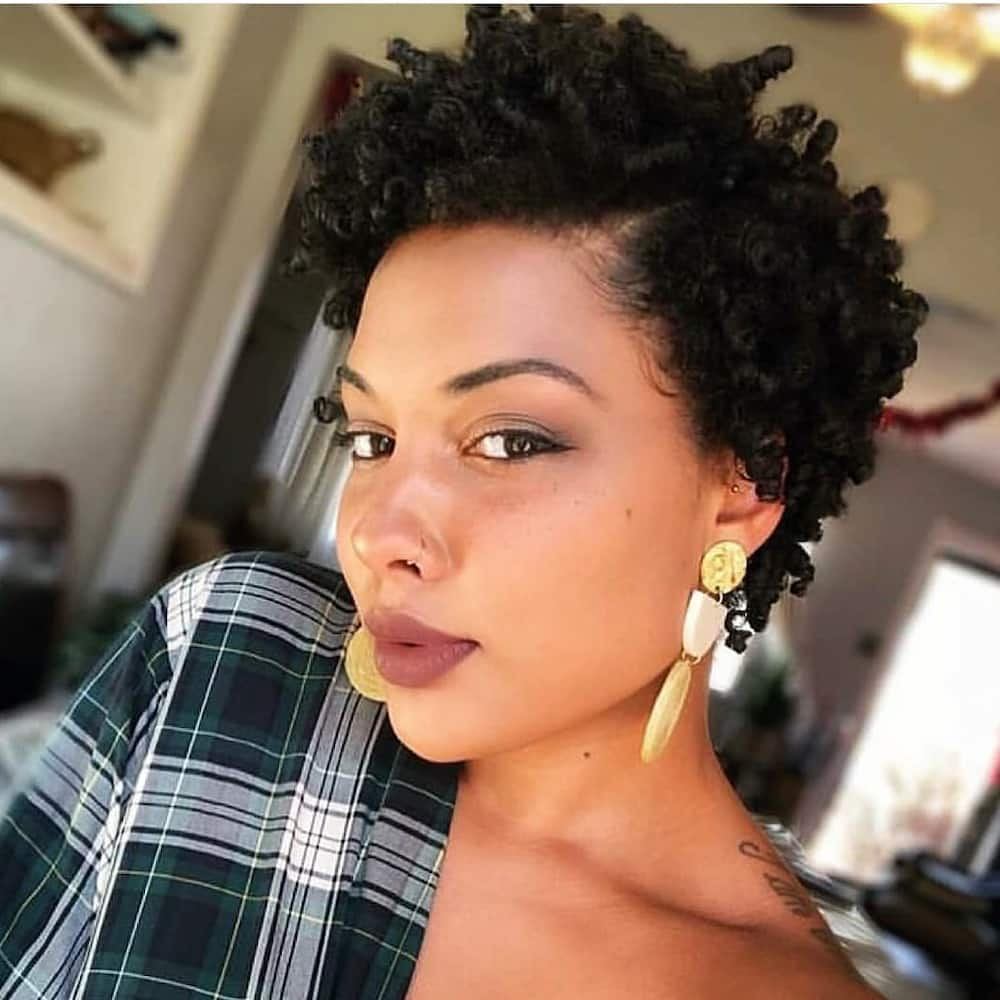 40. Have everything laid
Why stop at just the edges? Get inspired by this look and have everything laid to create perfection.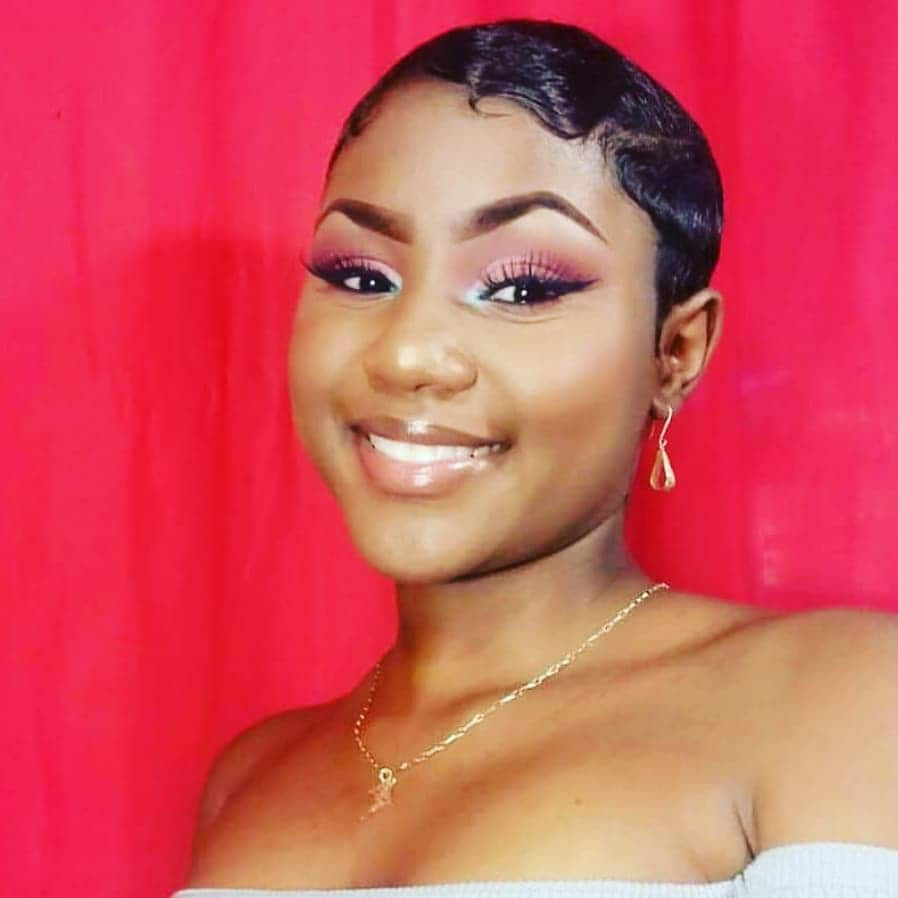 READ ALSO: Best hairstyles for black women in South Africa
41. Unisex curly fade
This one shows creative ways to get matching styles with your young ones if their hair is not too long.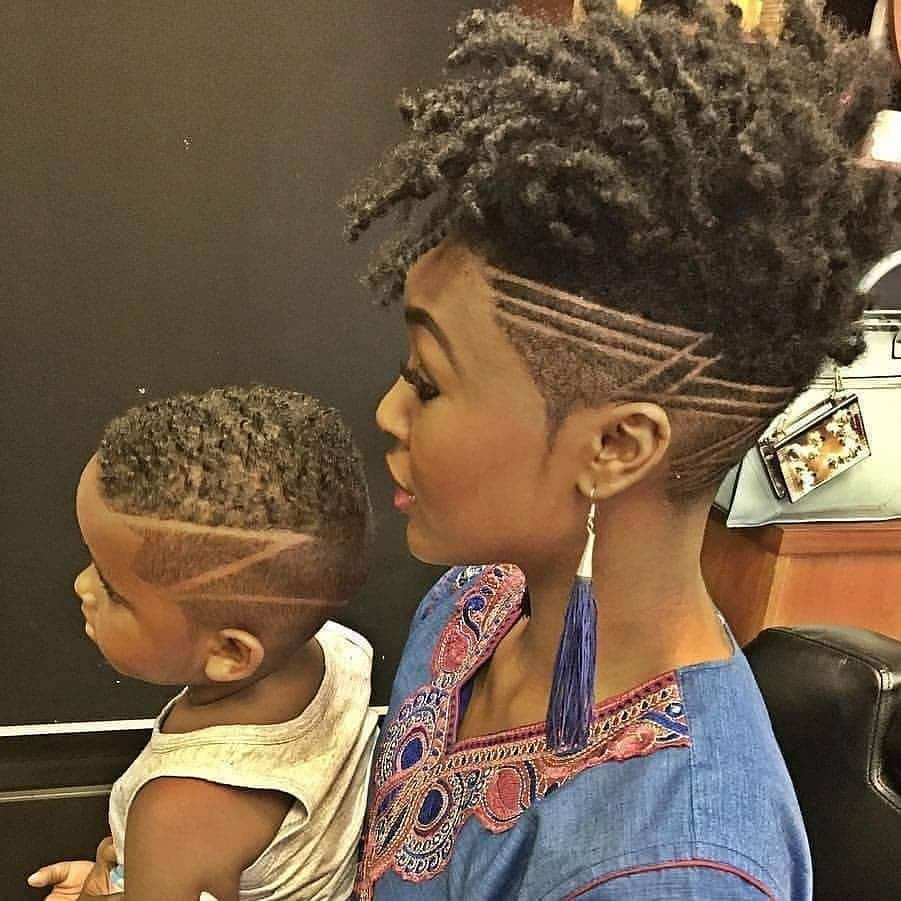 Short haircut
42. The raven
This look is great because it is both gothic and professional at the same time for all you lovers of duality out there!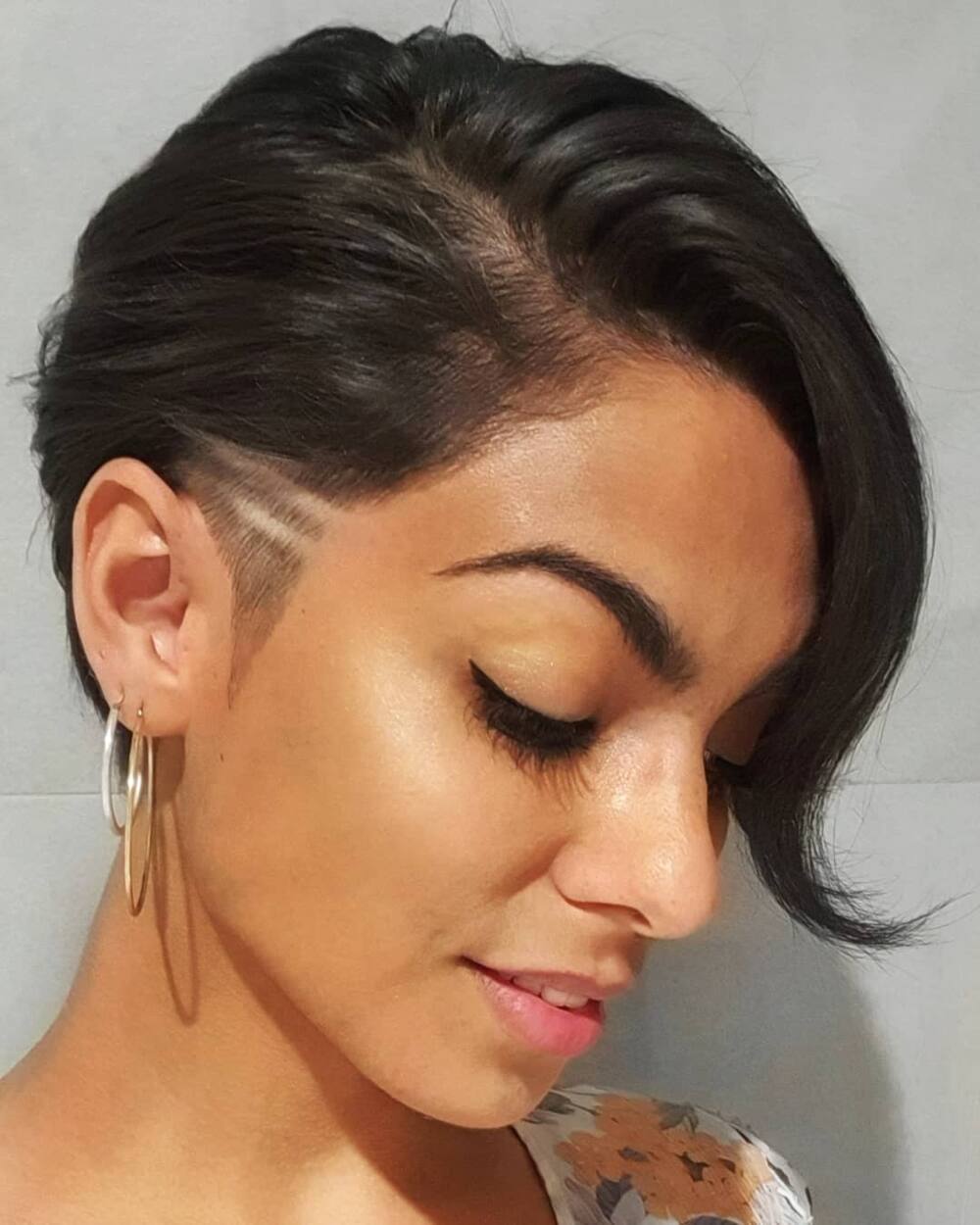 43. The snowstorm
This look uses an unconventional colour to its own advantage.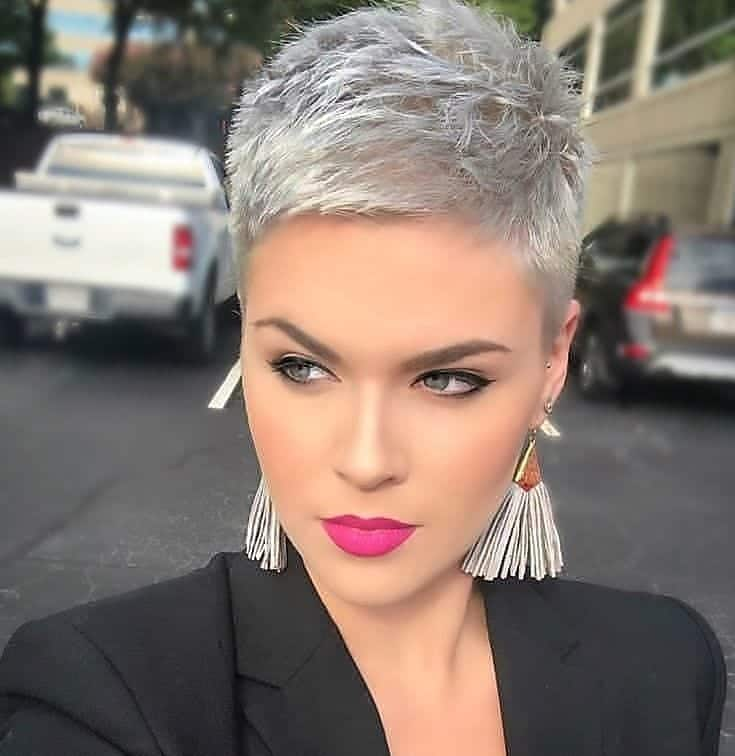 44. The white raven
This one is like the gothic one above but with a creative twist.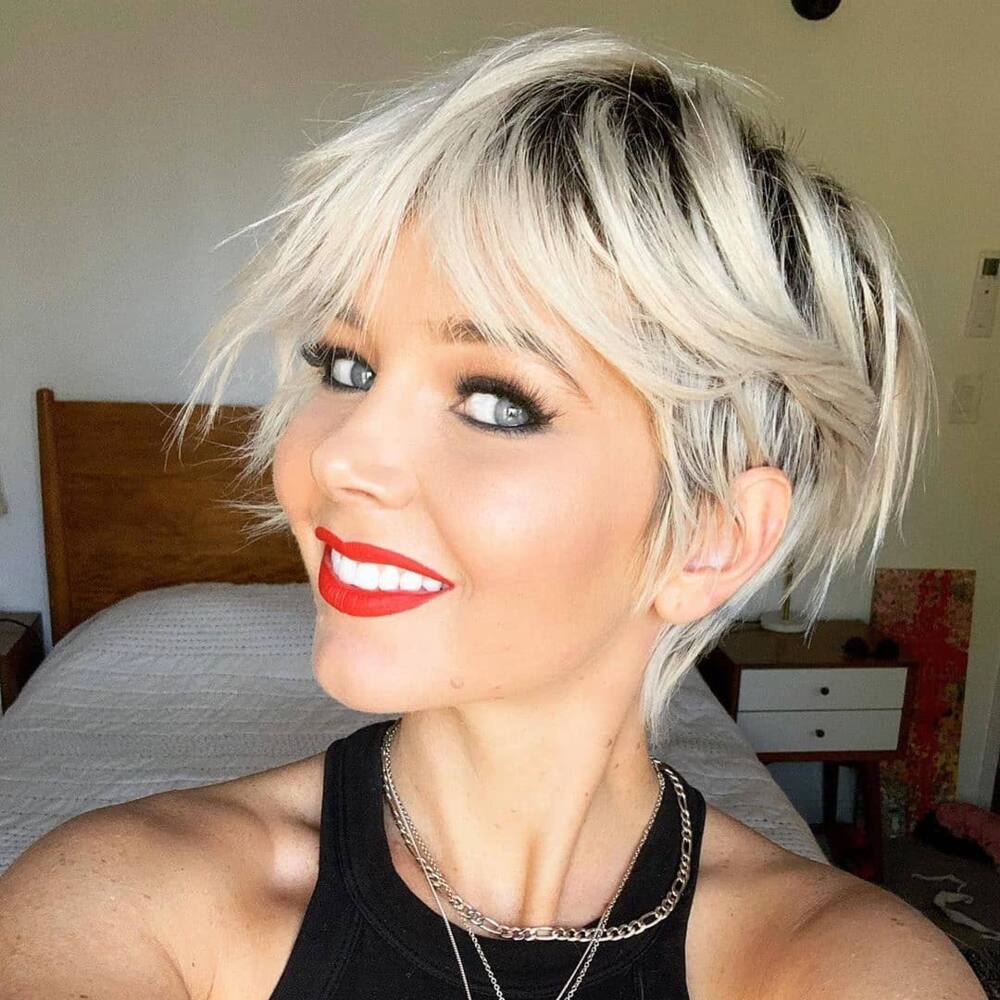 45. Gothica
This one is full-on gothic and goes well with black clothes if that is your style.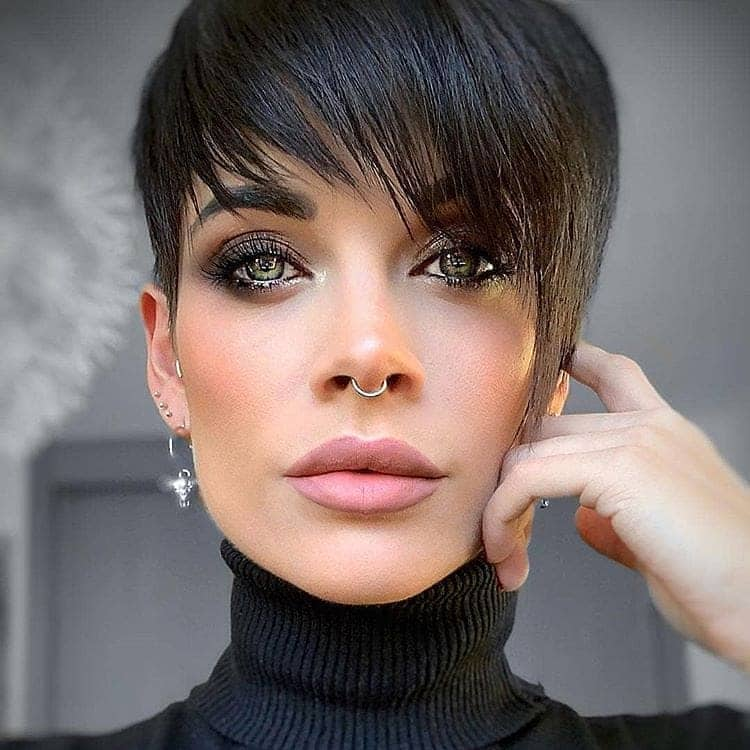 46. The close chop
This is a very close cut for straighter hair and is very easy to maintain.
Short hairstyles for fine hair
47. Frostbite
This one very creatively plays with colours to create a chilled or frozen look and we love it!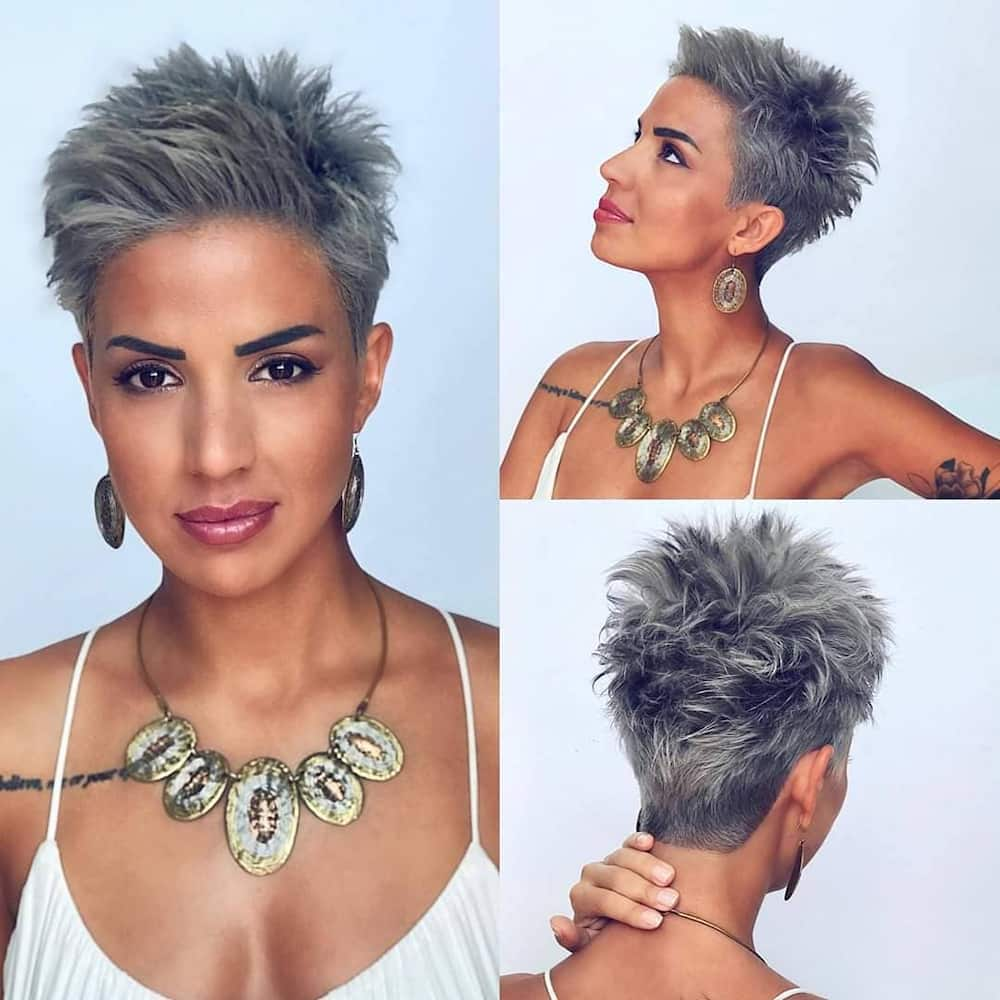 48. Grace is timeless
This look shows that one is never too old to take risks for fashion.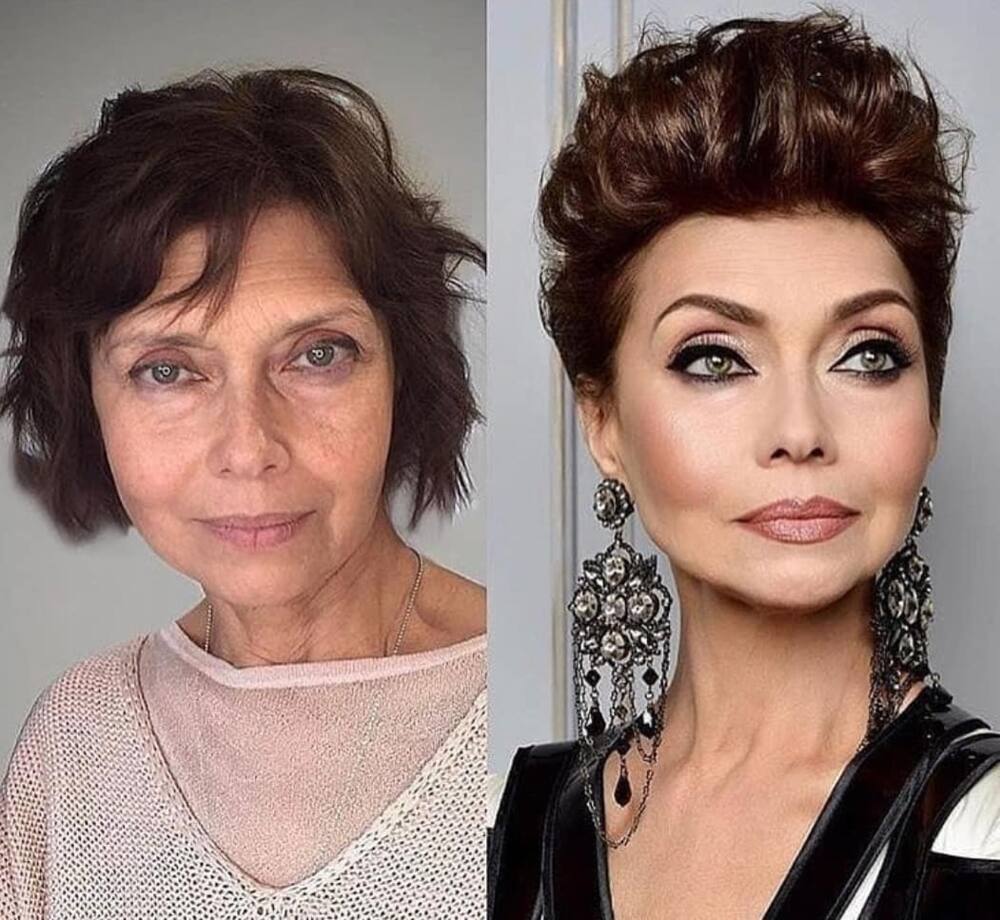 49. Be Ruby Rose
This look is commonly associated with the Australian actress and model known as Ruby Rose, and soon it could be associated with you!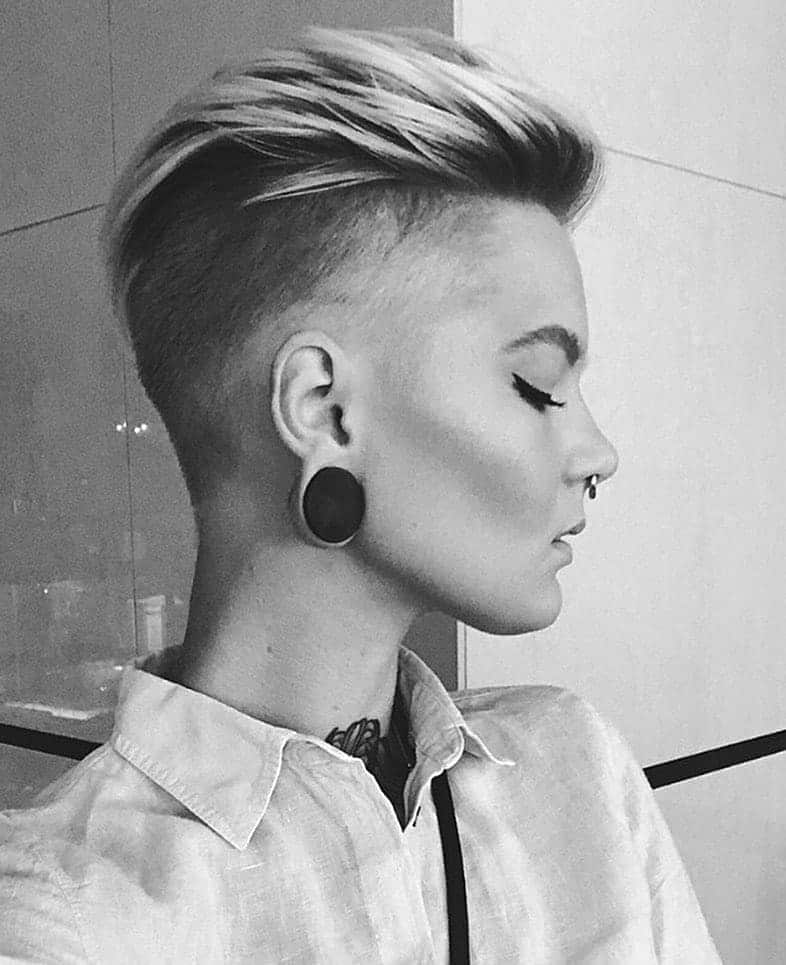 50. Be Charlize Theron
Charlize Theron, also known as Charlize Africa, is known for her fashion statements, and this look is no different.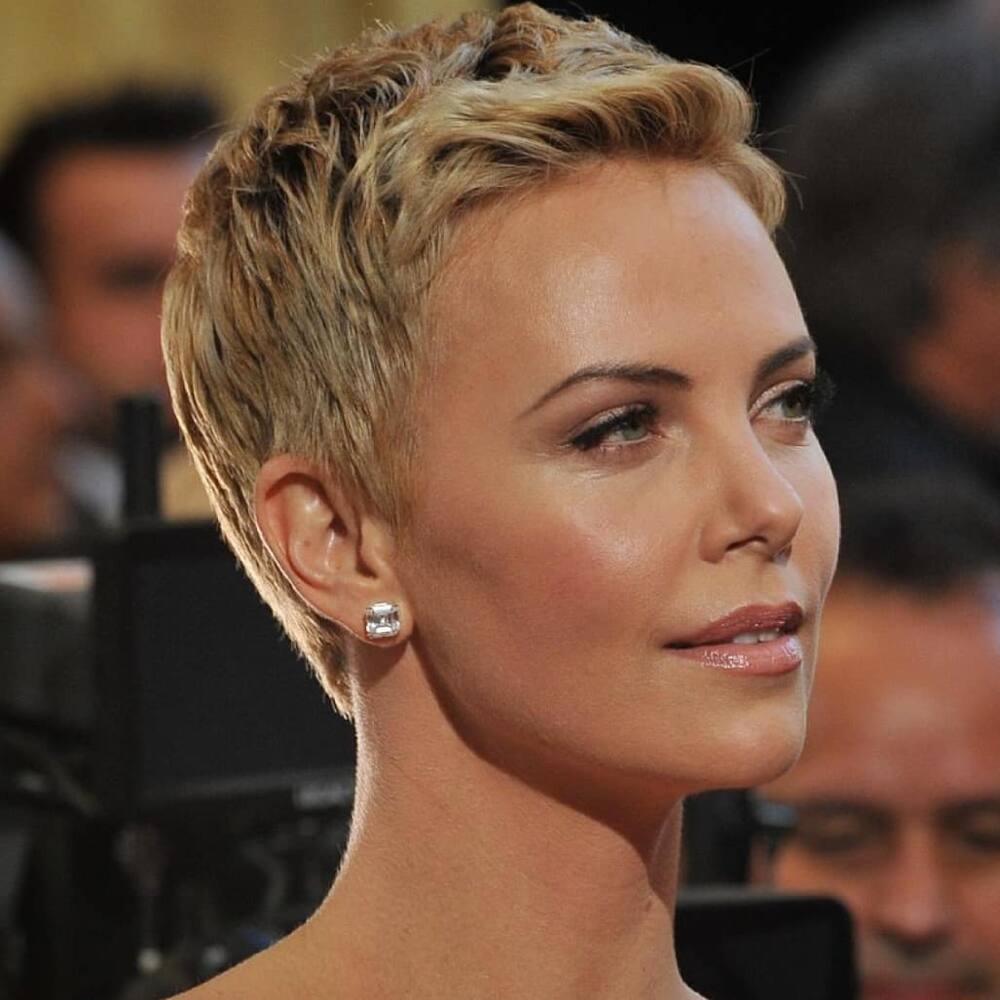 51. Take the step!
This one shows the transformation that can be achieved with a simple buzz cut.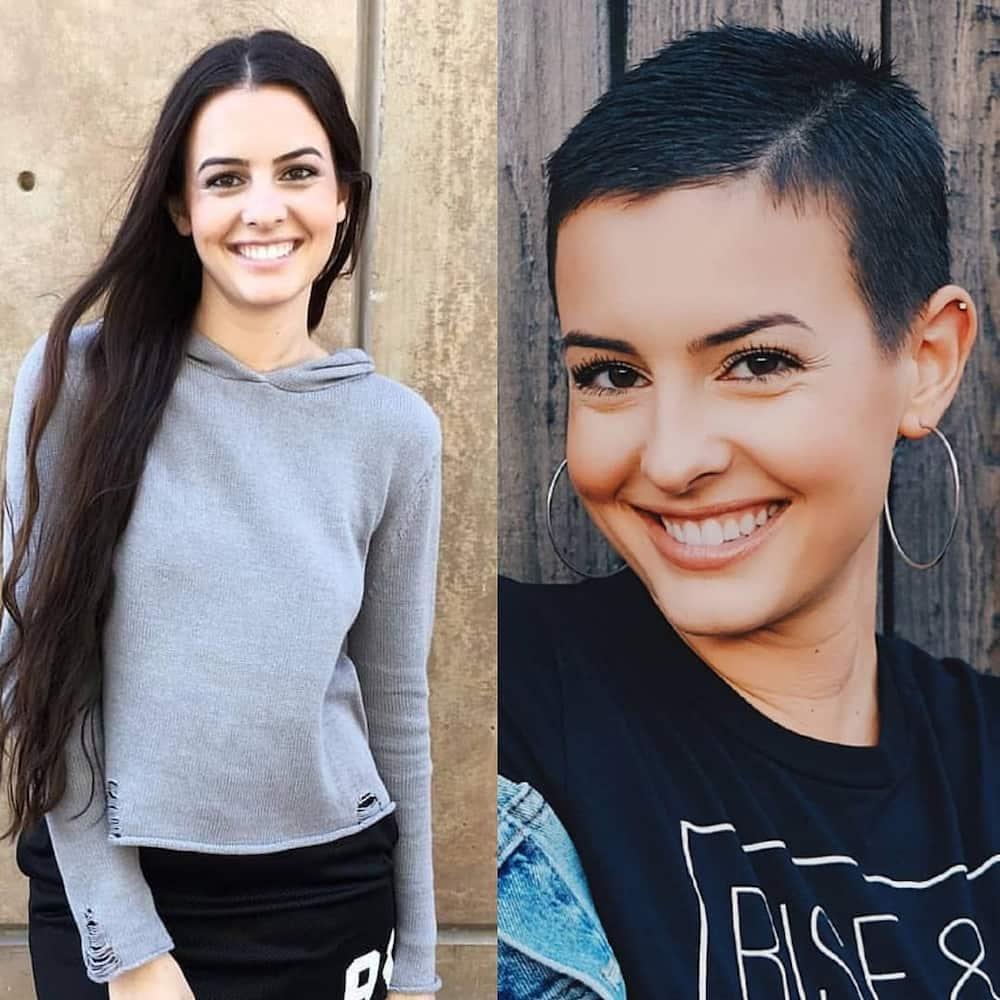 That does it for our article on short haircuts for ladies. Did you find one that suits you? If so, which one was it? Let us know all about it in the comments section below!
READ ALSO:
Long hairstyles for men
How to style braids 2020
Miss SA reveals ambition to take her natural hair to the world
Source: Briefly News