Julius Malema is the leader of the Economic Freedom Fighters (EFF) of South Africa. Most people recognize him for his rigid stand on various issues, especially when it touches the people he represents. Unlike some politicians, Malema is an exciting politician to follow. His character is loved by many, not only in South Africa but also in the world. Wait, what comes to your mind when someone mentions his name?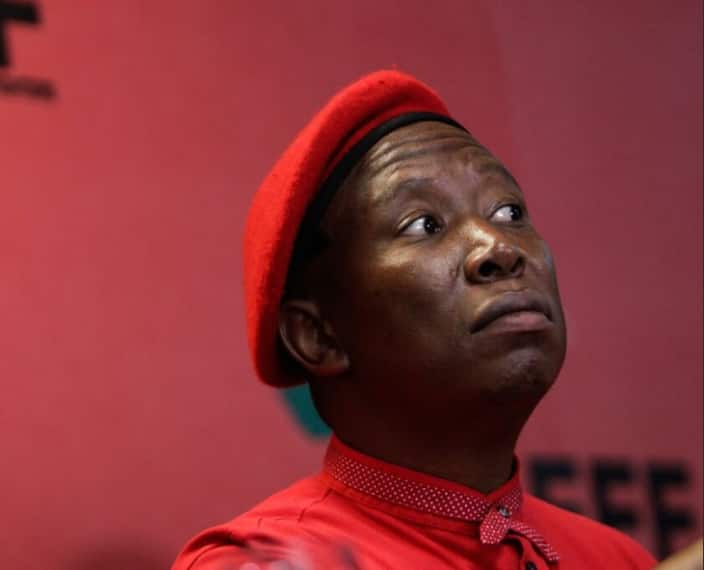 No doubt, Malema is one individual whom you can hardly resist. His level of courage makes him stand out from the crowd. There are several instances in and outside parliament whereby Hon. Malema directly confronted the speaker, police officers, the president, and other legislators. Find out some of his angry, funny, and unforgettable moments.
Unforgettable Julius Malema angry moments
In his quest for quality for his people, Hon. Malema has, at times, lost his temper in public. Below are some of his unforgettable angry moments.
At the funeral of Winnie Mandela
When he took the stage, people cheered, and the leaders behind him did not know what he had in store for them. He started his speech calmly, but a few minutes later, he made some of the leaders' time unbearable. In his tribute speech, he pointed out several instances when some leaders betrayed Winnie Mandela.
The more Winnie Mandela funeral Malema speech continued, the more his anger elevated. According to him, Winnie Mandela died a perfect death even though her people disowned her. She suffered from apartheid in the firsthand. Julius expressed his disappointment that some of the people that betrayed Winnie were at the funeral. To his surprise, they were pretending to cry more than the people who cared for Winnie.
READ ALSO: Julius Malema shares proud dad moment as son starts high school
He condemned the UDF for distancing itself from Winnie in the 80s'. Hon. Malema continued to mock the women who were playing prominent roles in Winnie's funeral and yet they were enemies when she was alive. Every time he highlighted the ills committed to Winnie by her oppressors, he used the following phrases.
Mamaa, you never told me how we must treat them when they come here. I am waiting for a signal Ma.
We see you, Betrayers, SELLOUTS.
After the funeral, people began using the phrase on social media platforms. Some made fun out of the phrase. Others went ahead to create the JuliusMalemaChallenge hashtag on Twitter that trended for days both in South Africa and other parts of the world. Julius Malema twitter account gained massive followers during the time.
2017 State of the Nation Address of the South Africa President (SONA)
In 2017, Hon. Malema and his fellow legislators interrupted president Zuma's SONA address over the constitutional "delinquent" claims. As soon as the president took the floor of the house, one EFF legislator rose too, on standing order, and started to read a section of the constitution he believed the president did not uphold.
The matter became ugly soon after Malema realized that the speaker, Thandi Modise, was not ready to give her ruling regarding the issue. The angry and furious Malema rose from his seat, demanding the speaker to give her verdict. This because a legislator in support of Zuma was demanding the opposite. The matter saw the leader trade blows with the security guards in parliament.
Disciplinary hearings for 20 members of the EFF
Malema lost his cool during a disciplinary hearing chaired by Mr. Mashile. While offering his judgment, Malema interrupted him on the point of order, but the chair seemed reluctant. The event provoked Hon. Malema leading to an unpleasant argument.
Malema became furious because the chair alleged that he was doing him a favor. He became bitter and told the chair that it was his obligation to listen to him because he took the responsibility of judging him with his colleagues.
Malema has also, in several instances, strongly condemned white leaders in support of apartheid. He does not shy away to point out a mistake when he spots one. Perhaps, this explains the reason why he loses his cool at times. Other instances he got angry on live TV include:
During an interview with Aljazeera in a program titled Talk To Aljazeera. He lost his temper when he realized Jonah Hull was posing a question after another before he even got to answer one.
In his words, Malema told him, "You must give me chance to speak; unless you want to have this interview with yourself, then we can give you a chance to speak alone…"
During a confrontation with the former president, Jacob Zuma. The president was angry that Julius always said a lot of offensive stuff about him. Malema rose to his feet, pointing fingers at the president fearlessly, telling him to do whatever he wanted.
When addressing the Marikana massacre issue on different platforms.
READ ALSO: Zille takes on Malema: EFF leader says target whites, not foreigners
Unforgettable Julius Malema funniest moments
Could have Malema been a comedian were if not he chose to be a politician? No one can oppose the fact that he is extremely witty. Well, in most instances, people break out in laughter when Malema is given a chance to speak. Some of his funniest and unforgettable moments include:
Calling Jacob Zuma being a criminal
During a parliament debate in 2017, the deputy speaker demanded him to withdraw his statement of referring to the president as a crook, criminal, and lemenemene. Even after the speaker calling him out three times, Malema Julius made fun of the withdrawal of the statement, replacing it with different terms that mean the same thing. Julius Malema wife must be a happy woman.
Press conference with a white BBC journalist
In anger, the EFF leader accused the BBC reporter of misbehaving during the press conference. He demanded the reporter to respect the ANC house where the press conference was taking place. Quoting him, the EFF leader said:
"Here you behave, or else you jump."
Failure to acknowledge Cyril Ramaphosa properly
While reading his speech in parliament in 2014, he deliberately left out the "honorable" title when addressing the then deputy president, Ramaphosa. One member rose on the point of order demanding Mr. Julius to acknowledge him properly.
The house broke into laughter on how Malema recognized him. No doubt, the look on his face and voice could not have allowed them to stay calm.
Other unforgettable funny moments of him include:
Mockery instances during the burial of Winnie Mandela
Criticizing Blade Nzimande over stealing the red color of their outfit. In his response, he told him, "There's nothing we can steal from him because he has nothing but that skuurpot (pot scourer) face of his. Why didn't he complain when Vodacom was red?"
Julius Malema has elevated the South Africa political space in many ways. Malema's courage to face ills in society is the reason behind his massive following. In addition to his rigid nature, the legislator is funny and irresistible. The above moments are just but a few of the ones that saw him trend for days both in and outside South Africa.
READ ALSO: Julius Malema's stern New Year's message: We don't want you to die