- A woman in England has taken picture of a cloud in the shape of Jesus Christ
- Caroline Hawthorne took the picture with her phone and sent it to her friends and family members
- The 42-year-old woman spotted the bizarre formation from her kitchen window and grabbed her phone to take the picture
- A lot of people have taken to social media to react to the image
PAY ATTENTION: Click "See First" under the "Following" tab to see Briefly.co.za News on your News Feed!
A cloud in the shape of Jesus Christ has been spotted in the skies over the West Midlands, a metropolitan county in England.
The picture of the cloud was taken by a woman identified as Caroline Hawthorne, who sent it to her friends and family members, Daily Mail reports.
Hawthorne said her friends and family members likened the image to Jesus or an angel.
READ ALSO: DJ Zinhle has a message for fans (and haters): "I'm too blessed"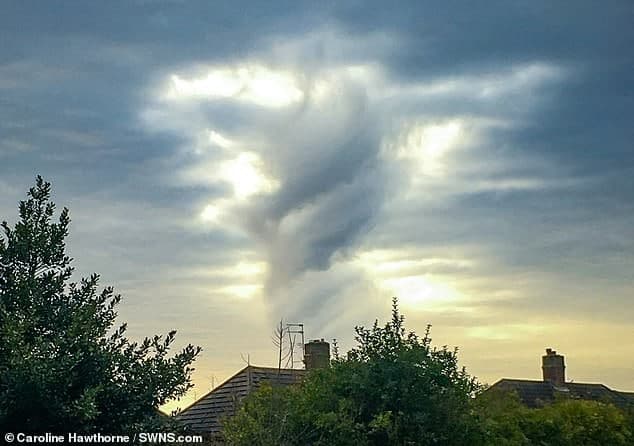 The 42-year-old woman was making a cup of tea when she spotted the bizarre formation from her kitchen window in Willenhall, West Midlands.
She did not wait for the image to drift apart before grabbing her phone to take a picture of the eerie image.
She said: "The sky was quite cloudy and there was this weird cloud formation. People have been telling me it looks like an angel or Jesus with his arms outstretched."
Reacting on Facebook, Carol Willia,ms said: "Looks like whirlwind can't see an image of Jesus, wish we knew what he really looks like as well, we just have to wait and see when he return. Amen."
Pauline Farrugia said: "Whatever you see in the sky, you can always, make it look, like anything you want it to be, currently I can see a horse, does that mean, that I am seeing a horse???"
Jameela Bint Yasseen said: "Looks like a swirly cloud not a man. Why even attribute a cloud to a specific man?"
Peter Foenander said when Jesus really appears, people that are joking with the image will have no chance to make fun of it any more.
Chris Fishburn said: "Some people really stretch their imagination to say these look like people..."
READ ALSO: Explainer: Ramaphosa's plan to revive SA's state-owned entities
Meanwhile, a newly-married Nigerian lady identified as Lorritha Ezekiel Olorunda revealed that she recently gave her life to Christ. The lady also shared the step she took after giving her life to Jesus Christ.
In a post shared on Facebook, the lady revealed that she gave her life to Jesus Christ after God sent a motorcycle rider to her. She said she had boarded a bike and the rider started preaching to her.
Enjoyed reading our story? Download BRIEFLY's news app on Google Play now and stay up-to-date with major South African news!