- Sonya, a single mom of 10 children from different fathers, said she didn't have them because of the benefits that come with the children
- She receives a £400 (R7 500) grant from the government every week
- According to her, whenever she was in a relationship, the first thought that came to her mind was how beautiful the baby would be
PAY ATTENTION: Click "See First" under the "Following" tab to see Briefly.co.za News on your News Feed!
People have different reasons for having children. For a single mom like Sonya who has 10 children from different fathers, her reason could seem complicated to people who try to understand her kind of life.
The single mum, who gets £400 (R7 500) from the government as support money, said she did not choose to have the children to get benefits, UK Sun reports.
She said even living life with the benefits she gets is difficult. The mother of 10 also said that whenever she got into a relationship with any of her partners, her first thought was always how beautiful the baby would be.
READ ALSO: Brazen thugs rob motorist of R90 000, video goes viral: "Lobola debts"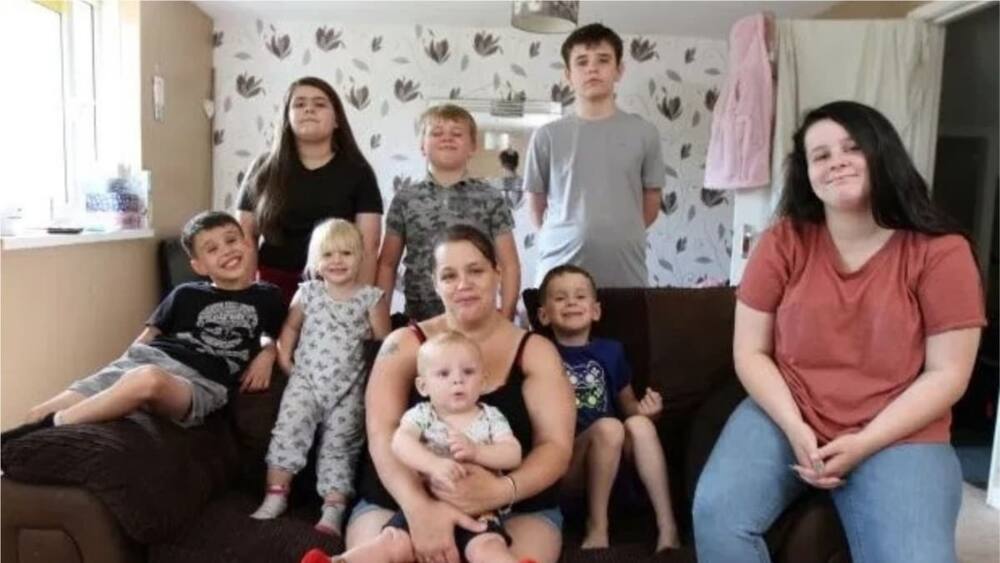 "I was in a marriage where I thought we'd be together forever, but obviously we weren't. I'm not having babies for benefits.
"When I fell pregnant with any of them my first thought wasn't 'I'm going to claim some benefits.' My first thought was 'I've got a beautiful baby here'," she said.
Sonya said that being on the benefits is not only hard but that her kids deserve more than they have, adding that she would not allow their comfort to be put on taxpayers' bills.
She said that once rent and food are sorted out, she saves the remainder of the handout for the rest of the week.
Meanwhile, Tory Ojeda, aged 20, a polyamorous woman with four partners, became pregnant by one of her lovers, saying they will, however, all raise the baby together.
READ ALSO: 2022 World Cup Qualifier: Bafana to face Ghana, Ethiopia and Zimbabwe
The 20-year-old woman met her first partner Marc, when he was 18, in high school, before she entered into a relationship with Travis, the second lover, two months after.
Not long after she met those two, she fell in love with their mutual friends, Ethan (22) and Christopher (22).
Though she is in an open relationship with her four partners, she is the only one who has many romantic lovers, adding that she would loveit if her boyfriends could go after other women too.
Enjoyed reading our story? Download BRIEFLY's news app on Google Play now and stay up-to-date with major South African news!