Manny Pacquiao net worth in 2019 is estimated to be $220 Million or above. He is a legend in the global boxing arena. Boxing fans are always thrilled by his matches, for he is one of the most dreaded boxers globally. His numerous belts and other achievements in the sport have earned him wealth that is worth millions of dollars.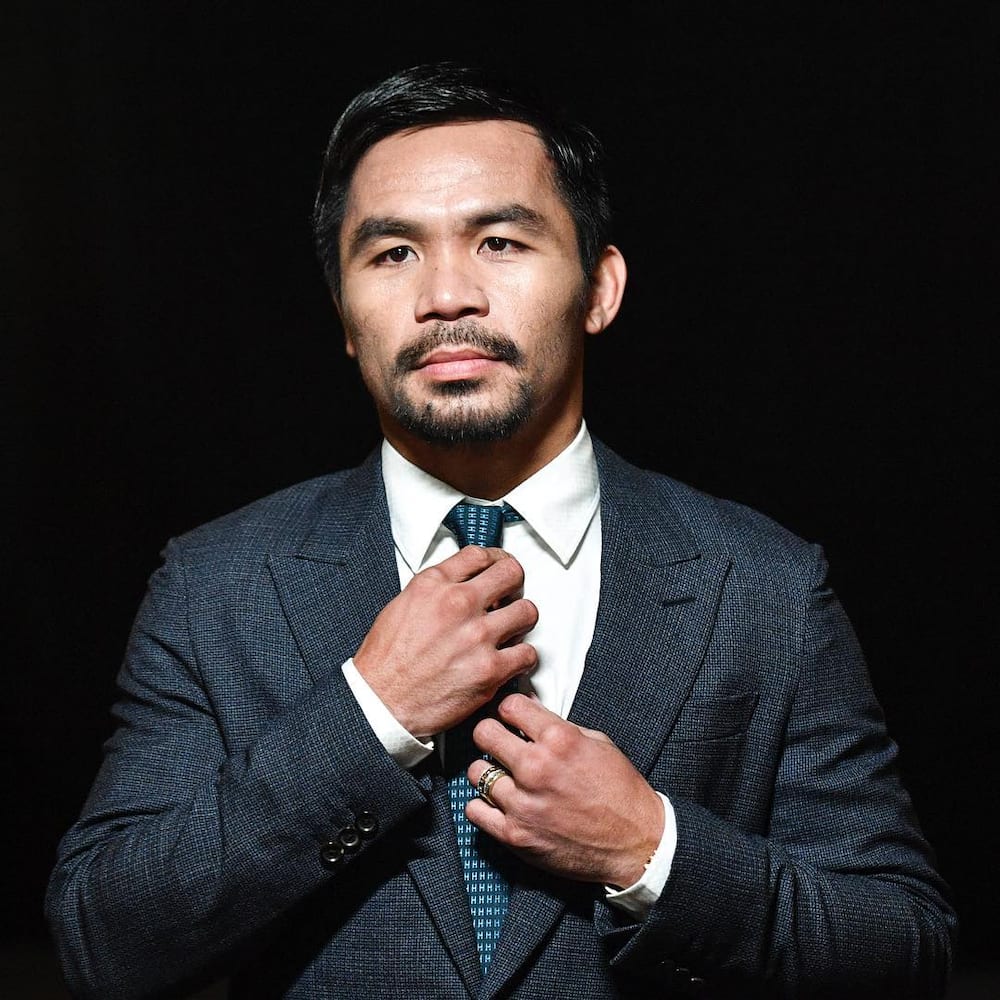 His success is not only attributed to his strength but also his superior boxing skills and humility. He is an inspiration to upcoming boxers and other sportspeople. Manny has set a record in boxing that will be challenging for other fighters to break.
Manny Pacquiao profile summary
Full name: Emmanuel Dapidran Pacquiao
Nicknames: Pac-man, Fighting Pride of the Philippines, the Filipino Slugger
Career: Boxer, politician, actor, singer, athlete, film producer, and businessman
Date of birth: 17th December 1978
Age: 41 years
Nationality: Filipino
Height: 5 ft 6 in (1.69 m)
Reach: 67"
Weight: 147 lbs (66.82 kg)
Division: Eight-division world champion
Weight class: Welterweight
Bouts: 71
Net worth: Around $220 million in 2019
Residence: General Santos City, South Cotabato, Philippines
Marital status: Married
Children: 5
Hobbies: Playing basketball and riding cars
Instagram: mannypacquiao
Manny Pacquiao biography
Emmanuel Dapidran Pacquiao was born on 17th December 1978 in General Santos City, Philippines. His parents are Rosalio and Dionesia Dapidran Pacquiao, and they were divorced when he was in the 6th grade. He completed his elementary studies from Saavedra Saway Elementary School. He then dropped out of high school and left his home for the streets in Manila at the age of 14 years, where he got into boxing.
His wife, Jinkee Pacquiao, is a renowned former politician, media personality, socialite, and film producer. She was the vice governor of Sarangani, Mindanao, in the Philippines from 2013 to 2016. They are blessed with five children named Mary Divine Grace Pacquiao, Emmanuel Pacquiao Jr, Queen Elizabeth Pacquiao, Michael Pacquiao, and Israel Pacquiao.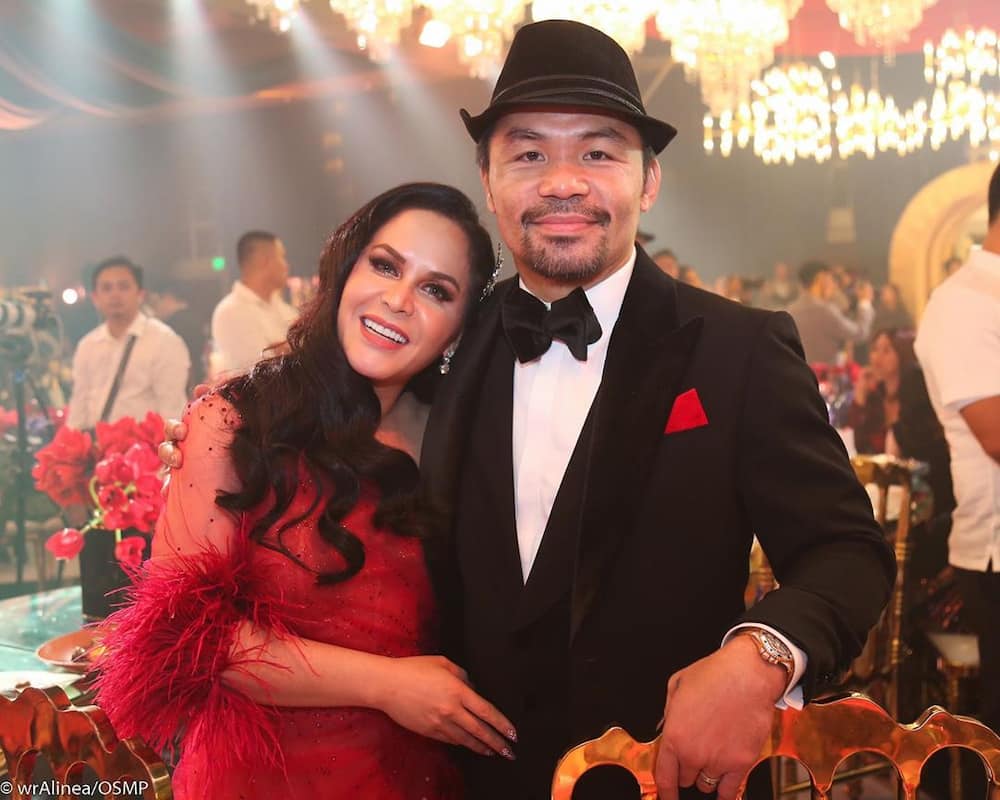 Today, Manny Pacquiao is a politician, actor, singer, athlete, film producer, businessman, and a distinguished boxer. He was a member of the Philippines House of Representatives in 2010 and the Senate in 2016.
Who will be Manny Pacquiao's opponent in his next fight?
The star effortlessly maintained his WBA (Regular) welterweight title in January 2019 in his battle against Adrien Broner. Manny Pacquiao vs Broner was one of the toughest and most impressive matches in 2019. Broner put in his best, but Manny got a unanimous win.
On 20th July 2019, he defeated Keith Thurman to add the WBA (Super) belt to his name. The plans are still in progress in the Senate in the Philippines about Pacquiao's next fight.
Manny's unforgettable match against Floyd Mayweather in 2015 has seen the fans longing and hoping for a rematch since then. It was the best selling match in boxing history with 4.6 Million PPV buys. His promotions president, Sean Gibbons, shed some light into the potential opponents for Pacquiao. They are considering putting him up against Mikey Garcia, Danny Garcia, or Shawn Porter. He said,
If we had to narrow it down, Porter and the Garcias are the three names on the table.
READ ALSO: Cristiano Ronaldo says balanced diet and training key to good shape
Manny Pacquiao record and fights
The boxer has shown an exemplary performance over the years. Losing and winning are part of every success story. He has beaten boxing legends like Hector Velazquez, Juan Manuel Marquez (twice), Oscar Larios, Erik Morales (twice), Marco Antonio Barrera (twice), Emmanuel Lucero, Jorge Solis, and Antonio Margarito.
Manny Pacquiao record stands at 62 wins, 7 losses, and 2 draws, with 39 KOS. He is the only boxer to secure the eight-division world title. Here is his boxing history:
The 1990s when he rose to fame
He was the champion in the flyweight class consistently the entire decade.
He became the World Boxing Council flyweight champion in a match against Chatchai Sasakul in 1998.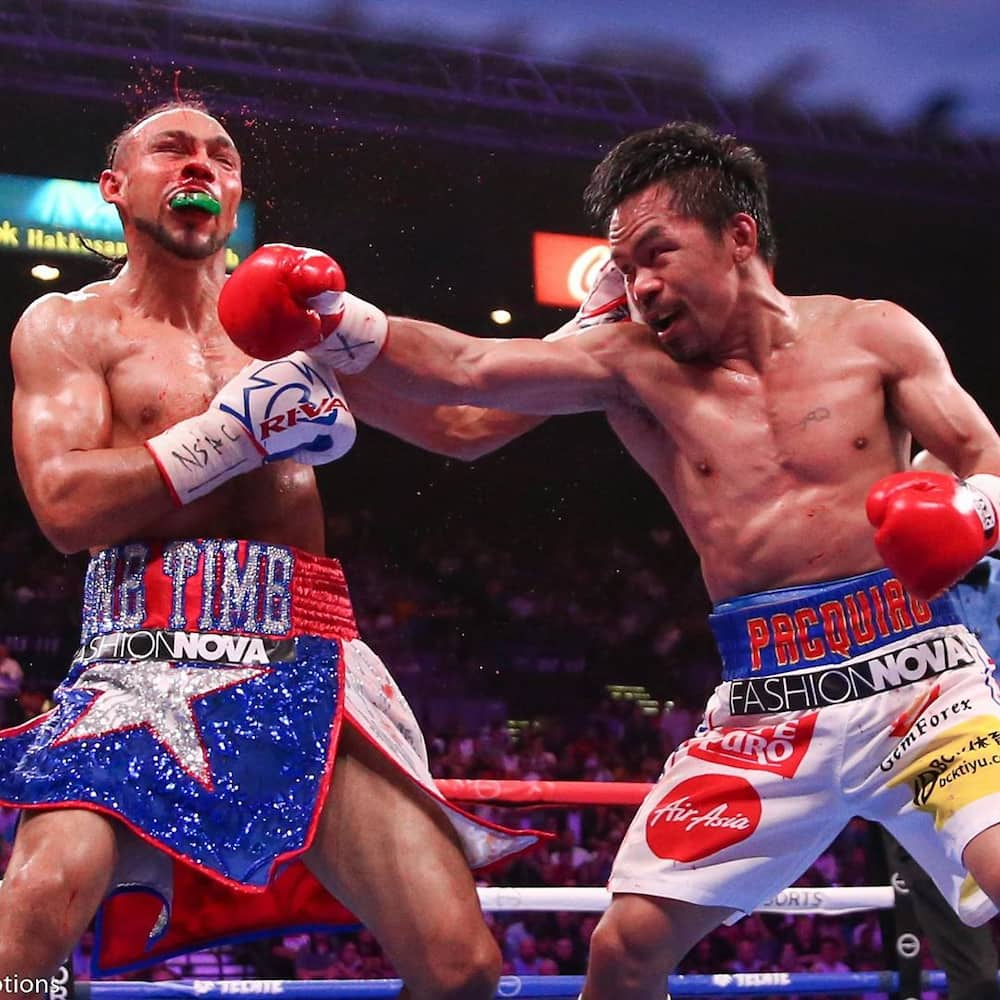 READ ALSO: Floyd Mayweather's son shows off some of his dad's $900 million fortune
His achievements in the 2000s
He broke records in seven different classes and won against seven strong and notable boxers. He was awarded the Fighter of the Decade for the 2000s by the BWAA.
He also won the International Boxing Federation Super Bantamweight title on 3rd June 2001 in the fight against Lehlohonolo Ledwaba in Las Vegas.
He was IBF super bantamweight title's defending champion twice in 2002 and 2003.
He went for the WBC and IBF featherweight titles by competing Juan Manuel Marquez in May 2004.
He won the WBC lightweight and WBC super featherweight titles in June and March 2008, respectively.
He fought against Miguel Cotto in 2009 and was awarded the WBO welterweight title.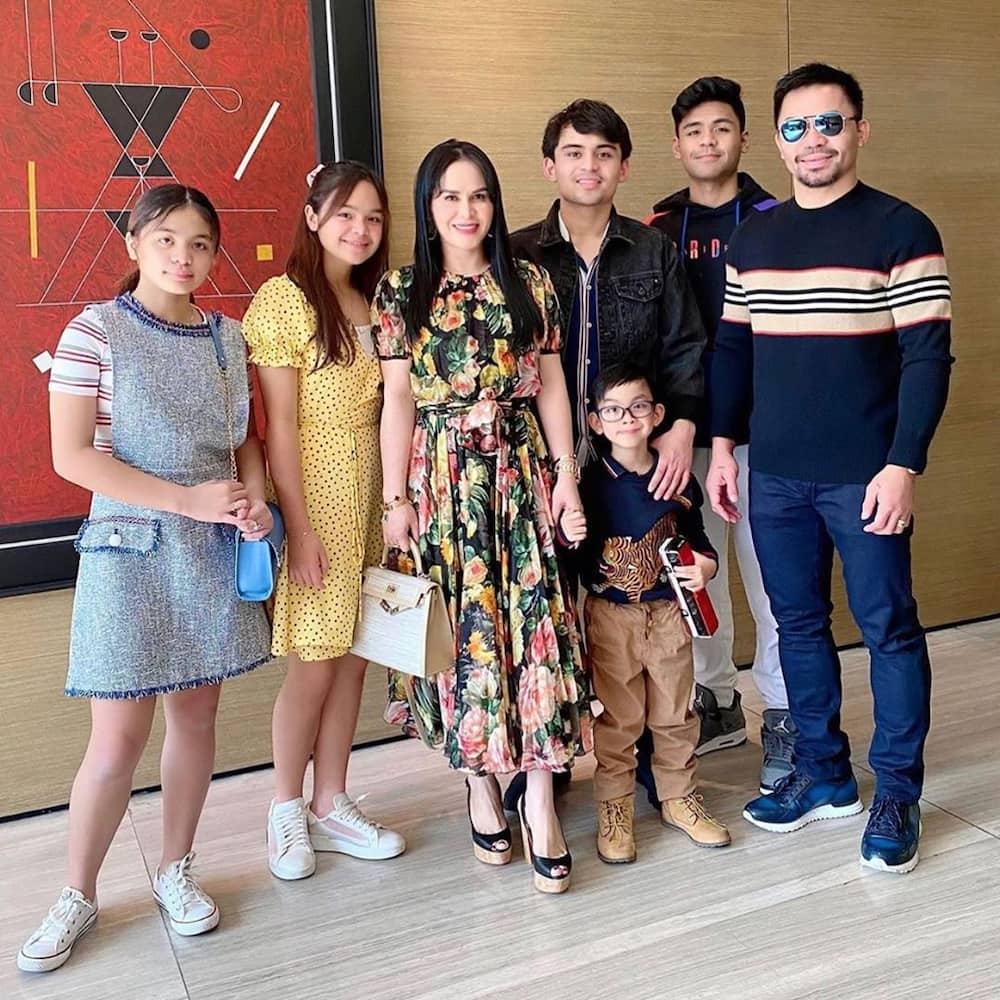 READ ALSO: LeBron James caught on video crying due to Kobe Bryant's death
He retained his titles in the 2010s
The decade of 2010 was great for Pacquiao. The star kept on pushing and proving that he was among the best in the sport. He won a belt in another weight class. Here are his achievements and defeats:
In 2010, he protected the WBO welterweight title in March and gained the WBC light middleweight belt in November.
In 2011, he succeeded in keeping his WBO welterweight title in May and November.
On 9th June 2012, he lost the WBO welterweight title to Timothy Bradley.
In 2013, he took back his WBO welterweight title that he had lost the previous year in a fight against Brandon Rios.
The best fight in history between Pacquiao and Floyd Mayweather happened on 5th February 2015, and Pacquiao lost.
He resigned from boxing in the same year to serve his family and country after knocking Timothy Bradley at the MGM Grand in Las Vegas.
He came back stronger and won a unanimous decision in the November 2015 in the match against Bradley to claim the WBO welterweight and lineal welterweight titles.
In the same November 2015, he also won the WBO welterweight title and retained the lineal welterweight title in the match against Jessie Vargas.
Between 2016 to 2019, he had few matches each year, ranging from one to two. He won all of them.
READ ALSO: Lack of black coaches in Super Rugby tournament upsets SA Rugby
How many cars and houses does Manny Pacquiao own?
He is among the wealthiest celebrities in the Philippines and the world. He had a net worth of around $220 Million dollars in 2019. Manny owns yachts and private planes. He has a luxurious home in Gensan in the Philippines, another one in Beverly Hills, and a mansion in Boracay, Lugana. He has more than a hundred cars from the top auto brands in the world. Some of the best models he owns are:
Ferrari 458 Italia (Grey edition)
Mercedes Benz SL550,
Lincoln Navigator
Porsche Cayenne Turbo
Two bulletproof cars from International Armoring Philippines
Manny Pacquiao net worth makes him top the list of the wealthiest sportsmen in the world. He lived a tough childhood but that did not bring him down. He is an example to emulate in international sports.
READ ALSO: 2022 World Cup Qualifier: Bafana to face Ghana, Ethiopia and Zimbabwe